We may still be in lockdown II and to keep us going, the Coral Essex Vase over 575 metres starts tonight with six heats from 6.43pm writes Rob Abrey.
The category one competition, worth £10,000 to the winner as always has attracted top entries. Amongst the regular faces there are several greyhounds making their Romford or six bend debuts. In some cases both. As always I have endeavoured to find out more about four of them.
(Form proceeds the featured races, the remaining two heats are below)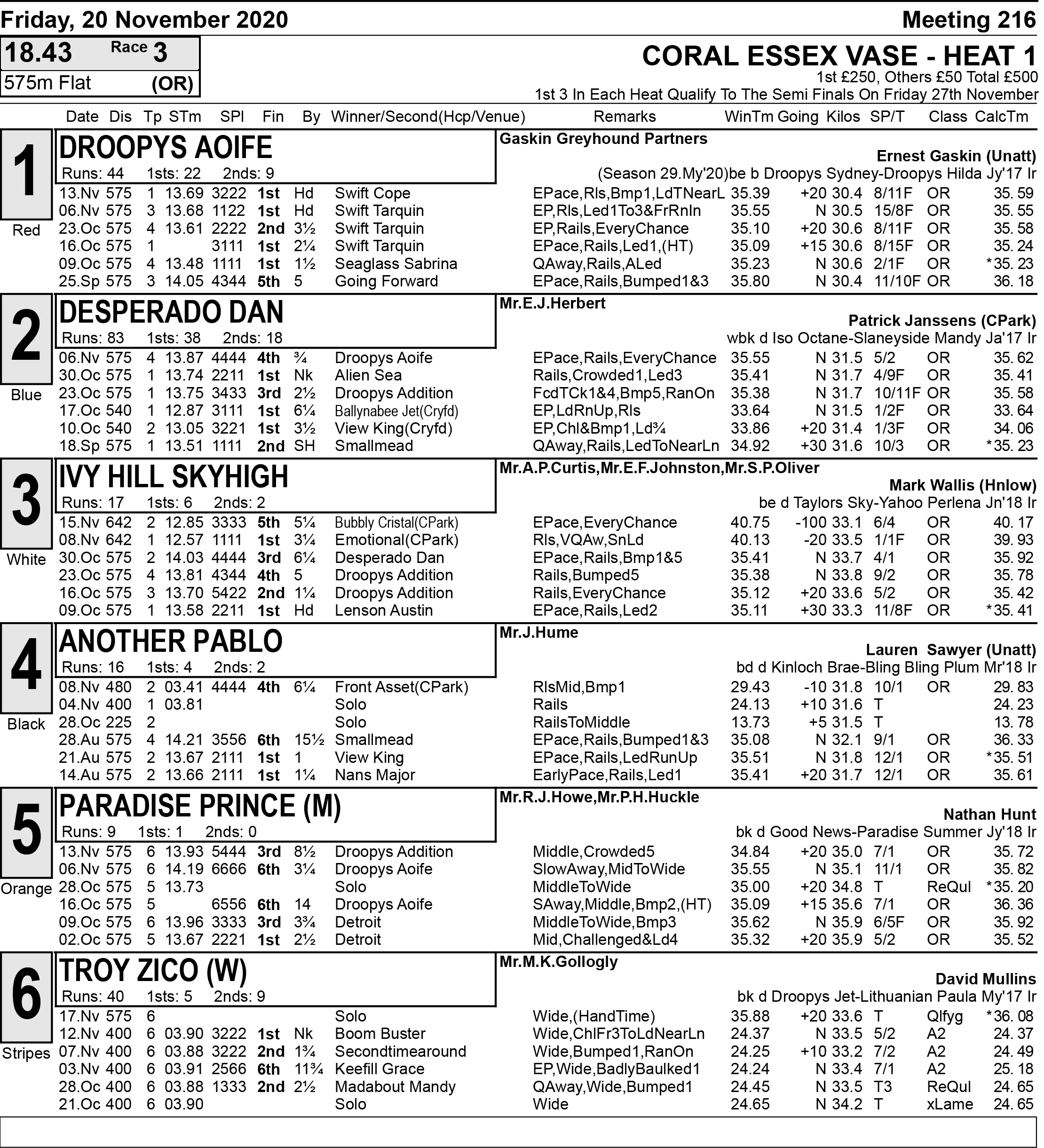 Local handler David Mullins will be trying to make it two category one wins at Romford after his charge, Tenpin won the Romford puppy cup during September.
Tonight his Troy Zico not only steps up to the plate but also up in trip. The son of Droopys Jet and Lithuanian Paula has had forty races on these shores all over four bend trips.
Tonight the May '17 whelp attempts six bends for the first time in the opening heat at 6.43pm. Away from home track Romford he has won over 480 metres at Monmore and Central Park so has proven four bend form. He clearly has early pace and needs to utilise that tonight. He has had one recent spin over C&D clocking a calculated time of 36.08 and will be expected to improve on that.
David on him said: "I think he will get the trip given time. He has only had a few races since returning from injury. He has early pace and with a few more under his belt will get the trip from off the front.
"Friday is a stepping stone for him. I would have liked a few more races in him but if he doesn't qualify will enter him for a maiden stayers race next week. It's one thing to do it in maiden class than Essex Vase class.
"He has enough early to lead a lot of them but we'll see. He is very well at the moment."
Ladbrokes and Coral are top price 20/1 for him to win over six bends at the first time of asking.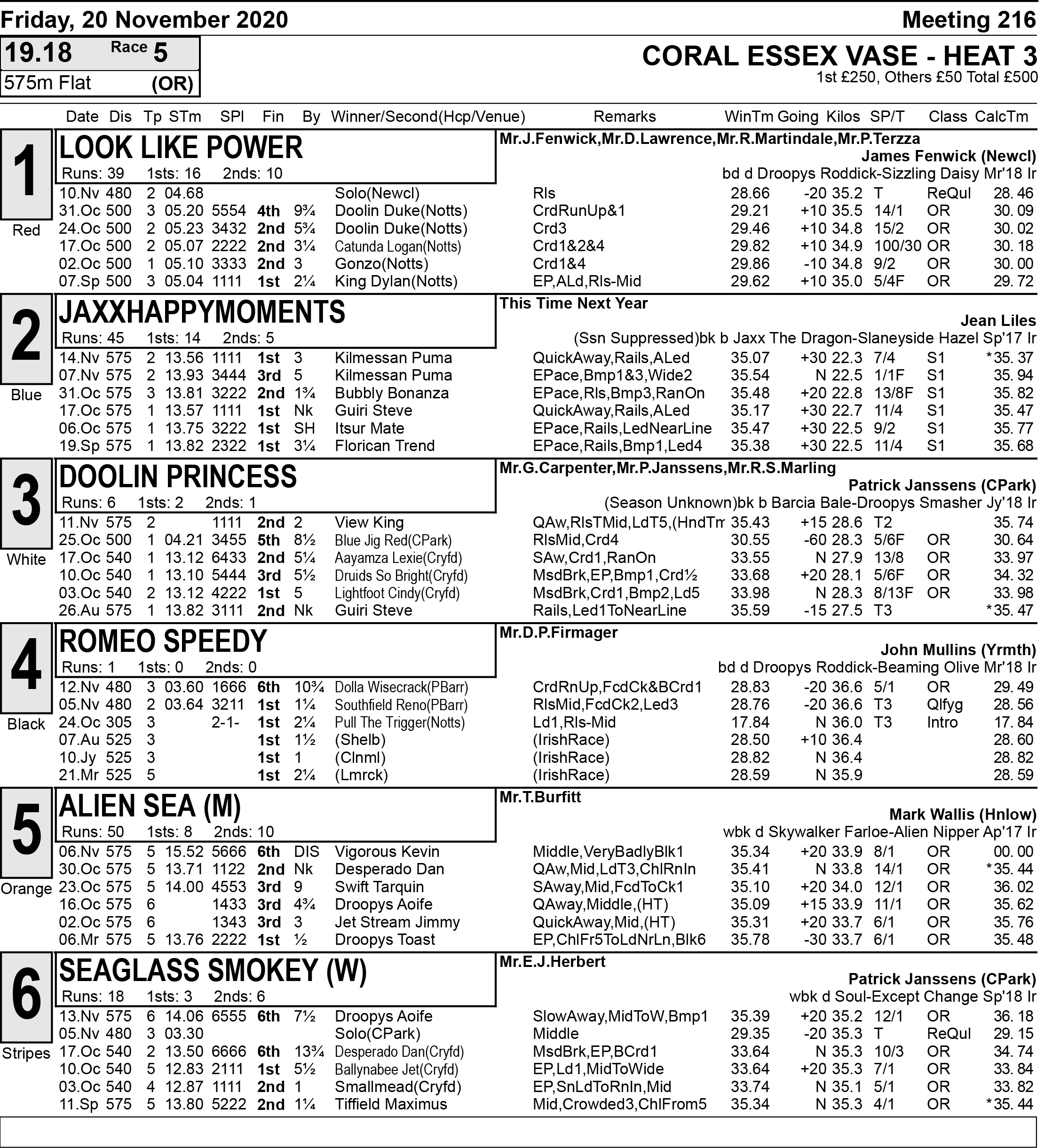 When Jimmy Fenwick last came down from his Northumberland base for a category one competition at Romford, his charge Lightfoot Ripley made the final. That was for the Puppy Cup two months ago.
This time he is trying Look Like Power to go one better and win one. In heat three at 7.16pm the son of Droopys Roddick and Sizzling Daisy has to first overcome the fact he is making his Romford and six bend debut tonight. The March '18 whelp has certainly proved his worth over four bends by reaching the finals of the Ryan Holmes puppy cup at Sheffield, the Northern Puppy Derby at Newcastle and the recent derby plate at Nottingham. If able to stay he could be a major player for the Essex Vase and on the staying circuit.
Jimmy said: "He hasn't had a trial which isn't ideal. We spoke to the owners and how he has been running and decided to run him without one. At Nottingham his times from half way to the finish were one of the fastest so it looks like he will get the trip. In my opinion he will get the 575 metres. He runs on really strong over 500 metres and has been running on strongly against derby type dogs.
"He has looked like he wanted further since he turned two years old. We will start him at Romford and then go where the competitions are, all being well. If he stays the 575 metres we will consider stepping him up further.
"Running at Romford for him is a bit into the unknown as he has been running at Sheffield, Newcastle and Nottingham which are totally different tracks. In Northern Ireland he schooled at McCanns which is a tight track like Romford. It is his first time at the track and are different traps to what he has been used to. We will be very happy if he qualifies.
"He is a very good railer and has trap one, he has the draw. He is in good form and does have a good break in him.
"He is a very, very good dog. He reached has reached three finals but got bad draws in each one of them."
Coral are offering 7/4 for the three time finalist over four bends to win first time up over six bends.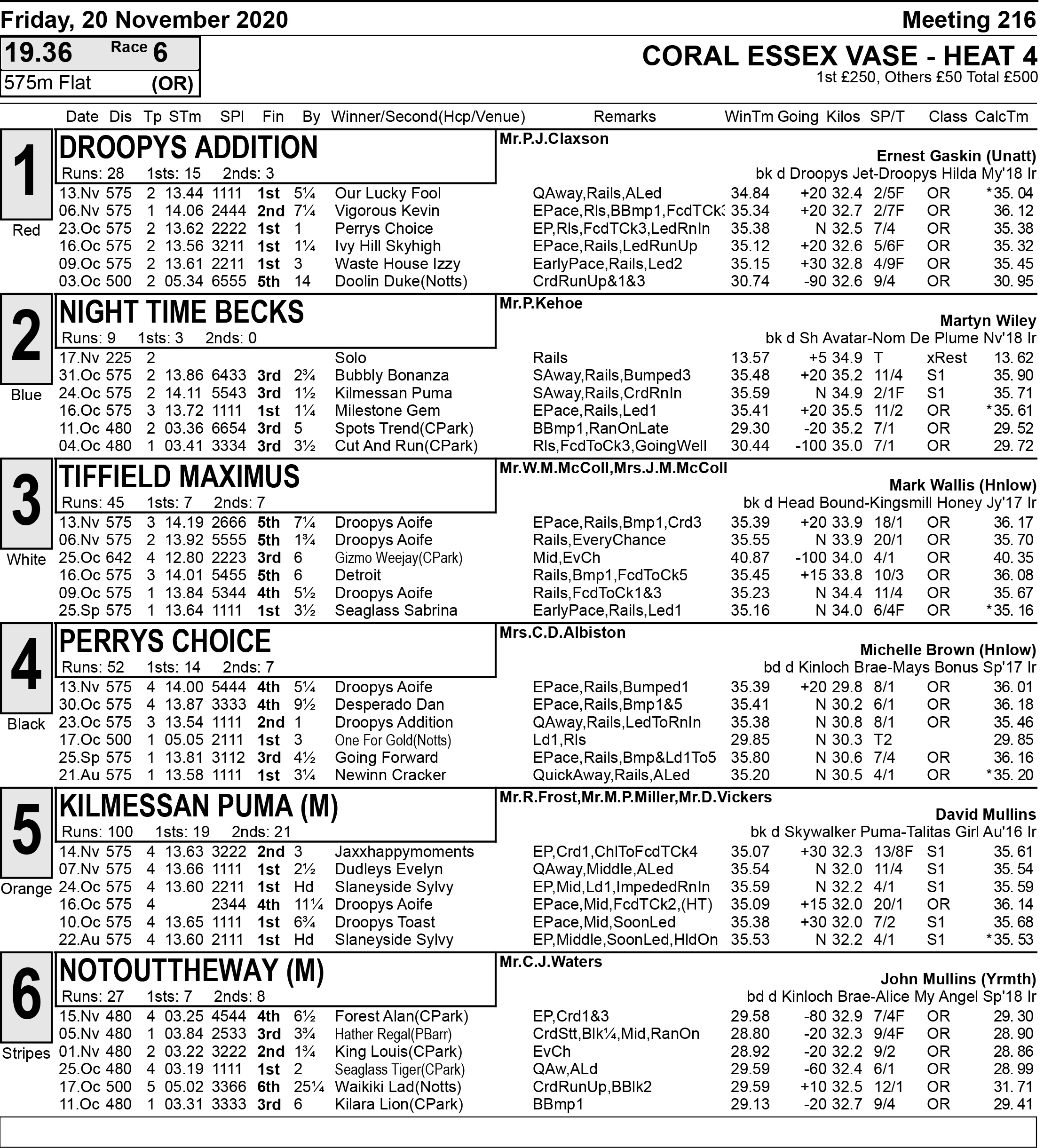 Yarmouth trainer John Mullins knows what it takes to win over the 575 metres trip and tonight two of his charges are making their six bend debuts in heats four and six.
First up in heat four at 7.36pm is Notouttheway. The son of Kinloch Brae and Alice My Angel has won over both two and four bend trips. At home track Yarmouth he has won over 462 and 277 metres in graded affairs. The two bend win came in a top grade D1 affair.
The September '18 whelp on his travels away from Yarmouth has won at Central Park over 480 metres. In a recent race at Perry Barr over the same distance he showed he has staying potential which bodes well going into tonight's race. Although stepping up in trip for the first time he does have track knowledge. He had a race back in July over 225 and 400 metres where on those occasions he finished fifth and third after finding trouble. With his early pace against six bend types tonight he could stretch them out early.
John on him said: "I don't know if he stays. He has got to lead which he might do. This time last year he was not likely to stay. This year it looks like he could.
"I'm taking a gamble on him getting it. The owner is standing next to me and he is saying he will stay. He has good early and has been to Romford before. He has got to lead to have any chance.
"Trap six is not ideal for him but I can't change it. With his early pace he will hopefully overcome that draw."
Corals are top price 5/1 for the early paced sort to take the spoils in heat four.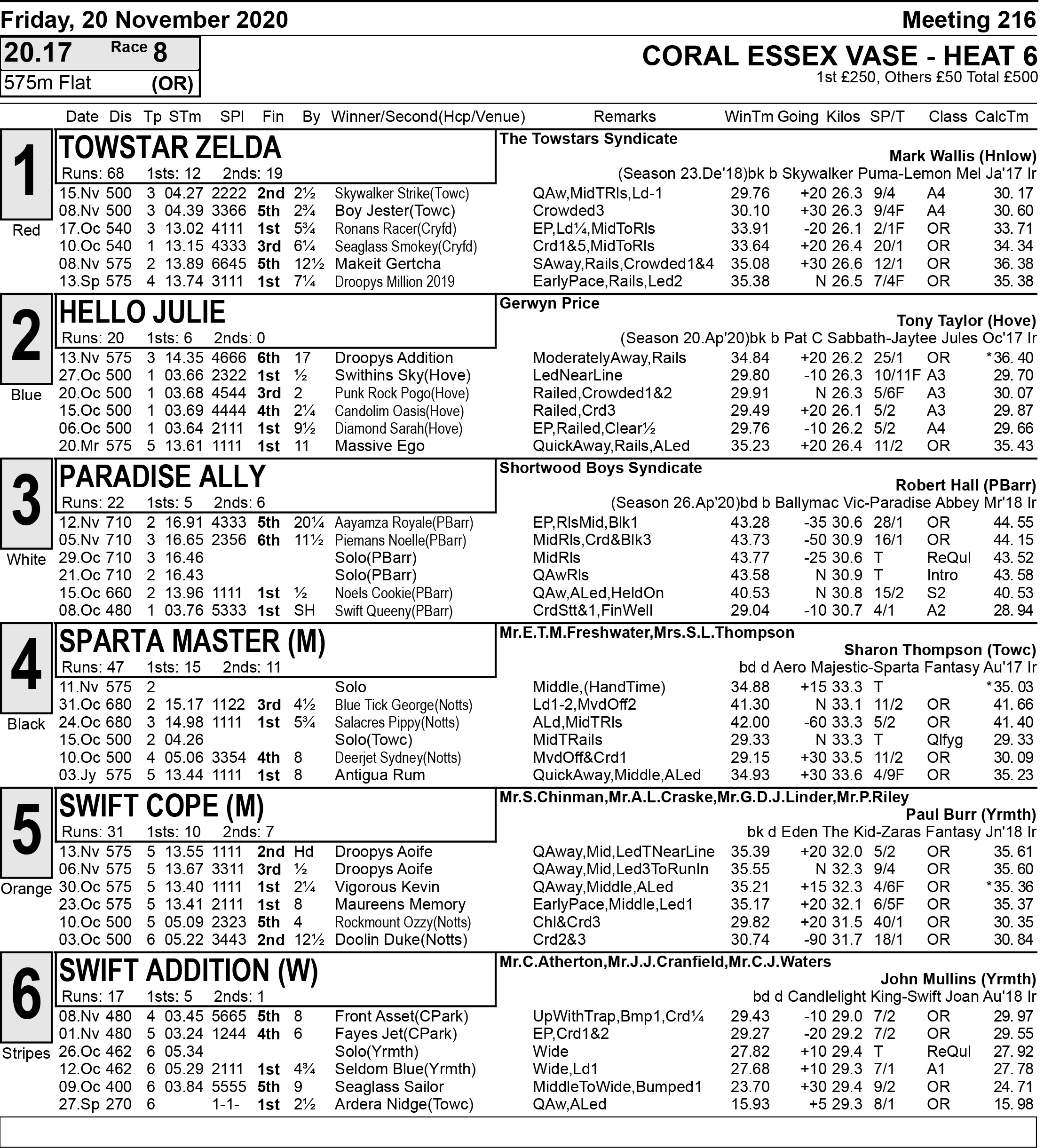 Swift Addition is next up for 'team Mullins' in heat six and 8.17pm. He is very similar to his kennel mate by winning over two and four bend trips.
The son of Candlelight King and Swift Joan has won in top graded company at home track Yarmouth over 464 metres and over 270 metres at Towcester. The August '18 whelp like his kennel mate also has Romford track experience with a 400 metres race last month where he finished fifth after trouble at the first bend. He clearly has early pace and needs to use that tonight to build up a lead.
John on him said: "He fell in his last race at Yarmouth but is absolutely fine. He is bouncing.
"We are taking a gamble on him staying. We don't know if he gets it. He has got bundles of early. He has got to lead 100% to stand any chance. He has a hell of a heart and is a proper dog.
"He has his draw. We are well happy with six."
Several firms are offering 10/1 for Swift Addition to win over six bends at his first attempt.
Regular readers of this column may have had a nice 10/1 winner last week courtesy of Chilli You Guys. Trained by Romford's Paul Young he said on him "….575 is as far as she wants to go. If she comes away she can give them a go. She has got the pace. She is a hard bitch to pick up when she is in front." Paul wasn't wrong as she did hit the front and battled once there to take the spoils by a head in a winning calculated time of 35.78.
It pays to follow this column.