Charlie Lister OBE bowed out in style with a special meeting in his honour at Nottingham on Monday night.
The most successful UK greyhound trainer of all time was presented with a cut glass decanter and specially prepared roll of honor recording his many achievements.
He said: "It was a lovely evening. The meal was fantastic and I looked around and thought what a great job they've done. I've had so many calls and cards from people in the last week and I can't thank people enough.
"The only sour note was a piece somebody has apparently written on Greyhound Scene saying that Ian Sutherland and I had fallen out and he had left. That is just hurtful, why would they do that? Ian is a good friend, and we look forward to seeing him in the future. We are even keeping the caravan in case he is ever in the area and might need a bed for the night.
"The licence is now with Chris (Akers) and I wish him the best. I will still be on the premises and have a kennel hand's licence. If he ever wants me to look at a dog, or a bit of advice, he only has to ask.
"Kieran Hickey, who has been an owner with me for a long time, couldn't make it to Nottingham but phoned and promised to keep in touch. In fact, if I come across a decent young pup at any stage, I might even go into part ownership with him.
"Just thank everyone from me for their kindness."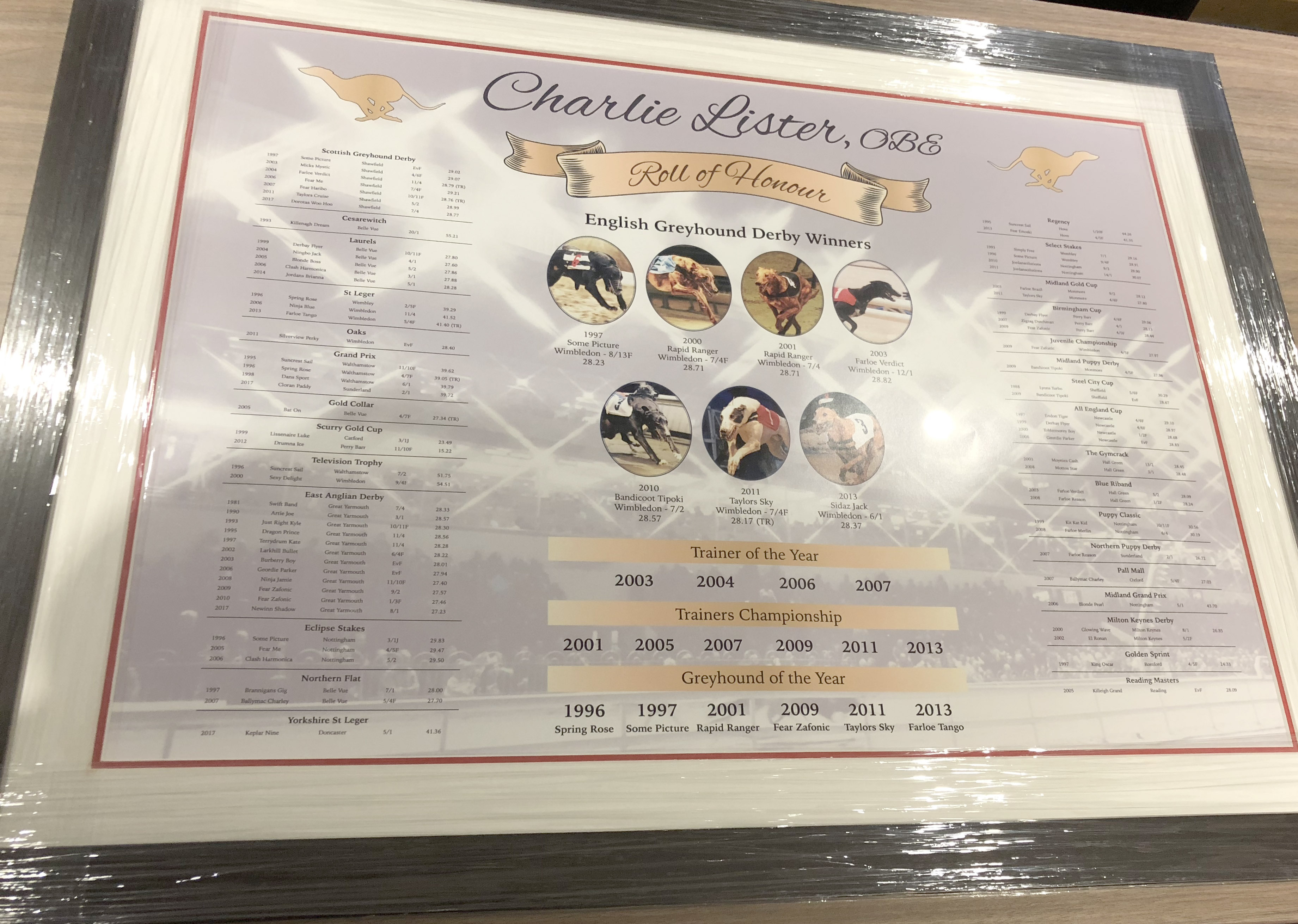 Charlie Lister OBE Roll of Honour
Trainer of the Year: 2003, 2004, 2006, 2007   
Trainers Championship: 2001, 2005, 2007, 2009, 2011, 2013
Greyhounds of the Year: Spring Rose, Some Picture, Rapid Ranger, Fear Zafonic, Taylors Sky, Farloe Tango
| | | | | |
| --- | --- | --- | --- | --- |
| English Derby |   |   |   |   |
| 1997 | Some Picture | Wimbledon | 8/13F | 28.23 |
| 2000 | Rapid Ranger | Wimbledon | 7/4F | 28.71 |
| 2001 | Rapid Ranger | Wimbledon | 7/4 | 28.71 |
| 2003 | Farloe Verdict | Wimbledon | 12/1 | 28.82 |
| 2010 | Bandicoot Tipoki | Wimbledon | 7/2 | 28.57 |
| 2011 | Taylors Sky | Wimbledon | 7/4F | 28.17 (TR) |
| 2013 | Sidaz Jack | Wimbledon | 6/1 | 28.37 |
| Scottish Derby | | | | |
| 1997 | Some Picture | Shawfield | EvF | 29.02 |
| 2003 | Micks Mystic | Shawfield | 4/6F | 29.07 |
| 2004 | Farloe Verdict | Shawfield | 11/4 | 28.79 (TR) |
| 2006 | Fear Me | Shawfield | 7/4F | 29.21 |
| 2007 | Fear Haribo | Shawfield | 10/11F | 28.76 (TR) |
| 2011 | Taylors Cruise | Shawfield | 5/2 | 28.99 |
| 2017 | Dorotas Woo Hoo | Shawfield | 7/4 | 28.77 |
| Cesarewitch |   |   |   |   |
| 1993 | Killenagh Dream | Belle Vue | 20/1 | 55.21 |
| Laurels | | | | |
| 1999 | Derbay Flyer | Belle Vue | 10/11F | 27.80 |
| 2004 | Ningbo Jack | Belle Vue | 4/1 | 27.60 |
| 2005 | Blonde Boss | Belle Vue | 5/2 | 27.86 |
| 2006 | Clash Harmonica | Belle Vue | 3/1 | 27.88 |
| 2014 | Jordans Brianna | Belle Vue | 5/1 | 28.28 |
| St Leger |   |   |   |   |
| 1996 | Spring Rose | Wembley | 2/5F | 39.29 |
| 2006 | Ninja Blue | Wimbledon | 11/4 | 41.52 |
| 2013 | Farloe Tango | Wimbledon | 5/4F | 41.40 (TR) |
| Oaks |   |   |   |   |
| 2011 | Silverview Perky | | EvF | 28.40 |
| Grand Prix |   |   |   |   |
| 1995 | Suncrest Sail | Walthamstow | 11/10F | 39.62 |
| 1996 | Spring Rose | Walthamstow | 4/7F | 39.05 (TR) |
| 1998 | Dans Sport | Walthamstow | 6/1 | 39.79 |
| 2017 | Cloran Paddy | Sunderland | 2/1 | 39.72 |
| Gold Collar |   |   |   |   |
| 2005 | Bat On | | 4/7F | 27.34 (TR) |
| Scurry Gold Cup |   |   |   |   |
| 1999 | Lissenaire Luke | Catford | 3/1J | 23.49 |
| 2012 | Drumna Ice | Perry Barr | 11/10F | 15.22 |
| Television Trophy |   |   |   |   |
| 1996 | Suncrest Sail | Walthamstow | 7/2 | 51.75 |
| 2000 | Sexy Delight | Wimbledon | 9/4F | 54.51 |
| East Anglian Derby |   |   |   |   |
| 1981 | Swift Band | Great Yarmouth | 7/4 | 28.33 |
| 1990 | Artie Joe | Great Yarmouth | 3/1 | 28.57 |
| 1993 | Just Right Kyle | Great Yarmouth | 10/11F | 28.30 |
| 1995 | Dragon Prince | Great Yarmouth | 11/4 | 28.56 |
| 1997 | Terrydrum Kate | Great Yarmouth | 11/4 | 28.28 |
| 2002 | Larkhill Bullet | Great Yarmouth | 6/4F | 28.22 |
| 2003 | Burberry Boy | Great Yarmouth | EvF | 28.01 |
| 2006 | Geordie Parker | Great Yarmouth | EvF | 27.94 |
| 2008 | Ninja Jamie | Great Yarmouth | 11/10F | 27.40 |
| 2009 | Fear Zafonic | Great Yarmouth | 9/2 | 27.57 |
| 2010 | Fear Zafonic | Great Yarmouth | 1/3F | 27.46 |
| 2017 | Newinn Shadow | Great Yarmouth | 8/1 | 27.23 |
| Eclipse Stakes |   |   |   |   |
| 1996 | Some Picture | Nottingham | 3/1J | 29.83 |
| 2005 | Fear Me | Nottingham | 4/5F | 29.47 |
| 2006 | Clash Harmonica | Nottingham | 5/2 | 29.50 |
| Northern Flat | | | | |
| 1997 | Brannigans Gig | Belle Vue | 7/1 | 28.00 |
| 2007 | Ballymac Charley | Belle Vue | 5/4F | 27.70 |
| Yorkshire St Leger |   |   |   |   |
| 2017 | Keplar Nine | Doncaster | 5/1 | 41.36 |
| Regency |   |   |   |   |
| 1995 | Suncrest Sail | Hove | 1/20F | 44.26 |
| 2013 | Fear Emoski | Hove | 4/5F | 41.35 |
| Select Stakes |   |   |   |   |
| 1993 | Simply Free | Wembley | 7/1 | 29.16 |
| 1996 | Some Picture | Wembley | 9/4F | 28.91 |
| 2010 | Jordansoilutions | Nottingham | 9/2 | 29.90 |
| 2011 | Jordansoilutions | Nottingham | 14/1 | 30.07 |
| Midland Gold Cup |   |   |   |   |
| 2003 | Farloe Brazil | Monmore | 9/2 | 28.12 |
| 2011 | Taylors Sky | Monmore | 4/6F | 27.80 |
| Birmingham Cup |   |   |   |   |
| 1999 | Derbay Flyer | Perry Barr | 4/6F | 29.06 |
| 2007 | Zigzag Dutchman | Perry Barr | 4/1 | 28.13 |
| 2009 | Fear Zafonic | Perry Barr | 4/5F | 28.44 |
| Juvenile Champion. |   |   |   |   |
| 2009 | Fear Zafonic | Wimbledon | 4/5F | 27.97 |
| Midland Puppy Derby |   |   |   |   |
| 2009 | Bandicoot Tipoki | Monmore | 4/5F | 27.96 |
| Steel City Cup |   |   |   |   |
| 1988 | Lyons Turbo | Sheffield | 5/6F | 30.29 |
| 2009 | Bandicoot Tipoki | Sheffield | EvF | 28.67 |
| All England Cup |   |   |   |   |
| 1997 | Endon Tiger | Newcastle | 4/6F | 29.10 |
| 1999 | Derbay Flyer | Newcastle | 4/6F | 28.97 |
| 2000 | Toblermorey Boy | Newcastle | 1/2F | 28.68 |
| 2006 | Geordie Parker | Newcastle | EvF | 28.83 |
| The Gymcrack |   |   |   |   |
| 2003 | Moynies Cash | Hall Green | 13/2 | 28.45 |
| 2008 | Mottos Star | Hall Green | 3/1 | 28.48 |
| Blue Riband |   |   |   |   |
| 2003 | Farloe Verdict | Hall Green | 5/2 | 28.09 |
| 2008 | Farloe Reason | Hall Green | 1/2F | 28.24 |
| Puppy Classic |   |   |   |   |
| 1999 | Kit Kat Kid | Nottingham | 10/11F | 30.56 |
| 2008 | Farloe Merlin | Nottingham | 6/4 | 30.19 |
| Northern Puppy Derby |   |   |   |   |
| 2007 | Farloe Reason | Sunderland | 2/1 | 26.72 |
| Pall Mall |   |   |   |   |
| 2007 | Ballymac Charley | Oxford | 5/4F | 27.03 |
| Midland Grand Prix |   |   |   |   |
| 2006 | Blonde Pearl | Nottingham | 5/1 | 43.70 |
| Milton Keynes Derby |   |   |   |   |
| 2000 | Glowing Wave | Milton Keynes | 8/1 | 26.85 |
| 2002 | El Ronan | Milton Keynes | 5/2F | 26.68 |
| TV Trophy |   |   |   |   |
| 2000 | Sexy Delight | Wimbledon | 9/4F | 54.51 |
| Golden Sprint |   |   |   |   |
| 1997 | King Oscar | Romford | 4/5F | 24.33 |
| Reading Masters |   |   |   |   |
| 2005 | Killeigh Grand | Reading | EvF | 28.09 |