1928 May 5th Hull Craven Park open for business with a six race afternoon card. All the greyhounds owned by the East Riding Greyhound Company. The first race over 550 yards went to Up Boyle, the 5-1, third favourite in 42 seconds. But disaster struck in the fifth race when the hare was caught by Steve's Delight and the other runners tore it to pieces. The final race of the meeting was abandoned because of mechanical failure. Patrons were given free passes for the evening meeting, which went off without a hitch, and they saw the same Steve's Delight, an evens favourite, win his 550 yarder by three lengths in a fast 39.00 seconds.
2004 Former Wolves striker Steve Bull opens Monmore's new racing kennels, built at a cost of almost £700,000. The range of 124 kennels is sound proofed, temperature controlled and has 17 CCTV cameras.
1959 May 23 Owner George Flintham has his regular taxi driver of 11 years, Albert May, standing by to take him from London White City. After the 8.10 race, where his Mighty Hassan finishes second in a Derby trial stakes, he rushes across London to Catford for the 8.45 final of the Gold Collar. Here, his Dunston Warrior leads at the third bend, finishes strongly and wins by four lengths in 25.77 for the 440 yard classic. Flintham is presented with his prize by film star Diana Dors.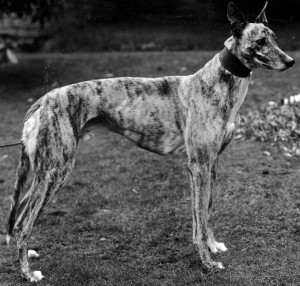 1979 May 26 The Cambridgeshire final over 600 yards at Shelbourne Park and sponsored by Eddie McWilliams with a first prize of £2,500, produces an upset. The 1-3 favourite Knockrour Slave (Sole Aim-Knockrour Exile, Apr 77) is beaten going for his 10th straight win by 7-1 joint second favourite Tough Decision (Minnesota Miller-Carters Drain, Mar 77). Knockrour Slave sweeps into the lead at the first bend and looks to have the race won, but going into the third bend Tough Decision is gaining with every stride, and on the long run in gets up to win by three-quarters of a length in 33.61. The victory is all the more remarkable because five days after the semis. trainer Tommy Kane took Tough Decision (left) to Shawfield for a 500 metre race, which he won, giving him free entry to the English Derby.
1976 May 28. Lifelong coursing enthusiast "Lukie" Lucas has died aged 84 at his home in Brighton. He won the 1949 and 1954 Waterloo Cups with Life Line and Latin Lover, and had two runners-up with Lily Of Laguna and Lady Of The Lamp.
2000 Ten days after being sold for £45,000, Bubbly Rover (formerly Knockanroe Rover) collapses and dies. It is only three days after a career ending ligament injury. Two weeks later Rover becomes a dad with a litter of eight pups.
1991 May 5 Future Derby finalist Pennys Best is sold at Hackney's pre-Derby sale for 3,500 guineas. The son of I'm Slippy won his sales trial in 30.46. Curryhills Mike, later to break the Rye House sprint record is not sold after a poor third place in his trial as he fails to break 31.00 for 484m.
2000 May 28 Lodge Prince sets a new Wimbledon 480 metre track record of 28.34.
1982 Glen Miner – pictured with trainer Peter Rich, smashes the Hove 515m track record with a 29.62 win in the final of the Olympic.
1990 NGRC stewards reverse their decision to heavily fine and reprimand four Nottingham trainers following an appeal from the racing manager and an offer by track bookies to pay the fines. The trainers had originally been told by the local steward that their offences were of a minor nature and did not necessitate their appearance in London. Prior to the NGRC's change of heart, two of the trainers had handed in their notice to the track.
1986 Planners throw out GRA's application to build a housing estate on Shawfield. They still intend to close the stadium in the autumn.
1988 The NGRC launch an enquiry into the safety of Powderhall after a damning report in the Daily Record. It alleged that 70 dogs had been destroyed and 170 injured in the previous 18 months. Among the serious injuries had been broken hocks for Tapwatcher and Lavally Oak. The report was instigated by a number of local owners who claimed the track was being inadequately prepared following its switch from grass to sand. Track owners, the GRA, strenuously denied the claims and the figures but agreed a plan to dig up and relay the home straight at a cost of £9,000.
1993 Poor Sue is retired after a career spanning 157 races, mainly opens, winning 77. The open win record remains intact until eventually overtaken by El Tenor