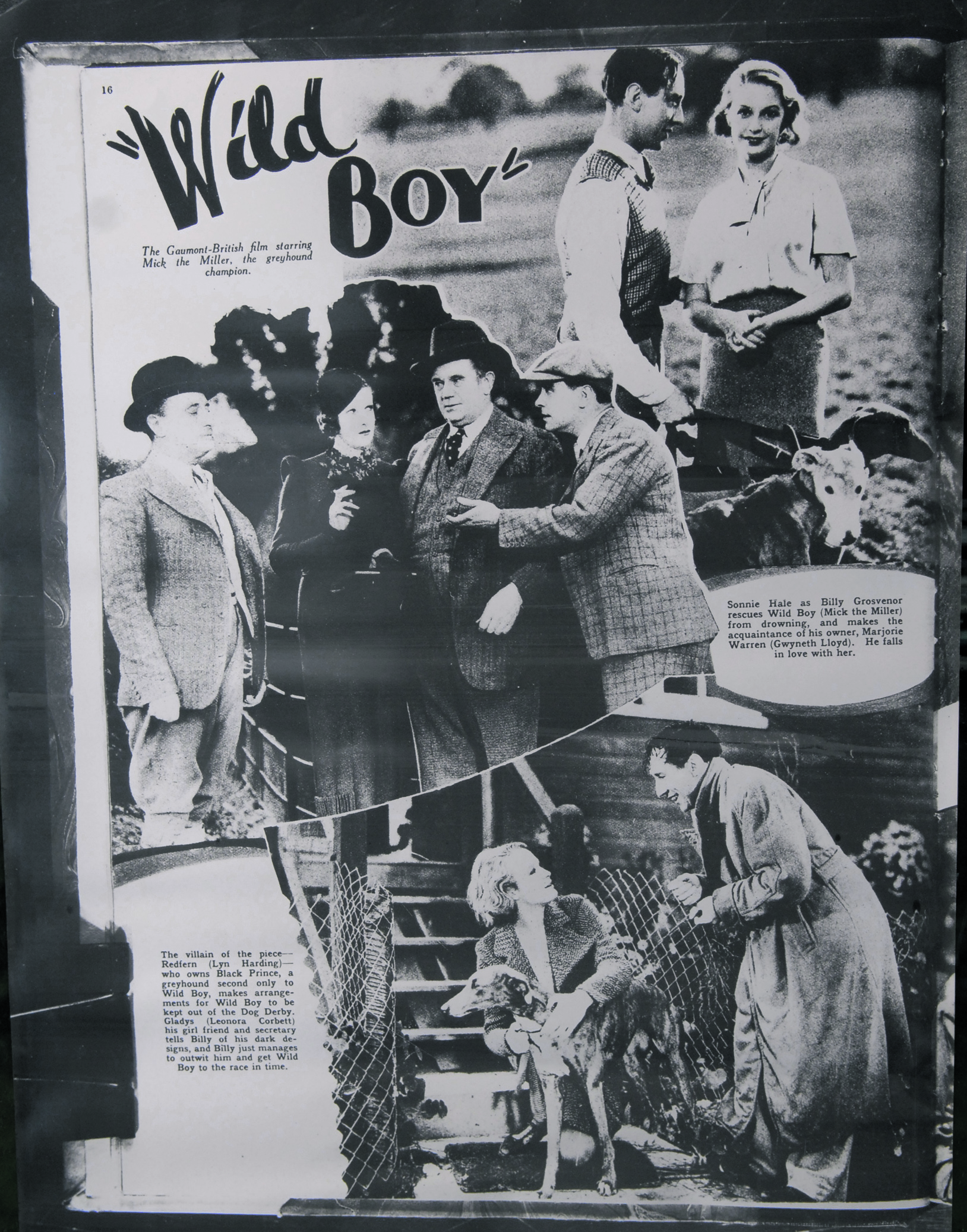 1934 Wild Boy, the film featuring Mick The Miller is released. Most people have heard about it, but very few have seen it. In 1991, the late George Boulton (the man responsible for compiling so much of the information and photos that you find on these pages) attended a British Film Institute special screening of a film that combines fiction alongside an interesting peek of racing just eight years after its introduction to Britain. Some aspects of the film might appear bizarre now, but were perfectly natural at the time.
For example, the film gets underway with a reference to a litter of racers being bred by a Waterloo Cup winner. Back then of course, all track dogs were by coursing stock. Here are George's observations:
'First shown to the public on 2 July 1934, it was a much better story than I had previously read. It started with a fictitious Waterloo Cup Final between Wild Man Of Borneo and Royal Ranger. After some excellent filming of the course and some stout commentating by the BBC, Wild Man of Borneo is the winner at Altcar.
The winner is owned by Stanley Warren who then breeds a litter which includes the young Wild Boy (Mick The Miller). We first see Mick when he refuses to chase a dummy hare pulled by a car, but when he spots a real hare, he's off! In pursuit of the hare he falls into a stream and is dragged towards a weir. It is witnessed by Billy Grosvenor (played by Sonny Hale) who dives in and saves him.
His grateful owner is Stanley Warren's daughter Marjorie (Gwenth Lloyd). Fate brings the two together again when Stanley Warren dies and Marjorie is forced to dispose of the litter, including her favourite Wild Boy. The next scene is at the famous Aldridges Sales where the villain of the film Frank Redfern (Lyn Harding) sets out to buy a Derby winner. He goes to 600 guineas for a dog called Black Prince.
Incidentally, this is where we first see Flanagan and Allen who are the auctioneers, with a series of funny one-liners. Redfern leaves the auction with instructions to his trainer and girlfriend to buy whatever catches their eye up to a maximum of 250 guineas. The girlfriend, Gladys, who is an old flame of Billy, spots him trying to buy the entire litter that includes Wild Boy and pushes him to 500 guineas before withdrawing.
Billy then presents the litter back to Marjorie and asks her trainer to prepare them for the English Derby. Wild Boy is then seen on a schooling track at Northaw where he clocks a fantastic time. Although the staff downplay it, the trial has been clocked by one of Redfern's henchman.
The boss is relatively unconcerned believing he already owns the future Derby winner in Black Prince. Redfern invites Marjorie and Billy to dinner at White City for the qualifying round of the Derby where we see some lovely footage of White City and the restaurant. Black Prince impressively wins his heat in 29.58. Wild Boy is slow away and baulked a couple of times before winning in 29.60.
Redfern realises that Wild Boy is a serious danger to Black Prince winning the Derby and collecting a huge ante post bet. First he tries to discredit Billy, but then he persuades Marjorie to put Wild Boy with his own trainer. His plan is to prevent Wild Boy running the final. Billy gets to hear of this and when Redfern's trainer comes to collect Wild Boy he discovers that Billy has taken him home, and even puts him in his own bed.
Two of Redfern's henchman, posing as policeman, gain entry to Billy's home and following a fight, they seize Wild Boy. Billy suspects that the dog is being kept at Redfern's house and after chatting up Gladys, he discovers the dog in the garage. He seizes the dog and escapes. The outraged Redfern then hatches a plan to ambush Billy's car with the dog inside. Billy hears of this and hatches a plan to put Wild Boy on the Northaw dog transporter.
Redfern discovers Billy's ruse and tells his henchmen to arrange a road accident with the transporter. In the confusion, three dogs escape including Wild Boy. The villains scarper and Billy eventually arrives at the scene. He can't find Wild Boy and sets off for White City. Wild Boy recognises the sound of Billy's car and sets off in pursuit.
He arrives at White City just as the gates close in front of him. As kennelling times passes 6pm, Wild Boy's trainer hears the dog barking at the gate and lets him in. He is told that he is too late and cannot run but Billy persuades the steward – who, happily had struck a bet with Redfern that Black Prince wouldn't win the Derby, to allow the dog to run. 'It is British summer time so kennelling is put back half an hour'.
In the meantime, Billy meets up with Flanagan and Allen again – they are now on-course bookmakers. He agrees to help them land a coup. Flanagan and Allen push his price out to 20-1 and the other bookies follow, convinced Wild Boy is a non-runner. But when Wild Boy is cleared to run, he secretly gives his two new friends the nod and they back the dog.
The race itself was quite exciting as edited another race with Wild Boy and Black Prince running neck and neck. Needless to say, Wild Boy wins the final and on the White City winning line, Billy proposes to Marjorie which is the end of the film. There was an interesting addition in that before the fictitious final took place, the film included some real life, subsequently filmed footage of a famous line-up of unnamed previous champions being presented to the White City crowd.
It included Boher Ash, Entry Badge, Seldom Led, and to the eagle-eyed viewer – a certain (slightly greyer) Mick The Miller. From my personal perspective, this was a marvellous film, simply because it showed Mick The Miller in action, where I had only ever seen photographs, and White City with the old train/arm hare, only ever seen in photographs. Although by modern standards the acting was not very good, and the script a bit weak, back in 1934 it must surely have helped greyhound attendances.
1995 Derby winning trainer Theo Mentzis reports that Moaning Lad has left his kennel. The Aston Clinton based trainer reveals that the disagreements between the five owners started within 12 hours of the dog crossing the winning line. After deciding to sell the dog, the trainer refused to let the owners onto his premises. He met them at the gate. The dog was bound for stud in Limerick to stand alongside his sire Kyle Jack.
2010 A Huntingdon woman landed the £1,200 Peterborough jackpot having come to the track on a special £1 promotion which included a fast food meal and a successful 'lucky dip' bet on the tote.
1966 Stewards discover that young Clapton bitch Kit Blakeney was in fact her sister Lil Blakeney. Fortunately, although Kit had been running and winning under the wrong name, her sister was still to complete he qualifying trials. In effect, all Kit Blakeney's form correctly related to her, the only thing that didn't was her name! Kit, the real one, goes on to become one of the best bitches in training.
1946 Walthamstow Stadium buy the top lot at Limerick Sales, Carass Hill, for 1,000gns (that's roughly £43K at today's rates).
1995 A study in the Star shows that between 1985 and 1995 the number of independent tracks had fallen from 62 to 43.
1963 The Greyhound Racing Association Trust (GRA) board faces a takeover bid after being accused of underperforming by a group of shareholders. Heading the bid is Oliver Jessel, a director of Albion Stadium in Salford. GRA chairman Sir Miles Graham pledges to fight the takeover which aims to replace four members of the board.
1995 Two of Ireland's most influential sires pass away. They are Skelligs Tiger who established himself as a top tracking sire despite issues of low fertility and the most successful coursing sire of his generation, Crafty Thriller.
1957 12 dogs engaged at Wimbledon on Tuesday night are due to run again just 24 hours later. They include Hilalai Rigale who contests an A2 and is beaten at 6-1. He returns the following night to win an A1 at 100-7. Lottbridge Supreme is beaten in an S5 on the Tuesday and wins an A6 (7-1) on the Wednesday. Bigger still was Linton Beach, beaten in a C2 at 6-1, he returns 24 hours later to win the same grade at 20-1. Just Marina does even better winning the same grades at 9-2 (29.00) and then again at 6-1 (28.87).
2010 Spiritina lands a hefty gamble at a Sheffield BAGS meeting for trainer Malcolm Daniels. The bitch is backed from 4-1 to 4-7f and won in 30.52 for the 500 metres. She found 10 lengths on her most recent performance but had gone quicker five races earlier when beaten. There is no stewards enquiry though the trainer is suspended by the track. A GBGB inquiry subsequently clears the trainer.