1984 Arthur Boyce's Westpark Clover (Loyal Expert-Ballinderry Moth) leads all the way to win the William Hill Invitation Hurdle and set a new 484m track record of 30.28.
2005 Open racer Droopys Demaggio is put to sleep after smashing a leg in a Stainforth open.
1990 Sheffield Stadium is shut down by the local council when they discover that the track had been operating without a betting license for almost a year.
1973 March 14 The W J Cearns Memorial Trophy over 500 yards and worth £500 to the winner at Wimbledon has a great line up: Trap 1 Black Banjo, 2 Mels Pupil, 3 Newhill Rocket, 4 Eions Punter, 5 Forest Noble, 6 Decimal Queen. R H Heath's Mels Pupil, trained at Perry Barr by Frank Baldwin, beats Decimal Queen by 1 3/4 lengths in 27.74.
1994 Following a brilliant 28.45 trial at Hall Green, Tony Meek's recently arrived young Irish import Moral Standards is subject of a hefty ante post gamble on the '94 English Derby. A rush of money sees the dog who was first backed at 400-1, then again at 66s, now as low as 14s.
2006 Pat Bannister, the Wimbledon homefinder dies from cancer shortly after homing her 2000th greyhound.
1937 The management at Cardiff Arms Park buy the lease of Cardiff White City for £8,000. It is believed that they do not intend to reopen White City, as they feel that Cardiff has not the scope for two tracks.
2005 Carol Chown-Smith takes over as the new general manager at Perry Barr. Stephen Rea, who supervised the re-build of the track, returns to his GM role at Hall Green.
1995 Harlow stages its first meeting. The first race is delayed by six minutes due to mechanical failure. "The hare had stage fright" announced promoter and builder Toni Nicholls.
2006 The NGRC announce the panel who will sit on its appeals board. It is headed by two QCs, Peter Cadman and David Phillips plus Andrew Chalk, David Hunt, Andrew McKenzie, Goeffrey Whitlow, Ronald Woodworth and Richard Woolf.
1996 Mildenhall's landlord Terry Waters decides to become the new track promoter after previous tenants have failed to make it pay. His first project is a £20,000 paddock improvement scheme.
1991 Barry Silkman had a novel excuse when star stayer Carlsberg Champ failed to perform in an open at Wembley. 'Silks' revealed that at the pick-up the dog was found to have the ring-pull from a canned drink around a toe.
2006 SKY presenter and football pundit Gary Newbon tips Birmingham to beat Liverpool in the night's FA Cup clash. Actual score Liverpool 7 Birmingham 0.
1976 March 24 The BBC TV Trophy final over 815 metres at Belle Vue, is a personal triumph for Perry Barr trainer Brian Jay, when his Aughadonagh Jock at 12-1 beats his kennel companion Dunworkin at 3-1 with Go Ahead Girl, Doverdale Lady, Young Hostess and the favourite Butchers Trac down the field.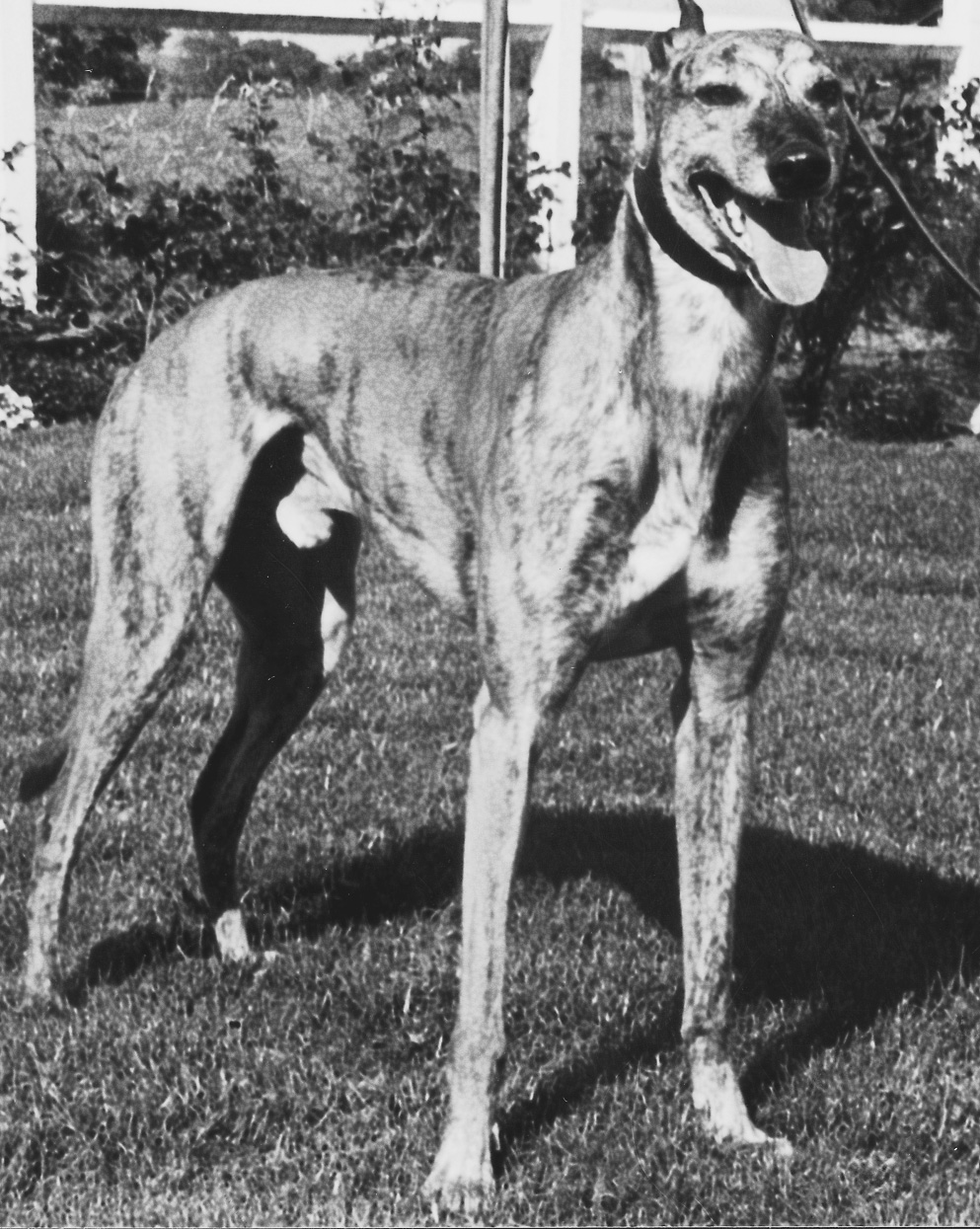 1994 Greenpark Fox is put to sleep aged seven and a half suffering from lung cancer. In the same week, breeders are talking about one of his outstanding young offspring, the 28.64 Kasco Unraced winner Come On Ranger. He goes on to produce many fine sons including Trade Official, Droopys Fintan and Hypnotic Stag, though a large number, including Cry Dalcash and Manx Treasure, also succumb to cancer while still young.