1928 January 21 The first meeting is held at Staines. Despite bad weather a crowd of more than 2,000 come along and the Staines Town Band play selections during the afternoon meeting. Racing to a trackless hare, the first race over 525 yards goes to Mr B Mason's Oojah, the 4-5 favourite. Because of the heavy going all the races are in the region of 32 seconds and the 30 bookmakers have a bad day with many fancied runners obliging. As they are packing their pitches up during the last race ready to move on to the evening meeting at Wembley, when 8-1 shot Stick Something gives them something to cheer about. Everyone hopes that when the stands and other seating accommodation are complete, Bell Weir Park, Staines, should be one of the tracks of the future.
1996 Swaffham's Tom Smith faces anger from his layers after he grades a 'selling race' where all six runners are trained by Paul Godden
1934 Greyhound punters have never had it so good in Glasgow. There is racing at Carntyne, Albion, Shawfield, White City, Clydebank, Olympic, Capplelow, Firhill, Carfin and Wishaw, nearly all operating matinee and evening meetings.
1981 Figures reveal that there were 3,013 NGRC opens in 1980, an all time record. (By 1991 the figure was nearly 5,000)
2005 Brough Park are forced to switch to temporary starting traps after thieves steal the front grill of their new swing-on boxes. It isn't a good week for the Newcastle track when they also admit that the wrong dog ran in a graded race.
1967 The NGRC announce the 1966 Totalisator and crowd figures for their 57 tracks. Betting is up 4.7 per cent to £60,083,065 from £58,517,73 in 1965 but crowds are down 5 per cent to 10,464,033 from 11,234,267 from 1965. England's success in the World Cup is put as the blame.
1994 Champion trainer John McGee is granted a licence to train in Ireland. He left Britain after refusing to pay an NGRC fine.
1998 Sir William Rous is the new BGRB chairman. He replaces Lord Newall.
2006 Carly Philpott leaves her based in Bedforshire to join Nottingham based Hayley Keightley.
1947 January 20 Mr E Harper's Jesmond Cutlet (Beef Cutlet-Lady Eleanor) dies aged 12 years. The winner of 30 open races, his best year was 1937 when he won the Wood Lane Stakes, the Cesarewitch, the Scottish Derby and the Edinburgh Cup; he was trained by Del Hawkesley at West Ham and Catford.
1962 Greyhound Express editor Charlie Hawkins appears on BBC's Sportsview programme to explain the paper's 'Axe The Tax' campaign. They are protesting against the Government's 11% tax of all greyhound totalisators – there is no tax on horse racing totes.
1998 Hove/Wimbledon owner Edward Bentall becomes an NGRC steward.
2006 Westmead Hawk is cut from 33-1 to 20s to land his second William Hill Derby
2005 Five trainers – Gary Sallis, Kevin Connor, Spencer Mavrias, Tom Pett and Mick White, withdraw a total of 29 runners from a Sittingbourne Sunday evening card after complaining that the racing surface was unsafe. Sittingbourne sack the five trainers but are strongly condemned by BGRB chairman David Lipsey and chairman John Haynes. The five are re-instated but later fined £300 each by the NGRC. **Six months later, the Sittingbourne vet withdraws her services, resulting in the cancellation of a meeting, after being unhappy at the state of the track.
1988 The International over 460m at Wimbledon worth £750 to the winner has drawn together the best of the season's leading performers, including the previous years English Oaks and Gold Collar winners Lucky Empress and Half Awake. But they come up against a rising star in the locally trained, Wendys Dream (Tamarac-Up Town Girl, May 86). Owned by Mr H Katz and Mr R Taylor and trained by Tommy Foster, the game little brindle bitch holds off Half Awake in a thrilling race by a short head in 28.03.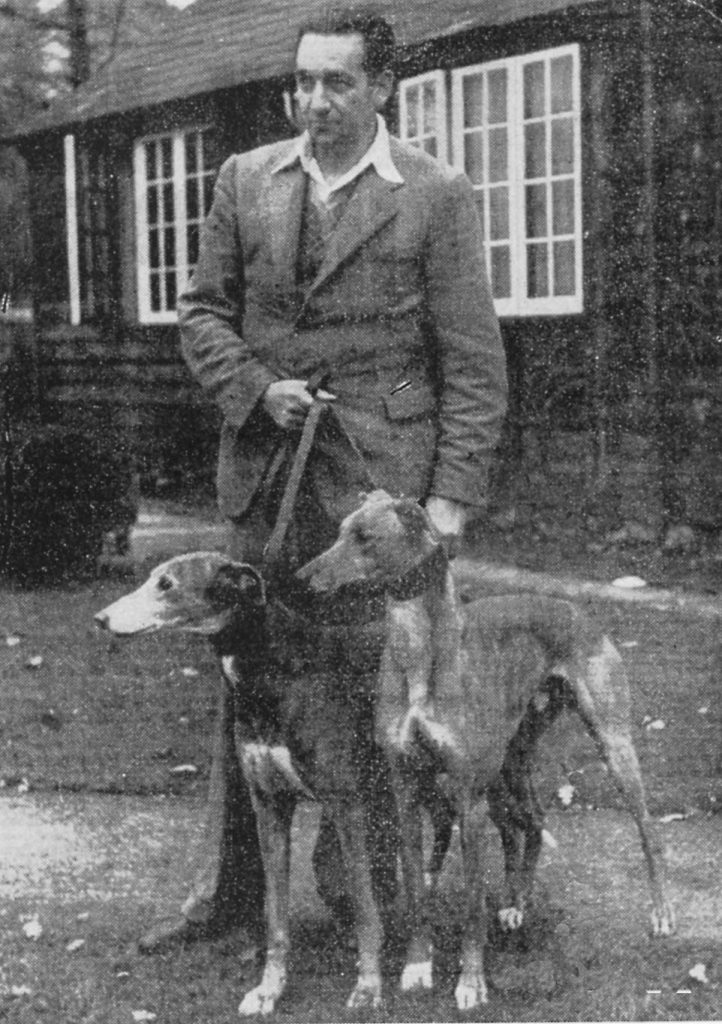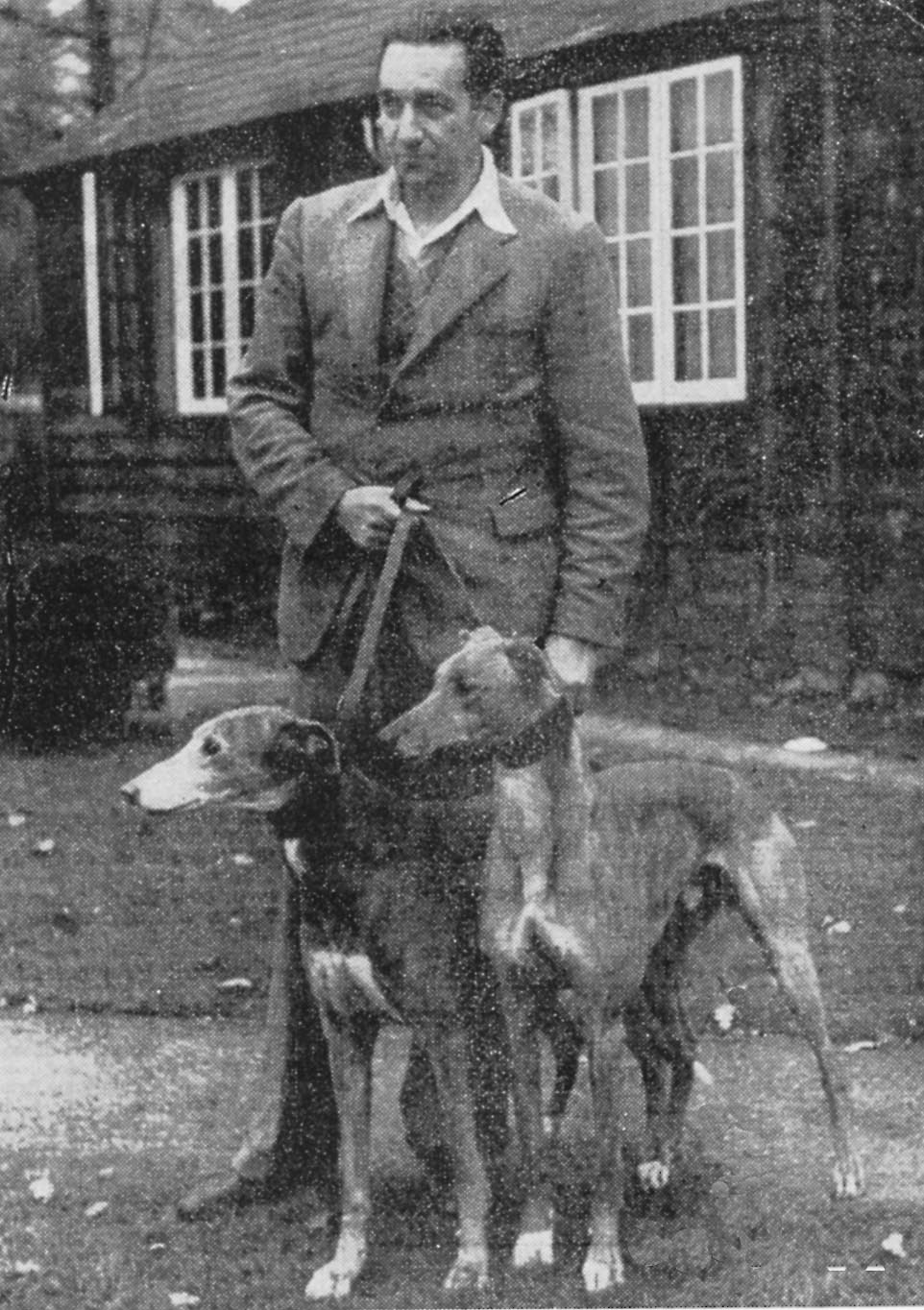 We conclude with the second part of the series of articles written by trainer Sidney Orton and originally published in Greyhound Express some 50 years ago.
Training has its ups and downs
But it's a full life and a great one, says Sid Orton
Greyhounds were associated with the coursing field and not palatial stadiums, from which hundreds of thousands of enthusiasts now see them racing.
My mind wanders back to a period when I, with other farmers in Norfolk, encountered a setback beyond our control that proved disastrous to the majority.
At times of depression one usually looks for an outlet and my antidote was to train greyhounds for the field for friends whose hobby, as mine had been, was that of coursing.
In effect, that which years ago constituted my hobby eventually became a livelihood which has enabled me to enjoy a good slice of success, combined with the meeting of innumerable grand sportsmen and sportswomen in all walks of life that has culminated in many permanent friendships.
The working of a large track kennel must be systemised and staffed with reliable and conscientious individuals. Every part of a kennels routine must work to schedule.
I am particularly fortunate in possessing a staff who have given me wonderful service over a period of many years.
At the start of the day's work, when most people are still abed, pairs of greyhounds are turned out into their respective paddocks while kennels are thoroughly cleaned, floors hosed, fresh straw and sawdust laid in readiness for their return, this procedure being carried into effect until each of the kennels has received its daily cleansing.
Punctually at 8.20 a kennel report must be compiled in readiness for transit to the racing manager, covering cases of lameness, sickness, arrivals and departures, etc, during the last 24 hours.
This report, with those of other trainers, is double checked by the Kennel Manager, and then telephoned to the Wimbledon racing office. In the meantime my "happy kennel family" have received their breakfast and been prepared for road work, which is conducted in batches of six.
From one o'clock until two is siesta time, and how much those greyhounds appreciate 40 winks is illustrated by the sudden silence, hardly broken by a single bark, that descends upon the range.
Then follows the afternoon work, when all dogs in turn are groomed and massaged before their big meal of the day, at four o'clock.
That principally consists of stewed vegetables, meat, toasted brown bread, to which is added a mixture of minced, cooked and raw meat.
Apropos feeding, I once overheard the following remark on the grandstand at Wimbledon: "So-and-so won't win tonight. They forgot to take his drinking water out of the kennel."
Had the whispering informant, the bane of all greyhound trainers, realised that a fit greyhound, properly rationed, hardly, if ever, drinks water, he might have profited by backing the winner, that proven to be the one supposedly "stopped".
Occasionally, I am asked whether the big open races are worth all the worry that naturally accompanies the training; to that question my answer is emphatically "Yes".
Irrespective of the race's eventual result, there is always the feeling that, having done one's best in turning out a "star" as fit as hands can make it, little more could have been accomplished.
Nevertheless, speaking for myself, the worst moment is that fleeting period when the hare encircles the track as it approaches the starting trap, thoughts are mixed as to whether your runner will break well, get bumped, lead all the way etc.
During my track training career, I have had the good fortune to win many classics and innumerable other important races, but that does not seem to have alleviated my nervousness just before the "off", which I must confess, is as equally manifest to me now as it was when I witnessed my first big race finalist competing in 1928.
There is, however, great satisfaction in seeing a greyhound who has been carefully prepared give of his best and run as though thoroughly fit whether in defeat or victory.
After all, it is the uncertainty of racing that provides the kick to the sport and whatever chances a greyhound may appear to have in his race a trainer is rarely without hope.
When victory comes one's way in the "big 'uns", congratulations, photographs and frequently champagne follows.
If you lose, either you were just unlucky in the running or your dog was simply not good enough, and there are few owners in greyhound racing who do not adopt that attitude. In fact, the majority are the best losers one could find in sporting circles.
They are disappointed, you are disappointed, but, thank goodness, not downhearted. A word about some of my greyhounds.
The dog of thrills, whose name was household, was naturally the one and only Mick The Miller. With him the result was usually in doubt until at least the winning-post was well in sight, and to lead all the way from trap-to-line was unknown in his history.
He would emerge from almost impossible positions, darting through the first opening that presented itself with uncanny acceleration.
To my mind the secret of this great dog's many successes was due principally to the exceptional pace he could maintain on bends.
Mick also possessed a wonderful nature and during the height of his racing career he never fretted in the racing kennels, where we used to cover him with an armful of straw that remained practically undisturbed until he was due to be paraded in the paddock.
Whether his counterpart will ever be seen remains for the future to tell, but it is doubtful if in our time a greyhound will be more generally idolised, for Mick had the combined asset of uncanny intelligence in racing besides possessing an amazing degree of showmanship after he had scored.
The more the crowd cheered, the more he would look towards them and wag his tail in appreciation.
Brilliant Bob, who won the Scurry Gold Cup, Laurels and Cesarewitch in the same year, was of an entirely different type to Mick.
The public were of no concern to "Bob", and it was only with difficulty that even his own kennelman could persuade him to parade round the track before a race, his general attitude on parade must have put many a punter off backing him.
Once in the trap, however, "Bob" was the "goods", in each of his winning "classics" he led his field from the trap to line.
Another greyhound of different disposition was the Laurels winner, Top Of The Carlow Road, a good-hearted, honest runner, but possessing a certain temperament that is rarely associated with those of his sex in human beings.
My, how "Topper" hated the ladies – the very sight of any fair visitors to my kennels that came within his view was the signal for him to make a lightning retreat to his kennel.
Once on the track, however, his only thought was racing, and this popular greyhound earned many important victories.
In 1937 the sensation of that year in the greyhound world arrived from Ireland. Although comparatively unknown until his arrival on these shores. It was not long before the name of Ballyhennessy Sandhills resounded in the sporting columns of the Press. Little was known of him except the huge price paid, and several friends whom I knew had my interests at heart, thought I had over-rated his potentialities.
It was not long, however, before Mrs J F Cearns' acquisition stepped on the Wimbledon track and astounded hard-bitten regulars by reaching the National ray-timed record of 28.17secs at his first attempt!
He stepped into the headlines overnight, and later confirmed his amazing trial by winning The Laurels, and the valuable "White City". This red flying streak soon found his public and they quickly named him "Ginger".
In the whole of my experience I never knew a more carefree natured dog, and to "Ginger" greyhound racing appeared to be the most enjoyable part of life.
He radiated happiness, and was not satisfied by merely wagging his tail, every part of his sleek body exuding joyful expression at a visitor's slightest greeting.
So much for the 'big noises'. While such greyhounds are absolutely essential for a trainer to build a successful kennel, it must not be forgotten that the graded race fellow unquestionably represents the backbone of the sport, and is the one on which our sport was founded.
When greyhound racing first started I frankly expressed extreme doubt as to whether a greyhound would continue to chase a dummy lure for more than a few times, and even today, I marvel at the graded racer who goes round that same track week after week, for months, and even years on end, without a change, still chasing the dummy.
A glance at their form charts usually reveals consistency to which few open racers would bear comparison. The "stars" will always draw a crowd, but the highest admiration must be accorded the graded racer, without whom greyhound racing would cease to exist.
The majority of greyhound race fans are keen students of form but there are, and always will be a number who prefer to search for so-called inside information, and many sad stories could be told of those who have followed that trend of thought.
An incident in this connection may be of interest. One night when at Wimbledon, I had a greyhound running in a final at Wembley, a lady approached to inquire as to whether I was going to Wembley to see him run.
My answer being in the affirmative, the lady said: "Then I shall back him for I am quite sure that when you are at those finals you mesmerise your dogs!"
My advice to those endeavour-ing to make their pastime profitable is to either studiously compare form, or, if preferring to let someone else do the donkey work, follow one of the reliable sporting newspapers, who do all the necessary study.
As in everything else, luck plays a big part in the training of greyhounds. There are times when everything goes so well that you are actually winning more than y our share of races.
Then, for no apparent reason. Dame Fortune absolutely deserts you, and it becomes next be impossible to get a winner in the frame.
Similarly with a trainer's kennel strength. At times there are enough empty kennels to almost cause alarm, whereas at other periods it is a case of having to refuse to take another greyhound inhabitant that normally would be welcome.
However, all the ups and downs of greyhound training certainly relieve the monotony, and beside being a full life, it is a healthy one.