1956 New Cross introduce a new lure with "movable ears and tail"
1962 Captain William J Nelson, the Director of Racing at West Ham from the opening of the track, dies aged 75. Remembered for his compassion towards the stadium greyhounds, Nelson ordered the installation of heat lamps and air conditioning for the track kennels and refrigeration for the dog's meat.
1976 December 11. The £800 final of the William Hill Lead at Hackney over 523 metres results in a win by the 10-11 favourite Bold Flight (Bold Invader-Fantastic Flight) but not before some drama. Nearing the line. Bold Flight injures a shoulder, but he still carries on to win by a length from kennel companion Silly Socket in 32.27.
2006 Jack Nallen, well known to many British racing/coursing folk as the owner of Clonmel's Hotel Minella, dies at his home. Meanwhile Paul Hoffman, best known as the owner of Westmead Harry, dies aged 52.
1971 The Fifth December Stakes at Walthamstow brings local stars Short Cake (Oaks winner) and Cobbler (Derby finalist) together with a head-to-head to see who is track champion. Mrs F Levy's Cobbler (bd d Monalee Champion-Yurituni, Jul 68) outwits Short Cake (The Grand Silver-She Is Landing, Sept'69) when he wins the 525 yarder in 29.50.
2009 Nora McEllistrim is to represent owners and trainers on the GBGB following the death of Stuart Locke-Hart.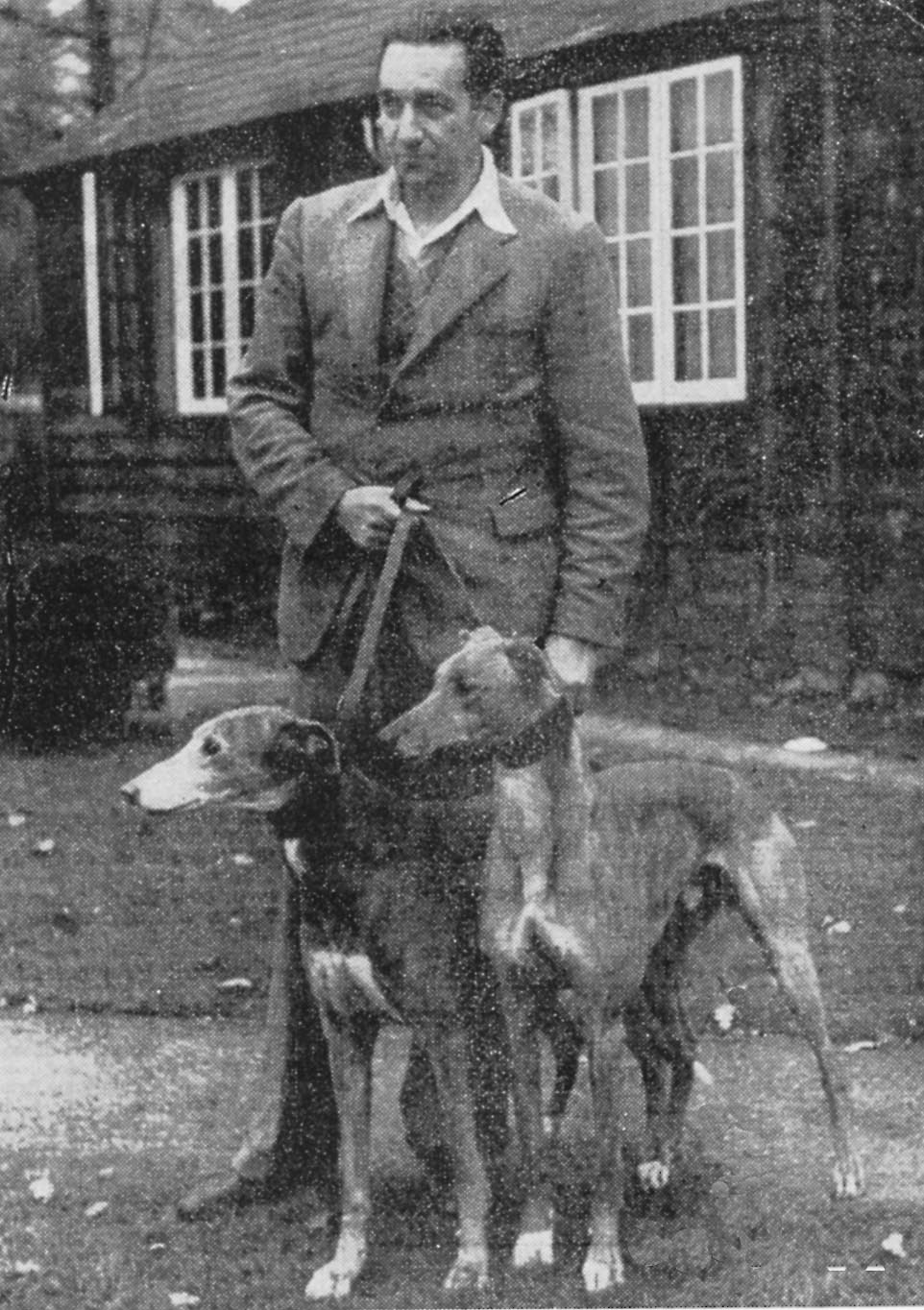 Sidney Orton is best remembered as the trainer of the great Mick The Miller.
He was also one of the most successful trainers during the golden era of greyhound racing.
Back in the 1960s, the former Norfolk farmer was asked to write a series of articles about his experiences in the sport.
This is the first of three offerings from the great man. We hope that you will find them both entertaining and enlightening.
Any discussion on superstition in dog racing brings Mick The Miller back to mind again. Everything connected with greyhound racing seems to do the same thing sooner or later.
It was the morning of the first round of the Laurels at Wimbledon on August 23, 1930. Mick was running and Mr Arundel Kempton and I had discussed the race many times. I knew he was quite excited and attached a lot of importance in it, so I was surprised and disappointed when he rang me on the morning of the race and said he had to go to Brighton.
He was quite perturbed and seemed to hesitate on the telephone as if there was something he wanted to say.
Finally he remarked "Well good luck!" and cut off abruptly.
Some of you may remember the actual race. Mick, as usual, started rather slowly, then quickened coming to the first bend, but didn't see an opening and dropped back a bit.
He went on again nearing the second bend, but the dogs in front were bunched on the rails, and Mick, finding an opening on the outside, went for it like a streak. Just as he reached it one of the other dogs swung out and carried Mick with him, knocking him clean off his balance.
I saw him cross his legs in a last desperate effort to keep his feet, then crash he went into the trolley housing on the outside of the track. He finished last – on three legs.
I went cold
When I picked him up he whimpered, and I went cold, for Mick didn't often complain.
The first thing I did when I had seen him comfortable was to ring up Mr Kempton in Brighton. When he heard my voice he exclaimed, agitatedly, "I know what you're going to tell me. Mick's hurt himself!"
I was so surprised that I don't know what I said in reply, except to ask who had told him.
"Nobody – I knew this morning that something was going to happen to him! How is he?'
I reassured him as best I could, but he dropped everything and came right back. Mick had injured a bursa in his off shoulder and did not race again that year. Well, that's all. But it takes a lot of explaining, doesn't it?
Another instance of what you might call superstition also resulted in some misfortune for me.
I hate anyone, no matter how good a judge he may be, to tell me I have a "certainty" in a race. If I hear a man talking about "certainties" in greyhound racing, I just walk away.
So many "certainties" have been beaten in my time that the talk of them makes me tired. Once upon a time I used to point out that there are four bends on a track, but nowadays I simply don't bother.
A dog may be a "good bet", yes, but a "certainty" well let me tell you.
In the 8.30 pm race at Wimbledon on January 2, 1932, I had six dogs in one race – Derrick, Jayson, So Green, Mick McGee, Clandown Sweep and Toftwood Misery. One could hardly find fault with a pal coming up and saying jovially: "Well, you have a 'certainty' this time, Sid. Let's have a drink on it."
You'll hardly believe me when I say I was not at all comfortable while we were having that drink and made an excuse to hurry away.
I particularly wanted to watch Mick McGee, who had won the Orient Cup at Clapton just before. I thought a lot about him and was looking forward to a great season with this particular dog.
Still that stressed remark about a "certainty" worried me like a hair down my back. I told myself, as the trap went up, not to be a fool. How the dickens could I have anything but a certainty when all six dogs were mine.
But I stood there, all funny inside, as the dogs flashed past and Mick McGee caught the hare halfway round and broke a leg.
Postscript: The race was declared void, of course, but not re-run. So my certainty did not come off and I lost a dog I had been building hopes on for months.
No, I don't like "certainties" at any price. The only ones I recognise in greyhound racing are the green flag and the green light.
I have never shaken hands on a victory until I have seen the green signal since that tragic night when Mick The Miller crossed the line first at the White City for his third Derby win – and the red light went up. Allied to these "certainties" there are what we call hoodoo events, races which seem to evade you no matter what good dogs you have or how much you try.
The Wimbledon Gold Cup for years, was one of these; the Grand National is still one.
There is something almost comical about the way the Gold Cup dangled about time after time, within my reach, only to be snatched away, for I have had several good things for it, including Stratum at 3 to 1 on.
Then I won it in 1943, with an 8 to 1 chance. Winterhead Big, about the worst dog I ever started for the race.
He was as clumsy as a cab-horse and often went so wide at the bends that he narrowly missed the outside fence. He galloped with an action somewhere between that of a calf – which he looked like – and a squirrel. He just loped along.
But could he go – when he liked! I have seen him ten lengths behind at one of the bends and in front at the next. The trouble was, you never knew when he would like. He was one of the few dogs who really had me beaten.
When I picked him up from Jim Rimmer at Slough, Jim pushed his cap back on his head and looked first at the dog and then at me.
"Well he's yours, Sid!" he said, with a sigh, which, knowing Jim, I realised was not a sigh of regret.
Well, Winterhead galloped like a flying calf round the Wimbledon track, jumping about ten feet high at the hurdles – but then won the Gold Cup for me after great champions had failed.
One of my big disappointments was Stratum, in the 1929 National.
One the day of the race scores of Irishmen came over to back him, but ill-luck seemed to follow him all that day. He was a dog of impatient disposition and every single thing that could happen to hold us up did happen.
The crowning disaster was when one dog turned round in the trap and delayed the race. Then another dog turned round and then a third. All this time Stratum was fuming and fighting in the trap, and when at last the lids went up, he was left.
He strained every muscle to catch the other dogs and again his impatience was his downfall.
When the other dogs jumped, he jumped. But he was two yards farther from the hurdle than they were, and, while they cleared it, he crashed down. It was the end of that Grand National for him and for me.
He was quite badly hurt that I knew he would race no more for months, and he was taken back to Ireland.
I believe about the only valuables the Irish contingent had left after the race were their return tickets and a bottle of whisky.