1947: TREVS PERFECTION:
The Cumbrian who beat distemper to write Triple Crown history
Born and reared on the Cumberland Fells, during the latter part of World War II, Trevs Perfection began life as 'Motts Regret'.
He was unraced when he joined R Forster's Stamford Bridge kennels at two years old.He contested that year's Derby but was a virtual no-hoper starting at 50-1 in his heat and was duly eliminated. A late develope r, he soon started winning opens including the consolation final of the Essex Vase.
But in late 1946 the brindle almost died following an outbreak of distemper at the Northaw Kennels. Motts Regret returned to form to become one of the best dogs at the track and was bought fo r £900 by racing's top owner trainer Fred Trevillion who was based at Sutton-at-Hone near Dartford.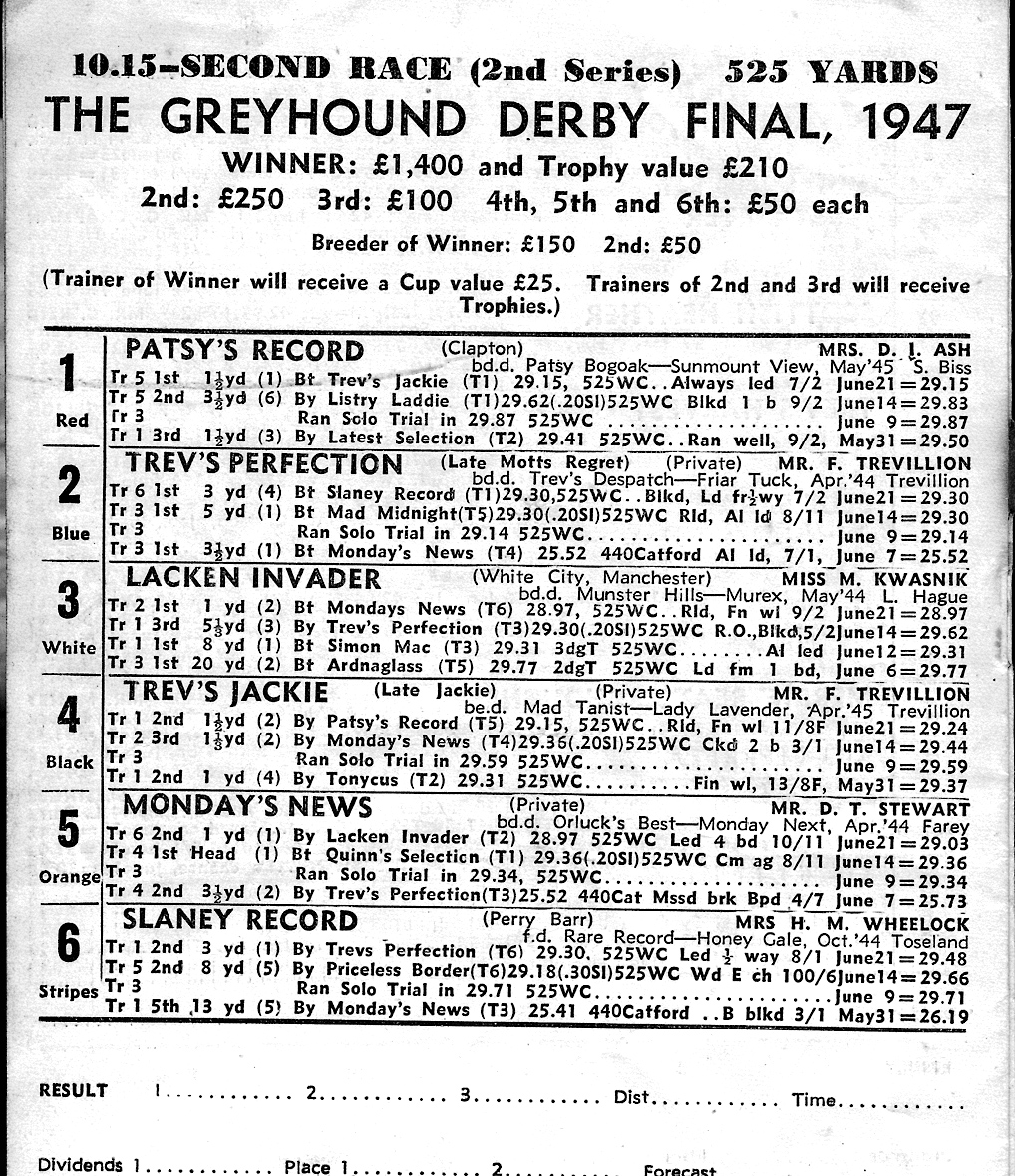 The renamed Trevs Perfection came into the 1947 Derby after an unbeaten run in the 440 yard Gold Collar.
The Derby was restricted to 36 entries and quickest among them was recent Irish Produce Stakes winner Priceless Border who clocked 29.18.
Trevs Perfection was next best on the clock at 29.30 followed by Mondays News with a 29.36 run.Manchester White City runner Lacken Inva der clocked the fastest time of the event when beating Mondays News in his semi final in 28.96.
Perfection repeated his 29.30 run in his semi as ante post favourite Dante was eliminated.Trevellion then saw his seco nd runner Trevs Jackie also make the final when following home 29.15 winner Patsys Record.
Mondays News went to traps as 9-4 favourite to retain his Derby crown. Recent Easter Cup winner Patsys Record was next in at 7-2.
Trevs Perfection was rated a 4-1 chance to become the first dog to break the 16 Derby blue jacket jinx, the same price as Lacken Invader.
Trevs Jackie, who was yet to win a race in Britain was a 10-1 chance with Perry Barr sprinter Slaney Record the outsider at 100-7.
Watched by a crowd of 60,000, Mondays News trapped in front but Trevs Perfection pursued him on the rails.
The British bred dog took the shortest route and came out of the second bend in front.
In a re-run of the Gold Collar decider Trevs Perfection came home two lengths clear of Mondays News in the fastest Derby final ever, 28.95.
It was Perfection's third major win of the year.
He started off by winning the Circuit at Walthamstow. From his winnings, Trevillion, who never placed a bet on a greyhound in his life, gave his secretary £10 and told her to back his dog to win the English Derby. The lucky lady collected £2,000 (approximately £52,000 in today's terms).
A week later, Trevs Perfection won the Scottish Derby at Carntyne, beating Dante and Mondays News in the final.
He then became the first greyhound to win the Triple Crown when he took the Welsh Derby at Cardiff.
In a year, Trevs Perfection won over £4,000 in prize money. Following a period at stud, Trevellion took the dog to compete in the USA but he failed to adapt and was beaten in all five races before returning home.
Trevillion, who only took out his trainer's licence three years before his Derby victory, owned 140 greyhounds including a stud farm in Hartley. The haulage contractor described winning the Derby as "the greatest moment in my life."
When asked by the press what he did for recreation, he replied "Proving England can breed champions"
---
1984: WHISPER WISHES:
The last White City Derby at the second attempt for Charlie's black
It was destined to be the last ever White City Derby and 207 entries, including 30 Irish runners, paid their fees for a shot at history.
The 8-1 odds suggested the £25K winner's prize would go to a highly rated second season son of Sand Man – but they got the wrong one!
The punters reckoned the previous year's beaten favourite Game Ball would make amends and the Jerry Fisher trained dog reinforced that view with a hugely impressive win in the qualifying round clocking 29.83 (.50 slow) for the 500 metres.
Equally eye-catching, on normal going, was the Seamus Graham trained Dipmac who beat compatriot Morans Beef in 29.34.A year earlier Whisper Wishes was knocked out of the Derby by Amazing Man (having beaten Game Ball in the first round!). In the 1984 qualifiers, he was again beaten by Derek Knight's Hove runner but safely survived to the next stage.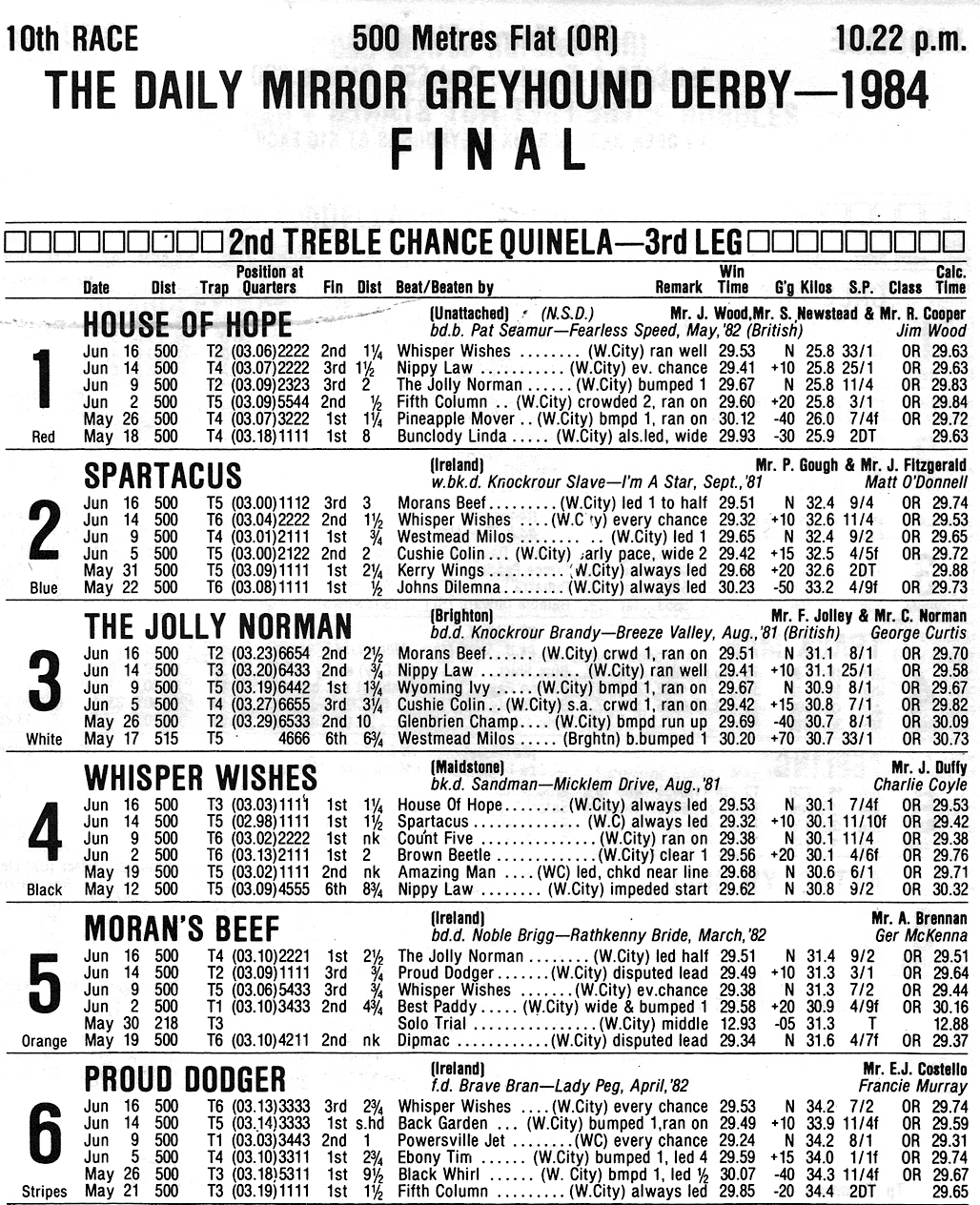 Drawn in an easy heat for that following outing, Charlie Coyle's black won in 29.56 but was outshone by Dipmac's 29.30. The split round went well for the Irish as Lauragh Six (29.4 5) and Count Five finished in front of Game Ball who only just scraped through. Powersville Jet was impressive in 29.36.
Matt O'Donnell's dog went even quicker at the 48 stage when clocking 29.24 as Game Ball crashed out in fourth place.
Dipmac (29.55) remained unbeaten while Whisper Wishes headed a three runner photo finish with Count Five and Morans Beef. Future Irish Derby winner Tubbercurry Lad (20-1) finished fourth.
Into the quarters and return ferry tickets were purchased for Dipmac, Brilliant Hope, Michigan Man, Count Five, Powersville Jet and Gracious. British bred pair Glatton Grange and Westmead Milos also exited.
Fastest of the night and new Derby favourite following a 2.98 sectional, and 29.32 winning time, was Whisper Wishes.
Other winners were Nippy Law (29.41), Glenbrien Champ and Proud Dodger (both 29.49).
So to the semis with six British and six Irish trained runners.
The first went to Ger McKenna's Morans Beef in 29.52.
Whisper Wishes was again flawless in the other qualifier and was just one spot slower.
Four of the Derby finalists were trained by Irishmen, though the 7-4 favourite Whisper Wishes was handled by Surrey based Charlie Coyle.
Ger McKenna's future Irish Greyhound of the Year Morans Beef was next in the betting at 9-4.
Future Irish Derby fourth Spartacus was a 9-2 chance while Eddie Costello's chances of winning his first English Derby with Proud Dodger were rated at 7-1.
British bred duo House Of Hope (12) and The Jolly Norman (20) completed the sextet.
A crowd of 25,000 assembled for the historic meeting and Whisper Wishes never put a foot wrong.
The black jacketed runner trapped clear and some 29.43 seconds later had held off his only serious competitor Beef by three quarters of a length.
It was a remarkable exhibition of consistency for a dog who had flattered to deceive earlier in his career.
In his puppy year, the 30 kilo black had won the Select Stakes and the Scurry consolation final for Gill Holt.
But a record of six wins in 15 races combined with a catalogue of injuries and cramping had seen connections lose faith and sell him on to John Duffy the previous December.
Five years later, Whisper Wishes and Game Ball were renewing their rivalry in the sire's table. Wishes was at no.1, Ball was at 27.
---
1986: TICO:
The dog who gave Wimbledon Derby credibility
Wimbledon had a credibility problem in 1986. Its first Derby, following the switch from White City, had been won in terrible conditions, by a locally trained stayer. The event would surely never be the same again!
But the emergence of the talented young British bred Fearless Action and a strong Irish challenge suggested the event would still take some winning.
150 runners duly contest the qualifying rounds 28 heats where Action (5-1 ante post) sets a new track record of 28.51 for the 480 metres. Two races later Gary Baggs' Lodge Prince reduced it to 28.34. Game on!
Tico, fresh from an unbeaten run in the Pall Mall, won his qualifier in 29.00. Other hounds of note included Murlens Slippy (28.81), Hot Sauce Yankee (28.71) and Ballygroman Jim (28.97).
Into the first round proper and Tico seized the headlines with a fastest 28.73, two spots quicker than the Belle Vue and Hall Green record holder Fearless Action.
The 'heat of the round' saw Murlens Slippy lead home Hot Sauce Yankee and Lodge Prince in 28.83.
The outstanding contest of the '48 stage' saw Arthur Hitch's Tico and Fearless Action drawn together.
They were both led by Irish flyer Odell Supreme. Tico challenged off the last before Action got home by half a length in the fastest time of the round, 28.94.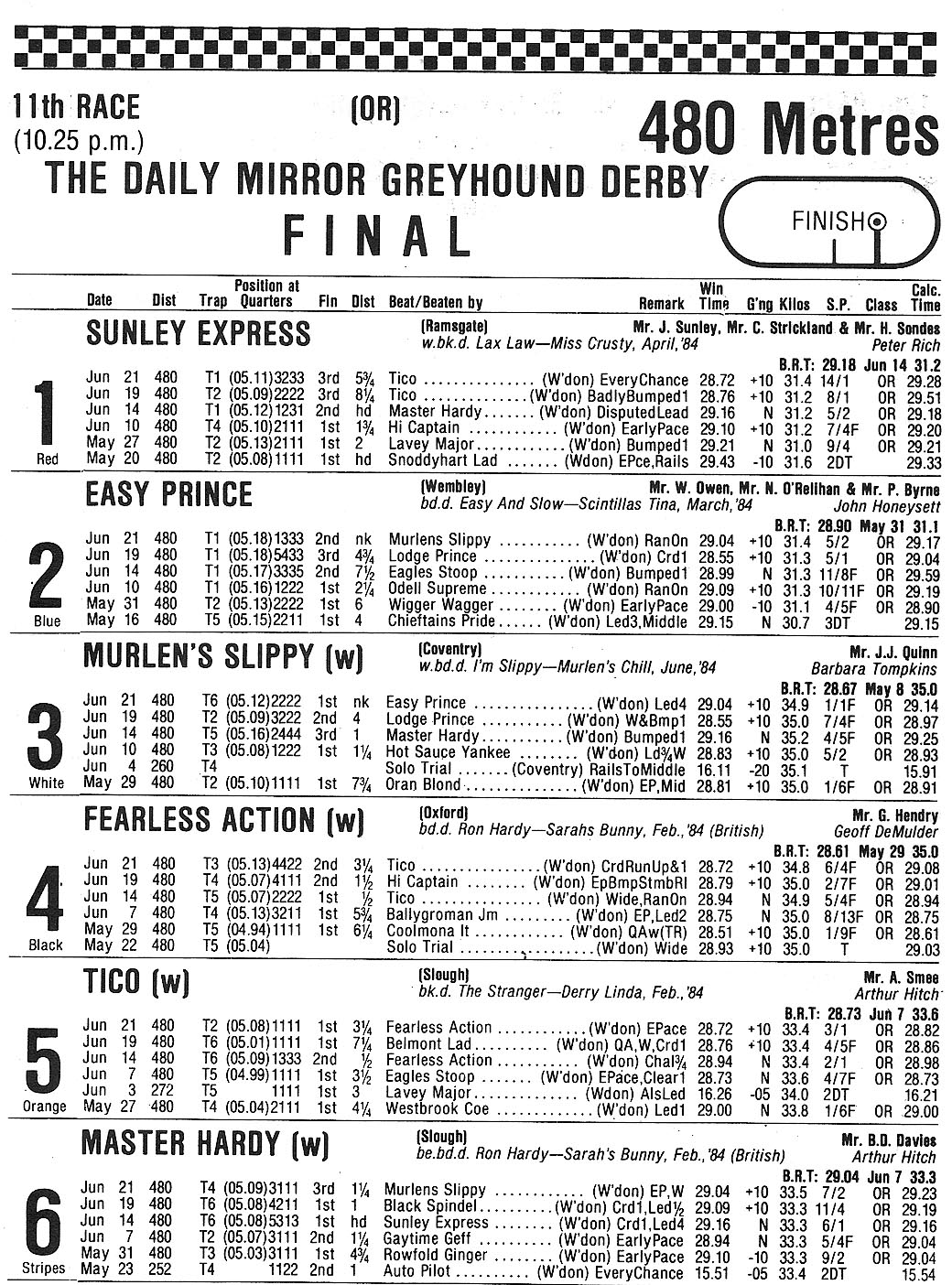 It was a great night for the Ron Hardy/Sarahs Bunny litter with Action's brothers Fearless Swift and Master Hardy also winning their heats.
Into the quarter finals and Lodge Prince returned to form beating Murlens Slippy in 28.55. Tico was next best in 28.76. There was a first defeat for Fearless Action (2-7), second to 28.79 winner Hi Captain.
The draw resulted in a comparatively easy first semi with the three market leaders, headed by Murlens Slippy, all qualifying.
The second semi featured the event's three biggest names, Fearless Action, Tico and Lodge Prince. Only two would make it!
Tico guaranteed he would be one of them with a trap bursting start. He would never be headed. Lodge Prince and Sunley Express disputed second until they collided.
Fearless Action stole second place, and although Lodge Prince rallied bravely, he would finish a neck behind the 14-1 chance Sunley Express in fourth.
With the score at 1-1, the bookies were unable to separate Tico and Fearless Action (6-4jf) in the final. Next in was John Quinn's Murlens Slippy at 5-1.
Arthur Hitch's second string Master Hardy was drawn alongside his kennelmate in stripes. It was 12-1 the other pair.
The final was all about Tico pinging clear from the boxes and overcoming a slight nudge from Murlens Slippy at the bend.
With Fearless Action crowded early, it was left to Master Hardy to complete a 1-2 for the Hitch kennel, the first for any trainer since Ron Hookway's forecast in 1967.
It was the 12th win from 18 races and he had won from traps,two, four, five and six. Three months later he would run third (4-5f) behind Kyle Jack and Murlens Slippy in the Irish Derby Final.
If proof was never needed that Wimbledon could suit a great greyhound – Tico was it.