When Razor Ashmore arrived into this world on Tuesday 4th April 2006, few could have predicted the impact he would have upon so many people. A son of Ashmore View and Razor Lady, a dog born in an equal litter of 3 bitches and 3 dogs.
Home bred and reared by the O'Connor family in Kerry at their Saleen kennels, maybe with a deeper look his destiny was written from the start for his mother was a daughter of non other than the Harry Findlay owned Big Fella Thanks who realised so many dreams when winning the coursing Derby at Clonmel in 1999.
The Saleen operation is very much a family affair but the training is headed by Tom O'Connor who said "Razor Ashmore was a lovely dog from the outset. A stunning brindled greyhound who I really took a shine to.
"Of course you can never tell what they will become at such a young age, but this pup did everything right from the outset. There were no complications with him, he didn't make anything anymore difficult than it need be.
"My brother Joe would be a very, very good judge of a coursing greyhound. If my memory serves me right it would have been when the dog was around ten months old that I really remember Joe turning to me and saying 'this dog is very good'.
"The rest of his rearing went well, he was developing into a real stamp of a dog. As he developed and got a little older we stepped up his work. I'd not be a huge fan of walking too much on the roads as I'm always fearful of the damage that can be done to their pads by the heat, particularly during the summer months.
"But Joe and my son Patrick would have him out walking for miles and miles along the beach. No matter what the weather they would be out with Razor, walking and walking, developing his fitness.
"When he got back he could go again, he would be as fresh as a daisy. Now Razor would have been galloping away at around 15 months old and he looked good, he moved well and he rarely gave a blow after.
"It was at about 16 months old though that I'd say we really knew we had something special.
"At the time we had a really good bitch in the kennel. We decided to give her a gallop against Razor but rather than setting them off together, we gave her a start on him.
"After no more than about 100 yards Razor had flown past her as if she was stood still. It was a sight to behold and we knew there and then that this dog was something special and something we could potentially enter for Clonmel.
Meanwhile 250 miles North East in Newry, Brendan Matthews was beginning to come to terms with the fact that he'd nothing at his kennels that he would consider likely contenders for the main event at Clonmel, the coursing Derby set to be staged in February 2008.
Brendan said: "I had some decent pups about the place but non that really stood out to me as Derby winners. To win a Derby you need to be extra special and that would usually be apparent from a young enough age.
"Certainly as we were getting to around October and November 2007 I'd have known had I a likely contender. As such myself and my son Damien set about looking for a dog that we might be able to purchase.
"I was busy ordering the videos of all the major Derby trial stake meetings and had done so for the Ballyduff meeting. As it so happened Damien was also in attendance at this meeting.
"He'd been impressed by a young brindled dog who won his trial stake, a dog named Razor Ashmore. After watching the video I was in full agreement.
"He looked a dog with potential, not quite the finished article but certainly a dog that could progress. I contacted Tom O'Connor with a view to trying to do a deal for the dog.
"Unfortunately he wasn't for moving. He and his brothers Joe and Jimmy obviously had a special bond with this particular dog and no matter how hard I tried a deal couldn't be done.
"Now after a few calls Tom contacted me again, 'we'd like you to train the dog for us Brendan' he said.
"Now Tom won't mind me saying this. I'm sure but we're both greyhound men, both from close knit family kennels.
"Where Tom and I differ though would be I insist upon silence and information on a dog being kept totally confidential.
"Now Tom – let me make this clear – is a wonderful man. But the one thing he can do is talk, and talk and talk. In fact he could talk to a stranger for hours upon end without taking much of a breath.
"It's an admirable trait in a man but when it comes to training greyhounds, especially when potentially landing a bet, it can be your downfall before you've even begun.
"As such I was a little reluctant to take the dog on. I felt I'd be fighting a losing battle before I'd even begun. I was keen on the dog though and so after much thrashing out of the financial terms and conditions should he go on to do well I agreed to take him on.
"This would have been around late December 2007, maybe 5 or 6 weeks prior to the Derby beginning at Clonmel. I agreed to meet Tom at the Midway hotel in Portlaoise which give or take a mile or two would have been about halfway between the pair of us.
"I'd stipulated to Tom that he was to tell nobody that the dog would be coming to me. I'd asked him did he have another brindled dog at the kennel.
"'Yes Brendan' he said, "well you're to continue walking and galloping that dog as if it's Razor Ashmore. If anybody asks you, the dog is Razor Ashmore. Nobody is to know any different.
"This had to be done, the coursing community are a very inquisitive group of people, particularly in the area that Tom would be from.
"If anything with their routine changed the people would be talking in no time and the bookmakers would be pricking their ears. When I met Tom at the Midway hotel I stressed this again in no uncertain terms, I told him bluntly, 'the first person who tells me that I'm training a dog for Tom O'Connor – then the dog will be heading back south and will be being trained by Tom O'Connor'. I think I made myself understood loud and clear.
"We would actually have a very lucky escape at this meeting when handing the dog over. Unbeknown to us at the time a neighbour of Toms was in the area and had witnessed the exchange, thankfully not being coursing people they didn't recognise myself and didn't realise the importance of what they were witnessing.
"Nevertheless it was a lucky escape, at times you need a slice of luck on your side, certainly better it with you than against you in any case. I reminded Tom that neither he, Joe or any of the family should talk about this and they should certainly not ring me to enquire about the dog.
"I would contact them when I had news. That's the way I do my business. I don't need or want people ringing me up on a daily or even weekly basis. If there is news to tell then I will be in touch.
"I had my grandson Niall with me in the van for company, Tom being the good man that he is gave Niall €50. We were about ready to head back North when Tom said hang on a minute and he pulled out a bottle of holy water.
"A neighbour of Toms had just returned from Lourdes in France and had brought Tom this bottle back. He set about sprinkling Razor Ashmore with this water and blessing the dog before we could leave. "He gave me the bottle to take with us. Upon arriving back at the kennel in Newry we couldn't have wished for things to go any smoother.
"Razor had travelled up well, he settled in well, ate well, galloped well. In fact everything he did he did well. In all my time in greyhounds I'm not sure I ever came across a more professional dog.
"He'd gallop hard, yet come off without so much as a blow, he'd be ready to go again. Mentally he was well but also physically the dog thrived over the coming weeks, putting on 10 or 12lb in condition. "Now I've mentioned the importance of confidentiality, many plans have been ruined by loose lips and I'm afraid this nearly could have been the case at my own kennel.
"I'd stressed to the O'Connors the need for silence but it was ever so nearly a loose comment from a young, inexperienced member of kennel staff that could have ruined this plot before it got off the ground.
"I've got to stress that at 14 years of age this member of staff meant no harm but when talk was raised online about the forthcoming Derby, he made a throwaway comment that basically anybody else turning up at Clonmel would be running for second place.
"Now I must stress that nobody at the kennel barring myself and Damien actually knew what this dog was called. They knew we had a dog in that was preparing for a big competition but even they didn't know the exact details.
"Now as I say this comment from the young staff member was done so in a harmless way, had the bookmakers caught onto it though it could have led to a bit of digging about that might have ruined the whole operation.
"I had to let the young lad go the very next day after I found out. You just can't afford to have any leaks, intentional or not, in your kennel. "Everything had gone to plan, Razor was moving very, very well in his work, he was galloping in a field similar to that at which he'd be due to compete at Clonmel, you couldn't work him hard enough he simply thrived on it and the more you did with him the better he got. It was also pleasing that I'd heard nothing from Kerry. I couldn't quite believe it but it appeared that Tom and the lads had carried out my request to the letter. Not a single call.
Tom O'Connor recalled: "The five or six weeks in which Razor was away from me was the longest time of my entire life. I'd say I got next to no sleep. I was worried sick about the dog, he was in the best hands, in fact he'd have gone nowhere else.
"Brendan's reputation speaks for itself. He's the best that there is and though we had confidence in ourselves and certainly in the dogs ability, if he were to really reach the peak of his ability then he had to go to the best around and that meant leaving us and going to Brendan. "Regardless though I thought of nothing else whilst he was away. Brendan had said there was to be no contact and that I was to talk to nobody. I'll admit I could talk to anybody usually but I stuck to his rules during that time and between us we kept up the work on the brindle dog as requested.
"This dog wasn't even a coursing dog if the truth be told. He was a track dog, much smaller in size than Razor but he did the trick.
"We'd be out walking the dog, galloping him away, it was enough to put the locals off the scent that anything might be amiss. Some of the locals would turn up unannounced at the kennel. Wanting to see Razor galloping.
"We'd have to say oh he's gotten a little nervous of strangers and we've galloped him away at 7am this morning you're too late. They'd see him off walking with Joe in the distance, or so they thought.
"I'd even took this brindle track dog to a trial session at Clonmel itself. I was treated as second rate by a few people on this day, a few trainers were jumping in front of me for trials.
"In the end I got my trial but on the way out a comment was made to me that Razor hadn't gone too well today. I simply replied you might have been ahead of me today but make no mistake there will only be one winner at 3pm on the Wednesday of the final.
"Having trialled so poorly they must have thought I was crazy. I'd heard nothing from Brendan at all, which is what he'd said. But come the Friday before Clonmel and after the draw had taken place I did nothing but wait near the telephone.
"It didn't ring. By 6pm I could wait no longer and so I called Brendan. Even now Brendan was reluctant to speak to me about the dog and wanted to speak to Joe. Joe wasn't about. In the end Brendan relented, I asked how the dog was, he's good Brendan told me, he's very very good. We'll be backing him in the morning at 11am, not before.
"You'll find out off Joe what you all want on the dog, you'll let me know this evening and I shall do the betting. I called Brendan back shortly after with details of our bets and agreed to settle up when we met.
Brendan recalls: "Yes that's pretty much as it went. Everything had gone so well, now wasn't the time for the plan to be ruined.
"On the Friday after the draw I'd set about putting cash with ten of my biggest punters. I'd given them each £4000 but without telling them what it was for.
"It was known that we had a live fancy in a dog named Cross Country for the champion stakes but nobody knew about Razor Ashmore for the Derby.
"I'd told the lads to check about with their bookmakers would they be able to punt a dog for the Champion Stakes on the Saturday morning. I knew full well that if they could have a bet for the Champion Stakes that there would also be odds available for the Derby itself.
"Come the Saturday morning the calls were made to the ten lads and they were to place £4000 win, not each way, win only on Razor who was 18/1 at the time.
"I think more than a few of them were taken aback but all bar one of the ten lads reported back to me that the full amount had been placed at odds from 18/1 down to 14/1 and no less.
"This was some effort but what people need to realise is that Ireland was flush with money at this time. In fact it was being spent as if it was going out of fashion, leading just a year later to a severe recession in the country. The next year we wouldn't have got the bets on so easily, but I mentioned having that bit of luck on your side and that's what we had here.
"There was just one lad who rang me back to say he'd got nothing at all on. I was very disappointed especially since he was a losing punter and could usually get bets on without trouble. The issue turned out to be that he and his team had been losing to such a degree over the previous weeks that the bookies had shut up shop with him and refused to lay him anymore until he cleared his debts.
"I sent Plunkett another of my sons to retrieve the £4000 immediately, the last place you want money held up is with a punter who is in debt to the bookmakers.
"I still needed to get this money on though and rang a bookmaker I knew from Enniscorthy. I asked where he was and fortunately he was in Dublin for the 6 Nations Rugby match between Ireland and Italy at Croke Park.
"Dublin as such was busy, I asked him could he get me the £4000 on. He rang a short time later to say i'd got £3000 on. It wasn't quite every last penny of what i'd wanted but it was good enough. The betting was now done, the dog had been prepared and he was as good as we could get him.
"We headed to Clonmel on the Monday morning for the first round and it was only then that word started to spread that Razor Ashmore hadn't been in Kerry for the last 6 weeks, he hadn't been trialling poorly at Clonmel, he hadn't been walking around the beaches with Joe O'Connor.
"No, Razor Ashmore had been burning up the gallops with myself in Newry. There were a few worried looks amongst the off course bookmaking fraternity and to be quite honest I didn't blame them.
"I had every faith that not only could this dog win the Derby, but he would do. Despite the off course money for Razor the bookmakers at the track opened him up plenty bigger than I felt he should have been, he was available at 8/1 and though some might have thought they'd missed the price, my own view was that he still represented more than good value.
"We'd done our betting though. Our money was already on away from the track so we would leave the on course bookmakers to get what they could in the book from the on course punters.
"This was a good quality Derby, littered with dogs that would go on to win some very big events. Dogs like Sandy Sea who was very well touted for this Derby, Siena Steel and Catunda Ashmore.
"If we were to win we'd be doing so on merit and would have to be at our best. Razor won his first course against a dog called Pumpactionpaddy trained by Barry Lynch.
"The bookmakers weren't overly impressed and a few thought their money was safe even though Razor gave Paddy a good start and a beating.
"He'd been caught a bit at the slips, all four feet were in the air when the dogs were let go and it just caught him out early on. I remember that night in the Minella hotel in Clonmel, there are numerous people in the world of coursing who would politely be described as 'students of the game'.
"Some would describe them in other ways but I choose to know them in that way. A few of them approached me that night after the first round and I remember one person in particular telling me that the dog wouldn't be winning any Derby and it looks as if you've done your dough.
"Coming from one of many others I might have been even the slightest bit concerned but I slept well enough that night. It was an interesting evening at the Minella that night, I remember a few bookmakers confronting Tom O'Connor.
Tom recalls: "Yes that's true. We were all back at the Minella hotel, four bookmakers surrounded me. There wasn't too much they could say really as I'd told no man a lie but they wanted to know if that had been Razor who'd trialled at Clonmel.
"I told them straight that it wasn't. Razor had been nowhere near Clonmel. They were irate in their manner at this point but I'd told no lies and if a man wants to make a presumption on what he believes to be true, I guess they do so at their own peril.
"The mood of the bookmakers wasn't lifted as Razor was due to face a dog trained by myself in the second round called A Noble Man. 'Noble' was withdrawn lame from the second round giving Razor a bye into round 3.
"To this day there are people who say there was nothing wrong with the dog and even the stewards made their enquiries. The truth of the matter is that Noble Man was lame, he'd injured a tendon and was in no position to run. People can believe what they like but that's the truth".
Moving onto the third round and Razor was to line up against another brindled dog named Whitestone Rock.
Brendan explains "Whitestone Rock was a very good dog. In fact he was the dog that a few of the staff here at the kennel thought we'd taken in. There were a few whispers going about but the general belief seemed to be that the dog I'd brought into the kennel was 'Rock'.
"In the third round he was no match for Razor and we won comfortably. Heading into the third and final day on the Wednesday we were in confident mood. The bookmakers had us in at 2/1 second favourite for the competition behind Patsy Byrne's dog Sandy Sea who was trading as even money favourite.
"Razor was to face Maxi Collins' dog Gingerbread Boy in his quarter final, he won the course well and was never in any danger.
"His time was fastest of all the quarter final heats and Razor was cut into 6/4 second favourite for the Derby with Sandy Sea remaining at evens as we headed into a semi final engagement against John O'Donoghue's Siena Steel.
"Steel was a great dog but come the semi final we were still as fresh as anything and Razor was showing me everything that he'd shown at home. He exploded from the slips and won the semi final course well in a great time.
"Sandy Sea got up in the final strides of the other semi final against Catunda Ashmore to set up a classic Derby final encounter.
"The hour before the final was hectic. We stood to win a sum well into the high six figures. It would have been fool hardy not to try and do a little bit of business to ensure a profit so some negotiating was done. "Not long before the final myself and Damien took Razor into the paddock, I told Damien to let him off the lead to have a freshen up, after he'd emptied up he had a wander around and the next minute he's kicking the grass back as if he'd just had a two week break.
"I knew there and then he'd won. Just for added security I pulled out the bottle of holy water which had been left with me by Tom when I collected Razor, he was blessed before heading to the slips.
"Damien took the dog up but in honesty it was Razor taking Damien, he was that well. For me we'd done our job on the final day, I like to refer to those important hours when it really matters as 'Matthews Territory'.
"It's where champions are made and separates those who do and those who talk about doing. Razor was incredible in the final, he pulled further and further away from Sandy Sea to win by 4 or 5 comfortable lengths.
"It meant that Ashmore View had sired the winner of the Derby, something that pre the competition starting people simply wouldn't have believed possible.
"People had a belief that the crop of Ashmore View dogs that year were disappointing. I suppose in a way that helped with the price of Razor at the outset, but if a dog can run, he can run and Razor could run alright.
"It was job done. It was a huge gamble landed with all but one of the punters who put on for me paying up. I'd like to place on record my thanks to Tom O'Connor, Joe who is one of the finest judges of a coursing dog I've ever had the honour to meet and all the family.
"I might have had the dog in Newry but if they'd not kept to their side of the bargain non of it would have been possible. It was a real team effort.
"After being back in Newry for a few days I received a telephone call, the man on the end of the line simply said 'I don't know how you've pulled that off Brendan but be very proud of yourself'.
"I'm not somebody that seeks praise or approval, but the man on the end of that telephone line was non other than Barney Curley, I guess we'd done alright".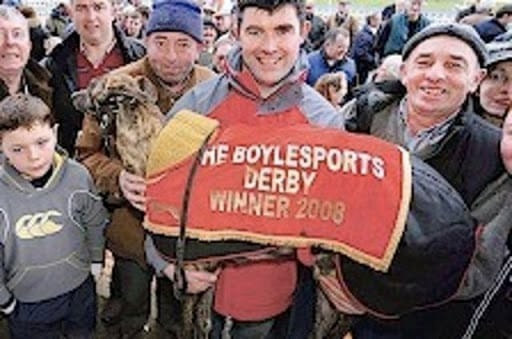 Tom O'Connor was equally as lavish in his praise of Brendan and the Matthews family "For me they are the best that there's ever been in coursing. Great people who i'm proud to call friends. We wanted the best for Razor and we couldn't have wished for anymore, they did ourselves, themselves and Razor proud".
Liam Dowling, famous for his Ballymac prefix and winner of countless classic events recalls "I remember on the morning of the first round Tom coming up to me with a glint in his eye. 'Liam' he said, 'come 3pm on Wednesday I'm going to be standing over there with the Derby trophy in my hands.'
"The love he held for Razor Ashmore was plain to see. On the Monday of the National meeting, many people hold dreams. I'm just pleased that in this instance Tom's dream became reality.
"They landed some gamble on Razor but it was clear to see that this was more than just about the money, he'd achieved a lifetime dream. The money might come and go but they'll never take that victory away from the team behind the success of Razor Ashmore".
Razor Ashmore headed back to Newry with Brendan. A year later and everything looked good for a dominant second season.
Brendan explains: "Everything was going well. In fact I believe Razor had matured and was definitely a few lengths faster than the previous year. He suffered a gracillus injury on the gallop one day though and after that he was never the same. He headed back home to Kerry where he took up a second career as a stud dog".
Tom explains: "Razor went onto be very successful at stud. We were pleased in one way to see him home. He was enjoying life until one day I noticed a lump on his leg. I said to Joe that I think we're in trouble. "Before too long Razor was in pain and though it broke our hearts, the dog had always been right by us to the very last day and we had to make decision to be right by him and put him out of pain.
"He gave us absolutely everything and I like to think that in return we gave him a life that most dogs could only dream of. He's gone now but will never ever be forgotten".