Although I am still to confirm it with 'The Boss' (that's Brendan Keogh, not Liz) I think it is highly likely that we will now head to Shawfield with King Turbo for the RPGTV Scottish Derby.
Although he won at Nottingham on Monday and beat a very decent dog in Newinn Missile, I was expecting him to go a couple of lengths quicker. But he finished very tight in his rear end.
The following morning he was a tired dog, a bit slow to get off his bed and didn't eat his breakfast.
I don't believe in taking semi fit dogs into an English Derby, its the surest way to fall flat on your arse in the first round, and need to keep him ticking over. When I spoke to Brendan last week, I said I was thinking about giving the dog a run a week and although it is a hell of a journey, why not have a shot at the Scottish Derby?
I'll be taking him and King Dylan who I thought ran an even better race than Turbo, even though he was beaten a short head by Honour Turbo, who is a very tough dog to beat on his home track.
King Cash (T6) didn't get a chance at Nottingham after an incident at the first bend. . .
and is another possibility.
It has been a hell of a week that started with Sheffield on Friday with the two pups in the BGBF Puppy Cup at Sheffield.
I thought Queen Swift (T1) showed a lot of determination to win her semi final from Goldies Allen
King Idol (T2) also had to battle to win his semi from a very impressive Romeo Ruben (T6) who finished like a train.
I said to John (Mullins) after the race that I think he has a future staying star in Ruben.
I was pleased with the draw for both of our pair. Queen Swift really needs the red and I think John's other runner in three will move left on the run-up and give King Idol a bit of room.
Sheffield put on a great night, as always, and I am sure the final will be the same. My only other point is that I would like to see these British bred events going around the country. Although Central Park is my local, I don't see why it should always host the British Bred Leger.
Let's give all breeders around the country a chance. They need all the help they can get.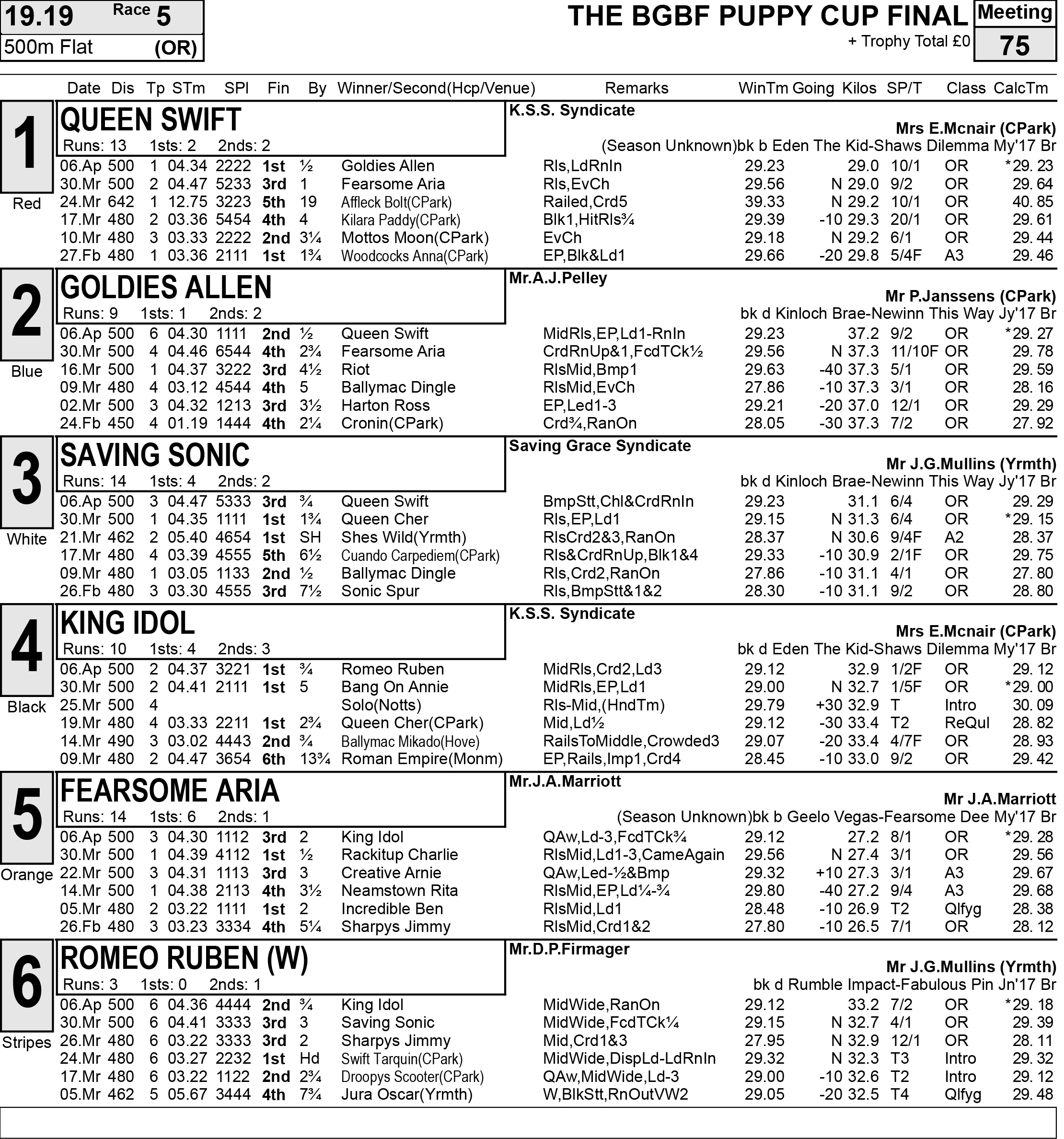 So after Sheffield on Saturday, Central Park on Sunday, and Nottingham on Monday, we were on the road again on Tuesday to Poole for the Golden Crest semi finals.
To be fair, I really enjoyed the trip there, and so did King Elvis. It is quite strange how dogs respond but whenever we get to Poole, Elvis seems to know.
He is just very happy, I think it is because the locals all spoil him. Everyone wants to see him and have a picture with him. I can't explain it, he just seems to have a bounce in his step when we go there.
I thought he (T5) ran an absolute blinder to beat Clash (T4) who is a real class act.
I have watched Clash run many times at Hove, and if he leads, you just don't come from behind him over four bends.
I think it is a really high class final, from one to six, and will take a lot of winning. But I am very content with the draw. I expect the five to move inwards of the run up and we should get a run. After that, it is down to who performs on the night.
Although it might not be as glamorous as racing, I got probably an even bigger buzz at trials at Central Park yesterday.
We were gutted when King Sheeran broke a hock at Nottingham last October. He had been odds-on to win his semi final of the British Breeders Stakes and we feared his career was over. So can you imagine how it felt when he clocked a calculated 16.04 for the 265 metres?
(Troy Bella's FOY is 15.99)
He was even one spot quicker than Queen Beyonce and everyone knows how much I think of her. King Lennon did a calculated 16.35 (16.50 -15) and I would have been thrilled with that.
I have always had a soft spot for Sheeran. He is a real tough guy, nothing phases him, he takes life in his stride. We will take our time with him and give him every possible chance.
As for Queen Beyonce, she is fresh and on her way to Nottingham. Bitches don't win many Derbys, but if ever I had a chance with one, it would have to be her.
So what was the highlight of the week? Nottingham, Sheffield, Poole or Central Park?
It might just have been a phone call from Jeff Sealey at the Bicester schooling track. We sent our next litter down there last week. They are January '18 pups by Leamaneigh Turbo out of Queen Asia (Droopys Scolari-Shaws Dilemma).
Greyhound Star readers might remember the dam. She ran second to Ballymac Brogan in the Arc, finished fourth in the Lowther Stakes behind Forest Twilight and won the British Bred Oaks in 29.21 at Doncaster.
Jeff is a fantastic judge and is never far out in his assessment of pups.
His words were: "These are at least as good as the last litter (King Sheeran, King Dylan, Queen Beyonce etc), or possibly a bit better."
We also have some May '18 pups by Lamaneigh Turbo out of Skate On out in the paddocks, and they are magnificent. If they don't develop into top class greyhounds, it will kill me.
How couldn't you be excited by that?
You forget about all those hours driving up and down motorways, or at least have something to dream about while you are doing it.