When I found out that King Sheeran had dead-heated for third place in his Derby heat on Friday, and that there was an empty trap in the next round, my first thought was 'we'll go into a coin toss and be straight back in it as a reserve if we lose it'.
But Brendan (Keogh) was quicker on the uptake than me. Within five minutes of the race, he was on the phone and said 'no Rab, you have it wrong. We are a wide seed, if we lose the coin toss, we don't run'.
At that point I realised he was right. This is the English Derby, nobody wants to go out on a coin toss. I knew I would regret it if it went ahead. I also knew that a re-run within the next three or four days is the last thing you need with a dog only three races back from a broken hock.
Thankfully, the right decision was made and both dogs went through. I don't know whether the keyboard warriors had an opinion on it, and quite honestly, I don't give a shit. Certainly nobody approached me directly, but then they probably wouldn't.
What I do want to see is the rules changed to make sure nobody else is put in that position again.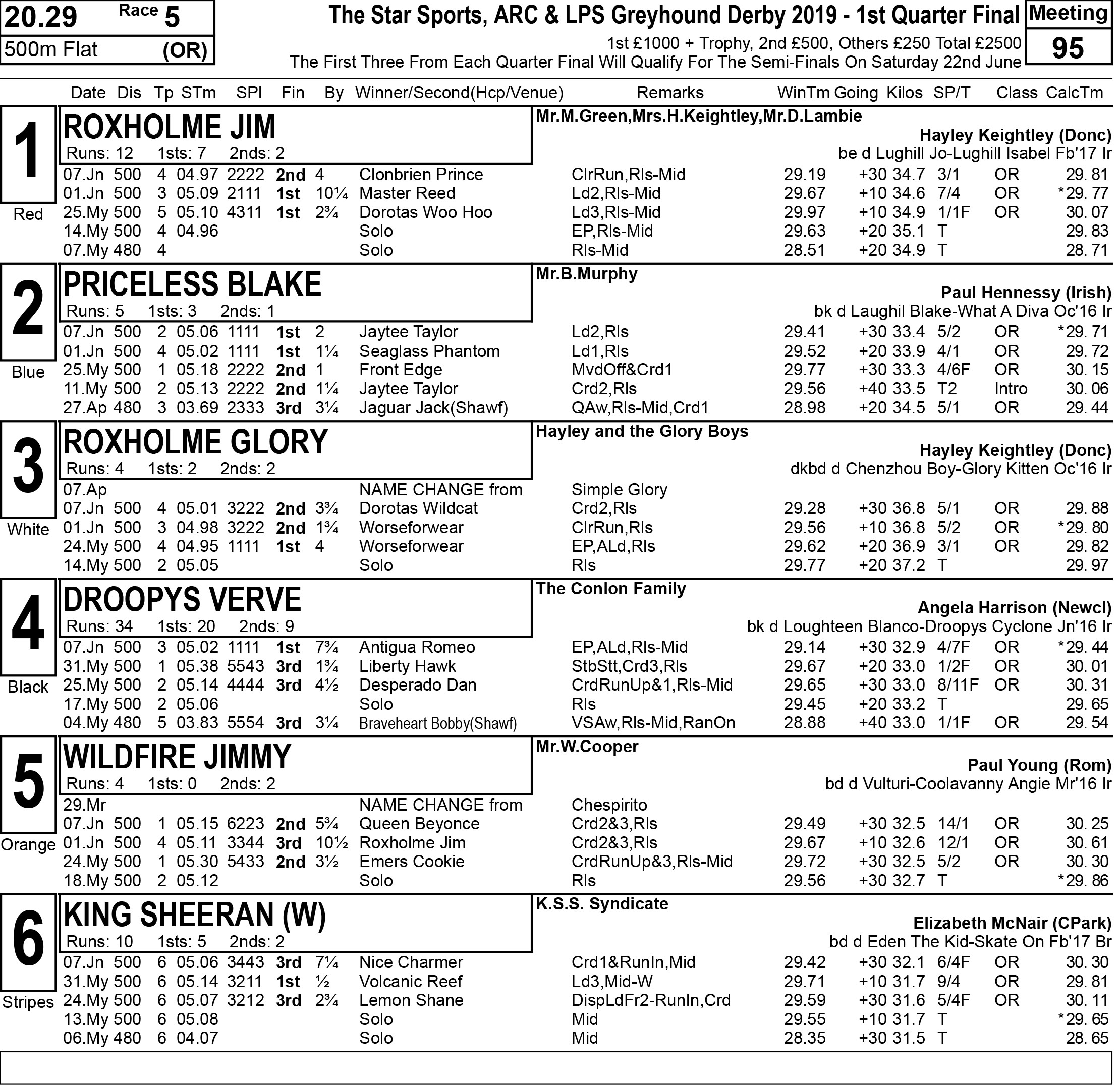 Sheeran goes in the first quarter final on Saturday and I really hope I am wrong when I predicted at the start of the competition that no wide seed will make the final.
There are only two of us left, Sheeran and Jaytee Taylor. Of course, if we were to get as far as the final, it could work to our advantage. With a fast breaking railer in five, you could end up with a clear run.
But I won't be thinking that far ahead on Saturday. It is a Derby quarter final and it would mean everything just to get through. There are a lot of good greyhounds in there, but you never know. You need a bit of luck to win a Derby and maybe it is smiling on Sheeran.
When you handle these dogs you obviously get a sense of satisfaction when you win big races. But there is another type of fulfillment; to bring an injured dog back from a major injury.  There has been such a lot of time spent in rehab and even between races and trials trying to keep the dog sound. Sometimes it feels a bit like being a mechanic trying to keep a vintage car ticking over.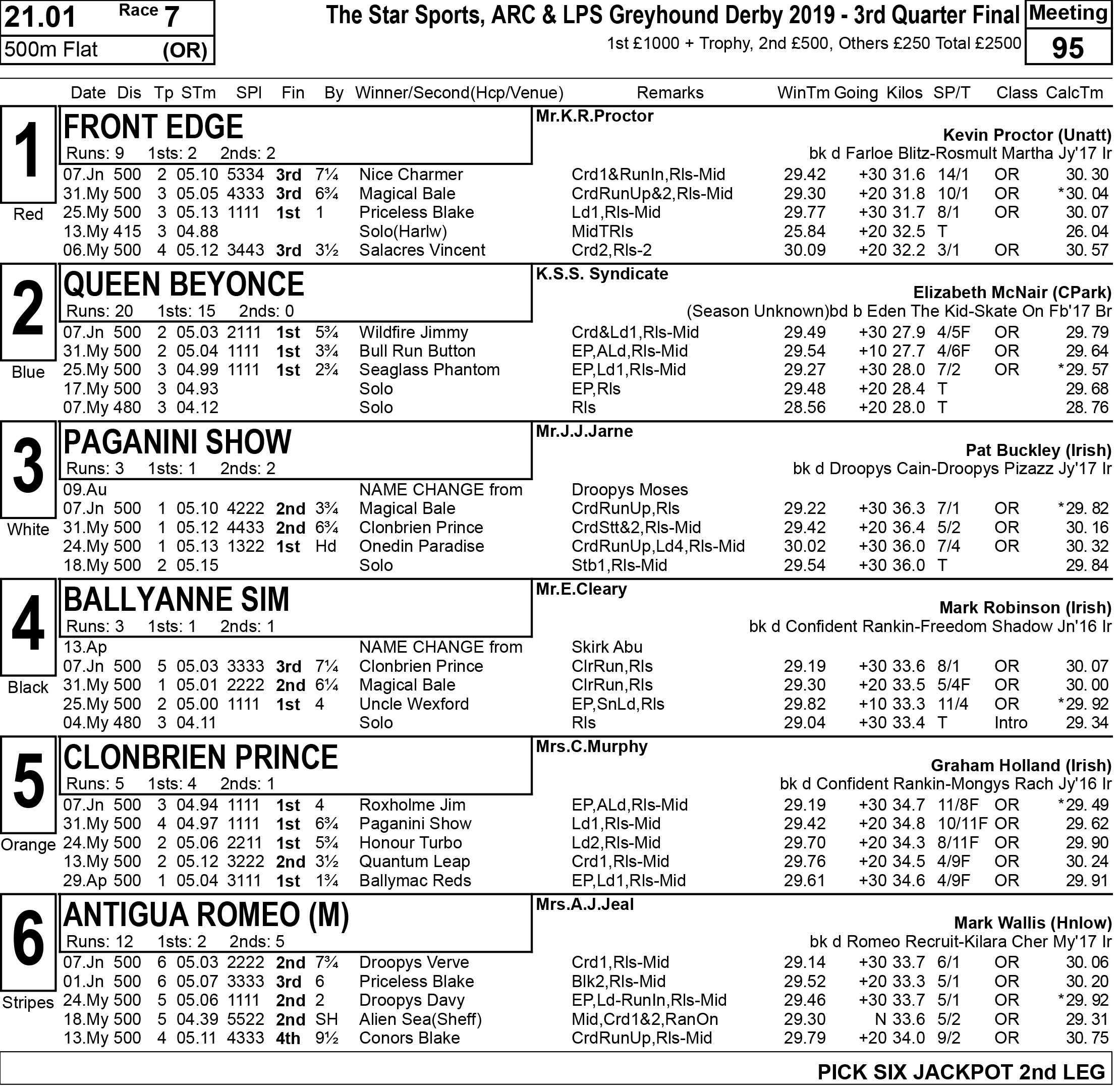 Beyonce is in the third quarter final and I couldn't be happier with her. I said before the start of the Derby that our runners are coming forward every week and there is nothing more consistent than a bitch in form. She is brimming with confidence at the moment and the draw suits me fine.
I don't like trap one out of the Nottingham type of traps, I think they favour the middle traps. Beyonce has drawn two and most of the early pace appears to be on the outside where there could be some early crowding.
If she was to get her nose in front, I don't think that anything will 'back run' her. Nor do I think she could come from behind a dog like Clonbrien Prince. With the hare being driven a little longer, which is the right decision in my opinion, this is becoming more of a front runner's Derby.
But that was inevitable at this level. It is all very well having a 29.80 dog go past a 30.20 dog in a Monday night open. But if an early paced dog is going to lead all the way in 29.30, he won't get picked up, even by another 29.30 dog.
As for Beyonce, I heard another brainless comment on RPGTV the other night. It was along the lines of 'sure, she is a fast bitch, but she never puts two or three decent runs together'. What racing are these people watching? These experts?
She is unbeaten going into a Derby quarter final with a race career, all in open class in Britain, of 15 wins in 20 races.
We have failed in our comeback attempt with King Elvis. We did a lot of work on the damaged tendon and gave him his first handslip back last week at Central Park.
Typically Elvis, he didn't hold back. He fully ruptured the tendon and any thoughts of him racing again are over. We are going to get some straws drawn and he will be joining Ron Grey, who stood Leamaneigh Turbo, in the North East. Ron will also have some straws for Eden The Kid available.
Ideally, I would like to put a couple of our own bitches to him and have Queen Asia (Droopys Scolari-Shaws Dilemma) and Turbo sister Queen Izzy (Leamaneigh Turbo-Wee Tiger Tots) in mind. The problem is, we have Queen Anna and Skate On both due to whelp down shortly, and I wouldn't want any more litters this year.
But I know that a few breeders have plans to use Elvis so we will get him to Ron and get started straight away.
On the subject of Queen Asia, I took two of her January '18 pups by Leamaneigh Turbo for their first 480m trials at Central Park last week.
One did 29.30, the other did 29.40.
I don't really need to add anything to that.