I think Wednesday morning at Central Park I had the best trial day of my life.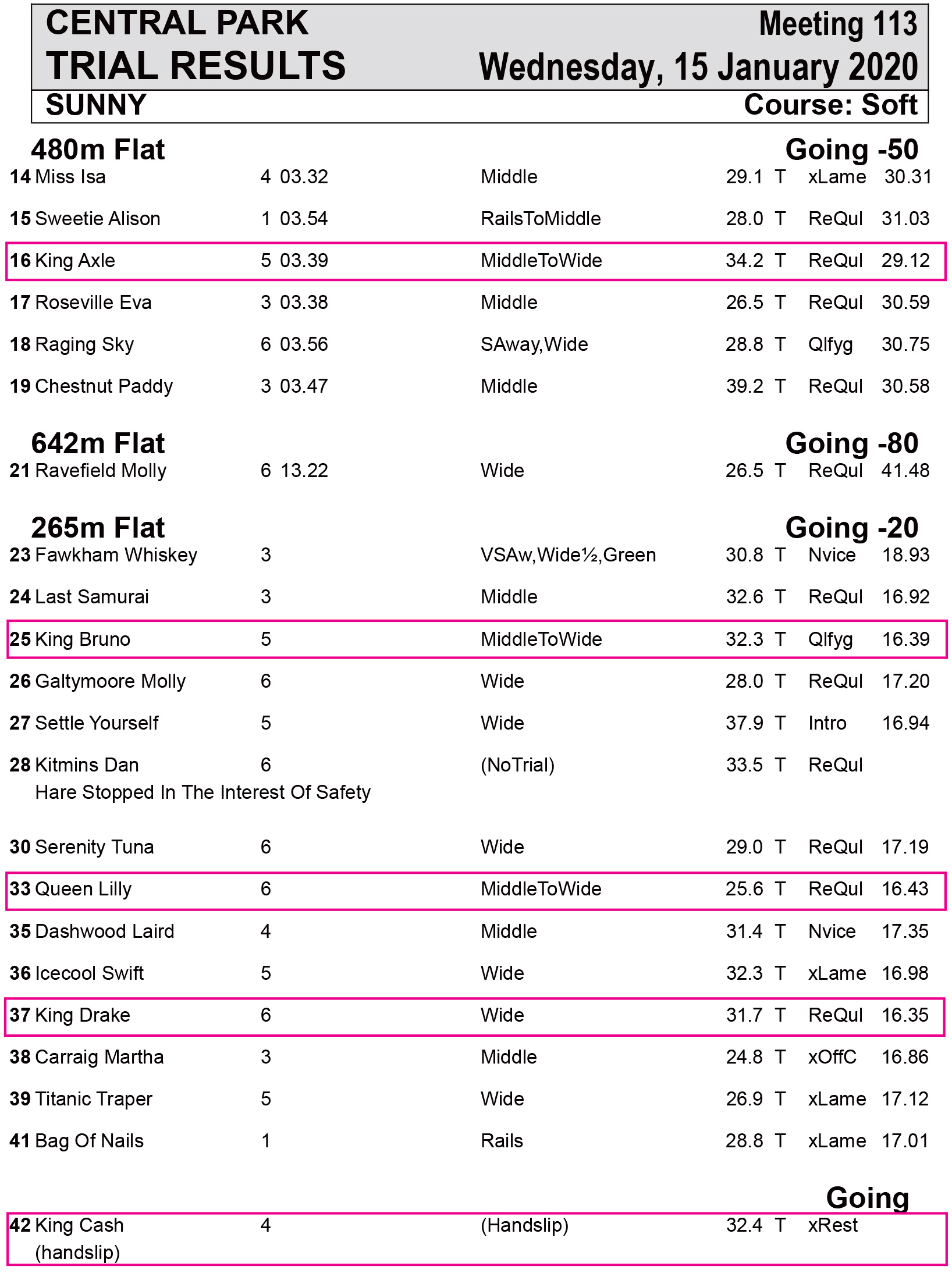 There is no more exciting feeling that taking a young pup to the track who you think and hope could be a bit special, seeing him perform better than you dared hope. But when you have three or four or them, it is just mind blowing.
I don't think you have to look any further than King Axel, 20 months old and clocking a calculated 28.62. The track record is 28.50 by the way.
Now by any stretch 29.12 was a good run, and I knew the track was slow, I thought maybe .30 or .40 but when I spoke to the racing office, their view was it was -50.
They weren't just basing it on the trials, but also on the race meeting. Only one winner broke 30.00, the A1 winner who did 29.77. All the other form holds up on -50 so who was I to argue?
I accept that King Axle, being out of Queen Asia, is a future stayer, so it may not affect him as much as some of the dogs who don't stay.
But it was a great run by any standard for a pup of his age.
Even though he is young, he is clearly a bit special and if it looks as though he is going to get knocked about over four bends, and lose his confidence, I would even think of putting him over the stayers trip before he is two years old.
But in some ways, I think the 16.39 (-20) clocked by King Bruno was at least as impressive.
Bruno hasn't been on a track in eight weeks, and last October when he trialled against Axle, he beat him four lengths in a calculated 29.00 – he was 17 months old at the time.
We have been so lucky with King Elvis and King Turbo in particular, but I honestly think that Bruno has the potential to be the best of the lot. He has everything, and the whole litter out of Skate On come away from the boxes in a way that the Eden The Kid/Skate On litter have never been able to do.
King Drake reminds me so much of King Elvis. His pace to the third bend is phenomenal, though he might just be a Henlow/Yarmouth type of dog, not quite seeing out the 480. On any other day, I would be jumping up and down about how well Queen Lilly went, though she was probably a bit overshadowed and King Cash handslipped well after a lay-off.
Don't forget we still have the likes of Queen Jessiej and King Sam to their way back too.
The plan is now to speak to Tony at Monmore and get some trials into them before the Puppy Derby.
Wednesday will be a day I remember for a long time and the best bit was phoning Liz and then Brendan on the way home and telling them the good news.
I am at Hove on Thursday with Kings Sheeran, Dylan and Lennon for 500 metre trials with plans for the Winter Derby. I will also be giving Beyonce her 'make or break' sprint trial.
With her ability, I have to give it one last go, but if the injury doesn't hold up, I can honestly say that it won't bother me in the slightest. All of us, Brendan (Keogh), Simon (Senyk), and everybody at the kennel can't wait for Beyonce to have pups. We have plenty to keep our interest and seeing Beyonce pups in the field will be something special.
Obviously, with the next generation now taking over we will have to think about moving on some of the older dogs, but it is a very early Derby this year and we won't be doing anything until after that."