I can't wait for Thursday and the Coral Winter Derby Final at Hove. It has been a great new competition and has a quality final. We are lucky enough to have two in it.
The great thing about Hove is that dogs of all types will get a chance, not just the early paced ones. I am delighted with the draw, particularly for King Turbo. I certainly didn't want to be on the outside of Sporting Dave going to the bend, because its a long way around him. Also, I don't think Seamus' dog is bang railer so there might be a little bit of room on the inside.
King Dylan will be looking to rely on trouble. On times, winning line to winning line, he did the fastest time in the semis, but he will need some luck to get a clear run. By the look of the draw, Droopys Nirvana could get a solo on the outside.
Our two came out of the semis quite differently. Turbo was quite tired after the run, but by today, he was bouncing. You wouldn't have known that Dylan had had a race and on Monday, I lay in bed and even considered taking him down to Hove to get a trial into him. But the rain poured down and the prospect of a heavy track taking too much out of him wasn't worth the risk.
Win lose or draw, we'll have a great night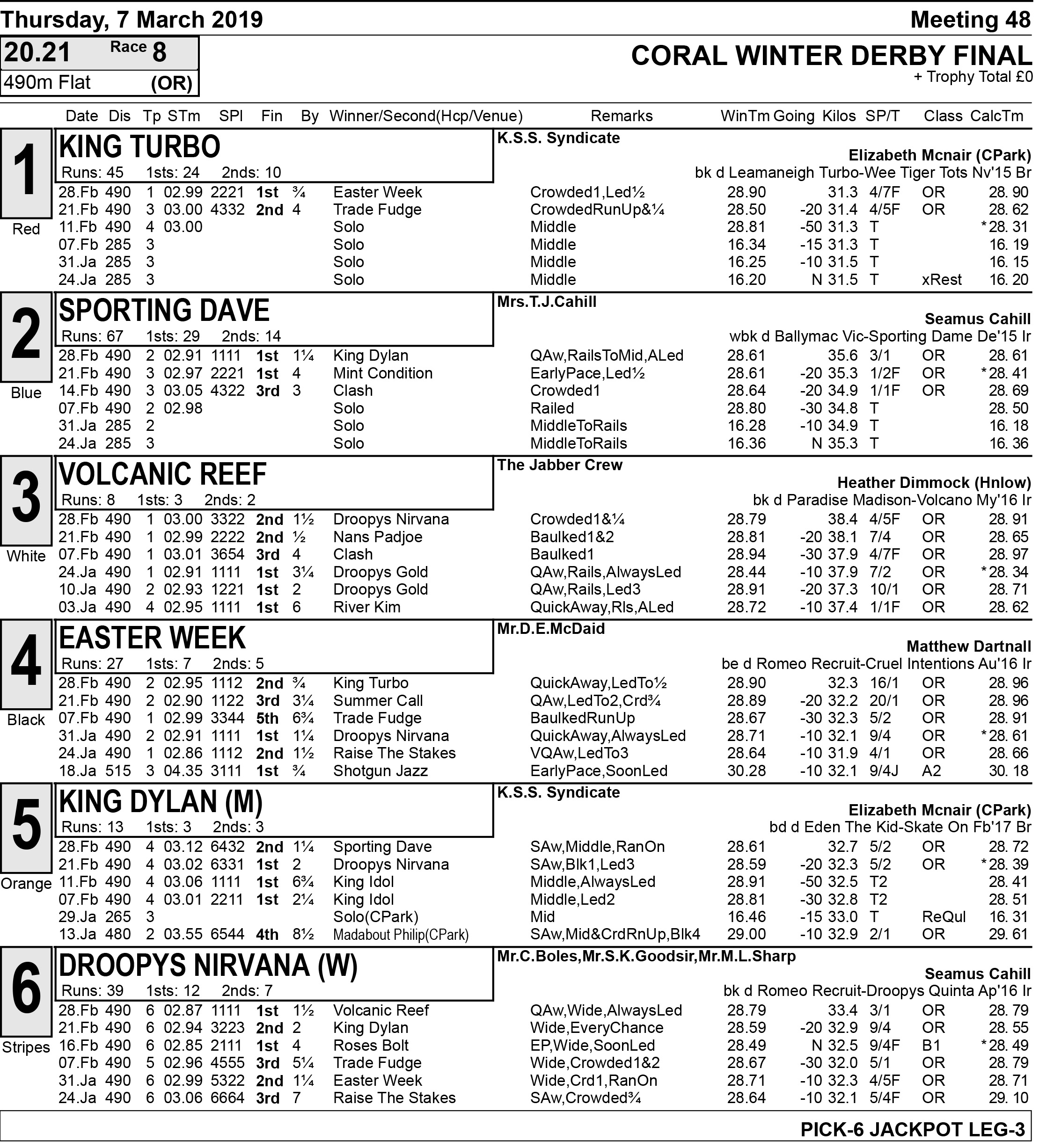 ---
Liz and I certainly benefited from the break last month and the dogs look as though they have too.
I was hoping that King Elvis would put in a decent run in the heats of the Golden Sprint, but he went way better than I expected. He is normally a bit lackadaisical after a lay-off, but he flew.
I was also very impressed with the pup, King Idol in the Puppy Derby at Monmore. It was his first race in six weeks, and I would expect big improvement. He may not have shown it in the first round, but this pop can really fly the boxes. If he does in the semi finals, he is a big player.
---
There has been plenty of talking about dogs fighting recently, but there is one thing that never seems to get mentioned, the hare.
For example, Hove run behind a black dummy, which I am not particularly keen on. I asked one of the track guys why they don't use the orange lure and was told that some of the local trainers weren't keen on it because it made the dogs 'too fanatical' or something like that.
The thing is, you would think that there would be some kind of agreement made between tracks and trainers around the country on the colour of the lure. Or am I missing something?
The other thing I would like to mention is the need for some initiative by track staff. Some of them are clearly told 'water this many times for this long' for race and trial days. But they do exactly the same whether the track has been in the baking sun or after three days of continuous rain.
I was at one track recently where the sand was way too dry but they were too frightened to water it because there was rain due, and they knew the drainage wasn't up to the job if it did.
---
I have no regrets about dropping out of the GAIN Trainers Championship meeting at Sheffield.
There are various reasons. The first is that we only have ten racing dogs and I didn't want to tie them up for the guts of a month, including trials, for one night. The second is that we just don't have any stayers.
---
Eighteen years ago, I stood behind the traps at Shawfield with Jimmy Wright. We both put our dog in the traps and Jimmy said, 'I'll race you to the pick up'
He took a head start but I was pretty fit in the those days and I soon caught him, and with a bit in hand. I shouted, 'is that all you've got big man?' and the b****** tripped me up from behind. I must have skidded 15 yards on my face and the shouting and cheering started on the terraces. I swore I would get him back one day.
A couple of weeks ago when we were on holiday, he happened to be walking between me and the swimming pool when I "Chkd 1" and he was "B.Impd KO" into the pool.
His phone was ****ed for the week and I think Angela is still drying his money out