It has been a very up-and-down start to 2021 if I am honest.
Things started badly when the only pup from Wee Tiger Tot's final litter didn't survive. He was such a lovely looking pup as well.
Then the first pup was born dead when King Danni whelped a litter by King Sheeran. We were left with three dogs and three bitches. All were thriving and then yesterday morning we found that one of the pups had died overnight.
Liz had been up in the middle checking on them, and then for no apparent reason, we just lost him.
We had a bad run with bitches missing last year and I had hoped we had turned the corner with a couple of new litters.
We have a couple of bitches waiting to come into season. Queen Beyonce is due any day and I have booked for an insemination from Droopys Jet, but with all the Covid restrictions, I'm not sure whether we will be able to get the bitches over to Ireland.
I do intend to use a couple of British bred dogs anyway because I think it is important and would like to get a bitch to Ice On Fire. The only thing is, I never like using an unproven dog on a maiden bitch, it gives y0u too many unknowns in the litter so there is plenty to think about.
Away from the breeding side, Darth Vader broke his hock in a trial at Central Park last week. It's not been a great start to 2021.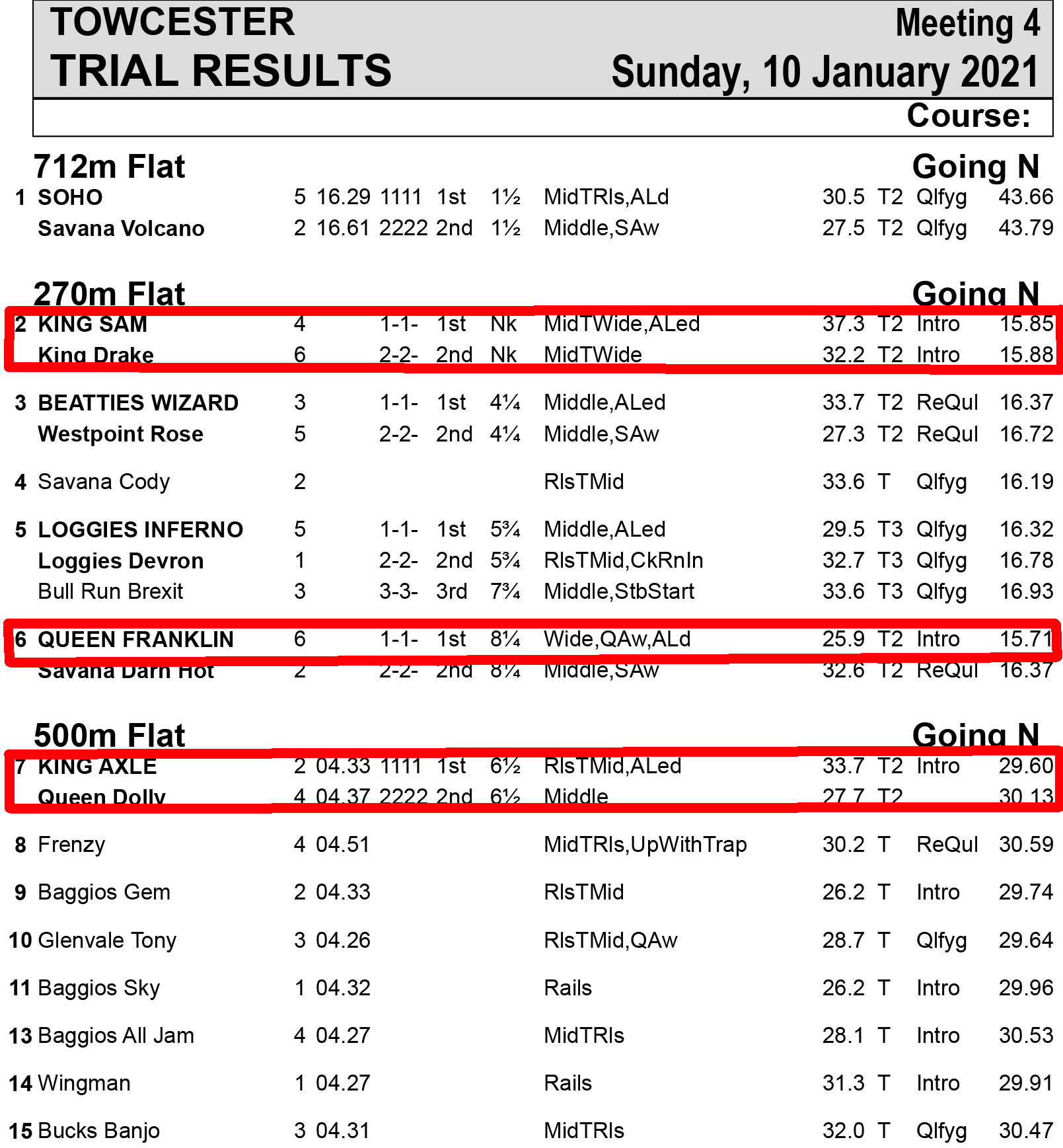 On a more cheery note, we had a great trial session at Towcester over the weekend.
I was surprised how well King Sam went to beat King Drake though that's probably down to Liz.
Sam is a big lump of a dog but I had always kept his weight down to around 36.5 kilos. Liz suggested that we put a bit more back on him and at 37.3kg, it might have done the trick. We'll keep him at that and see how he goes.
Queen Franklin isn't very big but she has a great attitude. Considering that the track record is 15.65, and she is a four bend bitch, 15.71 was a great run.
The best of the lot though was King Axle. He railed beautifully at the bends and has really taken to the track.
Liz and I walked the track and it was in absolutely superb condition.
They have been using thermal coverings which means that they don't have to salt the track and it makes such a difference. I understand that Swindon do the same and their going has been good too.
When we were there, they had just watered and the times of all the dogs show what a good job they had done. Yet I look around at some tracks and they are running 1.20 slow for four bends. Why haven't they all got these sheets?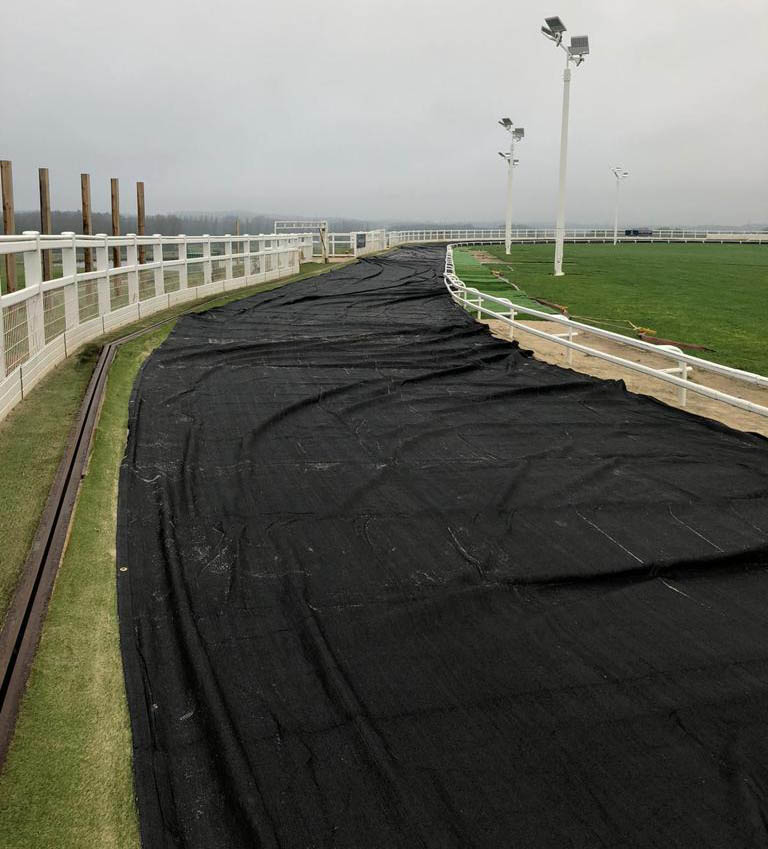 We stood at the third and fourth bends and took a close look at the new circuit. It is superb. The kennels were lovely and warm, the lighting, is the best I have ever seen anywhere.
Why do people feel the need to keep criticising the place? We are all entitled to an opinion and I'm never slow to give mine, but to keep slagging off the place because you have a vendetta against it is just wrong.
If it were my track, I would say to the trainers or their owners who keep having a dig, 'maybe we would all be better off if you don't enter any dogs here'
I've been waiting for Floyd to ask me about a new column because there is something I have been waiting for over a week to get off my chest. I was going to text into RPGTV, though I know they wouldn't read it out.
I don't buy Racing Post but last week I had three different people ask me if I had read Jonathan Kay's column.
I had it read out to me and couldn't believe it. Kay was talking about the Derby and said that he would have voted for Nottingham and not Towcester. That wouldn't be my choice, or most of the trainers that I have spoken to, but he is entitled to his opinion. I have run dogs at Nottingham and won big races there, and will run them again.
But what right does he have to say that he thinks that £100,000 to the winner is good enough? (The exact wording was 'perfectly acceptable' – Ed). That sounds like a promoter patting us on the head and saying 'Here you go lads, 100 grand! That will do for you.'
For fuck sake, we were running for £100,000 to the winner back in 2004! When Jonathan Kay, or any journalist goes and buys a Derby dog, or gets home from racing at 1.30 in the morning and then has to warm up milk for a brood bitch before he goes to bed, and then be down the kennel at 7am the next morning, they are entitled to tell me what the prize money for the Derby should be.
We should all thank God that there weren't any journalists on the panel making the choice.
So great credit to Big Kevin for £175,000 to the winner, hopefully more in the future.
My only complaint is that they have move the final forward a week.
I had it all planned, to win the Derby on my birthday!