The Nottingham Stadium Bookmakers Puppy Classic moves onto the semi final stage this evening.  It remains a competition of the very highest quality , the eventual winner will mark themselves out as the star player in a puppy sector that boasts a number of stars that will progress to becoming some of the leading players in the major events of the next couple of years and more.
Betting: 11-10 Roxholme Dolly, 4-1 Antigua Rum, 5-1 Bower Luke, Calzaghe Sonic, 7-1 Flaky Bandit, 12-1 Jet Stream Socks
Semi final one see's the greyhounds head into traps at 8.08pm.  Hayley Keightley's Roxholme Dolly is likely to be a short price favourite but will likely be trading odds against rather than anything like the short odds 4/9 she was sent off at when beaten 1/2 length into second place by the re-opposing Antigua Rum.
The Mark Wallis trained Rum can be hit and miss at the boxes but trapped well in last weeks heat, took the lead off the second bend and despite Dolly getting to within 1/2 length , didn't ever really look like being beaten.
It's to also be noted that Rum was still marginally in front of Dolly by the pick up, two greyhounds that we could well see running over a stiffer test of stamina in the not too distant future.
Pat Rosney's Bower Luke was a marked drifter in the betting for last weeks heat after sustained market support for Waikiki Lad , Luke wasn't aware of that though and trapped well , showed excellent early pace and ran out an impressive winner with Waikiki Lad a 1/2 length behind.  At 38 kilo Luke is a big dog to try and get past , he could yet again be well drawn in trap 1 tonight.
I suspected the draw nearer to the rail might prove beneficial for Ted Soppitt's Calzaghe Sonic and that proved correct as he was an easy winner of his heat by 4 3/4 lengths.  Flaky Bandit for Lynn Cook is one of the top local pups at Nottingham , he ran another race full of promise however he'll need to trap in his best style if he's to get first crack at the early paced types in this race , something he will undoubtedly need to do if he's to progress.
The final representative in the first semi final is Carol Grasso's Jet Stream Socks.  Socks was well supported throughout the day and with the on track bookmakers for last weeks heat.  After turning second to Phil Simmonds Rack It Up Turbo , supporters would have been in confident mood as the runners headed onto the back straight , a slight stumble coming off the second bend did Socks no favours but in all honesty he held every chance from there on in.  He got within 1/2 length of Turbo at the finish.
This is an extremely competitive race , just 9 spots separated the heat times of all bar Flaky Bandit last week , there isn't likely to be much between them again tonight and anybody finding the winner will be doing well.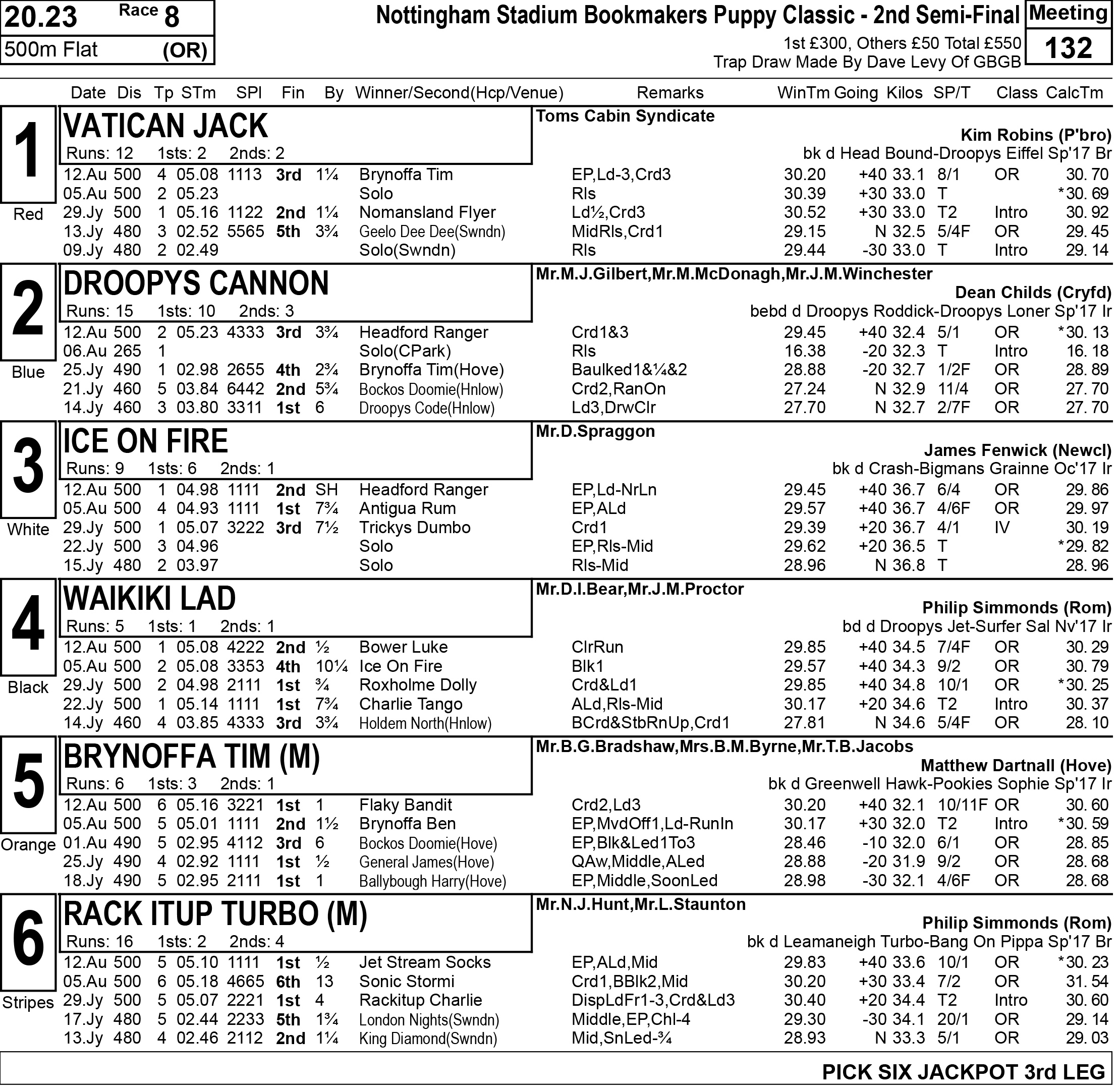 Betting: 4-6 Ice On Fire, 3-1 Droopys Cannon, 7-1 Brynoffa Tim, 8-1 Waikiki Lad, 12-1 Rack Itup Turbo, 25-1 Vatican Jack
Semi final two at 8.23pm is likely to see Jimmy Fenwick's flying early paced Ice On Fire sent off  a short priced favourite.  After going clear in last weeks heat he looked all set to secure the victory that most observers expected.  He was picked off on the line though by Kevin Hutton's Headford Ranger.  The defeat raised a few eyebrows but when the winning time of 29.45 (+40) was announced , I think people realised they'd seen a back running performance of a superstar in the making in the shape of Headford Ranger.
There are some quality pups in semi final two but if Ice On Fire leads up , there doesn't look to be anything in behind that should be capable of picking him up.  I fancy the second qualifying place for next weeks final to go the way of either Droopys Cannon or Waikiki Lad, the draw possibly just favouring Cannon but Waikiki Lad has a touch of class and despite a poor looking draw isn't out of contention.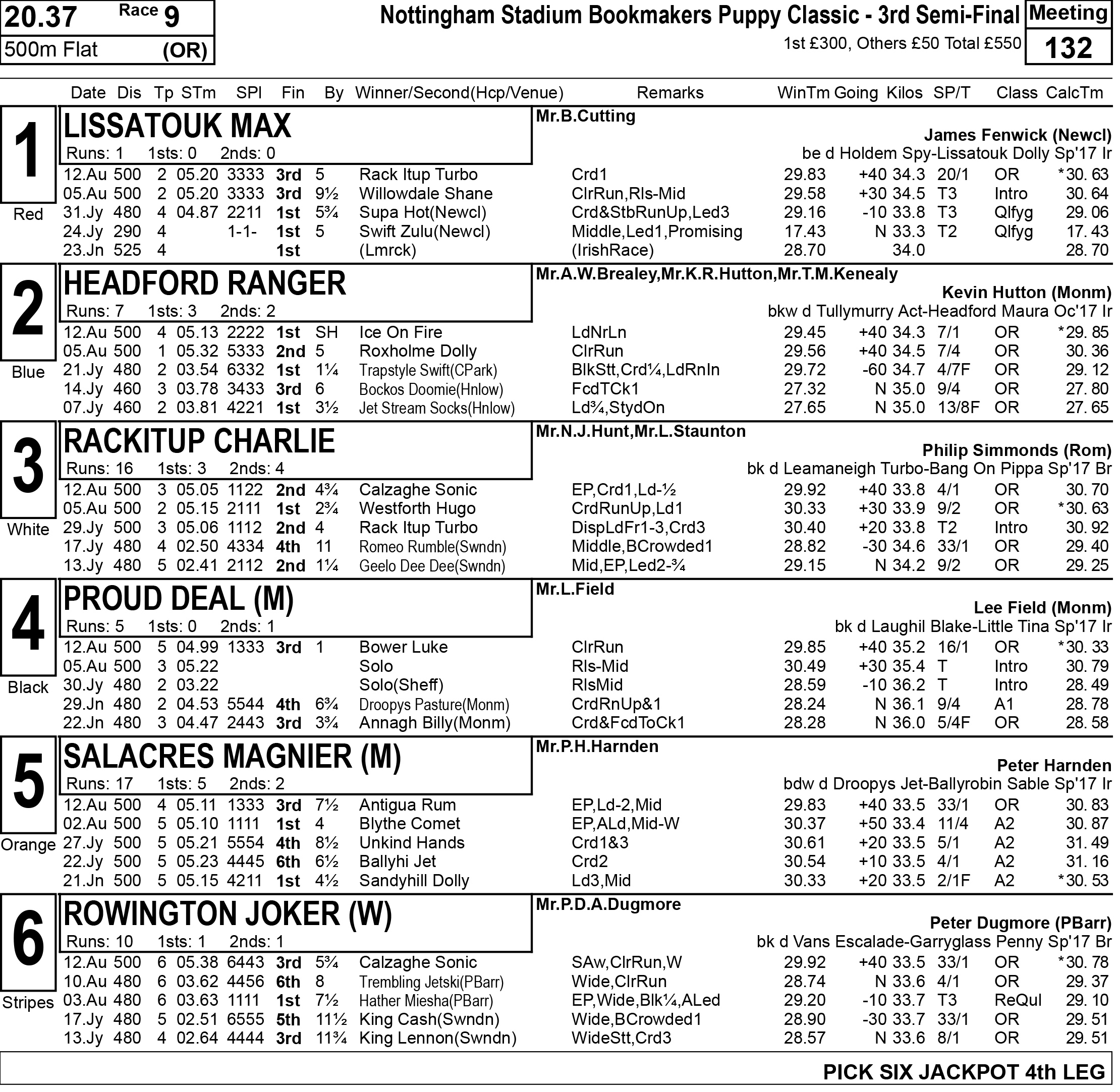 Betting: 1-4 Headford Ranger, 8-1 Proud Deal, Rackitup Charlie, 12-1 Lissatouk Max, 20-1 Rowington Joker, Salcres Magnier
Semi final three takes place at 8.37pm and Headford Ranger is certain to go into traps as a strong odds on favourite.  I'd held Ranger in decent regard prior to last weeks heats , he looked a dog destined for a good six bend career , last weeks run though when picking up Ice On Fire was simply sensational.  To back run a dog of that quality in a time as good as 29.45 (+40) marks him out as something very special.
Sure he doesn't possess wicked early pace , but as he highlighted last week , he's more than capable of back running the fastest pups in training.
It might be that Ranger possesses too much four bend competition pace to be considered for a career over six , at least just yet in any case.  Whatever route he takes he's in good hands with the Hutton team and will be well handled.  The race for second place looks competitive where each of the other five runners could lay reasonable claims.