By Kaan Hughes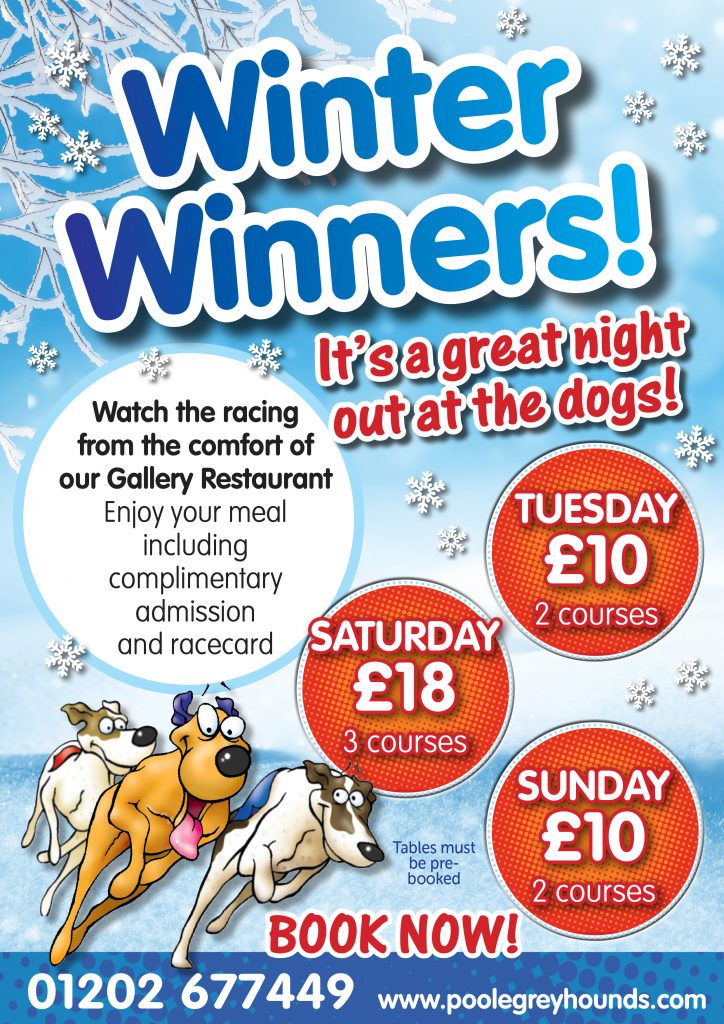 In this piece I hope to give readers a bit of an insight into the current situation Poole and also look ahead to the summer and beyond.
Racing manager Ian Sillence and General Manager Shaun Spencer-Perkins are fielding the questions. First up, Ian. . .

Poole currently stage three meetings per week, (Tuesdays on RPGTV, Saturdays and Sundays on RPGTV) over these the track host 37 races which in an ideal world would see 222 dogs receive a run. When looking through the cards Poole seem to be sufficient with numbers.
'The strength is ok for three meeting a week; it is about 270 at the moment even though in some grades there is a shortage of wide runners'
Prior to the New Year Poole held a winter bags contract which used to see them pick up a fourth meeting run on a Saturday afternoon with 8 races, where another 48 dogs were needed. Without this Poole seem to have bases covered with dog numbers.
'The schedule of four meetings a week with Saturday afternoon eight race cards were about right, it gave owners and trainers plenty of runners, though at times it was a strain on the graded strength because you need about 300 runners. Now we are only doing three meetings, and some trainers could do with more runners. Hopefully in the future we can get a happy medium where everybody is happy'
Obviously if things became tricky within grades and a lack of numbers to make some races available Poole now have handicap races to fall on which were a new introduction to the track last year and seem to be an ever increasing addition to Poole meetings.
'With the handicap racing I was a bit sceptical at first whether it would work at Poole but I have been surprised at how well it has worked. It is something different when you sit down and grade a handicap, but it is enjoyable to try and weigh up everything. It is in the pipeline to do six bend handicaps which will help to get more six bend races and bring more variety to the card. It might attract more trainers to try six bend racing'
Getting away from the graded side of things, Poole stage very few open races and competitions currently, but this year could see more around the venue from my ever pushing self to management as I feel it is needed for the track to flourish
'It is always nice to see open racing at Poole and in the last few years the standard of racing has improved with the better quality of entries. With the exposure of RPGTV hopefully more trainers will be more familiar with the track and enter a dog'
As you state that being on RPGTV gives the track exposure how do you think it helps the stadium?
'Being on RPGTV obviously helps the profile of the track, giving it a wider audience and a chance for people who have never been down to the south coast track to see it. Hopefully they enjoy what they see'
There are always many ideas to help owners and trainers, what do you think could be a real fillip for them in 2018?
'There is a new initiative to improve 'owners bonus series' with mega 'owners bonus series' races where the winner gets £1000. This can only help owners run for a prize that they would not normally be able to with a graded runner. Also owners bonus and trainer track nights with ten graded races being supplemented with £150 per race is another good way to help the owners and trainers'
Finally I would like a couple of pups to follow in the coming months. This is probably the bit to take note of as the man placing them in the races has given viewers these to follow.
'Shes Eran looks a very nice puppy and I have no doubt that it will end up in A1. Ide Herbie is a British bred pup who seems to have improved since a wide tag has been put on him and I can see him improving further in the coming weeks'
This hopefully gives you a small insight from inside the office at Poole and the next part of this article I put the questions to the main man, Shaun Spencer-Perkins. The track's GM provides some input into the medium and longer term plans.
I have continually myself tried to get Poole up there with the best when Sky held the big events but it was not that easy but without the TV coverage I have always been happy that Poole staged the competitions regardless. Are the dates set in stone yet for 2018 for the Golden Crest and Dorset Classic so that locals can start taking the wraps off the big guns?
'Ian (RM) is currently trying to find space in the calendar and at this moment potentially as soon as April/May'
For me there are a few competitions that have gone begging in recent years held by other tracks. One that springs to mind is 'The Prestige' held by the GRA at Hall Green. With that now closed and the opportunity potentially there for someone else to take the event on at Poole over the 640m trip, would you consider holding the comp if the sponsorship came forward?
'Yes as General Manager I would love to have a third and we will always aim to do our best when hosting these prestigious nights'
January and February usually need an extra turn of the heating for attendees at Poole due to the lack of crowd, so how have things started at the track in 2018?
'To be honest Tuesdays and Sundays have been particularly difficult. After all we don't usually open on a Tuesday in January. Last Saturday was great, a real triumph for Liz in Marketing. Also a thanks to Martin Johnstone and his Jem Racing team for help topping up an already excellent crowd. 
I'm pleased to say that we are getting a lot of calls from people saying they've seen us on RPGTV when booking.   I've no doubt we'll benefit from all the exposure as the months go on and hopefully see some Greyhound Tourists heading for Poole throughout the year.
After all there are some fantastic deals at holiday parks in the area this summer. Sandford and Rockley Park are close and help make for some of the big crowds across the summer. 
I'm really proud of everyone at the stadium for putting Poole back on the Greyhound Track map. We've had loads of very positive comments on how great our racing looks on TV which for me is great to hear as it's what we have always wanted to get across to everyone'
2018 has already been the start of a new era for Poole; with much more to come so what is the big goal for 2018?
'You know I just want people who haven't been to Poole to come and take a look. For a provincial little track tucked away in Dorset out of sight for so long. We pack a punch. Hey! Take a look at us now; we're rocking it up with the big boys, bigger and better than ever before.
We even filled in for Romford at the drop of a hat within a 24 hour notice period due to their loss of meeting. It was a great team effort from the racing office to put together a race card for the early Saturday slot making many changes to the other two weekend cards. Also the track staff, trainers, kennel hands, owners, and of course the superstar Greyhounds themselves. They stepped up and showed the Racing world what we can just do. 
I'm predicting a fantastic year with some of the best Racing we've ever had.   So come on down 'in the words of a once very famous presenter' to Visit Poole Greyhounds in 2018. Also check out our brand new website www.poolegreyhounds.com and book online.
Some would say what's all the Hype? #6TIMER!
Sunday 4th February was a night that will go down long in the memory of Poole trainer William Black and assistant, Carol Cranstone. The Alton based kennel sent out the winners of half the card which saw them land an incredible 18,900/1 six-timer!
Opening the show in the first race for RPGTV viewers at 6.04pm was Coolykereen Hype who having just turned veteran landed her second consecutive victory at 3/1.
It was then an hour and forty two minutes before the kennel struck again which for the next hour and seven minutes following had shades of Frankie Dettori's Epsom feat rolling out the next consecutive five winners where in race seven Derragh Robin, the highly advised puppy who was put up here in my last article as a pup to follow trapped well to lead at the corner from where she ran away an impressive winner at 4/1.
Miss Hashtag followed quickly at 6/1 with her second win of the week. The fastest winner of the night ran next, Some Cracker with a fast start and a terrific railing performance where she clocked her fastest ever time with a 26.79 and proved to be a popular 'Flying 4' winner of JK's of RPGTV.
The penultimate winner was the most exciting where the enigmatic Suirview Model found herself handy off the second bend with clear sights at the leader. But from virtually an impossible position, still nine lengths off the leader approaching the third turn, she somehow reeled the heavily backed favourite. In the words of the Poole commentator, 'Suirview Model has silenced the crowd downstairs'.
The final winner came from the TV star herself, Nutbrown Nellie, known by the locals now as 'Nellie from the telly' unbeaten with her three appearances on RPGTV.
In a tremendous vein of form, winning six of her last nine starts, she exploded the traps. She raced clear to elude the heavily gambled favourite from the race and never looked like getting beat.
It was the icing on the cake for owners Mr M Farmer and Mrs J Farmer who have been long standing owners for the kennel and deserve every bit of success. Not to mention the fillip it had for the trainer and assistant.
It is worth noting that three of these winners were of veteran stage and combined over 304 races between themselves for which is an achievement in itself.
Trainer Bill quipped: "The Bahamas has been cancelled for another week. It may have been asking a little too much for all eight, the seventh was very unlucky but six is a good night's work and keeps things flowing".
The kennel have started the year tremendously well sending out 29 winners from 117 runners with a 24.78% strike rate and +£23.60 to a £1 stake.