Perry Barr owner and regular Paul Gebhard returns to preview the RPGTV St Leger semi final card. Paul had mixed fortunes last week but to be fair – would have had a very good night's tipping had we included his selections for the graded races.
Nonetheless, with the benefit of another view of the big race finalists, and his local knowledge of what it takes to win at the Barr, his opinion is probably as good as anyone's for tonight's televised card.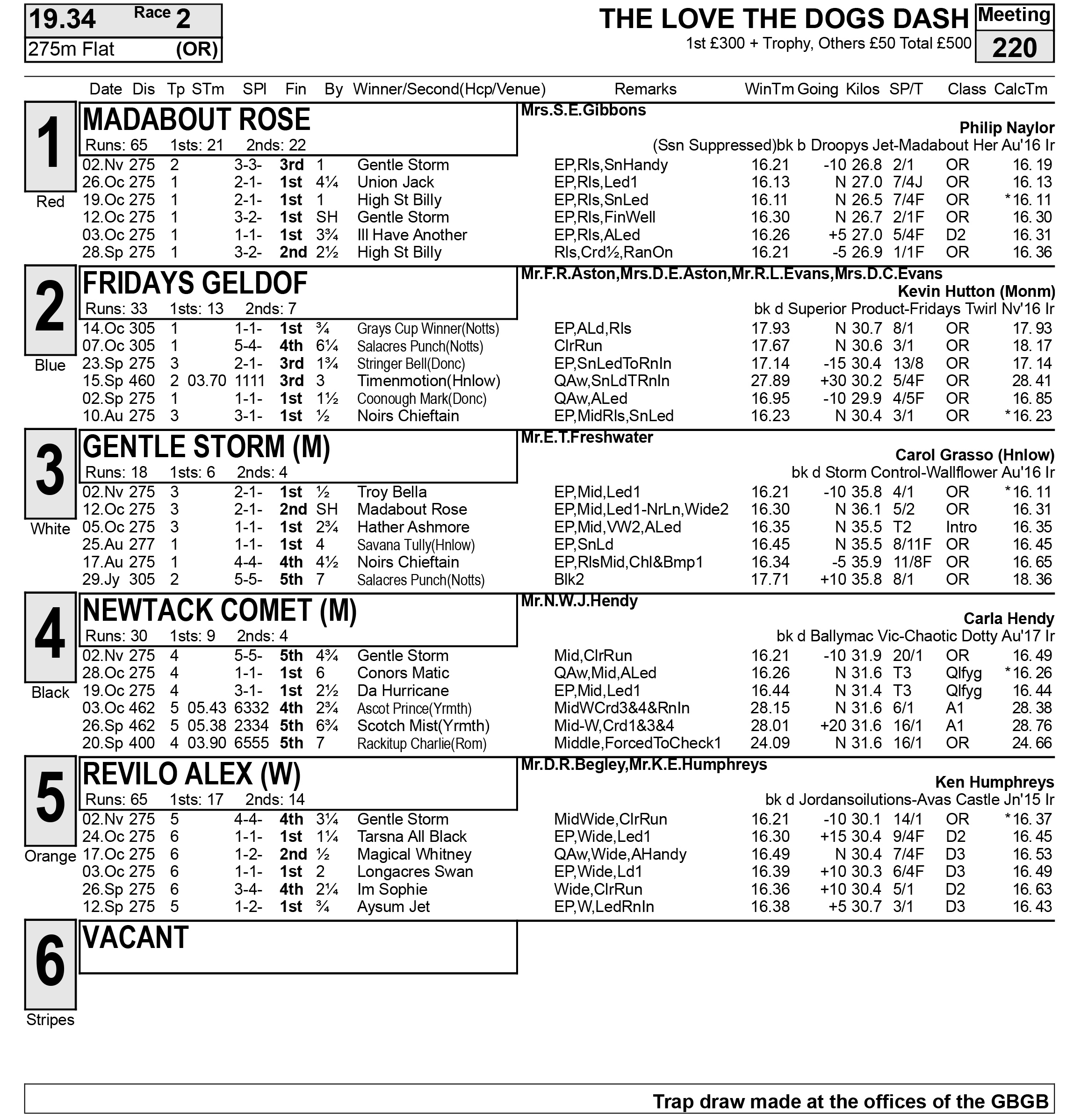 The first of tonight's opens is a sprint, as I've said before not really my cup of tea but each to their own. In a trouble free race this should revolve around the top 3 (having said that the now veteran Revilo Alex could have a plum draw); Madabout Rose and y have a verdict over each other, Fridays Geldof has a consistent record of being in front at the first bend, that coupled with the fact that by looking at some of his form he could probably do a calculated 16 seconds exactly around the Barr makes him my choice.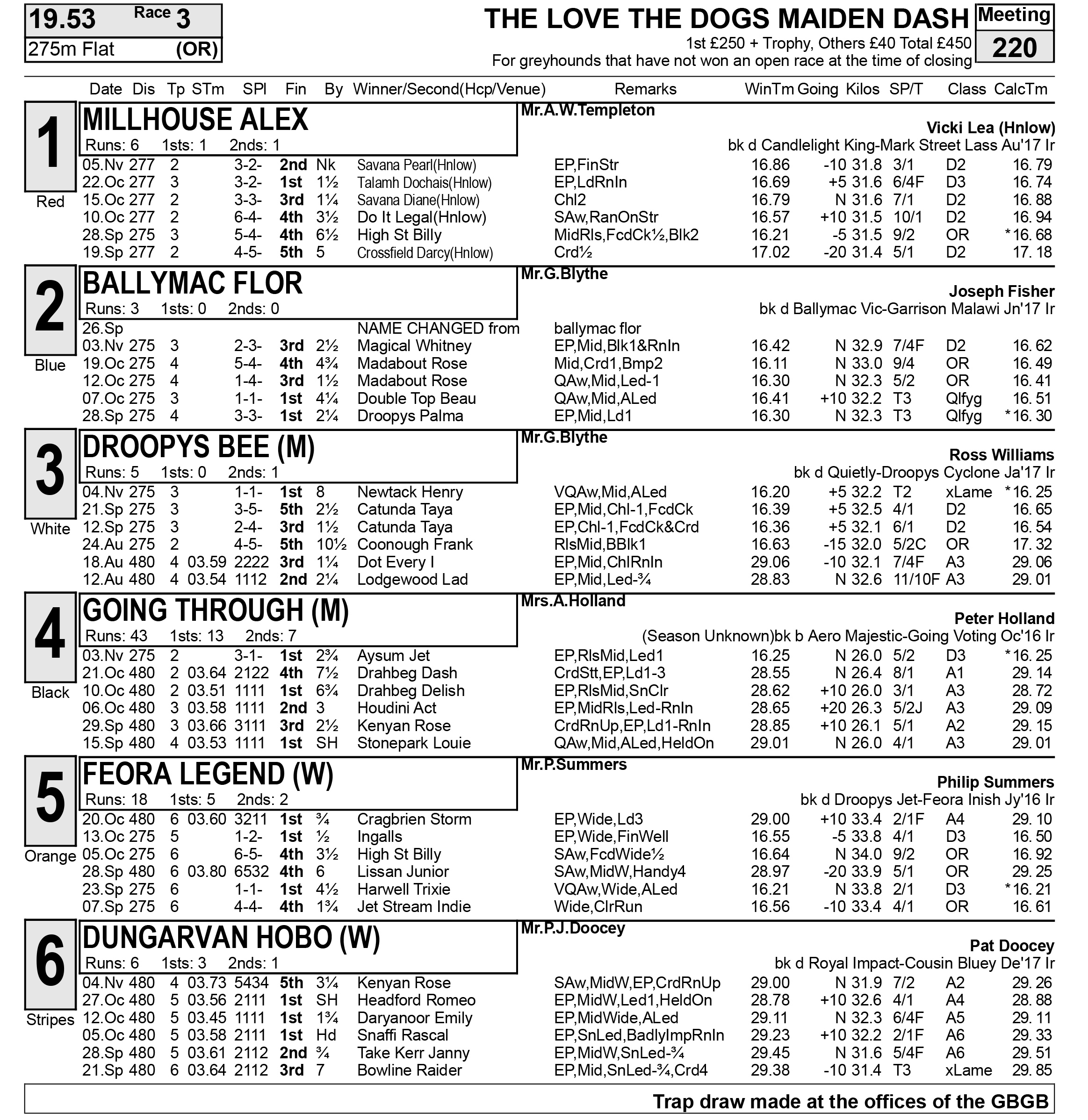 Another sprint open but this time a maiden; Dungarvan Hobo has an electric 3.45 sectional for the 480 trip at Perry Barr but is he really a sprinter? Millhouse Alex is the only dog in the field that hasn't been as far as 480 metres, we can ignore his only run over C&D when he encountered all sorts of trouble, it's his first time ever in the red box, I will make him my selection for modest stakes.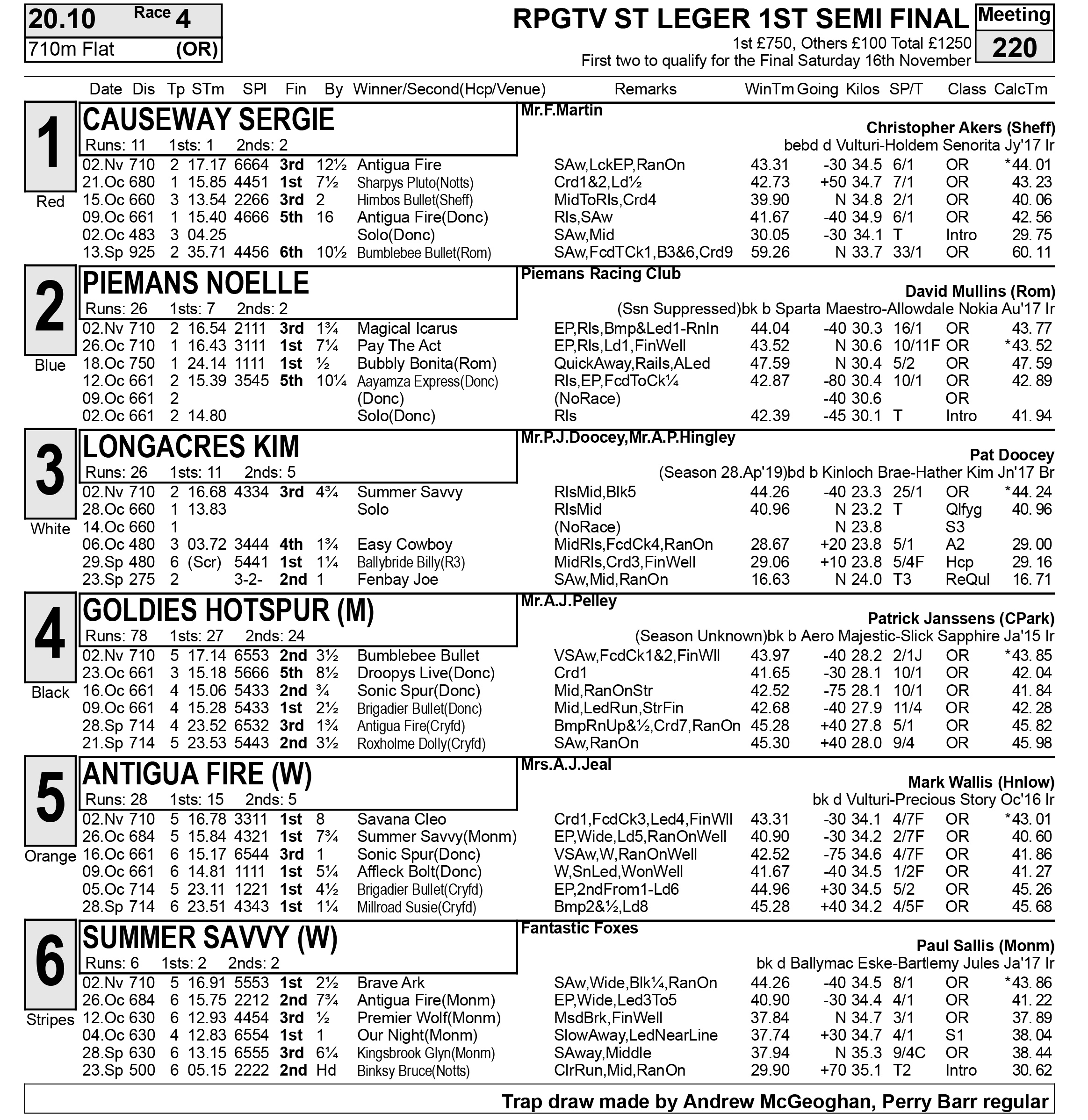 The first of the St. Leger semi-finals; predictable I know but I find it hard to look beyond Antigua Fire after he did 43.01 in his first ever look at the track, if he were to be "out and gone" then we could see a very smart calculated time (the track record is 42.69 held by Rubys Rascal), so he's the win selection with Piemans Noelle chosen for the straight forecast and Causeway Sergie third for the tricast; Goldies Hotspur has been a long-time favourite of mine and I reluctantly leave her out (probably foolishly!), Summer Savvy looked a bit fortunate to win last time and Longacres Kim may struggle.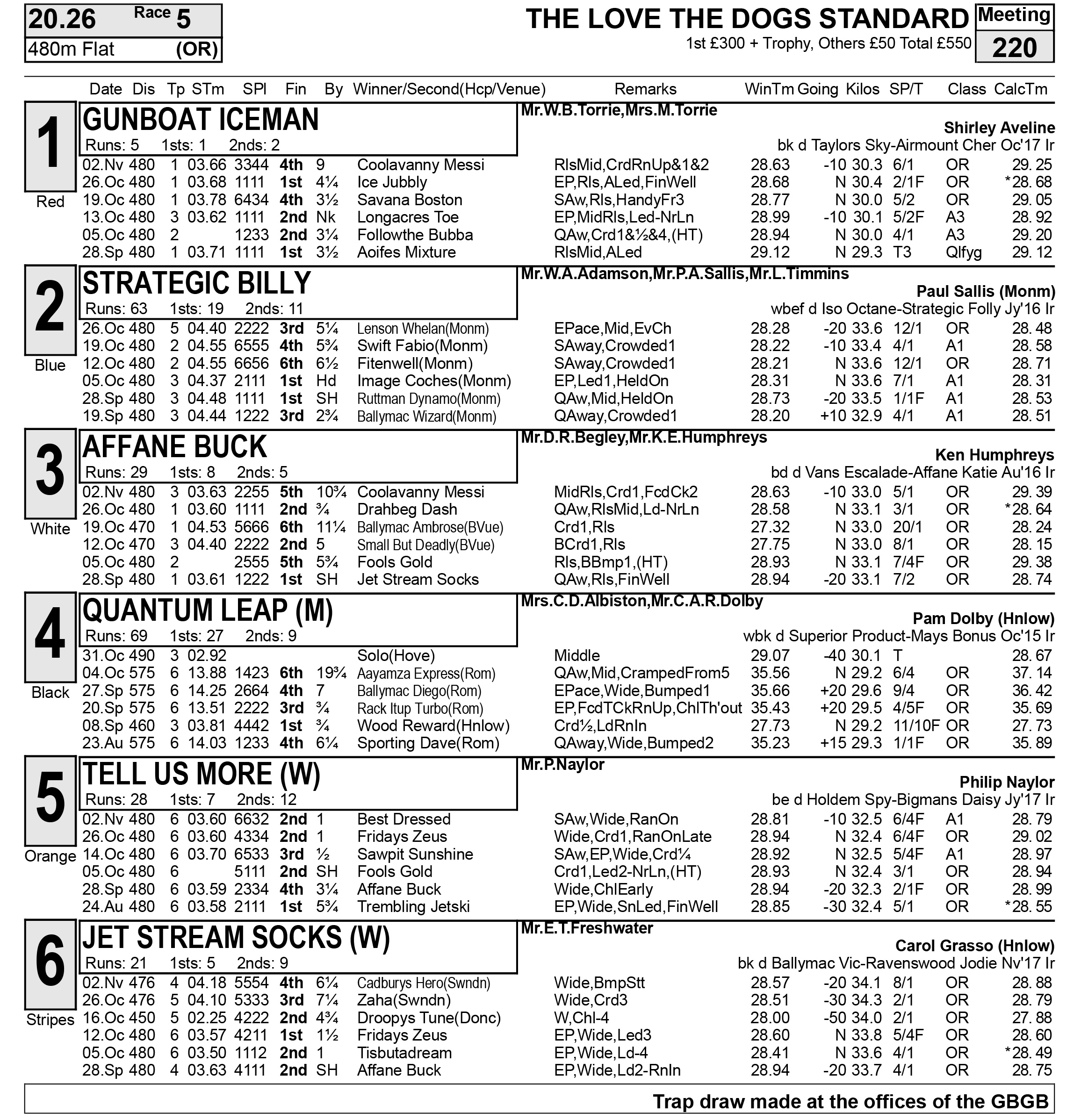 The first open of the night over the standard 4 bend trip; Quantum Leap has some very smart form, but, he does lack a look round, Tell Us More can do 28.65 around here and Jet Stream Socks around a length or so quicker; but I kept on coming back to Quantum Leap and he's my selection to win with Jet Stream Socks to provide the forecast.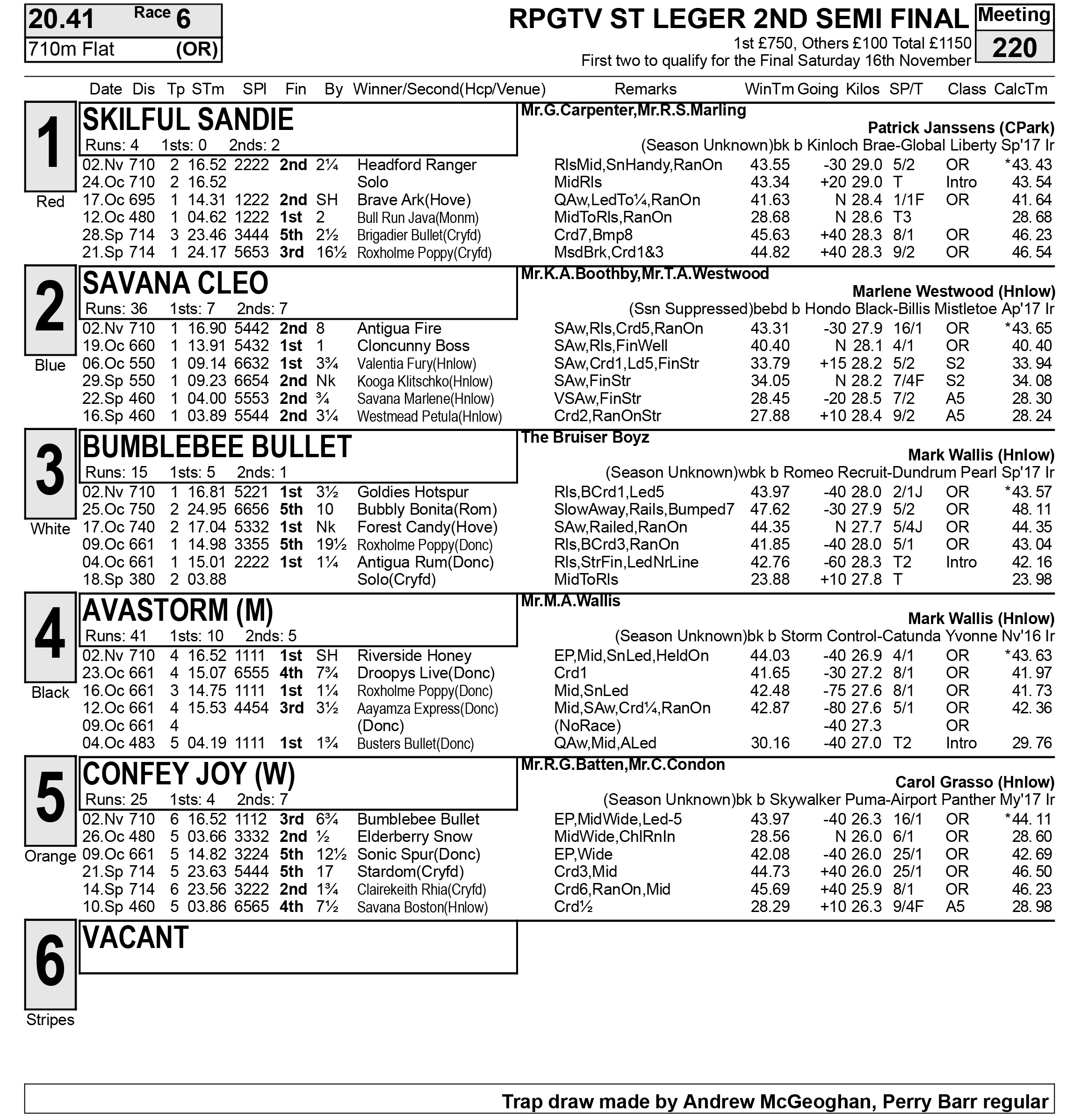 Tonight's second semi-final; now reduced to a 5 dog race, I shall choose a Wallis forecast with Bumblebee Bullet my pick to win the race by picking up Avastorm,   for third place I select Skilful Sandie; Savana Cleo is not easily discounted but in a trouble free race Confey Joy would appear to have a lot to do.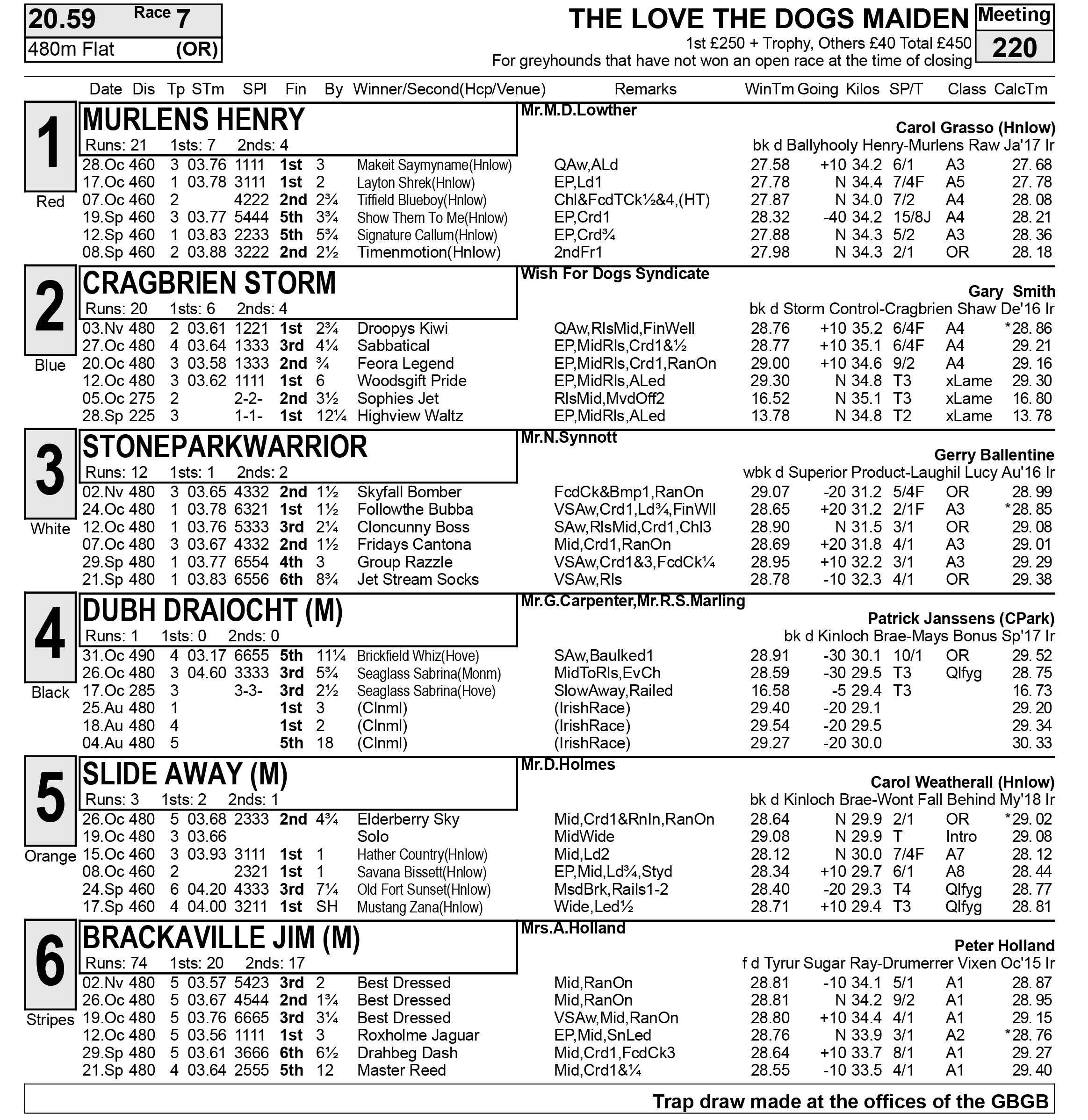 Back to the standard trip this time in the form of a maiden open; Dubh Draiocht I think means Black Magic and he could easily be a bit of a "dark one" (o.k. puns over), a first look at Monmore 28.75 catches the eye and his trainer doesn't have slow dogs, Brackaville Jim is a solid 28.75 dog at Perry Barr nowadays (nowt shabby about that and it's in his favour that he knows the track inside out), Slide Away comes under the clichéd but true "could be anything" category and has been round Perry Barr, as stated last week Stonepark Warrior makes things hard for himself via tardy trapping but he can run, Murlens Harry has some smart form at Henlow but they've waited 12 months to try him elsewhere which slightly puts me off; so, I will go For Slide Away to win and for Dubh Draiocht to supply the forecast.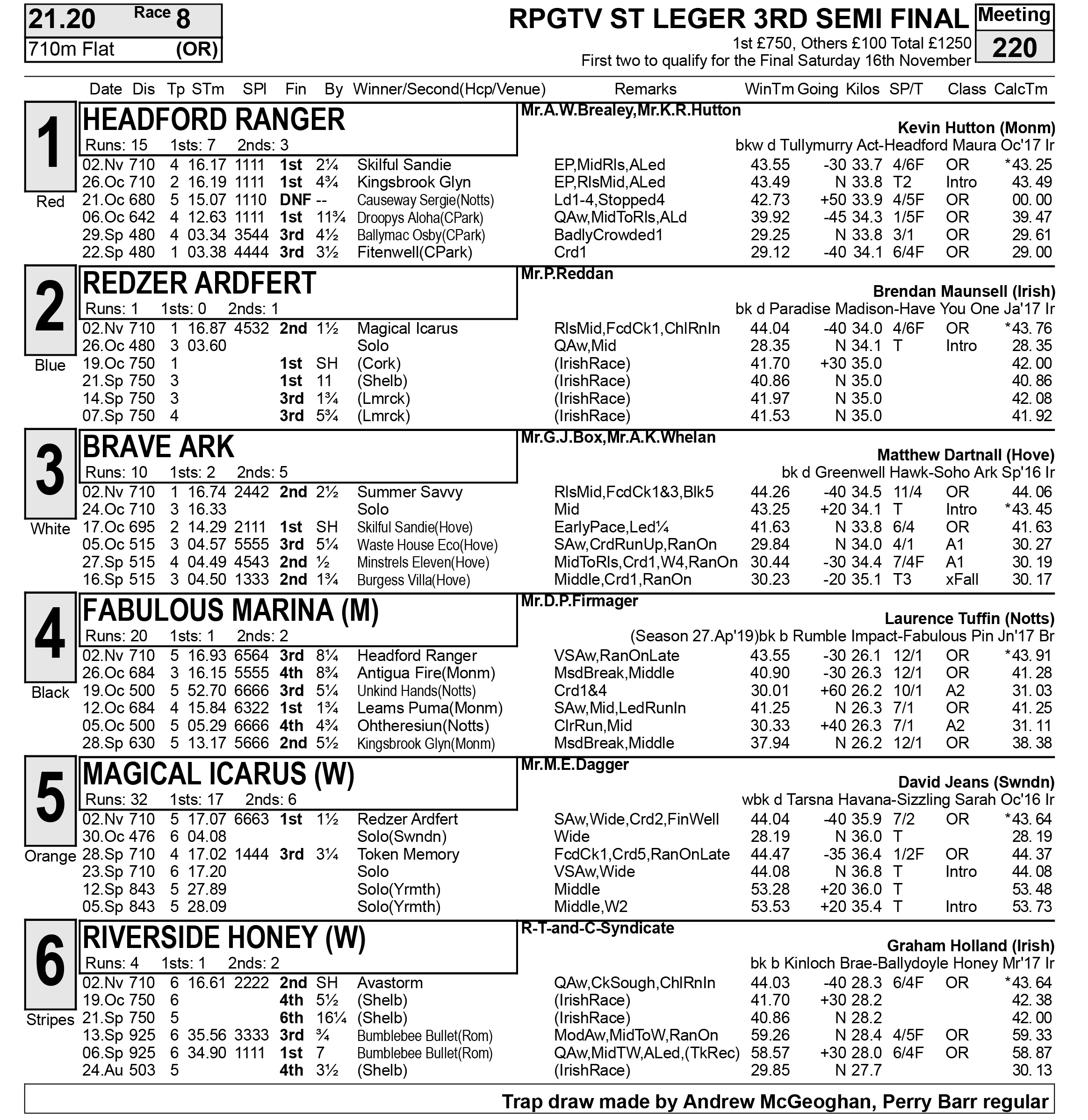 The third of the St. Leger semi-finals; a mouth-watering race in prospect, I'm going to stick with Headford Ranger and I'm certainly not writing off Redzer Ardfert, to say that he had a rough passage round last week would be a bit of an understatement and I also think the same applies to Brave Ark, so for me its 1-2-3 in that order (tricast combinations?); the fact that I've had to leave out the likes of Magical Icarus and Riverside Honey shows us just how good this race is (it could also turn out to show that I'm clueless!), Fabulous Marina gets too far detached to succeed in this sort of company.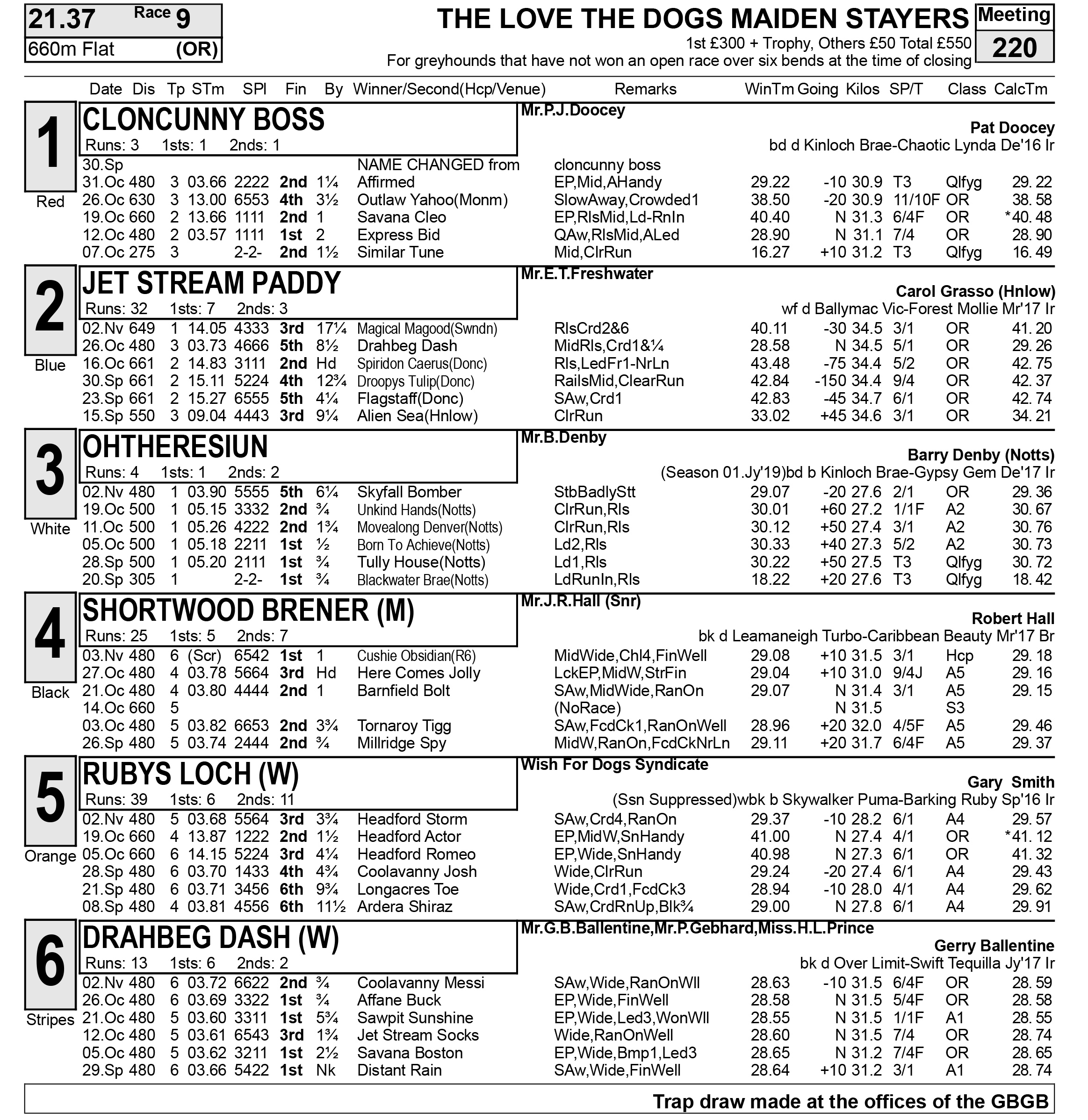 The 660 Maiden Stayers; our own dog Drahbeg Dash ran a smashing race last Saturday to get beaten just three parts of a length by a very decent dog after being perhaps 5 to 6 lengths in arrears at one stage, Dash does come home incredibly strong over the 480, if this was a 575 metres race I'd be fully confident of him getting the trip, but the 660 is a different thing altogether and my own honest opinion is that it's no more than 50/50 that he will truly get it and that there is only one way to find out.  Cloncunny Boss has got some very respectable form over 6 bends, Ohtheresiun is also venturing into the unknown (I tipped her last week for a 480 race where she went and flopped out and did a 3.90 sectional!); to summarise then it's Dash to win if (and it's a big IF) he gets the trip, Cloncunny Boss second best.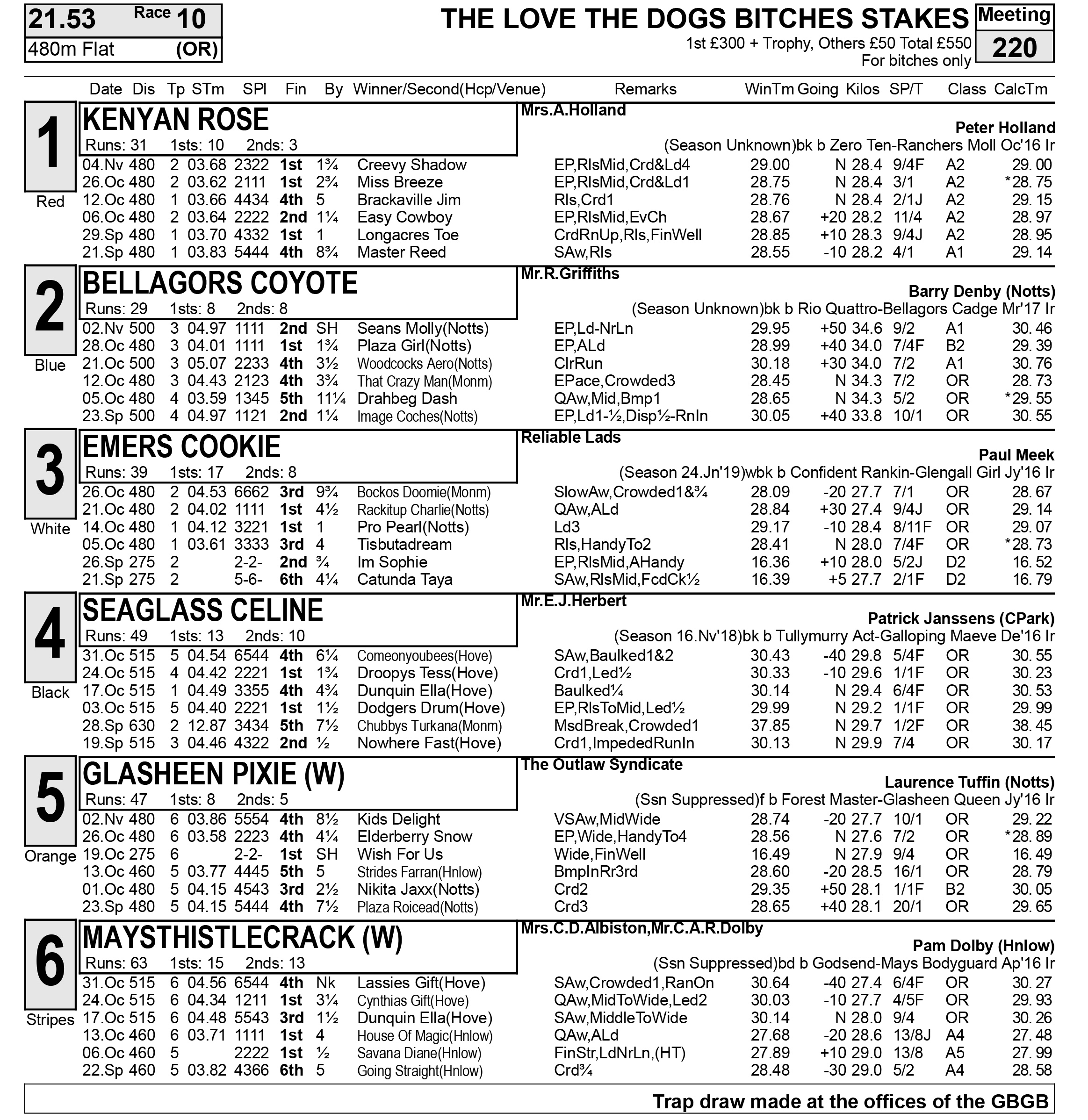 The night's final open and it's a bitches only race; Emers Cookie is a cracking bitch, she's blessed with plenty of early, she stays the 500 at Nottingham well and she knows Perry Barr (28.60 at the track), Elderberry Snow has also done the same sort of time, Seaglass Seline has been in against some decent opposition but on a track that she doesn't know she may find tonight's trip a bit too sharp for her to actually go and win, Maysthistlecrack is also short of a look round but to counter that this one looks to be very well drawn and I'm hopeful that this will enable her to cross the finishing line first with Emers Cookie and Elderberry Snow for the tricast.
Should be another enjoyable night of very decent racing.