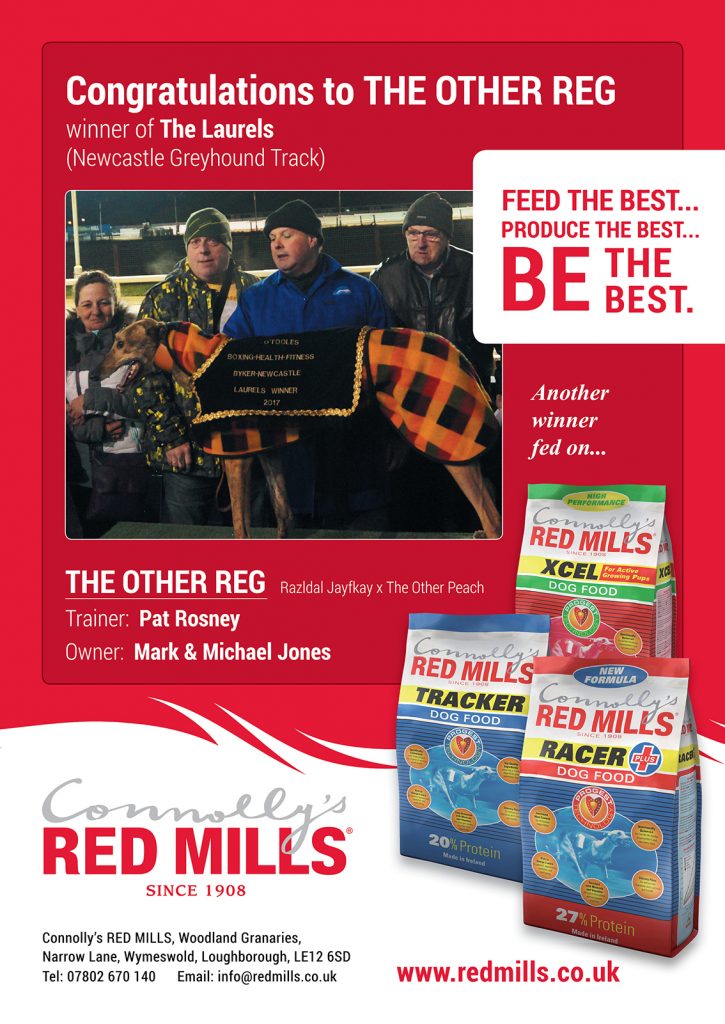 It is 15 years since we left Belle Vue which was really our start in NGRC racing when we switched from the flaps.
We were then for two years before joining Monmore and I enjoyed it. There are various reasons for deciding to return to run a few graded dogs there.
First and foremost, I still consider that we are an open race kennel and we will continue to travel wherever necessary with the right dog. But our location in the North West is far from ideal. The M6 must rate as one of the worst roads in Britain, and we have to use it for most of our open race journeys.
Traffic has got much worse in the last few years. For example, there was a time when Nottingham was a comfortable two hours. Now its three and a half. You don't get home until the early hours of the morning and as you get older, it gets tougher.
As I said, that is no hardship when you are travelling with a chance, but we have a number of dogs in the kennel who are borderline open class.
Many would be better suited to graded racing and Belle Vue is must 30 miles away. We also have a number of pups coming through and being attached to a track with young dogs still learning the ropes can be a major advantage.
The final reason, but it is as good as any, is the cost. We travelled 80,000 miles last year and that bill, to include diesel plus wear and tear on the vehicles costs a fortune. None of the tracks in the North pay trainers bonuses for open race runners, but getting it for graded dogs will make a significant difference.
The Other Reg is our leading open racer for this year. The plan for him is the RPGTV Scottish Derby. He won the puppy competition there last year without really seeing out the distance. He runs the track well and should be a stronger and better dog this time around.
We also have a couple of promising youngsters including his half brother The Other Onyx, and Newinn Jet who is from a repeat litter to the mating that produced Newinn Shadow.
We have been looking for another Derby dog since late last year but are struggling to find anything good enough which can be bought. We have made several enquiries, in England and Ireland, but kept drawing blanks.
Last year, I said in this column that if I could have any young dog in the country, it was a pup I had seen earlier that week making his debut up against a pup of mine at Nottingham. His name was Dorotas Wild Cat. This year, if I could bring one young dog into the kennel it would be Lightfoot Oscar.
He looks an absolutely cracking young dog and reminds me, in looks and running style, of Newinn Yolo. I contacted Sean Davy about trying to buy him, but he simply wasn't for sale, and we weren't the only ones who had been after him!
I notice that Romford seem to be struggling for Friday night opens again this week with only seven open filling and a lot of local runners.
Romford is one of the tracks who pay trainer bonuses, so there has to be another reason why the numbers have dried up. It is obvious to me that it must be the loss of RPGTV. A lot of owners no longer make it to the track but are happy to watch the races on TV and I understand that entries at Nottingham and Sheffield have gone through the roof.
The open race entries also appear to have dried up at Doncaster since RPGTV left, though I think it is positive that they are looking to stage open race cards on Saturday afternoons. It is a tricky one because most tracks race on Saturday night and kennels might find it difficult to do both. Of course they could try trainer bonuses . . .
Staying on the subject of open racing, the loss of the SKY meetings has caused some loss of confidence among owners. That could partially be overcome is there was a schedule for the next six months showing which competitions have been scheduled. At the moment, we haven't got a clue what is likely to be staged.
Finally, the year started off sadly with the loss of two very good friends. First we lost Margaret Gargan, who with husband Michael, has been involved with our kennel for many years and reared some wonderful pups for us.
Then more recently, we lost Michael Lynch. Michael was a proper dog man going back to our time at Bolton and in recent years who often help around the kennel. Two wonderful people who will be sadly missed by Julie and myself.