The Pay Up Betfair campaign has written an open letter to Peter Jackson, chairman of Paddy Power Betfair. Endorsed by a number of industry figures, the letter challenges Jackson to justify the statement in which his company claims to commit £2.5 to 'greyhound racing and welfare'
13th June 2018
OPEN LETTER TO PETER JACKSON, CEO, PADDY POWER BETFAIR
Dear Mr Jackson
We write this open letter to you as a unified sport of greyhound racing seeking to find a way forward and secure the long-term funding of our sport.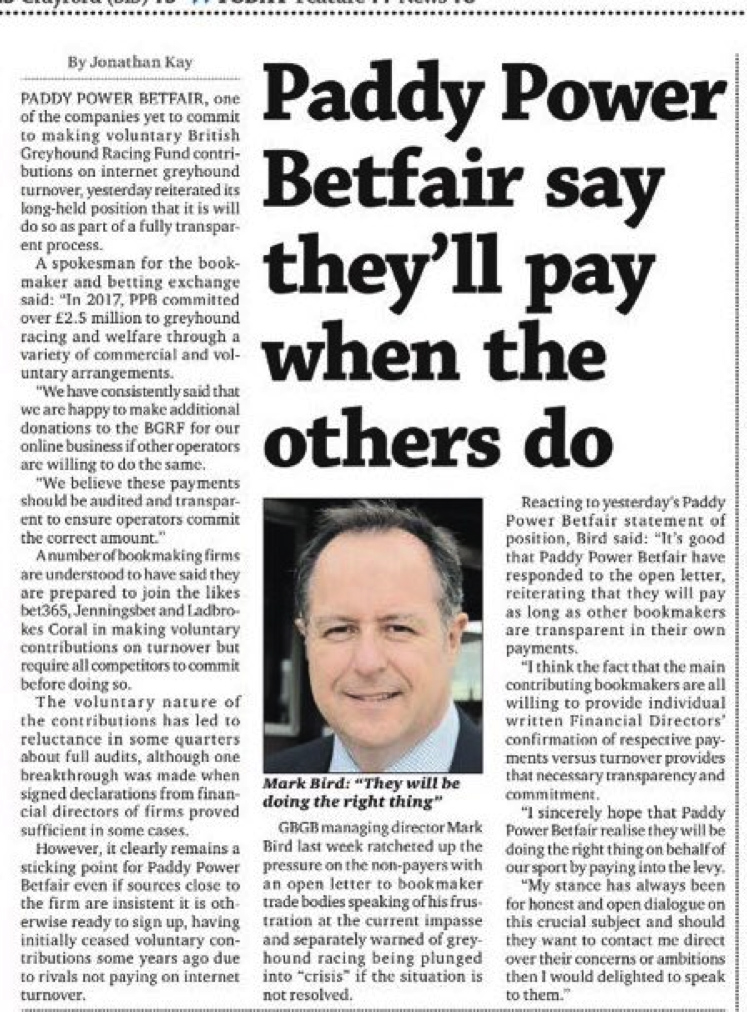 In an article published in the Racing Post (right) Betfair was quoted as saying "In 2017 Betfair committed £2.5 million to greyhound racing and welfare through a variety of commercial and voluntary arrangements."
Whilst of course we welcome any contribution towards greyhound welfare and investment within our sport, we would like to point out that Betfair actually made a zero contribution to the BGRF and indeed have not made any payments since 2013.
We are calling on Betfair having publicly made that statement in response to the recent open letter to bookmakers from Mark Bird, Managing Director of the Greyhound Board of Great Britain, to clarify and breakdown that claim.
As an operator Betfair have costs such as streaming and rights payments. Betfair also sponsors and are shareholders in RPGTV. These are commercial decisions which are totally separate from the issue of the voluntary greyhound levy, of 0.6%.
Having indicated a desire for total transparency and auditing of the figures associated with payments to greyhound racing, made in that same article/statement, we are calling on Betfair to provide a detailed breakdown of this figure. Specifically, of that £2.5 million how much was allocated to greyhound welfare, through which channels and which schemes, how was this money utilised? What was the voluntary element of that, and to where was that paid?
In our view this is an attempt to mislead the Greyhound racing public and readers of the Racing Post, when the fact remains that the contribution to the BGRF in 2017 was zero and indeed has been since 2013.
The sport requires funding, the integrity and welfare of the sport in this country is the best in the world. That is in the interest of Betfair and indeed all operators, people bet on greyound racing with full confidence that it is a fair wager and that the greyhounds are treated with the highest possible levels of care, both during and after their racing careers. But that can only continue to be so if the sport secures long-term funding through the levy. Surely it is in your long-term interests that the sport is able to grow, proper and invest in it's future. You will get a return on your investment into the fund, of that we have no doubt!
A figure of 0.6% is a very small amount of money in relative terms. The statutory levy for horseracing is 10% of profit on all bets yet Betfair continues with commercial rights and sponsorship arrangements for horseracing, no doubt similar to those you have in place for greyhound racing.
Surely it is in the interests of that fair for the sport to continue to be well governed and for greyhound welfare to be well-managed. We within the sport have full confidence in the new team at the GBGB and we call upon Betfair to enter into dialogue with them to satisfy any concerns and objections that you may have in going forward.
By working together we can all benefit and grow both our sport and the profits you make from it, all we are asking for is a mutually beneficial and fair arrangement for the long-term good greyhound racing greyhound welfare. We want to work with you, not be in conflict with you.
We would ask you to put aside old prejudices and start afresh by entering into a dialogue with the new GBGB team to find a way forward. Of course, if it is your intention to not pay into the BGRF unless a statutory levy is introduced then you will ignore this.
However you said in the statement that you were prepared to make payments given certain conditions could be met. It is obvious that a full audit process of your competitors is never going to happen. So there needs to be compromise on all sides but this will only be achieved through proper dialogue and conversation, not through the issuing of statements via the media. We call on Betfair to sit down and enter into dialogue as the first step with the GBGB and seek a way forward.
If we can secure a commitment from you to hold talks with the GBGB we will suspend our campaign pending the outcome of those discussions. We can find a way Mr Jackson to go forward, but only if you really want to!
We look forward to your reply.
Anneliese Thompson, Trainer
Ann Lagan, Trainer
Ben Keith, Bookmaker, Derby Sponsor
Carl Harris, Owner Breeder
Carl Perry, Trainer
Charlie Lister OBE – Trainer
Chris Akers – Kennelhand
Colin Wilton, Trainer
David Mullins, Trainer
Floyd Amphlett, Greyhound Star
Heather Dimmock, Trainer
Ian Sutherland – Kennelhand
Jason Heath, Trainer
Jim Hayton, Trainer
Jim Reynolds, Trainer
Jimmy Wright, Assistant Trainer
John Gilburn, Chairman RCPA/Managing Director Owlerton Stadium
Julie Bateson, Trainer
Mark Keightley, Assistant Trainer
Mark Pierrepont, Chairman BBOTA
Mark Wallis, Champion Trainer
Mick Pacy, Assistant Trainer
Patrick Janssens, Trainer
Pat Rosney, Trainer
Peter Harnden, Trainer
Web: www.payupbetfair.com
Email: campaign@payupbetfair.com