The usual mix of graded and open race action from Nottingham's Colwick Park stadium this evening with all of the action (horse racing permitting) being shown live on Sky Racing.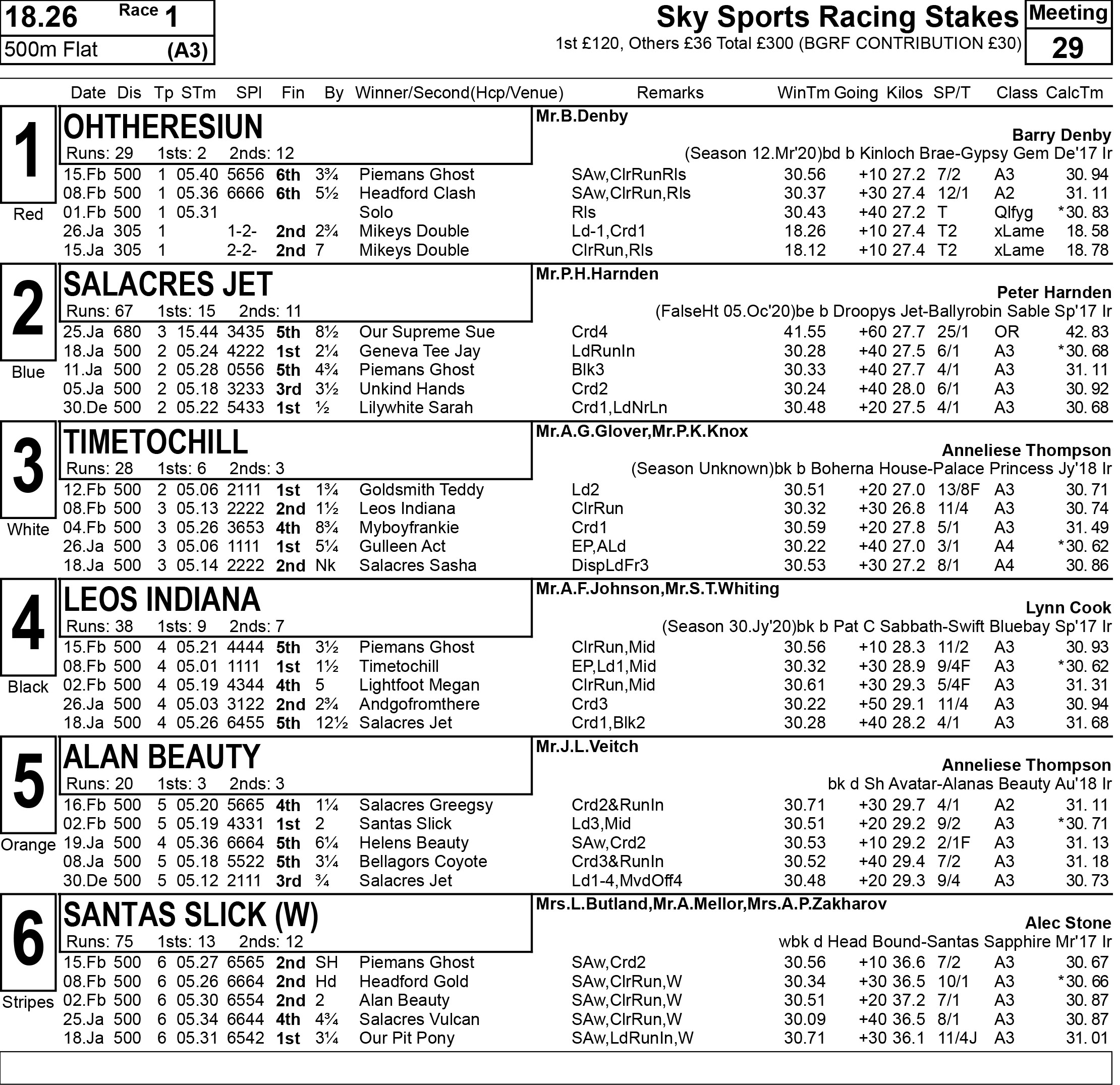 The first race of the night is an A3 at 6.26pm and it's difficult to predict how this race will pan out.  The race will likely be led by either Timetochill or Leos Indiana up the middle of the track but neither runner are particularly consistent at the start so you're taking a chance if betting either of them to get off the front.  The other runners are all strong types over this 500m trip and I'm siding with Peter Harnden's
Salacres Jet
to turn third at worst to the middle pair and prove too strong in the latter stages.
Jet will have to clear Ohtheresiun to her left who shouldn't be too long in finding a bit of form after a spell on the side-lines.  Though never particularly threatening in last week's race she wasn't beaten too far after going up with the lids at the start.  Alans Beauty was beaten next to nothing after not getting a run at any stage in a much better race last time out but that could well be the case again here whilst Santas Slick rattles home on a consistent basis and though he'll likely find at least one too good is a sure bet for any cast bets.
Next up is an A2 at 6.41pm where Lynn Cooks
Droopys Bargain
is selected to put a losing run of nine consisting of 7x A1s and a couple of open races behind him with success here.  An ultra-strong runner he can come through in the latter stages to win what is a decent affair.  Alec Stone's Kelsey's Duke took the eye in trialling in and will be winning before long that much is guaranteed.  He's a nice touch of early pace and his move to trap 3 this evening can only be of benefit.  He does however have to clear the early pace of Plaza Matty who though has likely reached his level for the time being won't be for passing too easily in the early stages.  It's not a given that Bargain will get there in this race but I'll take my chance and if not tonight there is absolutely no chance he can go too long in this grade without absolutely bombing in so keep him onside.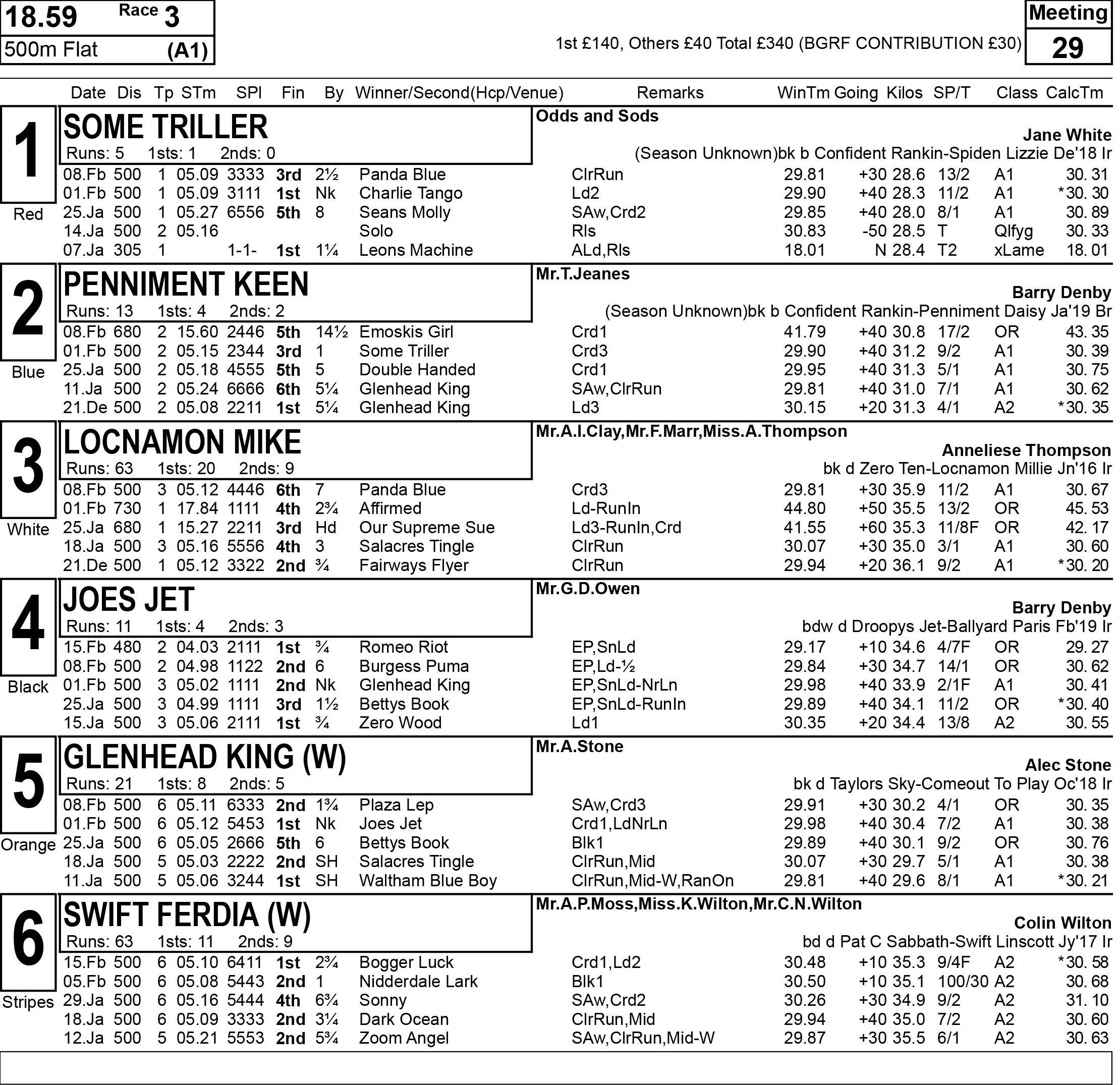 Top grade A1 at 6.59pm and a really good race. 
Joes Jet
is a really nice type for the Denby kennel and he can smash out from trap 4 and make all.  He's a top-class open race dog in the making and though this 500m is far enough he can have built up enough of an advantage to hold on.  It would be no surprise to see him heading to Romford in the coming weeks for a 400m open where he would be a formidable force if trapping out in front.  Colin Wilton's Swift Ferdia landed what can only be described as a huge off course gamble in A2 last week when overcoming a 20 race losing streak in the process.  The phrase 'they knew' could have been made for what was to follow and as Ferdia swept into a second bend lead the roars from Team Wilton could be heard for many miles.  He justifiably finds himself back in A1 but now that he's found his form again cannot be ruled out.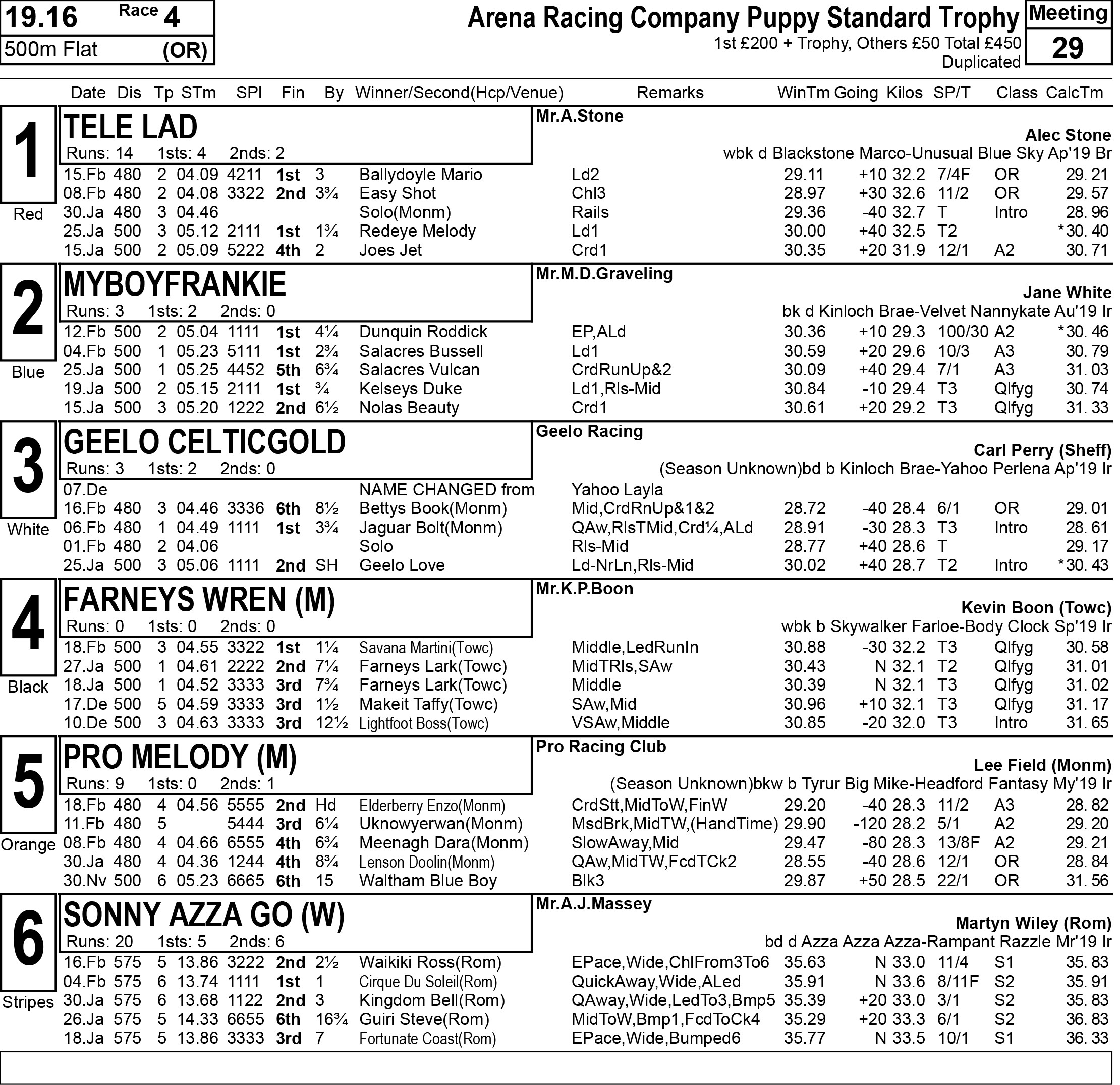 It's Arena Racing Company sponsored open racing all the way through from 7.16pm with a 500m puppy standard first up.  The ultra-professional Carl Perry has given his
Geelo Celticgold
not one but two sighters at this venue in recent weeks before heading back for her competitive debut at the track.  That experience combined with her undoubted pace can pay dividends and she can ping out from trap 3 and make all.
Martin Wiley's Sonny Azza Go has moved through the grades nicely at home track Romford where 3 lower grade victories over an inadequate but educational 400m have been followed up with a brace of successes in S2 company over a much more suitable 575m.  Wiley heads to Colwick Park however with 1 victory in 20 open race appearances since the beginning of 2018.  That's a strike rate of just 5% which is dwarfed by the 30% strike rate achieved by the ever-professional Carl Perry kennel whose runners have amassed a winning record here of 14 from 46 races over the same period.  Nottingham is a track that is much more difficult to run than some people imagine and the stats highlighted go a long way to showing that if you want to be successful here you really do need to take the professional approach and get plenty of experience of the track into your dogs.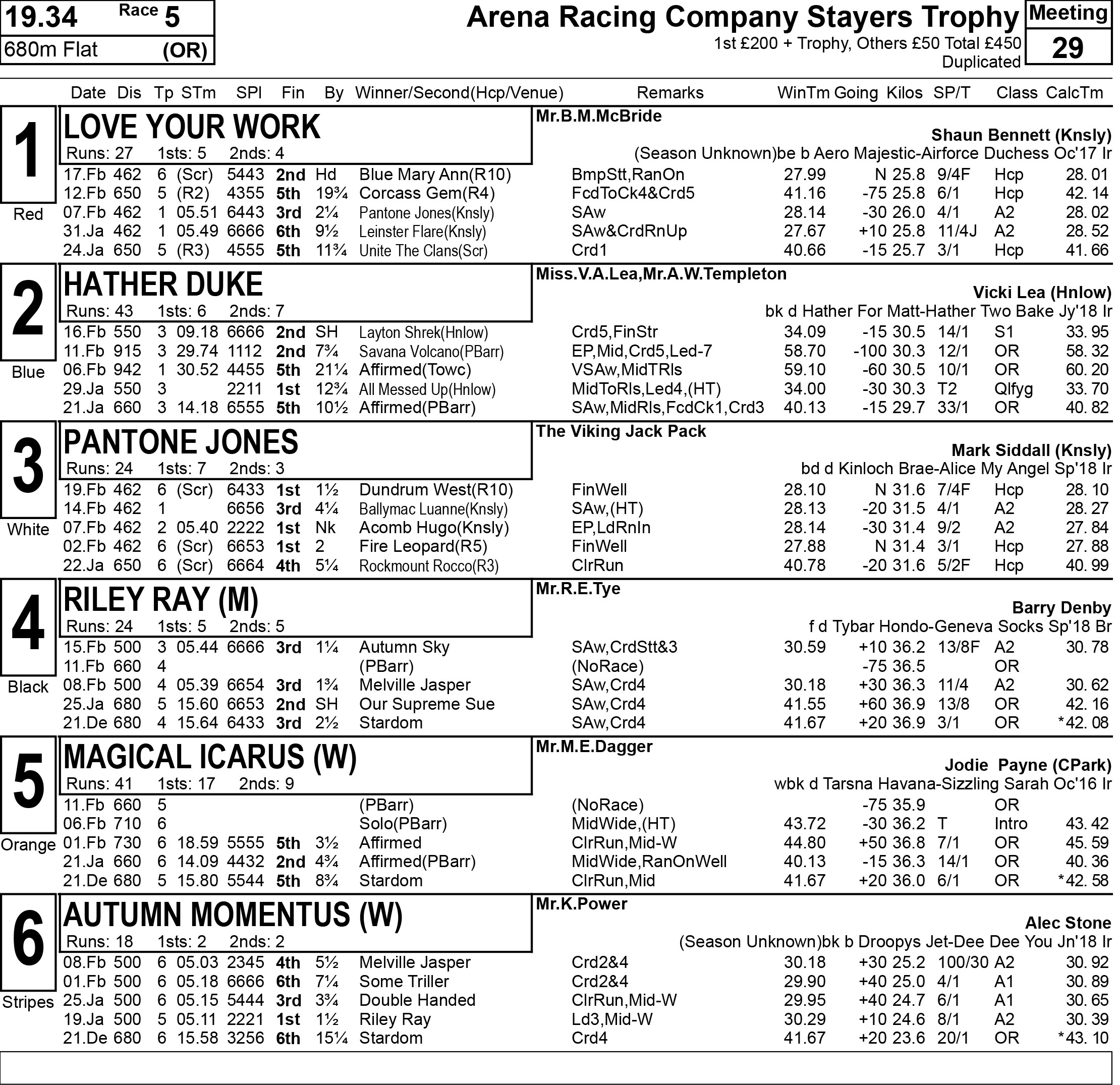 The stayers at 7.34pm over 680m and though not particularly well drawn the strong running
Riley Ray
for local handler Barry Denby can land his second open race success over course and distance.  A stunning fawn greyhound he has the potential to win more than his fair share in decent company over staying trips in the coming months.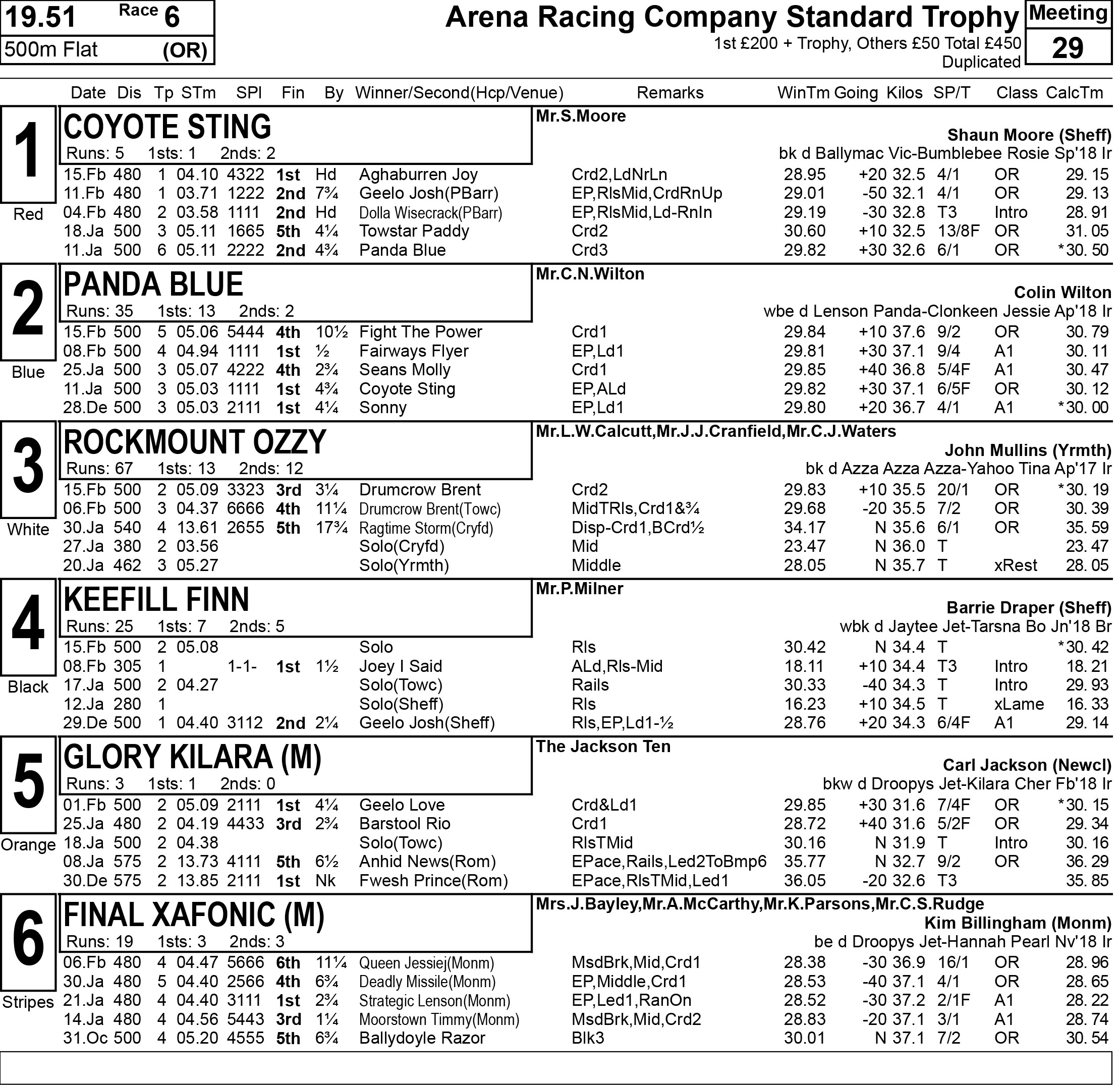 Panda Blue
would be just about the fastest greyhound trainer Colin Wilton has had on his hands and he's more than capable of holding his own in decent class opens this year.  He can ping out from trap 2 and hold off some talented rivals to take his winning record to 14 from 36 starts all of which have come here at Nottingham.  We will no doubt be seeing Colin travelling around the UK in the coming weeks to gain Blue some much needed experience of other venues which can only prove beneficial to him fulfilling his undoubted potential.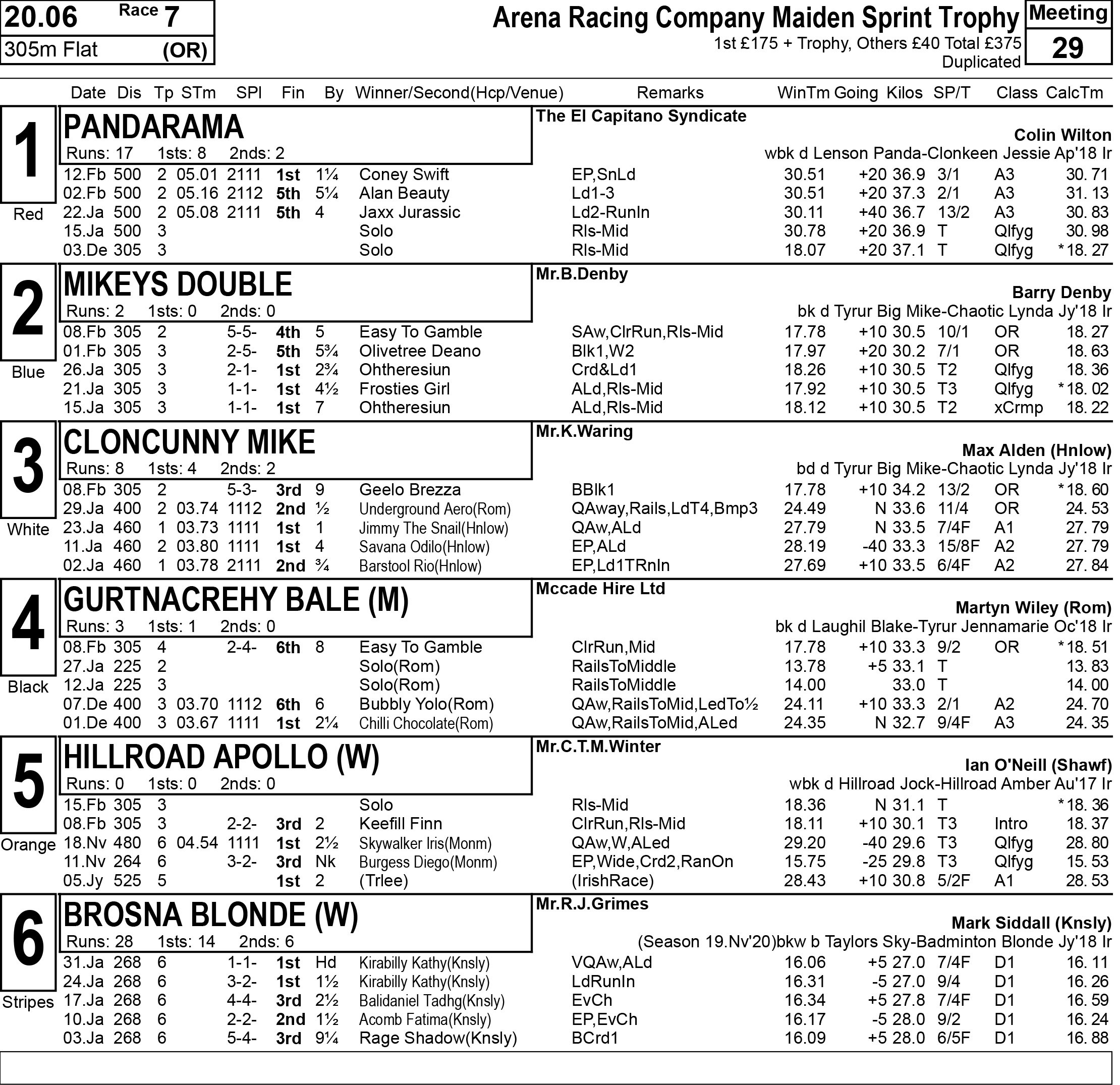 The maiden sprint over 305m is a tough race to call but
Pandarama
could provide Wilton with a quick-fire double.  Trap 1 isn't the best of boxes to be breaking from in sprints here but a reasonable start could see the selection pacing up and taking command by the turn.  He'd not be for picking up if managing to get round in front and at the likely prices could represent a spot of value.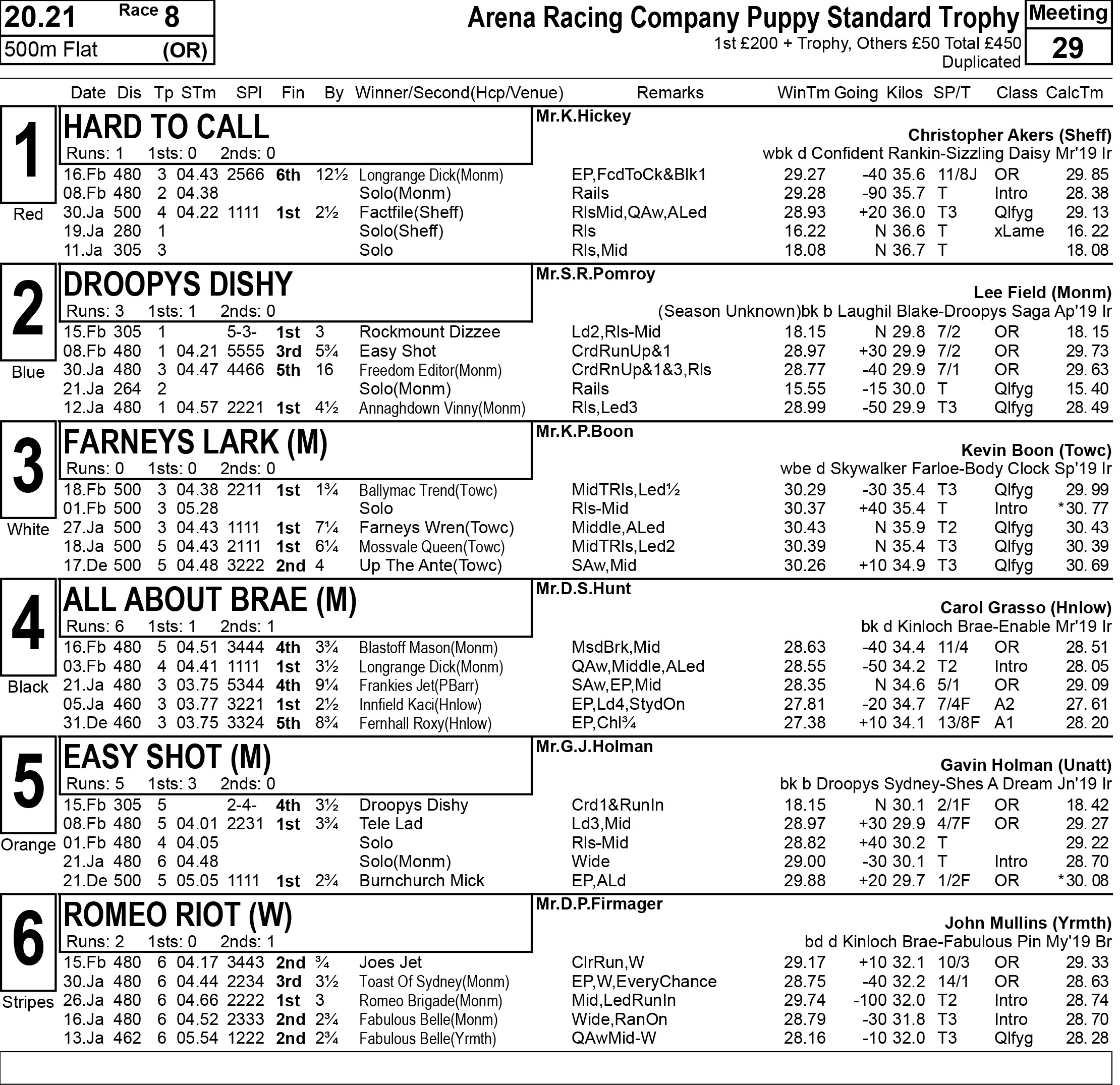 A superb puppy standard over 500m at 8.21pm which without doubt will produce many good class winners in the months ahead.  This is a race to watch and take notes for the future rather than playing to any great extent but for selection purposes I'm siding with the Chris Akers trained
Hard To Call
.  I believe this well-bred pup has all the hallmarks of becoming one of the leading open race greyhounds in the country and though eliminated from the Ladbrokes Puppy Derby at Monmore last week at the first round stage he can get himself onto the winner's podium for the first time of many this evening.
His superb early and the benefit of a couple of looks around can see him take control by the turn.  Droopys Dishy looks another nice type for Lee Field who is a trainer that does well here.  Lee will be looking to gain some compensation after his beloved Liverpool were comfortably beaten on their own patch by local rivals Everton at the weekend.  Easy Shot finds herself back over four bends this week with the wide seed removed once again.  A talented bitch who can go well but will need to trap in her best style which switching sides this week wouldn't be guaranteed.  Romeo Riot for John Mullins ran an eye-catching race behind Joes Jet on what was his first sighter of the circuit last week and it would be no shock if he were to go one better here.
A 500m standard at 8.36pm and the race of the night.
Roxholme Sheikh has had a name change since running out a hugely impressive winner of a 480m maiden here last week when known as Bright Rory.  He's a greyhound destined to be competing at competition level this year for Hayley Keightley whilst Jason Bloomfield's Burgess Puma already has an open race double to his name at Nottingham this month.
Kilara Lion has a winning record of 17 from 34 and has 3 Category One successes on his ever-improving CV.  Victories in the 2020 East Anglian and Kent Derby Finals were followed up last month with success in the Blue Riband Final at Towcester.  He's a superb greyhound who could easily have been voted greyhound of the year for 2020.
His name is apt as he really does have the heart of a lion and is a tough greyhound to beat in any race which he lines up.  Killahan Diver will likely be sent off the outsider of the field but he's a very nice type who heads into the race with a UK record of 4 wins from 4 starts up at home track Sunderland.  The last three of which came in top grade A1 company.  He will need to improve from a tough looking draw but looks a nice type.
Kilara Icon finished fourth in the 2020 Irish Derby Final at Shelbourne and gained the first win of his UK career when dismantling a good class maiden field which included the reopposing 'Sheikh' here a couple of weeks ago.  Icon will need to tread carefully to the second bend but if doing so he can move through the gears and showcase the middle pace for which he is well known.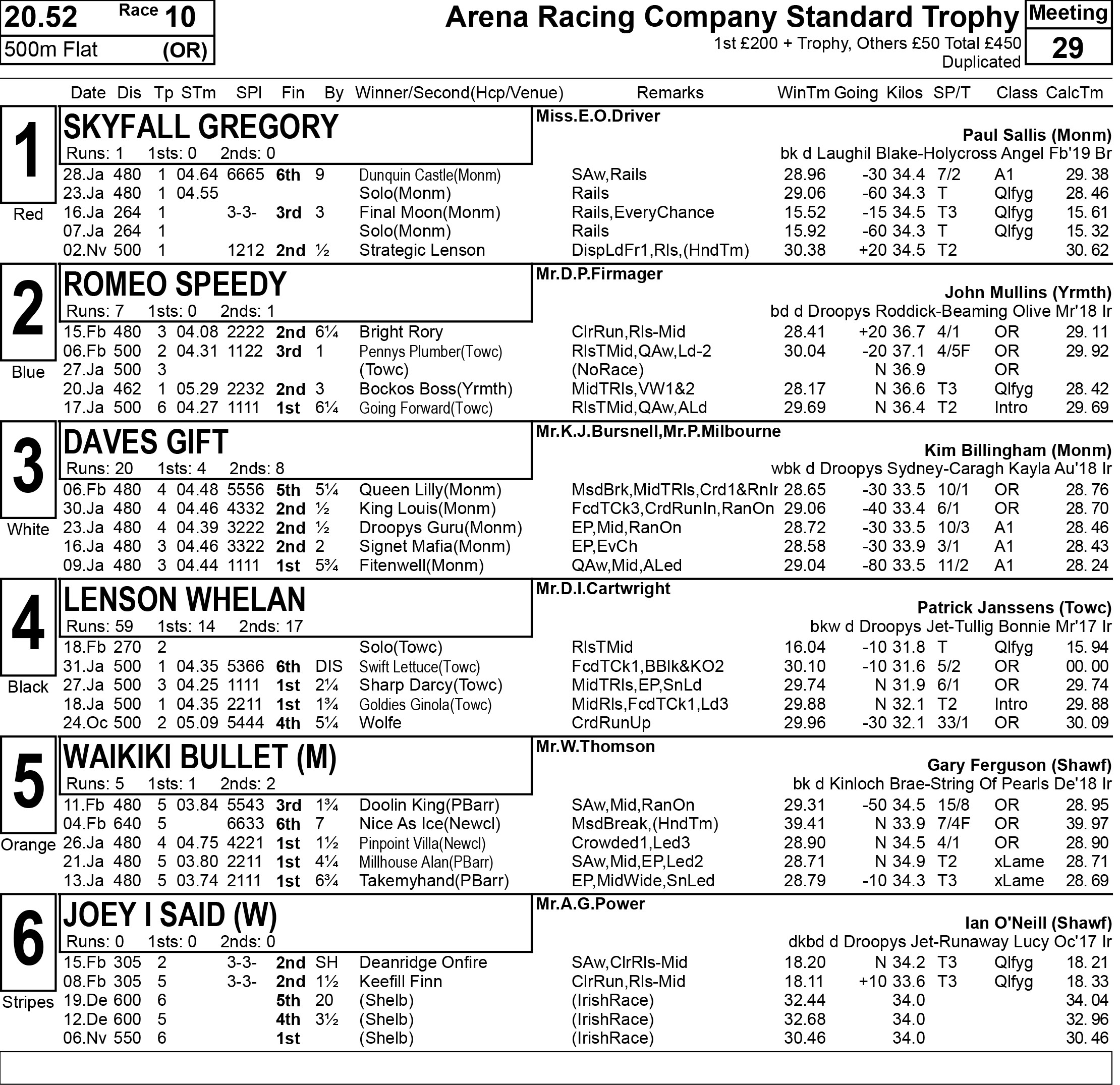 Waikiki Bullet
found the 640m too testing at Newcastle a couple of runs ago but run well in defeat when staying on strongly behind Doolin King at Perry Barr last time out over 480m.  The 500m here at Nottingham should play ideally to his strengths and he can make the long journey south for trainer Gary Ferguson worthwhile by taking the 500m standard at 8.52pm.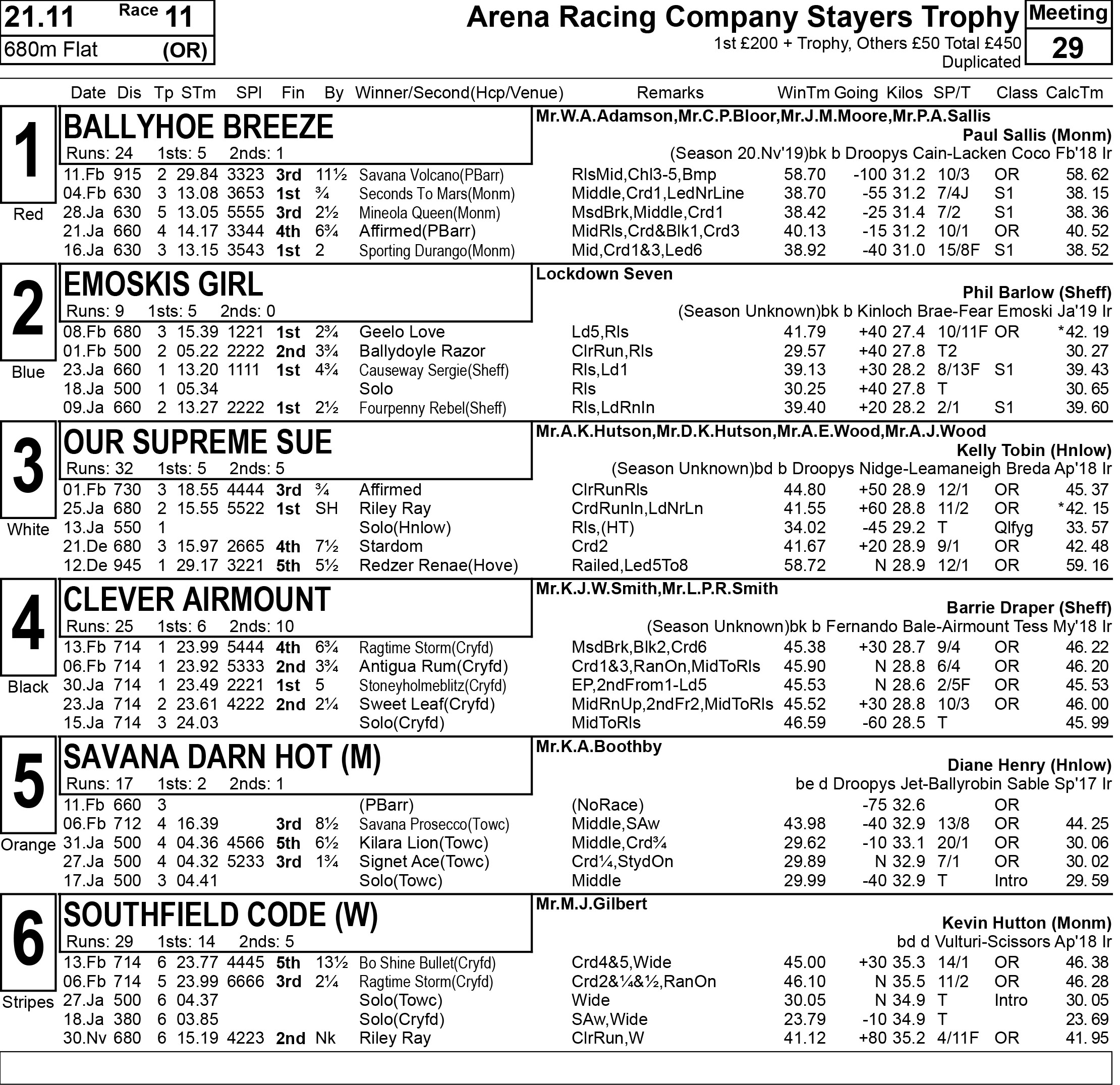 Phil Barlow's
Emoskis Girl
is a hugely talented stayer and she looks ideally drawn to ping out and take command of the 907pm stayers race over 680m from the outset.  It's decent line up with the likes of Clever Airmount and Southfield Code unlikely to prove any pushovers but if getting to the front early 'Girl' will prove extremely difficult to beat.
Last but by no means least a second maiden sprint over 305m which can go the way of
Deanridge Onfire
.  Known as Pennys Daru in Ireland he set a 17.21 track record on career debut over the 325yd trip at Newbridge last August.
Subsequently purchased by Ray Dean and Paul Sturridge he was obviously expected to be a little bit better than the rivals which he lines up against tonight.  There's no doubting he's not lived up to expectations and has been sold on to connections of the Ernie Skeech kennel without ever running a race for the Deanridge team.  It looks extremely unlikely that he'll live up to the promise shown on that career debut and at 2 1/2 years of age almost and with just that one run under his belt he will need to get a move on so far as getting his UK career up and running.
He wouldn't have to get anywhere near the level of that one sole career run to be winning a race of this nature however and is selected for this even if done so with more than a hint of caution.