Following an excellent start with five winners (5/4 , 9/4 , 4/7 , 2/1 "and evens all available bigger in the day") last week, Big Mark has put himself in the firing line again.
A twelve race card at Nottingham this evening for viewers to take in on Sky Racing.  There are nine ARC sponsored open races but proceeding that viewers have the puzzle of 3 local graded races to solve.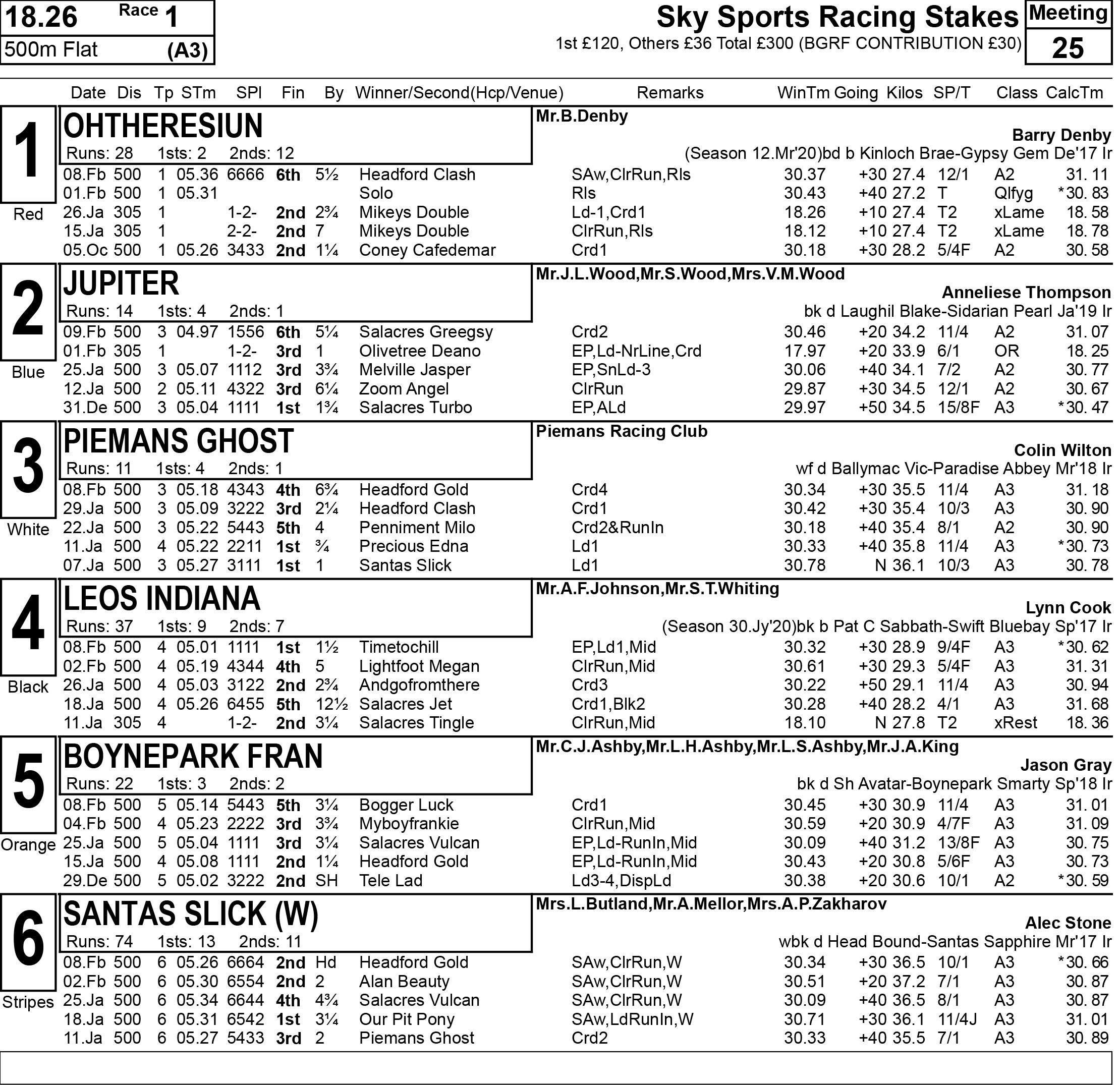 First up is a high end A3 at 6.26pm where all six runners are capable of winning at this level on their day.  The selection is Anna Thompson's Jupiter who won very well when last seen in this class and hasn't been disgraced despite not gaining the clear lead he favours in some high class A2 events of late.  Piemans Ghost is a nice enough type in front but would find this tough if led up by Jupiter and the same can be said for Leos Indiana who as suspected found many lengths last time out for a slight reduction in weight.  Boynepark Fran's form of late is extremely concerning.  His A2 victory from November seems a distant memory and he's now on a losing run of twelve.  Despite having passed up numerous chances of late the greyhound comes from a kennel adept at bringing about huge improvement from dogs when the majority of punters have given up hope.  Santas Slick stays really well in this grade and is a difficult dog to keep out of the frame but he'll need to pass the majority of the field around the outside at some point in the latter stages although he could be one for trio players.  Ohtheresiun is interesting for Barry Denby she's having just her second run back after a four month lay off through injury and though she doesn't win often she would be more than capable if anywhere near her best.  With Jupiter setting off in front the race could actually be run to suit as she should then get a nice run in behind on the rail.  My suspicion is she might just need this outing but do keep her onside as she shouldn't be too long in winning if recapturing her pre injury form.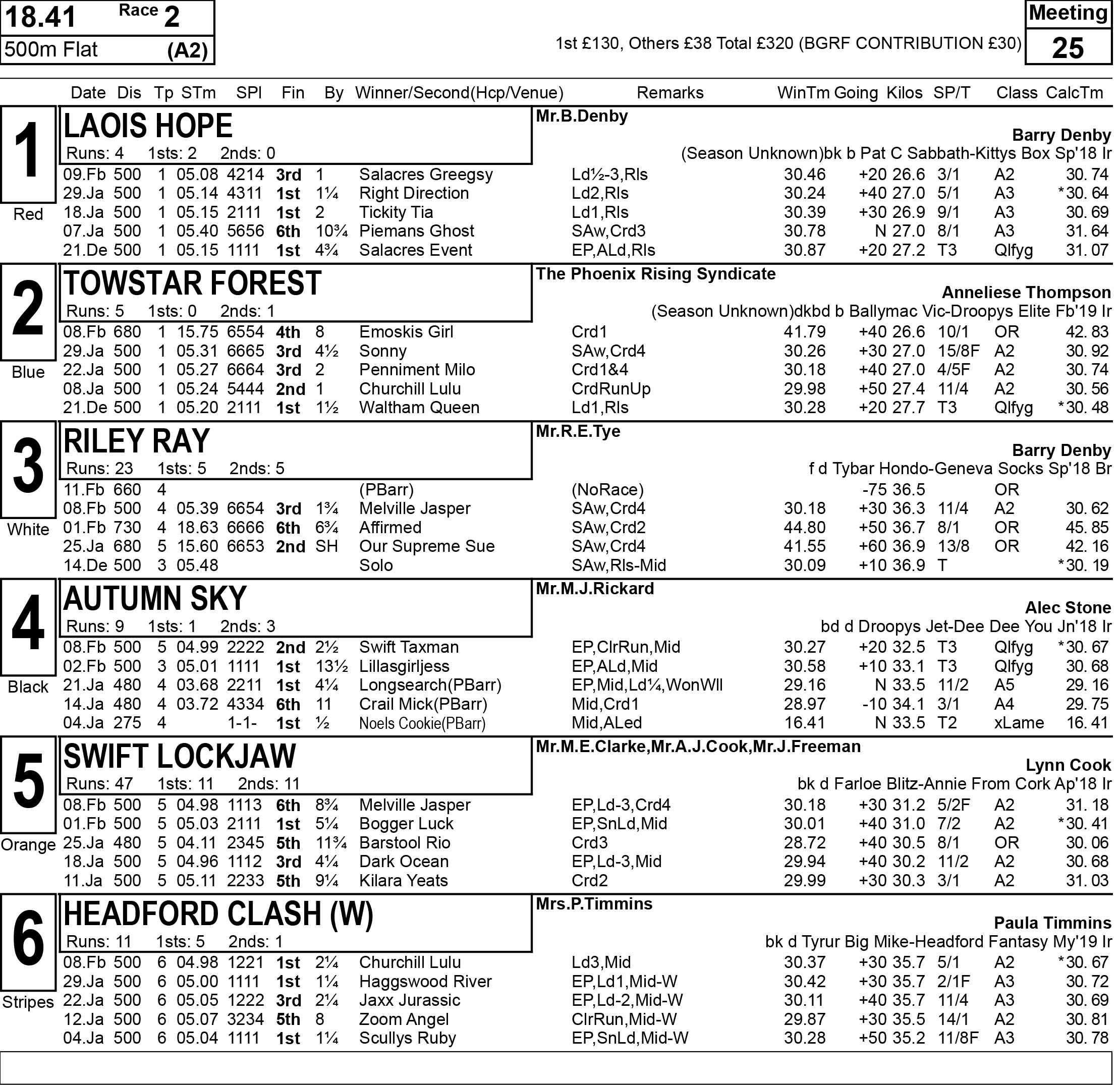 Next up is an A2 at 6.41pm and a chance that Anna Thompson can land a quick fire double.  Her Towstar Forest is more than capable with any kind of run but isn't the best away from the traps to say the least and has been leaving things all too late so far in her fledgling career.  Laois Hope should be away and gone on the rail and with Riley Ray being notoriously slow into stride it's more than possible that Forest could get a nice run to halfway before moving through the gears in the latter stages.  The outside trio of greyhounds all possess excellent early pace but something will have to give by the turn and the chances of at least two of them and potentially all three could be gone before we've reached the back straight.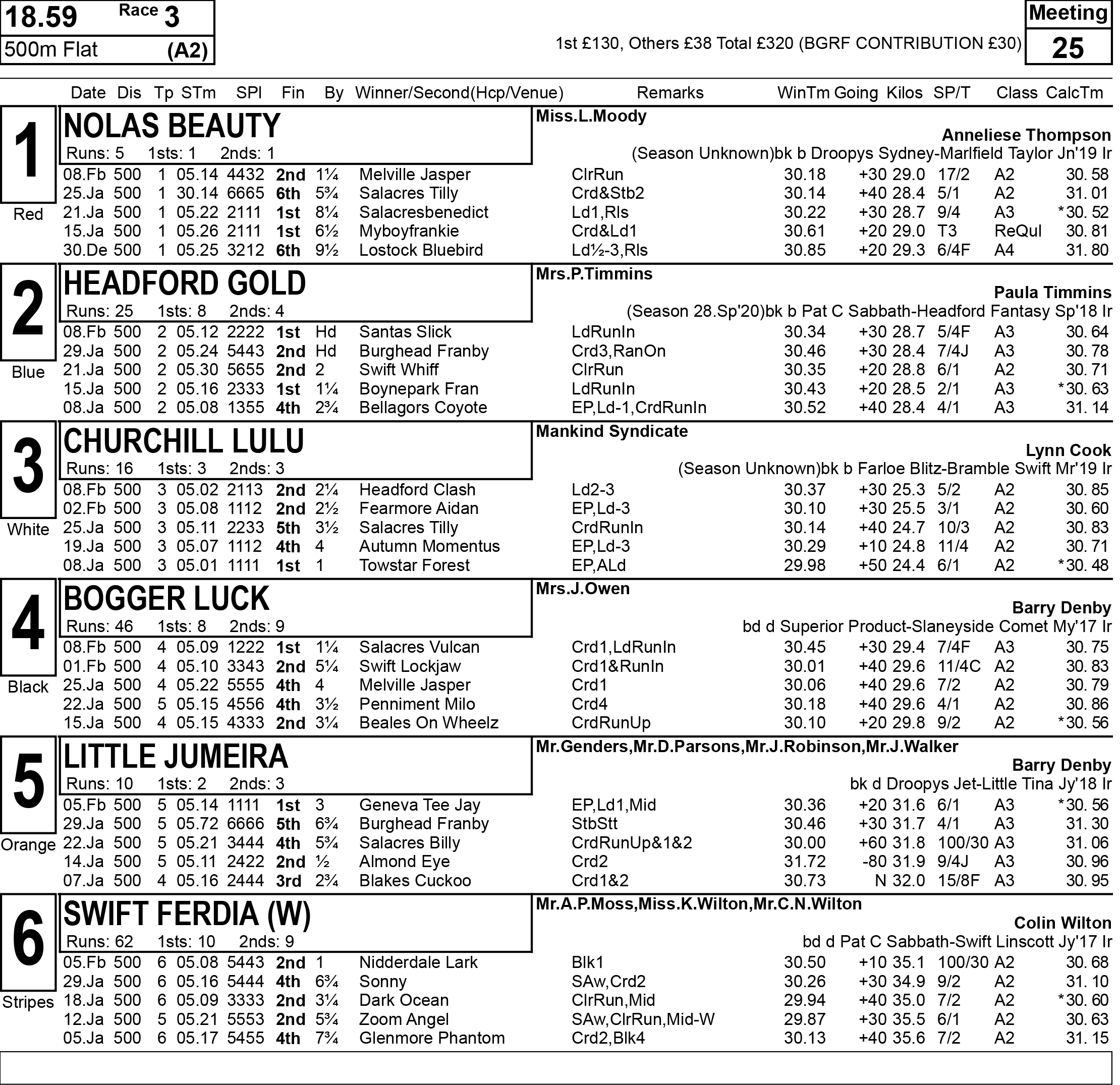 An A2 at 6.59pm and a difficult race to call.  Stakes should be kept small but a chance is taken with Lynn Cook's Churchill Lulu to ping out from three and make all the running.  Swift Ferdia looked like he could potentially make into a competition dog in the very early stages of his career but in all honesty he's never quite reached the level of form at least on a consistent basis that I expected him to.  Colin Wilton must have sleepless nights about this dog and a losing run of twenty stretching back to June 2020 will have to be overcome if he's to land this race tonight.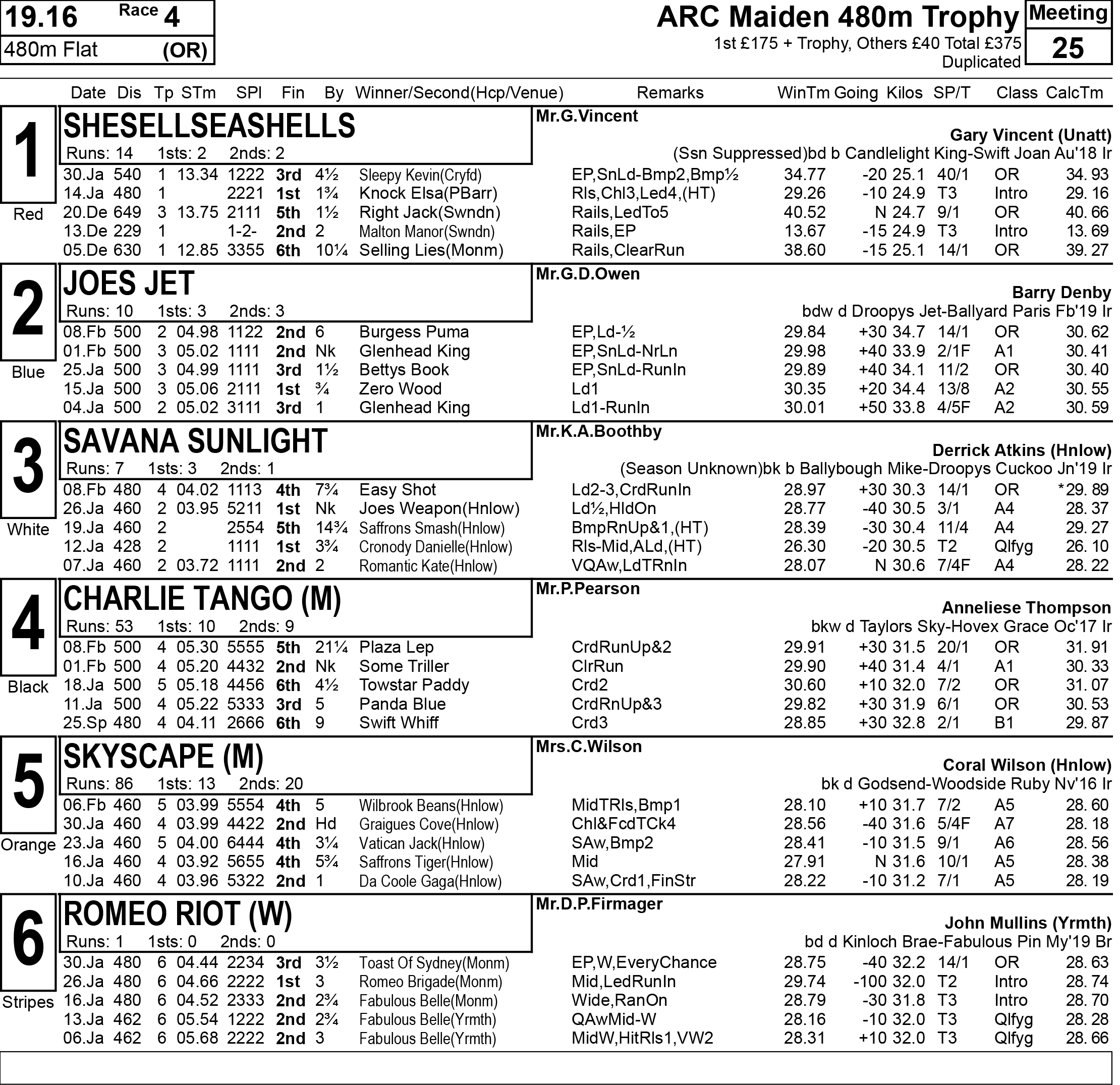 A 480m maiden at 7.16pm and though John Mullin's Romeo Riot will likely end up being a little better than the rivals he faces tonight there's much to be said for local knowledge and therefore I'm siding with Barry Denby's Joes Jet to smash out and make all from trap 2.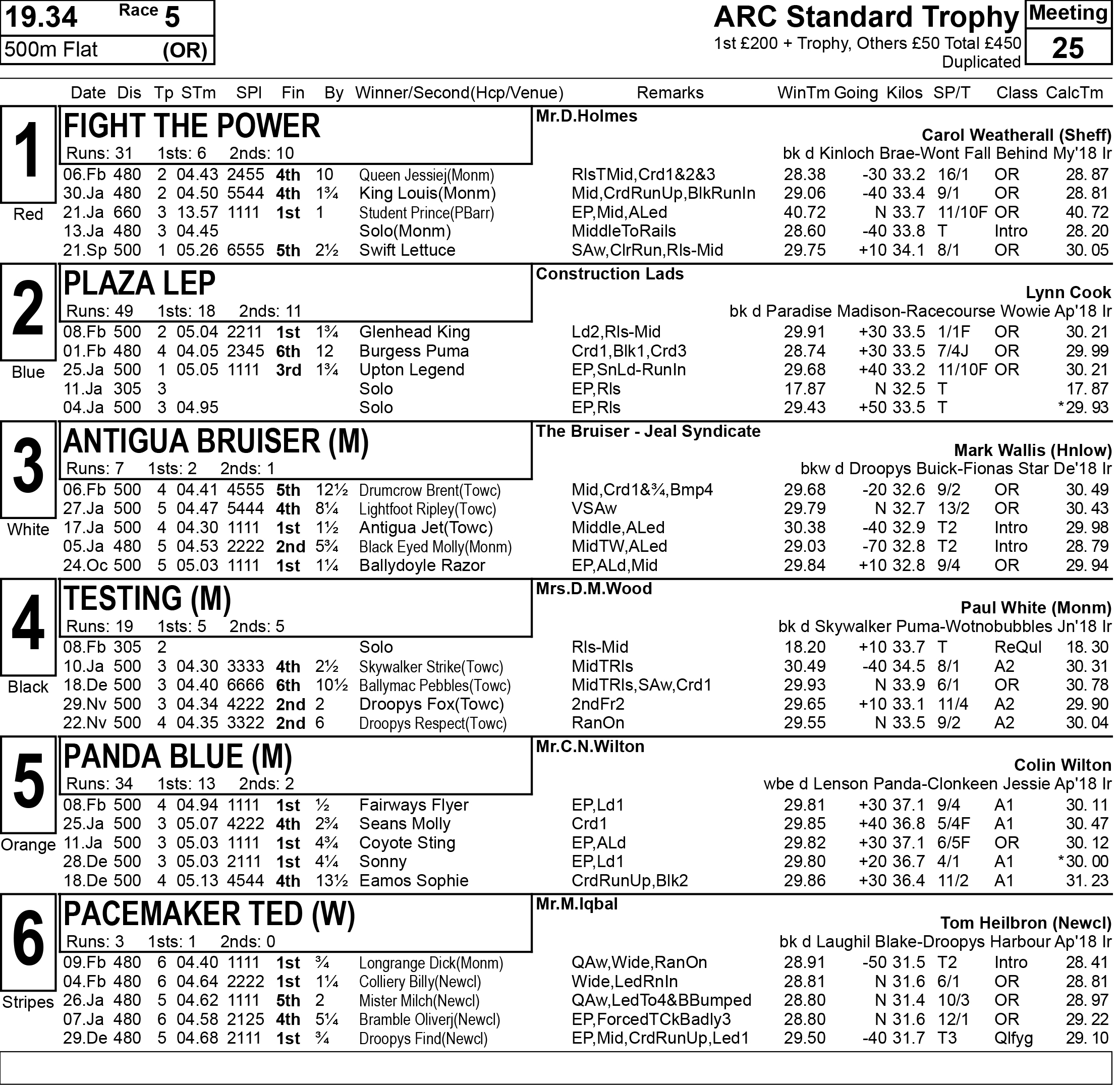 Next up is a 500m standard at 7.34pm.  Fight The Power reached the finals of the Northern Puppy Derby at Newcastle and the Sussex Cup at Hove in 2020 and as recently as January this year recorded 2820 around Monmore.  A high class sort who always mixes it in very high class and connections must have been left shaking their heads with his exclusion from the Winter Derby at Monmore.  He can gain compensation here but will need to tread carefully early.  Plaza Lep won last week but it was a poor open that probably wasn't as classy as an A1 here and the likely main danger comes in the shape of Antigua Bruiser who was a good winner in a heat of a puppy open competition here last October before having to be withdrawn from the final lame.  He's not looked to quite be at that level in a couple of runs at Towcester since comeback but it would be no surprise to see him take off back at Colwick Park.
A rare puppy sprint at 7.51pm and though I don't believe sprinting nor being seeded wide will do Easy Shot any favours in the long run she finds herself in a race which might be easier to win than lose.  There should be plenty of space for her to run early and if hitting the front by turn she'll prove too good.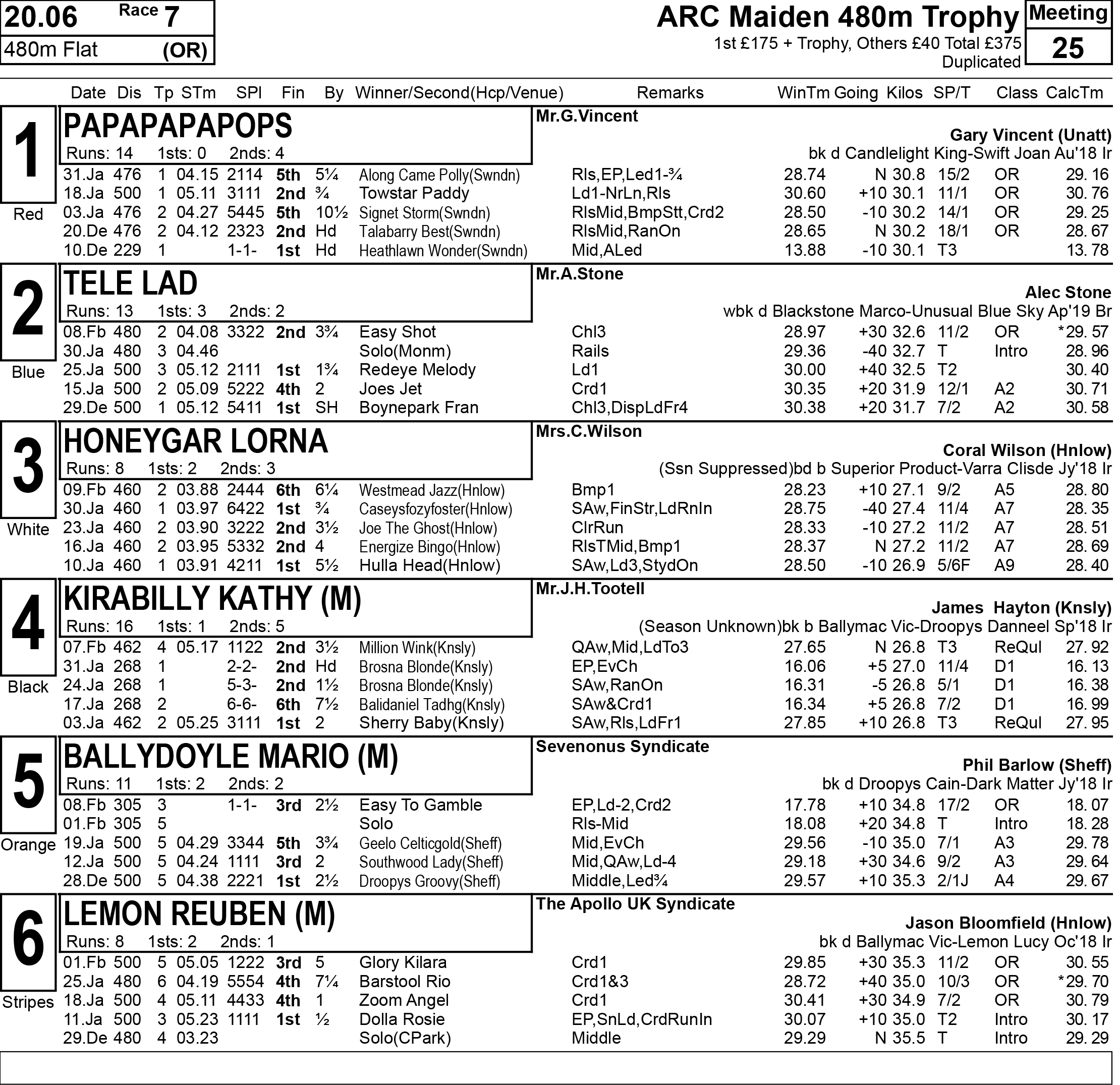 A 480m maiden at 8.06pm and it's no surprise at all to see Phil Barlow returning to the track for a race over four bends with Ballydoyle Mario.  He run well in a sprint here last week in driving snow when leading to the turn.  Though done for a bit of pace from the second bend by Easy To Gamble that was to be expected but those watching to the pick up would have noted Mario finishing off his race well.  If trapping in similar style here he can make every post a winning one.  His main danger is likely to be Lemon Reuben from the Jason Bloomfield kennel who won't be long winning at maiden level.
A tough to call British Bred 480m race at 8.21pm where a chance is taken on Heather Dimmock's Ice Jubbly.  He does lack a look around but if he takes to the track does look to be well enough drawn for a run on the wide outside.  One or two of his graded lines of form at Towcester are probably a little better than some might give credit for so at a price take a chance on him in the win and place markets.
The 500m standard at 8.36pm looks a match up on paper between Lynn Cook's Churchill Holly and Mark Wallis's Drumcrow Brent.  I'd prefer Holly drawn off the fence a little and her form has been a little bit in and out of late.  Take a chance that Mark Wallis's Brent can overcome the lack of a look around and a reproduction of his 2948 calculated winning run over Towcester's Derby trip of 500m last time out would be good enough.
A 480m maiden at 8.52pm and a really tough race to call and one that I wouldn't get involved in from a betting perspective.  Chris Akers Dingle Pub has been handled nicely at Sheffield and is improving with each run.  Though his trial run here and subsequent effort in a race when finishing fourth behind Geelo Josh aren't at the same level as his Sheffield runs this is easier and a smash break could see him dominating from the outset.
A maiden 480m at 9.11pm that can go the way of Hayley Keightley's Bright Rory.  He's a dog who will be leaving maiden company behind very quickly and though well enough beaten here last time out he faces nothing of the calibre of Peter Harnden's Kilara Icon in this race.  He'll soon be in command and though likely to be sent off short enough looks one of the best bets on the card.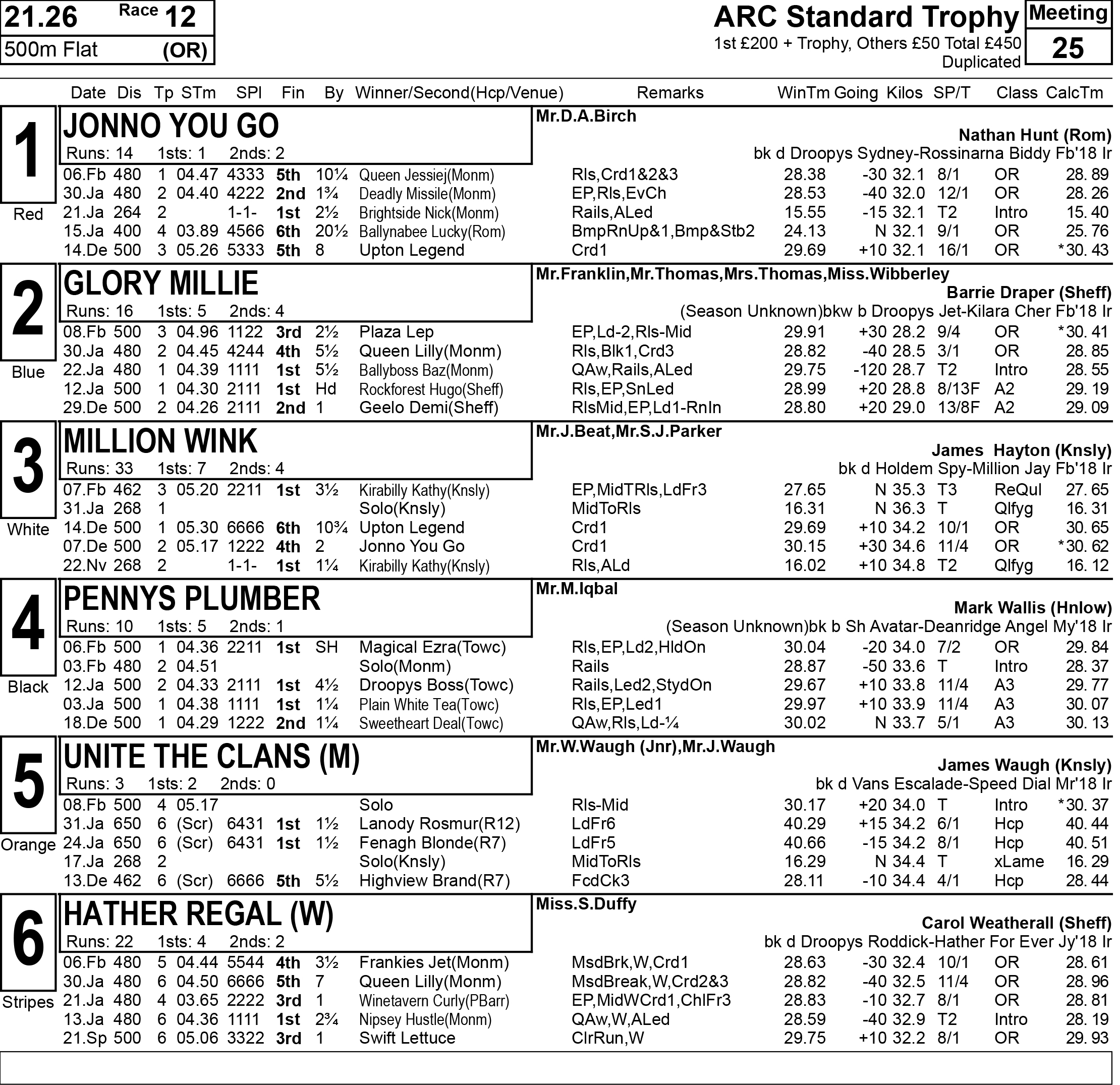 Last but by no means least another 500m standard at 9.26pm.  Barry Drapers Glory Millie possesses huge early pace and though she gives ground away with some shocking bend running at times she can be away and gone from this field in a race that on paper at least sees her taking a step down in class.