Nottingham are confirmed as hosts of the 2019 English Derby which will be supported by a trio of sponsors: Star Sports, ARC and Local Parking Security Services.

The event will be held over the 500m course on dates still to be confirmed over the traditional six week period. It will be restricted to a maximum of 216 entries (36 heats) which means kennels will not be inconvenienced with more than two first round visits.
The last Derby to exceed that figure was the final Wimbledon competition with 218. Last year Towcester received 152 entries. Nottingham has 118 racing kennels.
The winner's prize will be £100,000 with significant prizes for the other finalists and qualifying rounds, starting at £500 for third round runners up to £2,500 for semi winners. The entry fee is £250.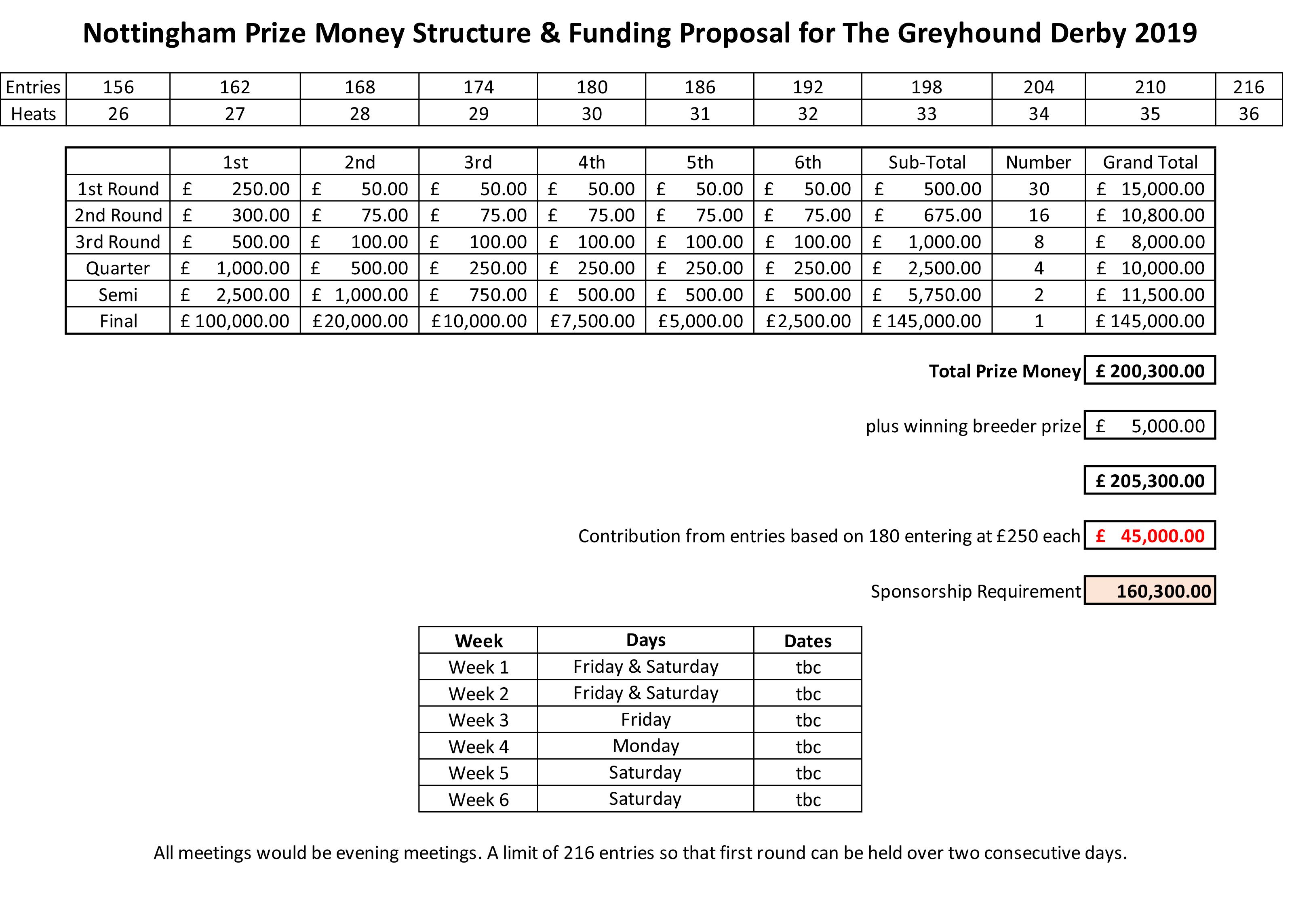 Plans included renting additional land from the neighbouring racecourse which would see capacity double from the current 2,000. While 1,000 less than Towcester, it is still more than double the capacity of Wimbledon. All rounds are expected to be shown on RPGTV and in betting shops contracted to media broadcaster ARC.
In a powerful presentation the stadium highlighted their exceptional welfare record – as is the practice at Nottingham, 2% of the prize money (£4,000) will be donated to the Greyhound Trust.
The bid almost highlighted Nottingham's popularity and geographical advantages which resulted in it being visited by the greatest number of trainers and different greyhounds of any track in Britain this year.
Nottingham is delighted to announce that its proposal to host The 2019 Greyhound Derby has been accepted by the Panel.
Nottingham's Rachel Corden said 'We are thrilled and excited to have been successful. We are extremely grateful to our fabulous sponsors – Ben Keith at Star Sports, ARC and Richard & Donna Evans at Local Parking Security Limited for believing in Team Nottingham and for sharing our passion for the Greyhound Derby.
"The Greyhound Derby is without doubt the most prestigious event in greyhound racing's calendar. I know from my father, Terry Corden, Nottingham's late, great patriarch and lifelong greyhound enthusiast, the significance of the Derby and the role it plays in shaping the hopes and dreams of many in the sport.
"Nottingham is centrally located to provide accessibility for both GBGB licensed trainers and owners throughout the country and also for our Irish neighbours. Welfare is always our priority and we are very fortunate to have knowledgeable and dedicated grounds and racing office teams. We are a well-supported Stadium with statistics showing that, year to date, Nottingham has been visited by the highest number of different open race trainers and different greyhounds, which confirms the track's popularity'."
Ben Keith from Star Sports said "Star Sports love The Greyhound Derby and are delighted to be supporting Rachel Corden and her ambitions. From the first moment we spoke and heard of her wanting to follow her father's dreams, we knew that Nottingham should be the next host.  We wish Rachel and all those concerned the very best of luck and hope that they know all of Star Sports are at their disposal.'
Mark Kingston, Director of Media Technology & Production at ARC said "We would like to offer our congratulations to Rachel and everyone at Nottingham.  We are looking forward to working with them in order to help make what is the most prestigious event in the sport's calendar, as successful as it can be'.
Richard and Donna Evans of Local Parking Security Ltd "are very excited to be involved with Rachel Corden and her team at Nottingham Greyhounds in her pursuit of holding the Greyhound Derby at the stadium.  With their commitment to the sport, enthusiasm and professionalism the Greyhound Derby could not be in better hands."
Rachel Corden said "Hosting the 2019 Greyhound Derby is a massive commitment to the sport by Nottingham and it's sponsors, not least with a winner's purse of £100,000 on offer, and I hope that the industry will get behind us to ensure a well-supported, fantastic competition'."