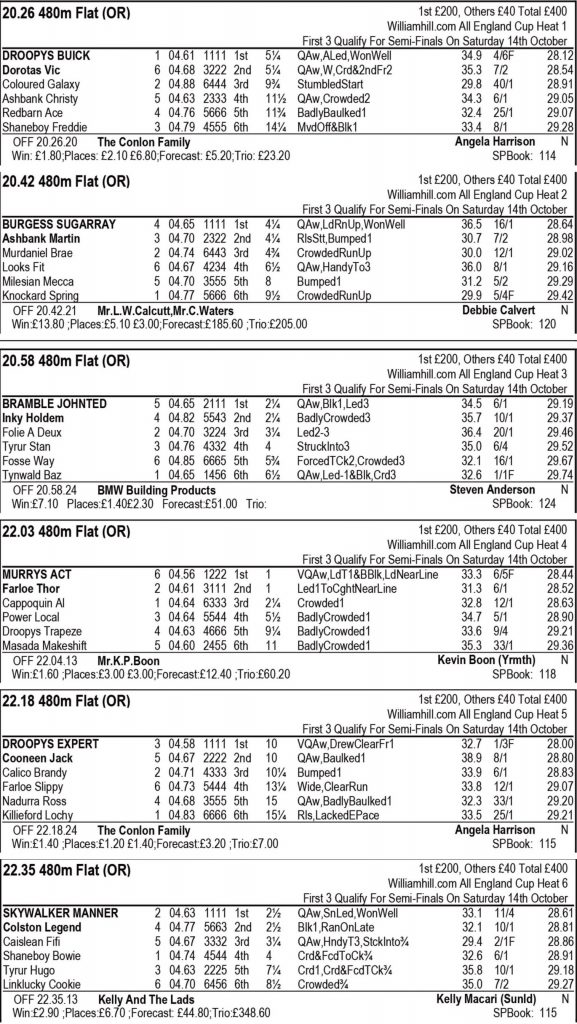 Angela Harrison's two stars Droopys Buick and Droopys Expert dominated the first round of the Williamhill.com All England Cup at Newcastle on Saturday.
Droopys Expert (Greenwell Hawk-Droopys Rhiona, Oct 15) was the quicker of the pair with a 28.00 run for the 480m.
The Puppy Plate/Puppy Classic runner-up was just two spots slower than his previous run but on going rated .10 slower. They are the fastest two runs since the old 'Brough Park' track was dug up and redesigned.
Greyhound of the Year Droopys Buick (Yeah Man-Droopys Hilda, Nov 13), withdrawn after winning last year's first round heat in his fastest run over course and distance (28.23), went quicker still with a 28.12 victory.
Kevin Boon had a fairly average night by his recent standards with four of his five runner progressing no further in both competitions.  However the ever faithful Murrys Act (Tullymurry Act-Brave Maeve, Mar 15) was superb in 28.44 after first bend trouble on his 28th race of the year.
(. . . now check out the 4.56 sectional!)
2016 Irish Laurels winner Skywalker Manner (Leeview Jet-Jibberish, Jun 14) made a winning debut for Kelly Macari in 28.61 in the final heat.
The night's biggest shock was the defeat of Steel City Cup winner Tynwald Baz in a heat won by local A1 runner Bramble Johnted (Ballymac Vic-Laughill Tina, Jul 15) in 29.19.
Former John Mullins' trained Burgess Sugarray (Tyrur Sugar Ray-Rising Pearl, May 15) kept up the North East dominance with a fifth win for the region in 28.64.
---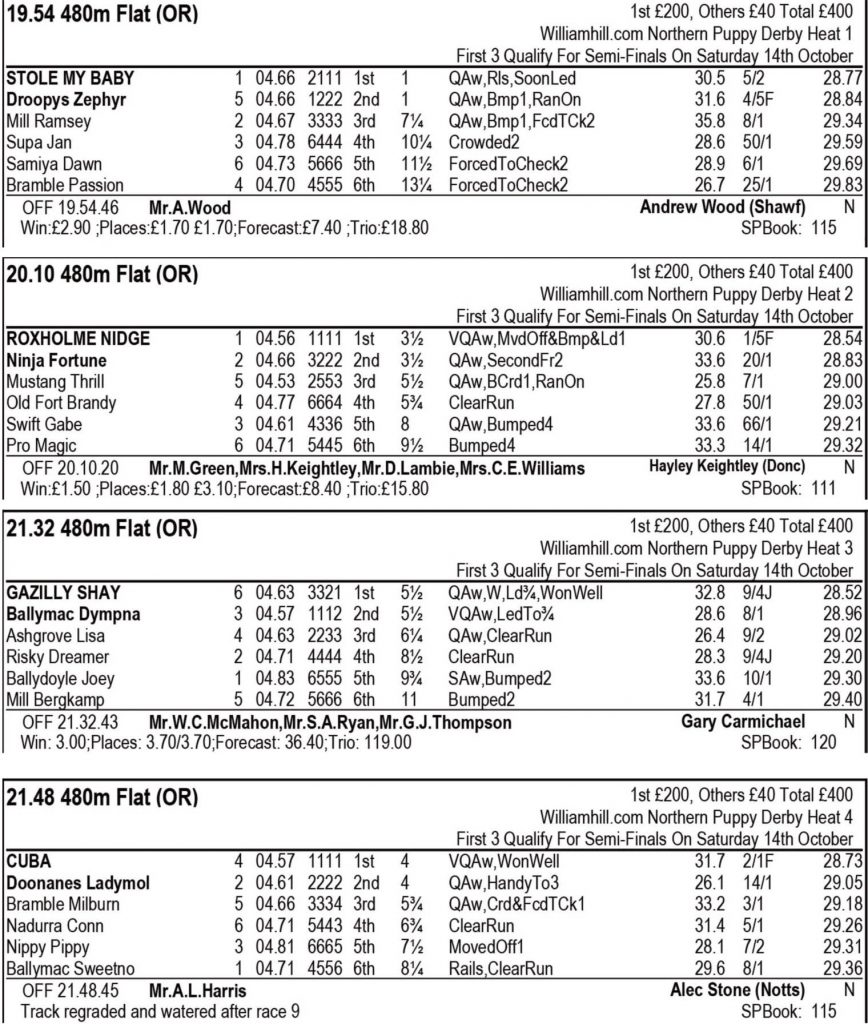 All eyes were on Romford Puppy Cup winner Roxholme Nidge in the The William Hill Northern Puppy Derby though it was a dog whose last race was a defeat in a 575m open at the Essex Venue who went quickest in the Newcastle first round.
Gazilly Shay (Droopys Cain-Sparkle Opal, Nov 15) made a fine debut for trainer Gary Carmichael when landing the fastest qualifier in 28.52.
Take nothing away from Puppy Plate winner Roxholme Nidge (Droopys Nidge-Silver Dollar, Nov 15) who made it seven wins from out outings with a 28.54 victory – without the benefit of a trial.
18 month old Droopys Zephyr was unable to turn some flying trials into a first victory as Shawfield's Stole My Baby (Scolari Me Daddy-Stole My Name, Jan 16) landed the opening heat in 28.77.
Alec Stone's Cuba (Head Bound-Full Of Beans, Nov 15) picked up the final heat on his UK debut. The 28.62 Waterford winner clocked 28.73 at Newcastle.
Footage courtesy RPGTV