by Mark Pierrepont
Beyond the English Derby, The Eclipse would rate among the half dozen most eagerly anticipated competitions of the year.  This year, under the sponsorship of Mark Lowther's MSCM Limited company, is no different.  The competition, as expected, is full of quality.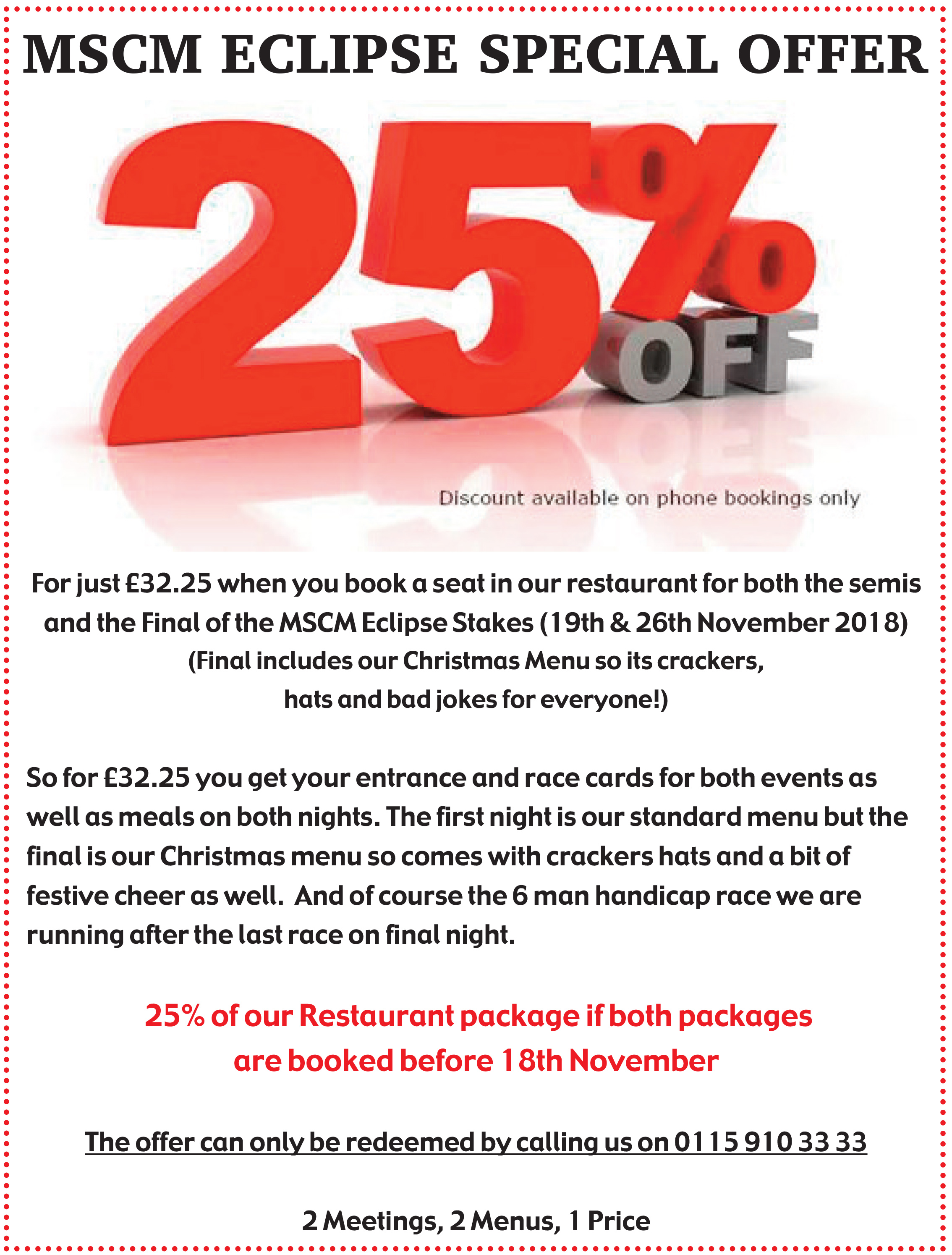 The Kevin Hutton trained Star Sports English Greyhound Derby winner Dorotas Wildcat jointly heads the ante post market at a general 3/1, 7/2 in a place. 
The other greyhound to share that position is Angela Harrison's Droopys Verve.  These two greyhounds are no strangers.  On Saturday 2nd June this year , they lined up against each other in the Derby Final at Towcester. 
The bookmakers could barely separate them then either , Verve a narrow 7/4f for the final ahead of Wildcat at 2/1.  Wildcat drawn in trap 3 however saved his best break of the competition until when it really mattered, not foot perfect by any means but this is a greyhound who if he traps within half a length of anything , the rest are in serious trouble. 
His early pace is something to behold and though Verve from his draw in trap 4 gave it his all from a not too fluent start , he would eventually succumb to 'The Cat' by 1 1/2 lengths.  As Wildcat began to take up some temporary stud duties , Verve and his Alnwick based team began plotting some well deserved compensation. 
A stunning track record victory in the Dundalk International , holding off the constant challenge of the top class Borna Gin , was swiftly followed by victory in the William Hill All England Cup up at home track Newcastle. 
These are two of the best greyhounds of our generation, however at a combined even money the pair (slightly bigger if you shop wisely).
However, there is sure to be some value to be had among the rest of the field and as history shows (previous finals below), the event throws up its fair share of shocks.
The competition gets underway at Nottingham's Colwick Park venue with
heat 1
at 7.52pm.  Alfies Prince lines up from trap 1 for local trainer Barry Denby.  After reaching the Star Sports English Greyhound Derby quarter final at Towcester earlier this year , plans were set in motion for
Alfies Prince
to head to Ireland to have a crack at the Irish equivalent.  What this dog lacks in early pace , he more than makes up for with a finishing kick that few can live with if he's within striking distance.
Alfies simply never knows when he's beat, he possesses excellent local knowledge and could be one to contemplate each way for those looking to back  something at a big price.  Droopys Trapper lines up from trap six in this heat.
After going unbeaten through the William Hill Puppy Plate at Sunderland in July and then winning heat and semi final of the William Hill Puppy Derby at Newcastle , Trapper was rightfully sent off a solid even money favourite in the final itself.  It didn't quite happen in the final though and after a troubled passage he was beaten two lengths into third place by Droopys Trawler.
This young dog possesses plenty of pace though and a couple of open race victories around Newcastle since that defeat in times of 28.55 (normal) and latterly 28.31 (normal) outline that.  Last Monday's first look around tonight's venue of 29.83 (+20) may not quite have been as flashy as some others, but he left any amount of time on the track , particularly when running off wide between bends one and two.
Tonight's draw out in six wouldn't be ideal , but if he can tread carefully he should qualify and will again come on for the look if making the semi final.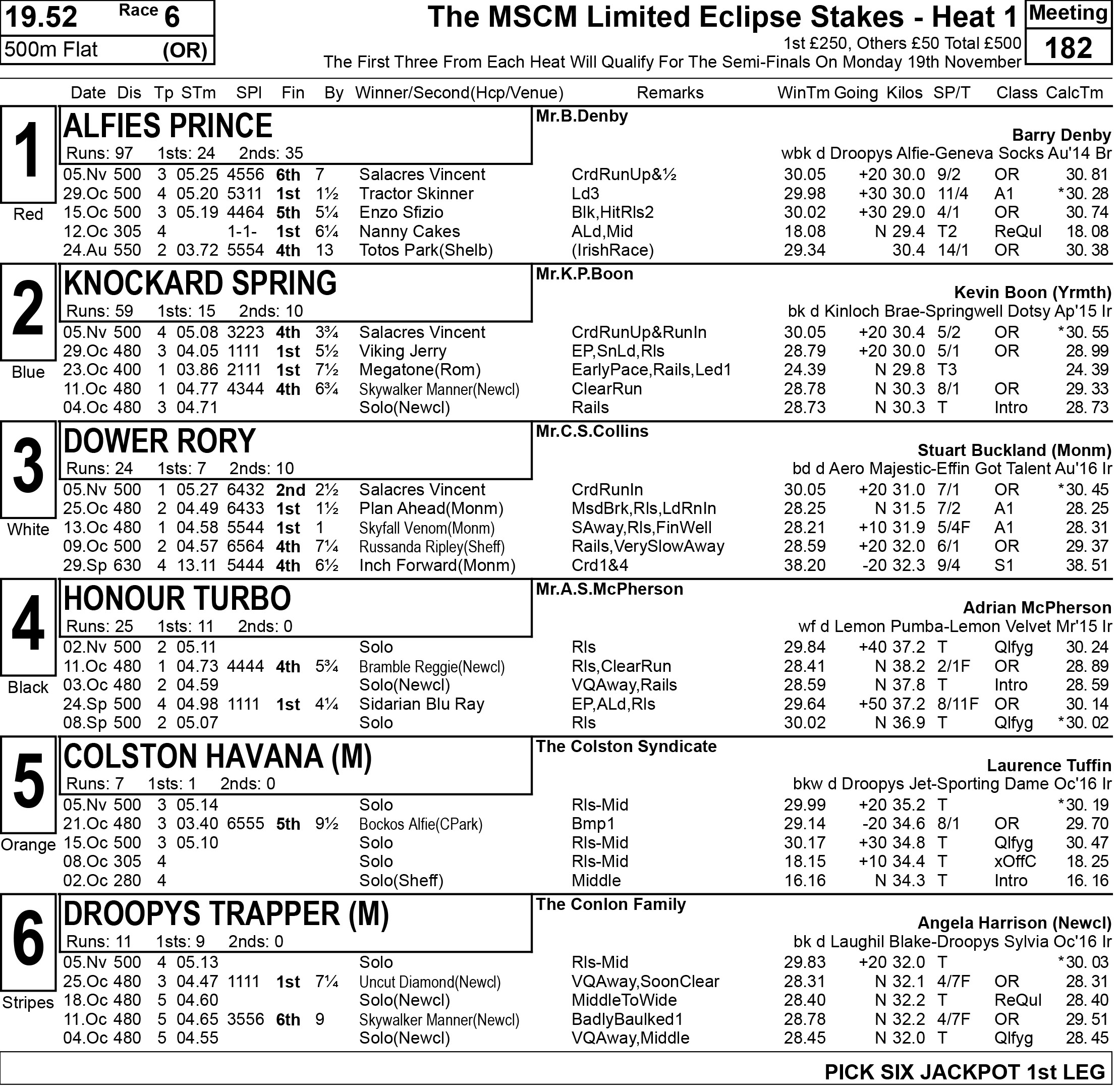 Heat 2
is an interestingly competitive affair.
Spearten
, for Leyland trainer Pat Rosney, is likely to be much better drawn tonight in red than he was in blue last week stuck between a dog dog moving off and a dog moving in on the run up.
This son of Zero Ten needs a little space early to get into stride and tonight he should get that with Funk Factor (2), Viking Jerry (3) and Falcon Bay (4) setting off on an early paced battle.
Funk Factor is interesting , he's obviously had his problems being relatively lightly raced for a September 16 whelp who has had as many trials as races.
However he does possess excellent pace , showed his class when reaching the semi final of the GMG Steel City Cup and does have experience of tonight's venue.
Unraced since that aforementioned semi final , he did highlight his current well being with a top class 17.67 (+10) solo trial over the sprint trip of 305m here last Monday.  Viking Jerry has come forward at a rapid rate of knots for Jim Hayton just lately and put up a career best effort so far of 29.97 (+20) off the back of an aeroplane like 4.98 sectional when just being pipped late on by Newinn Jet in a trial stakes race last week.
Since work on the traps a number a months ago , sectionals have slipped backwards by approximately 0.07.
Not many dogs break the 5 second barrier these days and anything that does is shifting at a rapid rate of knots.  Jerry could well find that even if he leads in this class , there will be something to catch him late , do keep him in your notebooks though for competitions over less demanding tests of stamina.
He could well be winning a competition around the likes of Romford for Carl Harris, Dean Andrews and the rest of the Viking Jack Pack.
Falcon Bay was purchased by Nic Jeal (Brinkleys Poet owner) during the recent All England Cup, after winning heat and semi final , Falcon Bay was then soundly beaten in the final itself.  Now in the hands of trainer Matt Dartnall , he couldn't be in better care ahead of his tilt at the Eclipse.
What can you say about Holdem Zidane that hasn't been said before ?  What this son of Crash lacks in size , he makes up for with a ten fold dose of heart and self belief.
Trained by Carol Weatherall and her partner Darren Holmes, 'Danny' as he is known in the kennel, has given them both and his team of loyal owners De Star Lord Syndicate one hell of a ride throughout 2018.  De Star Lord Syndicate consists of 10 friends who all met each other via the social media app Twitter, 7 of whom purchased shares in Danny:  Kenny Mulcahy , Tom Francis , Alan Southern , Matt Barrett , Stephen Bradshaw , Dave Kay and Darren Holmes himself.  Three other members of De Star Lord syndicate who didn't actually purchase a share in him still enjoy the ride immensely.
Lack of an actual financial share doesn't keep at least one of them away from Danny's races though , Twitters leading beer reviewer Borowatty doesn't miss a race and has become a lucky mascot for Danny wherever he appears.  For Darren to keep a share in Danny himself , he obviously saw something in him despite his diminutive stature.
He wasn't wrong.  Danny has already this year reached the finals of the William Hill Classic at Sunderland , Ladbrokes Gold Cup at Monmore and most recently the William Hill All England Cup at Newcastle.  This greyhound has the consistency , versatility , pace and most importantly heart to go deep into this competition.
Express Quest lines up from trap 6 for Sheffield trainer John Walton.  Quest trialled reasonably well last week in 3014 (+20).  From a tricky draw though he will need to show improvement tonight.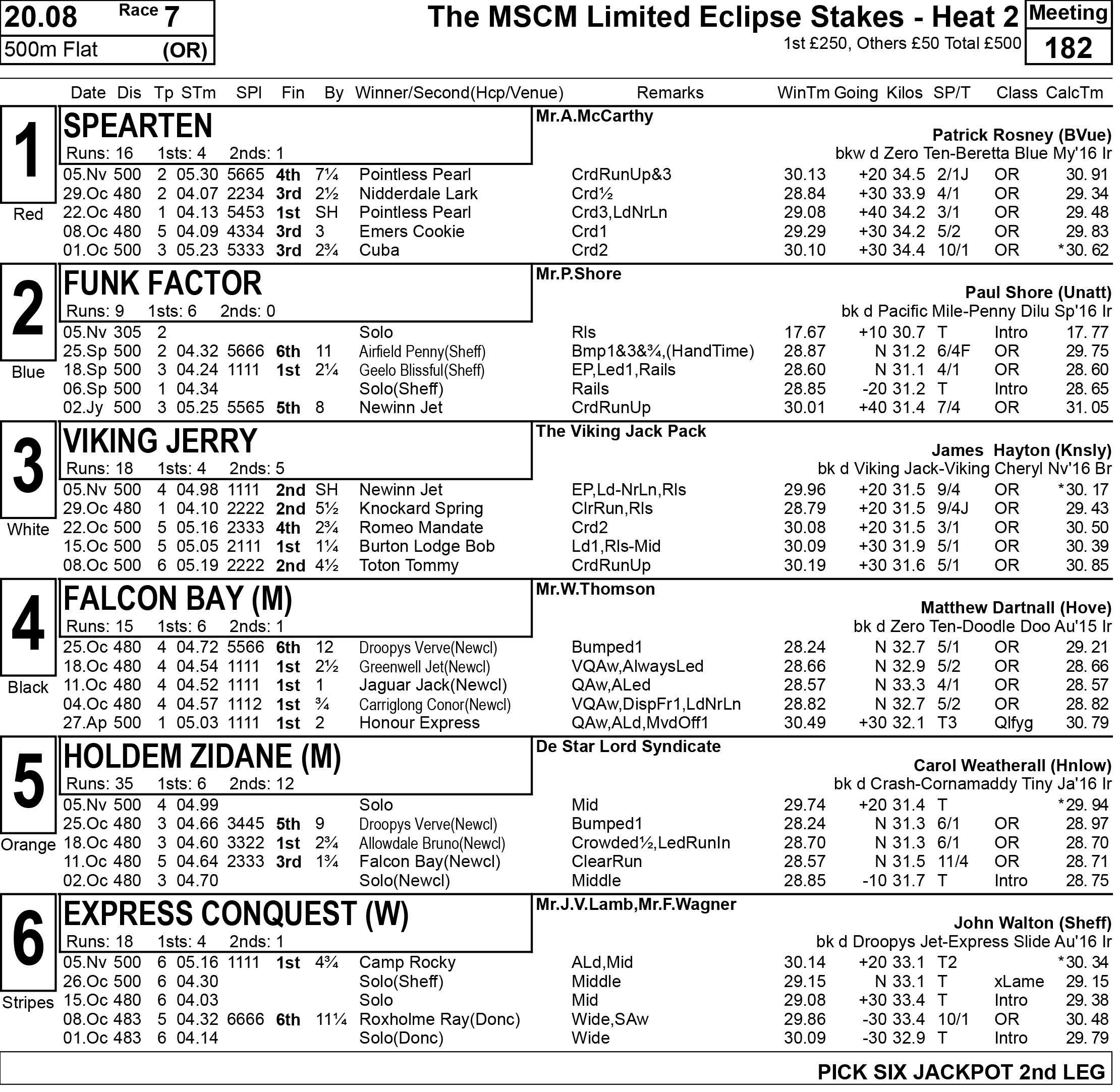 What a race heat we have in
heat 3
.  In red is Alec Stones in form local
Cuba
, an excellent 4 length winner of an A1 last week in 2997 (+30) , the calibre of this race means he will need to step up on that effort just to qualify from tonight's heat.
Lining up from trap 2 is Blue Trooper for Nigel 'Big Daddy' Saunders.  Nigel enjoys his raids on Colwick Park from his Manchester base of Belle Vue and he enjoyed one of his best ever when Blue Trooper caused a surprise in the final of the GMG Puppy Classic in August.  Leading from the outset Trooper bravely held off the late challenges of Arthur Noodle and the desperately unlucky in running Salacres Barley.  Without a victory in two races at Sheffield since then , Trooper will need to be at the top of his game if he's to trouble some of the leading contenders in the Eclipse.
In trap 3 is the aforementioned Droopys Verve , an absolute Rolls Royce of a greyhound who has it all.  Early pace , middle , stays well , he is a class act and will take some beating not just in his heat but in the competition itself.
Ballymac Osby who wears the black jacket of trap 4 for Kevin Hutton is an interesting contender.  Given his huge 37 kilo size this son of Kinloch Brae was given plenty of time to mature before debuting in A4 at Towcester in July.  Though only winning by a short head , it was plain to see that this greyhound wouldn't be hanging about in graded company for too long.
Graded wins in A3 and A1 soon followed and he has since added open race success to his CV when winning opens around Sheffield and Central Park.  Recording 29.67 (+20) on what was his first look at this track when beaten 4 1/4 behind his superstar kennel mate Dorotas Wildcat , was no mean effort and he could very well be a dark dog for this competition around a track that will play to his strengths ideally.
Rockmount Buster has been running well around this venue for local trainer Robert Hall and kennel hand Andrew Mullen.  Buster has been off the card since the beginning of October but had previously won at A2 , A1 and open level around Nottingham.  He's been trialling well and this competition has been the target for sometime.  He's drawn wider than ideal though and will need to be foot perfect at lid rise if he is to qualify in an extremely hot heat.
Donation lines up from trap 6 , a bitch of the highest calibre who loves it around this venue and was a winner of the recently held MSCM Limited Lowther Stakes , winning the final for Heather Dimmock and the team by a short head in 2878 (+20) over the 480m course.  Donation has undoubted class , knows this venue well , will in all likelihood receive her draw throughout the competition and warrants the upmost respect.  Could she pull off a famous victory for the fairer sex ?  I wouldn't rule it out.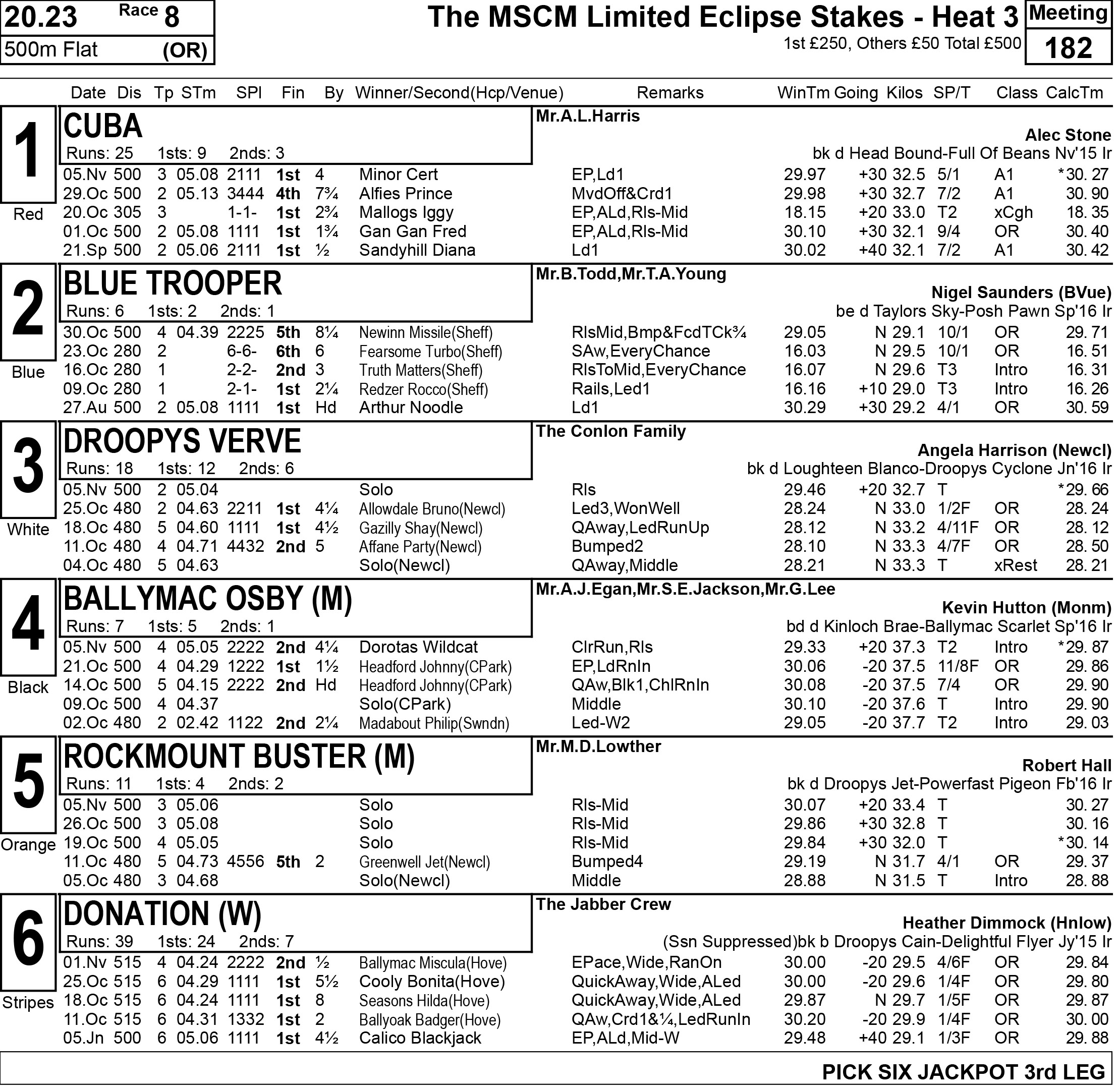 Heat 4
is dominated by one of the leading superstars of the modern era of greyhound racing.  Kevin Hutton decided to call an early bath on the stud career of
Dorotas Wildcat
(for now at least) and that is to the benefit of all true greyhound racing fans.  If you cannot get excited by watching greyhounds of the class and calibre of Dorotas Wildcat , then the game probably isn't for you.
He has it all and will take a massive amount of beating with any kind of start.  Connections of Arthur Noodle , Newinn Jet , Move Over Padre , Killinan Fury and Madabout Philip will be hoping to punish 'The Cat' if he does slip up though and put their names in lights.  In all likelihood though they will be happy to take second or third place and see what the semi final brings.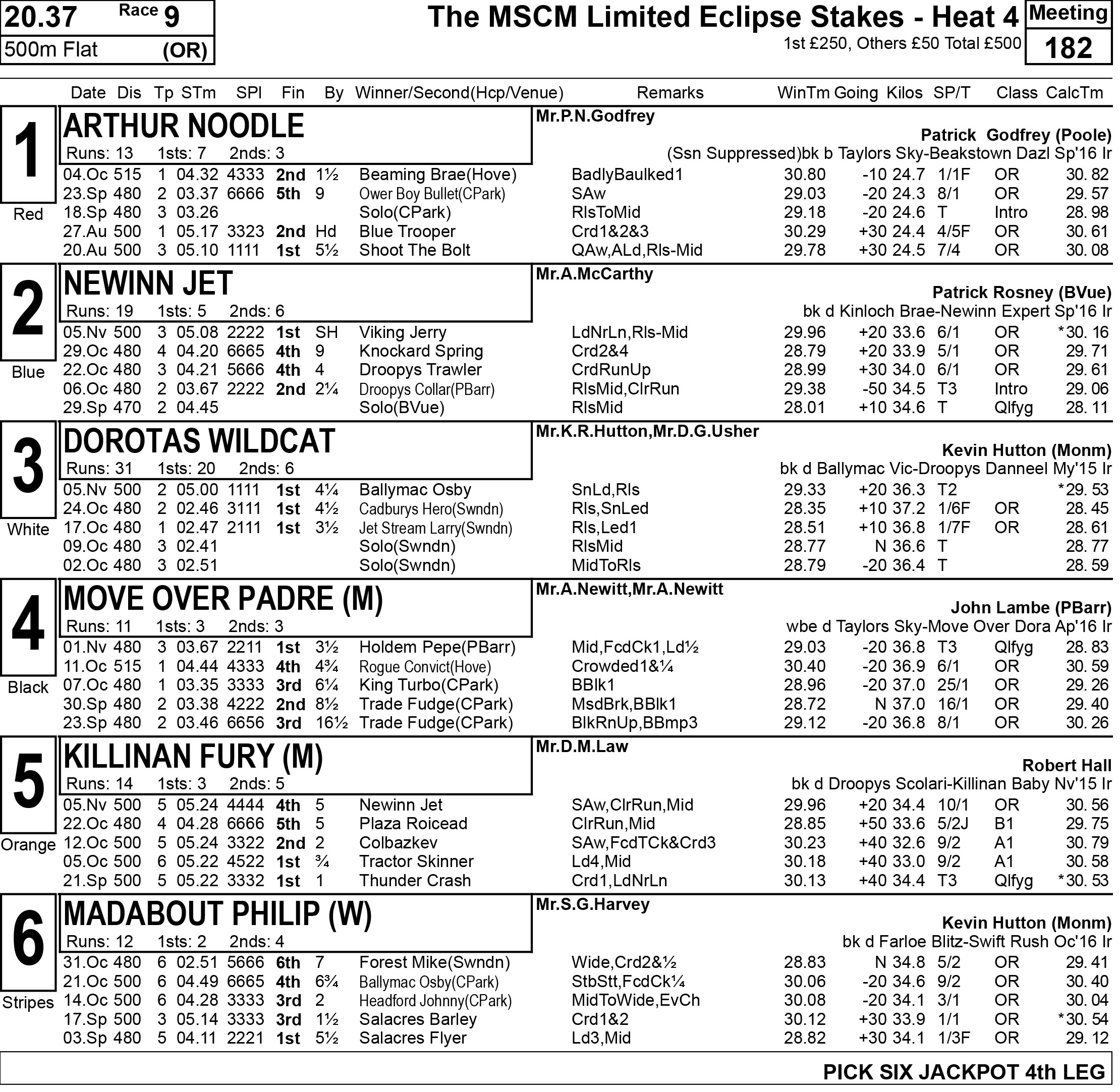 Heat 5
is quite possibly competitive heat of the evening.  Connections of
Honour Rocket , Boomtown Frankel, Swift Taxma , Loher Honey, Barstool Trainer
and
Calico Blackjack
will all be fancying their chances of success.  Though not likely to be anywhere near the fastest of the heats, this could well be a race to savour.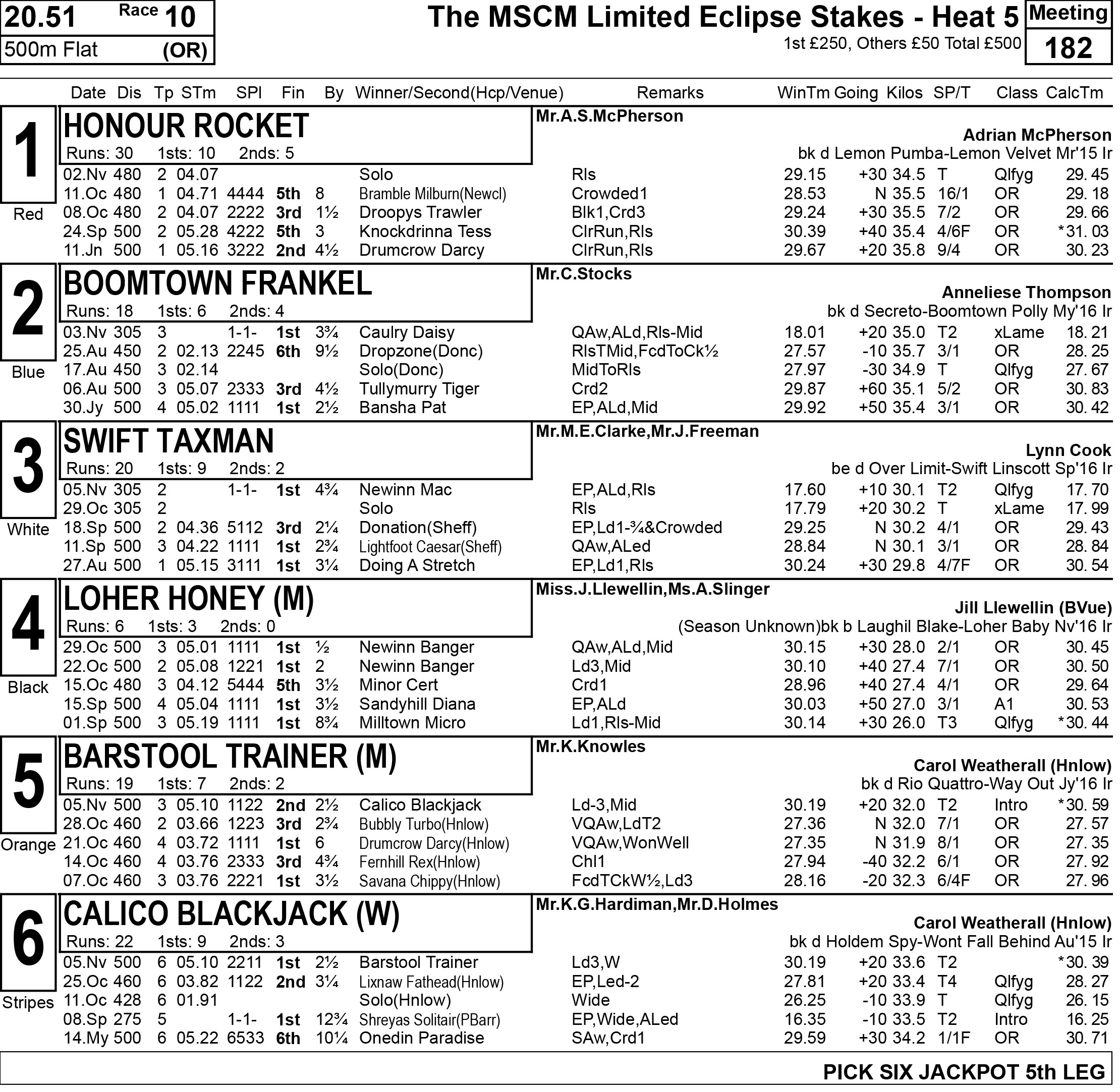 Heat 6
is a very interesting affair. 
Pointless Pearl
who lines up from trap 1 hadn't tasted victory since March 2017 when winning the Queen Mother Memorial Cup at Sheffield.  After winning a trial stakes race here last week though , trainer Laurence Tuffin may just have this bitch hitting peak form at just the right time.  Pearl does love a chase , there is no doubt about that and she could be another that those looking for a qualifier at massive odds might take a look at from an each way perspective.
Trap 2 is Nidderdale Lark for trainer Jill Llewellin.  Lark has really hit form in the past couple of weeks , running out a good winner of heat and final of a 480m competition at this venue.  Though up against it on paper , she possesses good local knowledge and is a bitch in excellent form.
Droopys Trawler is a very interesting contender for Pat Rosney.  He'd been running well in defeat in the William Hill Puppy Derby at Newcastle and though his odds of 8/1 in the final suggested to some that he had only an outside chance , his victory didn't come as a surprise to those who had noted his pace in behind in previous races.  This ultra strong running son of Laughill Blake was purchased after that competition by Rosney and though his future looks to be over further , he is sure to prove difficult to keep out of the frame in the Eclipse and with good winning knowledge of the venue is sure to go well.
Ballymac Twitter was well fancied for his trial stakes race last week but after looking in a good position going into the bend he received trouble as one of tonight's rivals , the trap 6 runner Salacres Vincent , showed a devastating burst of early pace and then bravery to cut the bend.  Twitter was eventually beaten 3 1/2 lengths into third but this recent William Hill Grand Prix Finalist over 640m at Sunderland should be better for what was just his second look at the venue.
Moving onto trap 6 and it was some effort by trainer Peter Harnden and his team to get Salacres Vincent to win the aforementioned trial stakes last week.  Without a competitive race in 5 months , this notoriously difficult to train dog put up a personal best split when crossing the line first time in 4.99.
A quarter finalist in the Star Sports English Greyhound Derby earlier in the year this half brother to Walshes Hill has a touch of early pace that few can match when he traps on terms.  From what looks a fair make up on the outside of the track , connections will be hoping for a similar break to last week , if doing so and with the benefit of last weeks race under his belt , he could go very well indeed.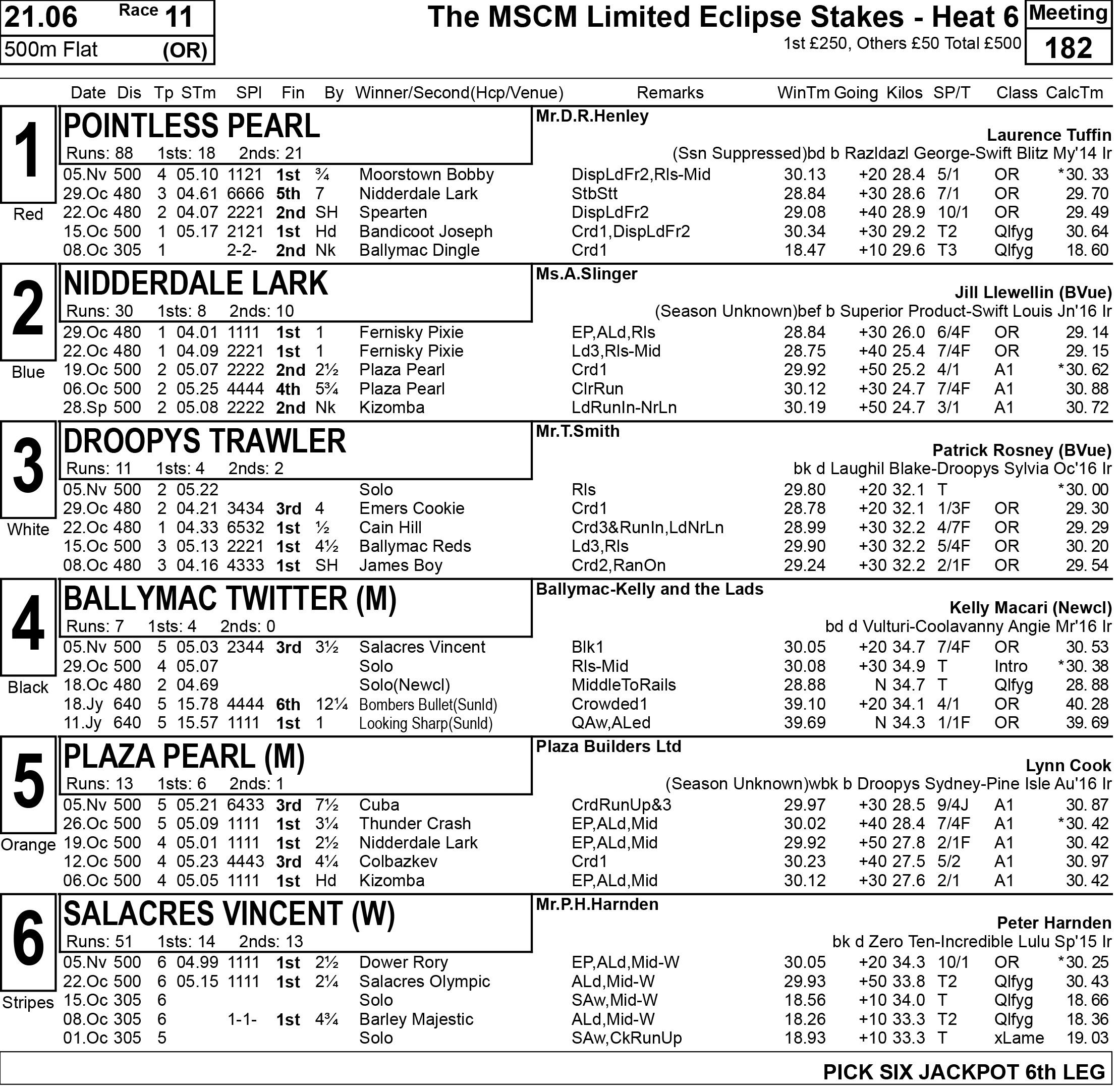 Tonight's heats will all be shown live on RPGTV and if you can't make it to the track then that is your second best option , there is however nothing like watching class animals in full flight , so if you can , try and get to the track for what promises to be one of the most enjoyable nights racing of the year.
Recent Finals
BETFRED ECLIPSE Nottingham 500m £8,000 November 21 2017
1. BUBBLY BLUEBIRD (Droopys Sydney-Broadstrand Xola) (T2) 4-1
2. DOROTAS WILDCAT (Ballymac Vic-Droopys Danneel) (T4) 9-2
3. BRUISERS BULLET (Droopys Cain-Clover Bride) (T1) 11-4
4. DROOPYS EXPERT (Greenwell Hawk-Droopys Rhiona) (T3) 9-4f
5. CALICO BLACKJACK (Holdem Spy-Wont Fall Behind) (T5) 8-1
6. CALICO RANGER (Holdem Spy-Wont Fall Behind) (T6) 9-2
29.62 (+40) sh, ½, 2¼, ½, hd
Owner: The Champagne Club Syndicate Trainer: Paul Young
BETFRED ECLIPSE Nottingham 500m £8,000 November 22
2016
1. DROOPYS BUICK (Yeah Man-Droopys Hilda) (T4) 7-4
2. TYNWALD BAZ (Droopys Jet-Bish Bash Bosh) (T5) 12-1
3. BUBBLY BLUEBIRD (Droopys Sydney-Broadstrand Xola) (T1) 5-4f
4. BARRICANE TIGER (Razldazl Jayfkay-Dirt Bird) (T3) 8-1
5. SHANEBOY FREDDIE (Oaks Road-Shaneboy Sophia) (T2) 14-1
6. BALLYMAC MOSSJOE (Ballymac Vic-Borna Elsa) (T6) 8-1
30.14 (+10) 1¼, 3, hd, hd, ½,
Owner: The Conlon Family Trainer: Jimmy Wright
BETFRED ECLIPSE Nottingham 500m £8,000 November 24 2015
1. PINPOINT BOOM (Shaneboy Lee-Newmarket Way) (T3) 20-1
2. CROSSFIELD CESAR (Ace Hi Rumble-Cooltraw Mist) (T6) 4-1
3. SWIFT CARTER (Iso Octane-Swift Pewter) (T2) 14-1
4. BLACKSTONE MARCO (Head Bound-Blackstone Mini) (T1) 3-1
5. DO IT FOR TWIGGY (Droopys Scolari-Rackethall Holly) (T5) 4-1
6. BALLYMAC MOSSJOE (Ballymac Vic-Borna Elsa) (T4) 7-4f
29.74 (+20) 1½, 7¾, 1¼, hd, hd
Owner: Kelly And The Lads Trainer: Kelly Macari
BETFRED ECLIPSE Nottingham 500m £8,000 November 18 2014
1. FIT TO WIN (Hondo Black-Have A Fit) (T2) 10-1
2. MAUM LEGEND (Cashen Legend-Perles Bay) (T4) 4-5f
3. SNAPPERS LAD (Blonde Snapper-Blonde Fern) (T1) 14-1
4. BE UP FRONT (Makeshift-Swift Erin) (T5) 7-1
5. BURNFOOT ALPHA (Droopys Scolari-Amber Bound) (T6) 6-1
6. KILLGLEN CHIEF (Wise Thought-Glenamaddy Gift) (T3) 5-1
29.53 (+30) 1¾, 1, hd, 3, 3¼,
Owner: Miss H L Booth Trainer: Tony Collett
BETFRED ECLIPSE Nottingham 500m £8,000 November 20 2013
1. BRIDGE HONCHO (Hondo Black-Forest Baby) (T3) 3-1
2. CALZAGHE DAVY (Crash-Our Favourite) (T2) 11-4
3. EXOCET (Head Bound-Slip Road) (T1) 6-4f
4. AIRLIE IMPACT (Royal Impact-Forest Swallow) (T6) 20-1
5. AGHABURREN PADDY (Head Bound-Gurrane Beauty) (T5) 40-1
6. SAWPIT SENSATION (Head Bound-No Joke Sherry) (T4) 5-1
29.29 (+30) 21/4, 13/4, 21/4, 13/4, hd
Owner: Mr P Bridges Trainer: Mark Wallis