Open racing comes early to Yarmouth this year, though there is a potential cloud over September's East Anglian Derby.
Promoter Simon Franklin said: "At this stage we don't have a Derby sponsor, largely as a result of the issues over a lack of TV coverage. It already costs a lot to stage the event and without a sponsor, we simply can't justify it. I certainly wouldn't want to put on a pale imitation with poor prize money. But there is still a bit of time to go, so I certainly haven't made any plans to cancel just yet."
On a more positive note, the track welcomes the George Ing St.Leger  in June, a 659m competition worth £2,500 to the winner. The runner-up collects £600 with also-rans and heat winners all collecting £250.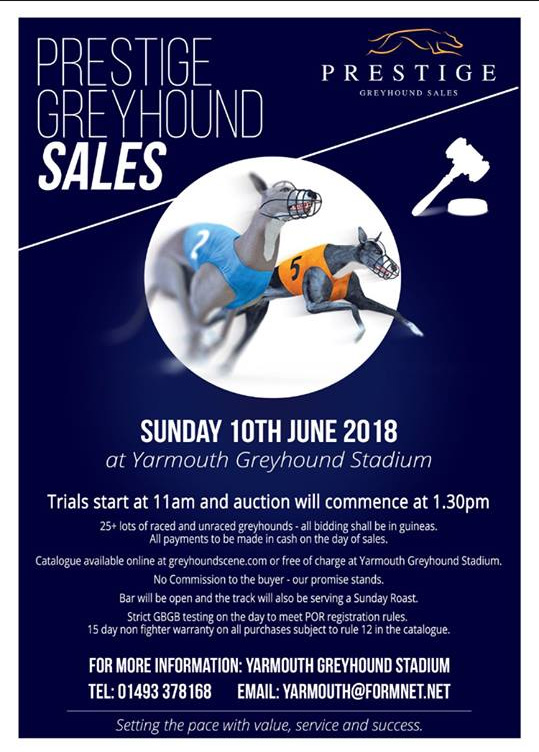 Simon said: "The event is being sponsored by Jim and Jack Cranfield via their property maintenance business Quickcall.
"Jim and Jack are owners with John Mullins and great enthusiasts.
"Final night will also be our first open race meeting of the year, all the races worth £250 to the winners, and £50 for others.
"There are two more sets in July, one set in August, and two more in October."
The track's already healthy kennel strength is set to be further boosted beyond the 330 dogs currently available. Firstly open race trainer Kevin Boon has a dozen young dogs who he plans to bring through the local graded strength.
In the meantime, assistant RM Ben Mannall has organised a greyhound sale for Sunday June 10.
Simon said: "I believe we lost the main supplier of dogs but Ben has worked hard on finding a replacement source and is confident of providing around 25 dogs.