Only very good dogs make TAB Melbourne Cup finals. It's one of the reasons why it's the world's greatest greyhound race – writes Mick Floyd.
And when you have a field of very good dogs – or outstanding dogs in the case of this year's Cup final – there are plenty of winning chances. This year's finalists have combined to win 19 group races and almost $2.25m in prize money between them marking the 65th edition of the race among the finest Cup fields assembled.
So who wins it?
You can literally make a case for every runner in the field and so that's what we'll do. Here's a case for – and against – every runner in Friday night's TAB Melbourne Cup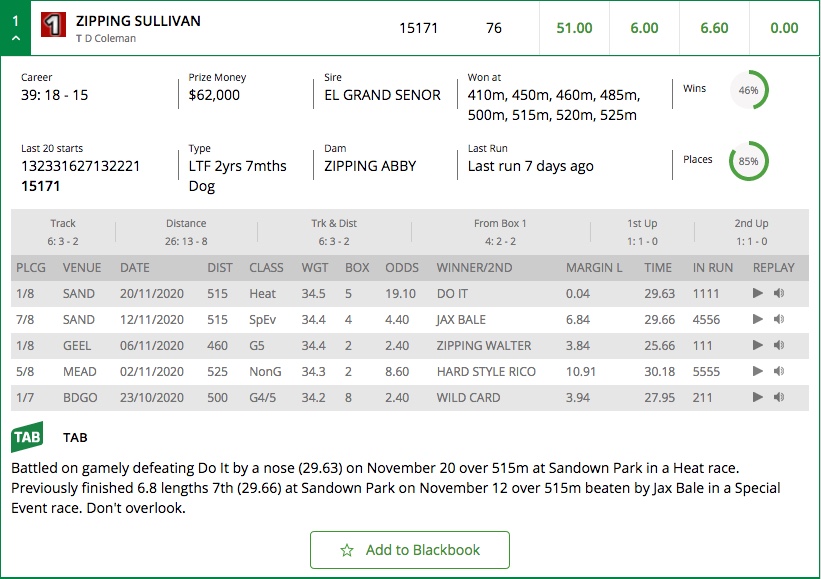 Case for: He's drawn box 1. Almost twice as many greyhounds (17) have won in the red vest than any other box (box 2, 9 winners) and the reason is simple – it's the shortest way around from box 1. Step cleanly and hold the rail and every other dog has to run further to win. And Zipping Sullivan is capable of stepping as quickly as any other in the field.
Case against: While he was gallant in holding on in his heat, he had the slowest run home time of all eight finalists and will need to be a long way clear off the back for him to hold off the field. Has a pretty good one on his outer too which will likely make life difficult.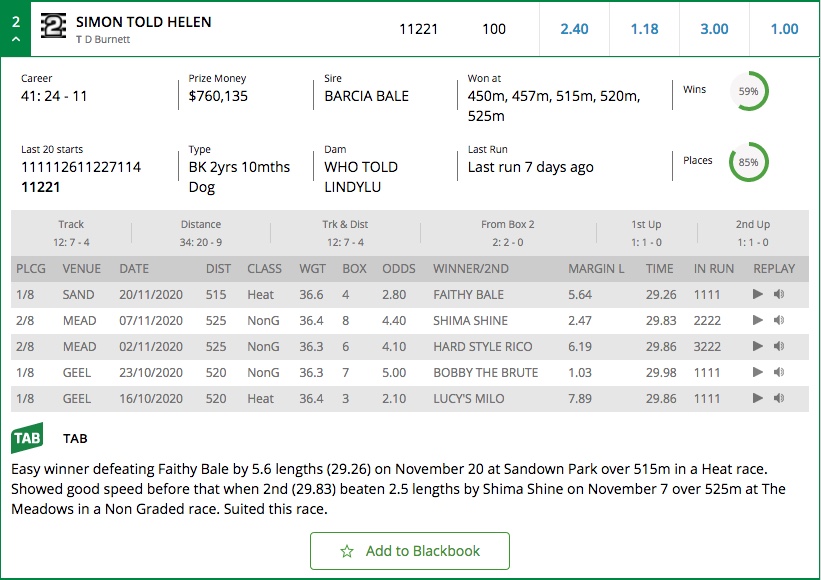 Case for: Because he's the best sprinter in the country and has proven as much for the last 12 months. Eight group wins including four Group Ones says plenty, but the manner in which he does it – with ferocious determination through the first turn that allows him to unleash a devastating mid-race burst – that sets him aside from almost all others. A win will take him past $1m in prize money and all but cement the reigning Australian Greyhound of the Year his place in the Hall of Fame.
Case against: If there is a chink in his armour, it's that he takes a stride or two to get into action. His heat showed the power and acceleration for which he's famous, a tardy get away may find him in a sticky situation with so much speed drawn out wide. If he concedes the lead through the first turn is will take an extraordinary performance to claim the win given his run home time last week (10.71) was just the 6th fastest of all finalists.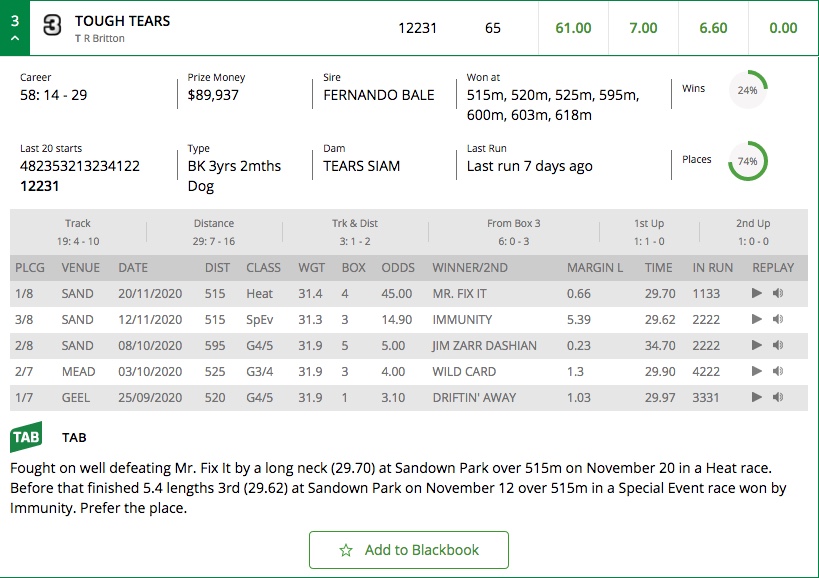 Case for: A brother to some of the most famous stayers in land (Tornado Tears, Here's Tears) but showed he can sprint too. Surprised many by scoring at big odds last week but the fact he jumped as well as he did shouldn't have been a big surprise – he did the same thing the week before. A seven-time winner over the middle distance, with a clear run early he'll be doing his best work late.
Case against: His 29.70 heat time was slowest of the finalists and its questionable as to whether he can run fast enough to win against a field of this quality.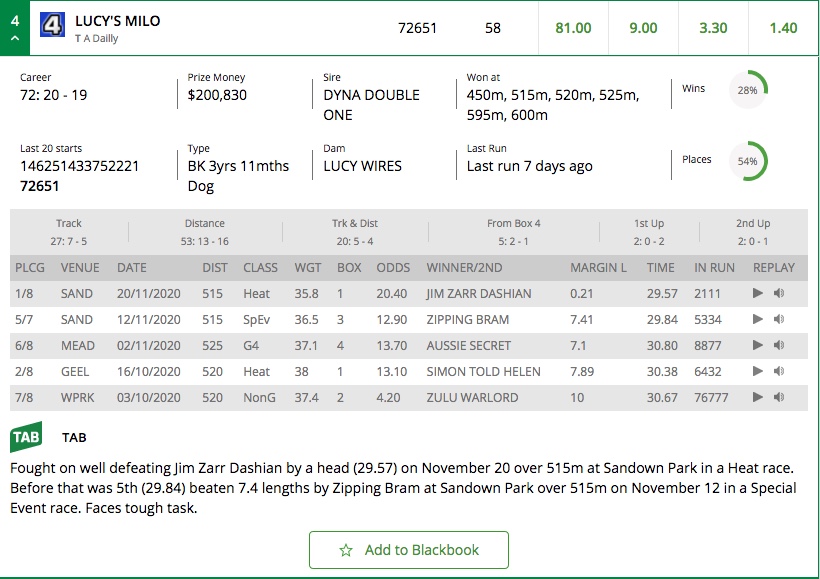 Case for: Lucy's Milo recorded the slowest first split from the heats which normally a disadvantage, however with so much speed around him that could work to his advantage. He will drop to the fence soon after box rise and if there is any trouble at the first turn, he could be the one that cashes in. He has good middle distance form and while his heat time was modest, he does boast a 29.17 best time at the track.
Case against: He turns four just days after the final, and history shows the Cup is generally a young dog's race. His best time was recorded 18 months ago.
Case for: Is racing in career best form which is a great sign for a greyhound that has already won two group races and broken track records. He ran identical first and second splits to Simon Told Helen, but did find the line a length and a half quicker, so if he can track the race favourite through the first turn connections will be confident of catching him on the line.
Case against: He's done his best racing from wide draws as shown in his heat. Box 5 is a difficult box to win the Cup from – only Classic Capri and Ando's Mac have won it wearing the yellow vest in the last 30 years and they are the biggest priced winners in that time.
Case for: Was impressive in his first race start at the track last Friday night, riding a number of bumps through the first turn and turning in a performance that showed why he has become one of the most popular greyhounds in the country. His overall time was good, his run home was excellent – the best of the Cup finalists – and it's reasonable to assume he'll be better for that run.
Case against: Box 6 is far from ideal with only two winners in the last 33 years. Didn't show enough speed out of the boxes to be forward in this field and unless he steps better it's difficult to see how the race will unfold in a way that will have him forward enough to use that impressive run home.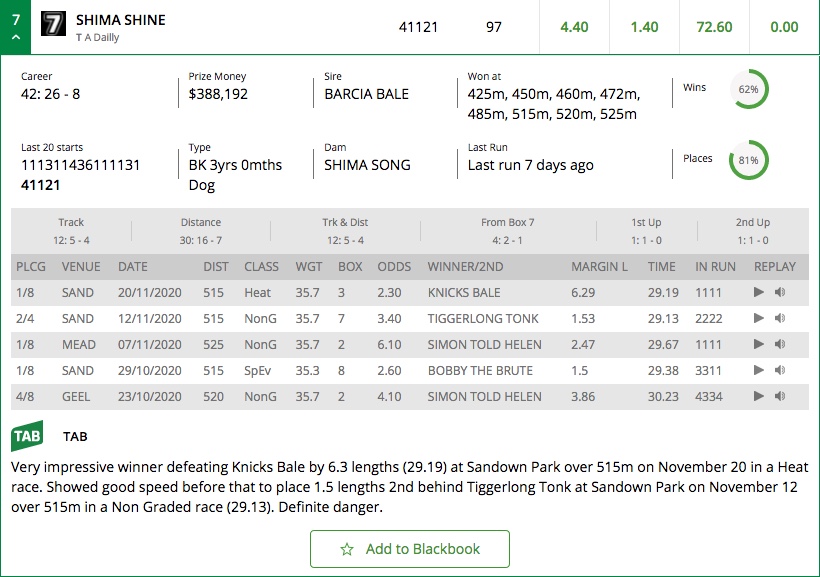 Case for: He's proven he is capable of beating any greyhound in the country with his recent Topgun win, shown he's as fast as any in the country when he ran the second fastest time ever at the track, and can handle this draw with his Shootout performance.
Case against: Can be a little inconsistent at box rise – he has gone 4.93 (just 0.03 off the record), but averages 5.08 to the first split across his 12 starts at the track. Take out that 4.93 run, and that average is 5.10 and he'll need to go quicker than that to cross the field.
Case for: Racing in tremendous confidence, 'Tonk' was the fastest heat winner on the back of a race record 29.034 Shootout win. His heat time of 29.162 was the fourth time he'd gone at least that quick over the distance – the only greyhound that has gone faster more often in Fernando Bale who did it five times. His ran the equal fastest first split and fastest middle section last week, and loves the track having been placed in 17 of 22 starts.
Case against: Box 8 is a tough box to win from at Sandown Park – especially at the elite level. He's made five group 1 finals and run third three times – Simon Told Helen beat him each time – and is yet to beat Simon Told Helen home in any of their eight encounters at the track.
There can only be one winner though, so which will join Greyhounds of the Year and Hall of Famers on the sport's most coveted honour roll? Simon Told Helen is the greyhound with the credentials and box draw to win, but I'm tipping Tiggerlong Tonk to finally break through at group 1 level and claim the world's greatest greyhound race.
Click here for a recap and replays from last Friday night's heats.