We had our best week of the year last week when we had eight open race successes, plus a string of graded wins at Henlow.
Instead of taking a winter break, I think I should be closing the kennel down between about May and August. But at least we didn't have a repeat of the summer of 2018 with an absolute deluge of career ending injuries.
The dogs haven't been running badly, just a bit below optimum. Not many 5ths or 6ths, but way too many seconds and thirds.
Among the runs that really impressed me were wins for Antigua Rum and Antigua Fire at Monmore. Run clocked 37.51 over the 630 metre course and Antigua Fire beat Magical Icarus by five lengths over 684 metres. Dave Jeans dog is virtually unbeatable over the course and distance; it was a phenomenal run.
If they were betting on the St.Leger now, I think Antigua Fire would probably be favourite. In my opinion, he is the best stayer around at the moment. We also have options for the Doncaster equivalent, possibly with Rum too.
There has been a lot made about the Trainers Championship and how many points we are behind Patrick (Jnsssens). At this stage, I don't pay it a lot of attention. It is what it is. If we get to early October and we are within striking range, then maybe we will see.
We have only won one Cat 1 race so far this year, we would normally hope to average at least three or four. But we are now coming into a better period for dogs like Antigua Fire so you never know.
Our biggest problem is a lack of depth. I was only working out today that we have 12 open racers, of whom four could probably run in top heats at Henlow.
The first of our Cat 1 opportunities comes on Friday with the final of the Coral Champion Stakes.
Both working for Linda (Jones) and on my own, we have been Romford regulars for many many years and I am so excited to see what they have done with the place. There was no way could we miss Friday night's grand opening of the new grandstand.
Ian Smyth has been like a breath of fresh air since taking over control of the Ladbrokes and Coral tracks. He is a real 'people person' who talks to everyone and gets them all on board. I can just see Romford going from strength to strength. It was always great for the Friday night buzz, how good does it promise to be now?
We have two in the final which looks to be very open. We had two last year too and won it with Bombers Bullet and had Saleen Ash in third. It was a great line-up with Shotgun Bullet, Clash and Ower Boy Bullet. It was sadly marred by Kanturk Repeat (since doubly disqualified).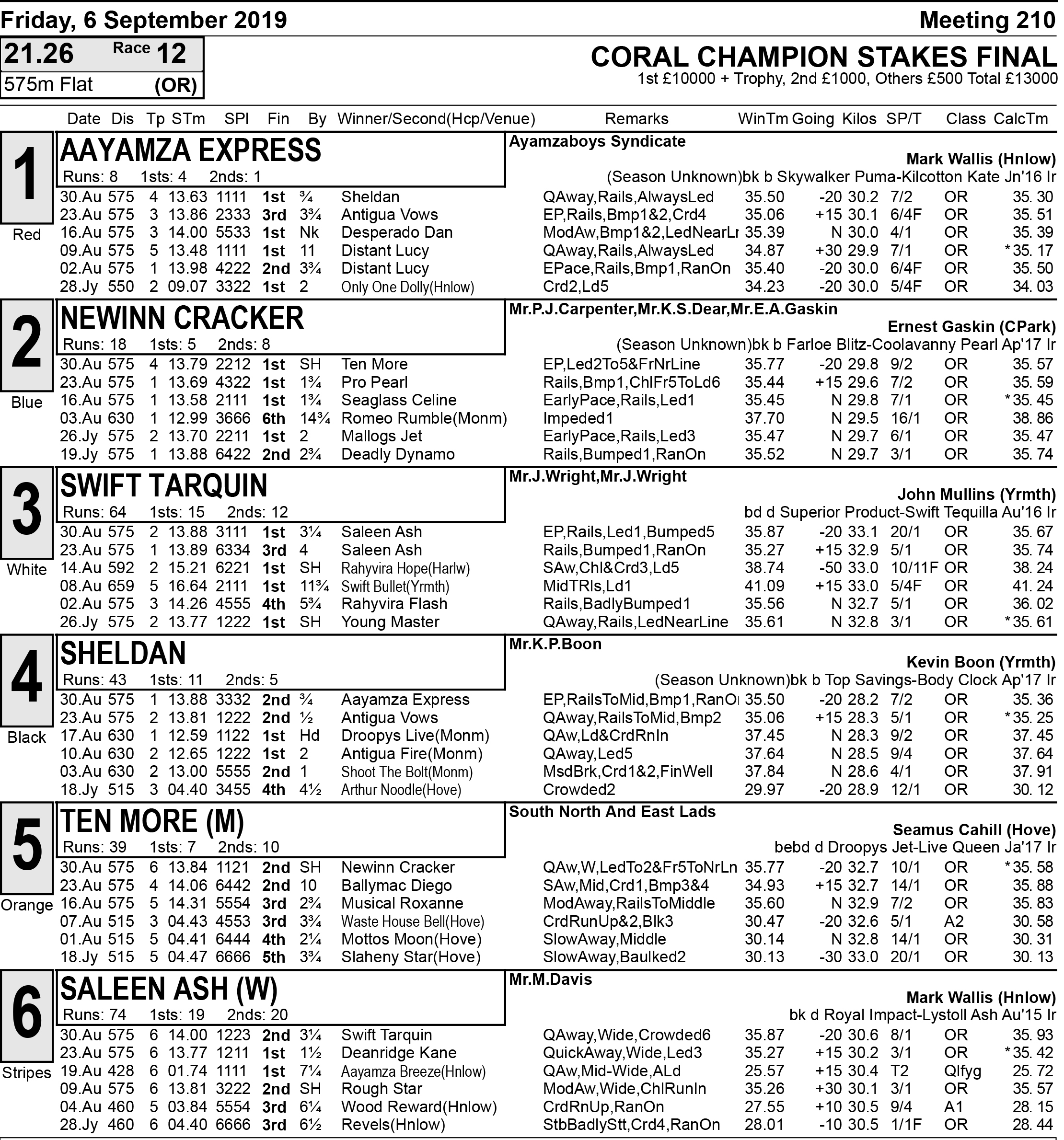 This year's final is altogether more competitive and all six have a chance. We have Ernie Gaskin's promising youngster Newinn Cracker and Saleen Ash, who both probably need to lead to win. Ash was nearly retired but has done himself proud as a four year old and should get a good run.
Swift Tarquin is owned by old friends of the kennel and has been a great servant over the years. On all known form Ten More is A2 at Hove, but like us, Seamus has won big finals with similar dogs in the past. Sheldan is a top quality bitch of course, though this is on the short side of her ideal distance.
All of which leaves Aayamza Express, who I personally think is the one they all have to beat. We had various setbacks with her along the way including injury and season. She is finally having the opportunity to show the ability that we've always known she had.
I am not sure that trap one is ideal, but like Sheldan, she has the ability to come from behind. She has sub-35.00 form, albeit on +20 fast going, but I think she should be good enough. Eventually, she might also be one for the various Legers.
We also have Bumblebee Bullet, Glassmoss Sis and Aayamza Breeze in the TV Trophy.
Of the three, I really have a strong fancy for Bumblebee Bullet. She is only just turned two and will be well short of her peak, but I think she has the potential to be one of the best marathon runners in the country.
We will be keeping an eye on Aayamza Breeze who was disappointing last week. Retirement has been on our minds for a while but she has always had such an appetite for racing, and apart from her last run, had been in pretty good form.
If she doesn't perform, this could be her last competition. When you handle these dogs, you soon know when the time is right to retire them.
We have a similar situation with Brinkleys Poet. He has not been showing his old form, and we can't find anything wrong with him.
Thankfully, Nic and Amanda Jeal are really patient owners and I have explained to them that although Poet isn't running well, he absolutely loves going racing. Why stop him doing something that makes him happy?