I have thoroughly enjoyed the Star Sports English Derby so far. We've had plenty of winners and although the number of entries was down on last year, I think the quality at the '24 stage' was at least as good as last year when most people couldn't see further than Clares Rocket or Tyrur Shay.
We have three in the semi finals and I would love to have just one through to the big night. We have won the event twice already but that doesn't detract from the excitement of being one race (or two) from having another finalist.
This will be the dogs' third run in eight days. Some people criticise that format but I like it. It brings out the best in the dogs and the trainers. In my opinion, endurance and toughness is an important factor in a champion and although I would never endorse dogs racing that often on a regular basis, I can't imagine the Derby any different.
Our three have come out of the quarter finals quite tired but with no major issues. We've had Ron Mills checking them over and the extra day's rest will certainly be welcome. As this stage they should be as fit as they will ever be and after the semis, the dogs have a whole week to freshen up ready for the final.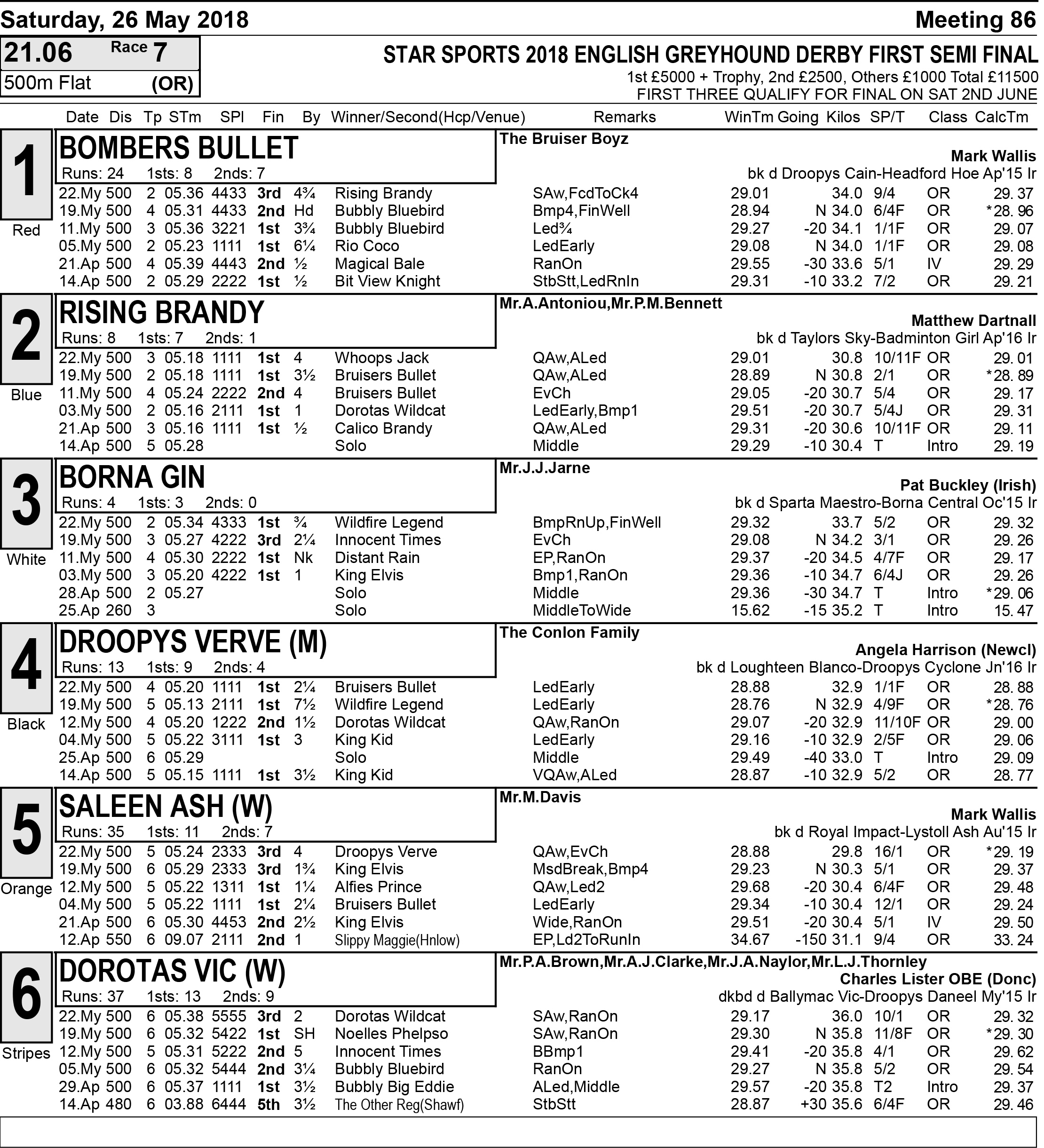 We've had as many dogs knocked out at the semi final stage as we've had make it through the final and it seems to me that the semi finals always throw up surprises. Assumptions are made about which dogs will handle the three quick runs, and which ones won't, and those assumptions are often proved wrong.
The first semi final features two young exceptional early paced dogs and much as I would prefer to have a dog to lead, if history repeats itself, at least one of them will show signs of the campaign. Our two are older which should work in their favour.
In an ideal race, I would like to see Rising Brandy and Droopys Verve come away with our dogs avoiding crowding on the run to the bend. The ideal race for me would be for our two turn the bend in third and fourth and we will take our chances from there.
I am delighted that Bombers is drawn on the inside of Rising Brandy and although Bomber isn't a tight railer, I don't think Rising Brandy is either.
I feel a bit guilty about Saleen Ash for saying that most Peter Bussey Memorial winners are not top class. In my defense, I did suggest that he was the best of ours and so he is proving. He is trapping well, albeit he doesn't early Derby class early pace. But discount him at your peril, he was third in the fastest quarter final and his calculated time gives him a chance.
Realistically, our two need things to go their way to reach the final, but they are certainly not no-hopers.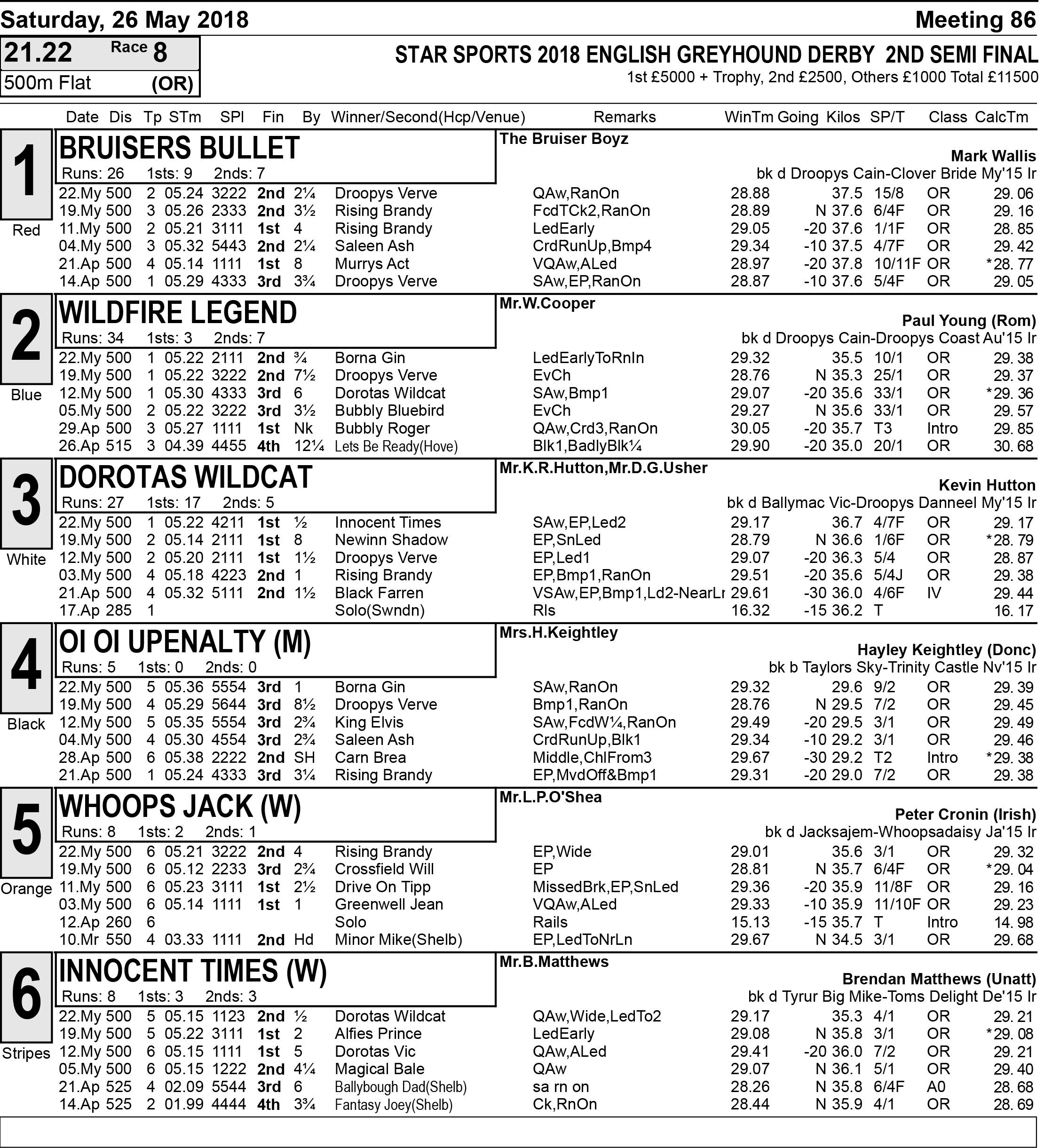 I couldn't have chosen the trap draw for the second semi final any better. Trap one really suits Bruisers. I thought he was desperately unlucky when he went out in the semi final last year and then won the invitation in 28.78 (-10).
The inside three all have good early pace but Bruisers will have to break at his best to hold off Wildfire Legend who is running particularly well. If he can get to the bend without being headed, best of luck running around the outside of a 37.5kg dog on the rail.
---
| | |
| --- | --- |
| Adageo Bob | 46 |
| Lil Risky | 44 |
| Domino Storm | 41 |
| Roswell Romanov | 40 |
| Rubys Rascal | 37 |
| Calco Flyer | 37 |
| Evanta Fantasy | 34 |
| Blonde Fletch | 33 |
| January Tiger | 33 |
| Blonde Razor | 32 |
| Directors Chair | 30 |
| Roswell Spaceman | 30 |
We didn't have as many on last year's Derby card as I'd hoped but fingers crossed we are there in force on June 2.
Parkers Dynamite goes in the Starsports Champion Hurdle though I think he might need the run. It has been difficult to get races for him in recent weeks. The same goes for Aayamza Breeze who will be looking to defend her Dorando title after a career threatening injury.
She ran very well at Romford on Friday. It isn't really her distance but she was flying at the finish and I am very happy with her progress.
We had a good night on Friday with five winners including win no. 40 for Roswell Romanov. We have never won 50 opens with a dog, though I don't suppose many people have – with the famous exception of El Tenor.
I would love to get there with Romanov, so you never know.
Finally, I would like to express my condolences to the loved ones of Paul Garland. I'd know Paul since we were at Walthamstow together all those years ago.
Of all the things that have been said about him, what impressed me the most was his care for his dogs. They were always in excellent condition and clearly loved. A good guy.