The second round of the Star Sports Bookmakers & ARC English Greyhound Derby took place at Nottingham's Colwick Park stadium on Saturday evening.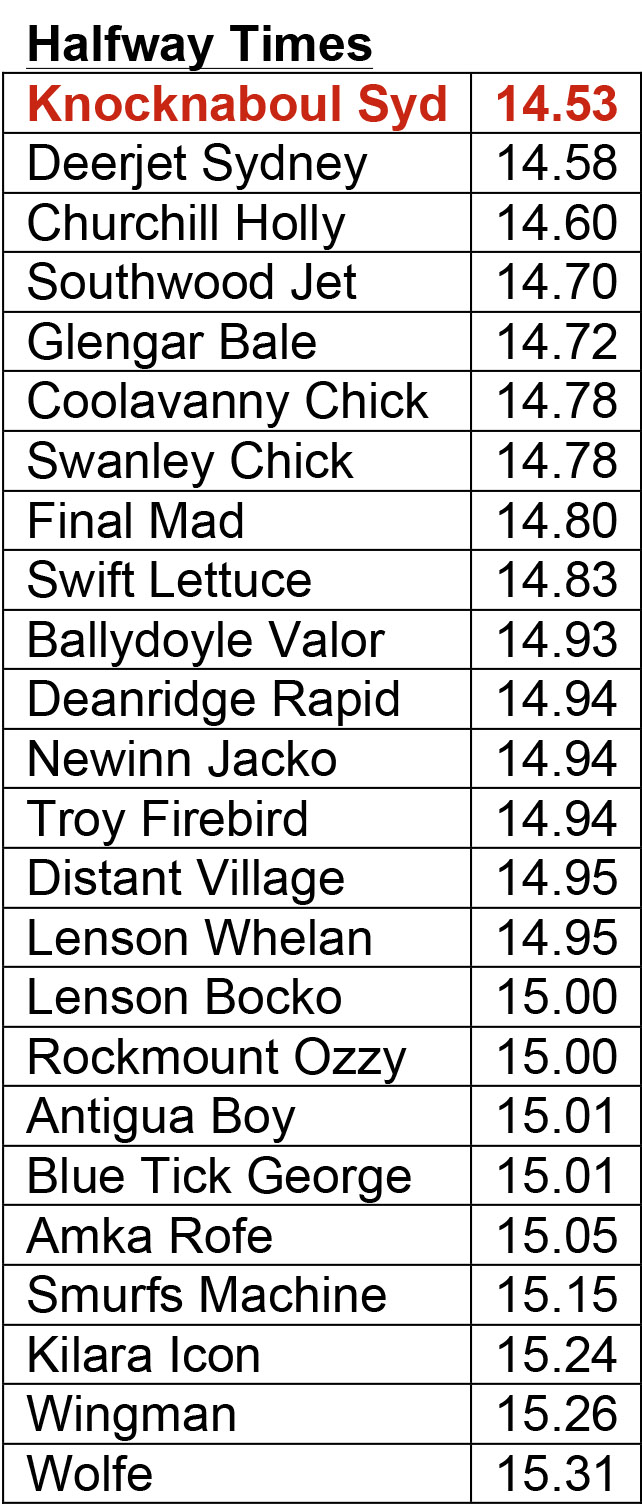 Eight races with an initial 48 participants were brought down to 45 after the withdrawals of Gary Carmichael's Little Emir (heat 5), Carol Weatherall's Distant Star (heat 2) and Jimmy Gaskin's Santro Duke (heat 1).
The first round stage truly belonged to Ireland's Pat Buckley as each of his four entrants emerged victorious from their engagements.
Heading into the second round and Pat appeared to have solid chances in each of his four races once again.
Last week's feat couldn't quite be matched but he will have headed back south to his base with June Harvey more than content as firstly Knocknaboul Syd took heat 1 in terrific all the way style, crossing the line first time in a best of competition to date 4.87, knocking a spot off last week's effort.
Ante post favourite for the competition Newinn Session lined up from trap 5, far from ideal but despite a troubled early run Graham Holland's charge appeared to have secured a qualifying position when claiming the inside line on Lenson Bocko heading into the third bend.
He eased at this point though, allowing Bocko to seize back control of that final place in the quarter finals and laboured to a fourth place finish.
Maybe last week's effort on such testing going went against him. Syd also produced one of my fastest clockings to halfway seen in sometime, his 14.53 effort easily the fastest of the competition so far.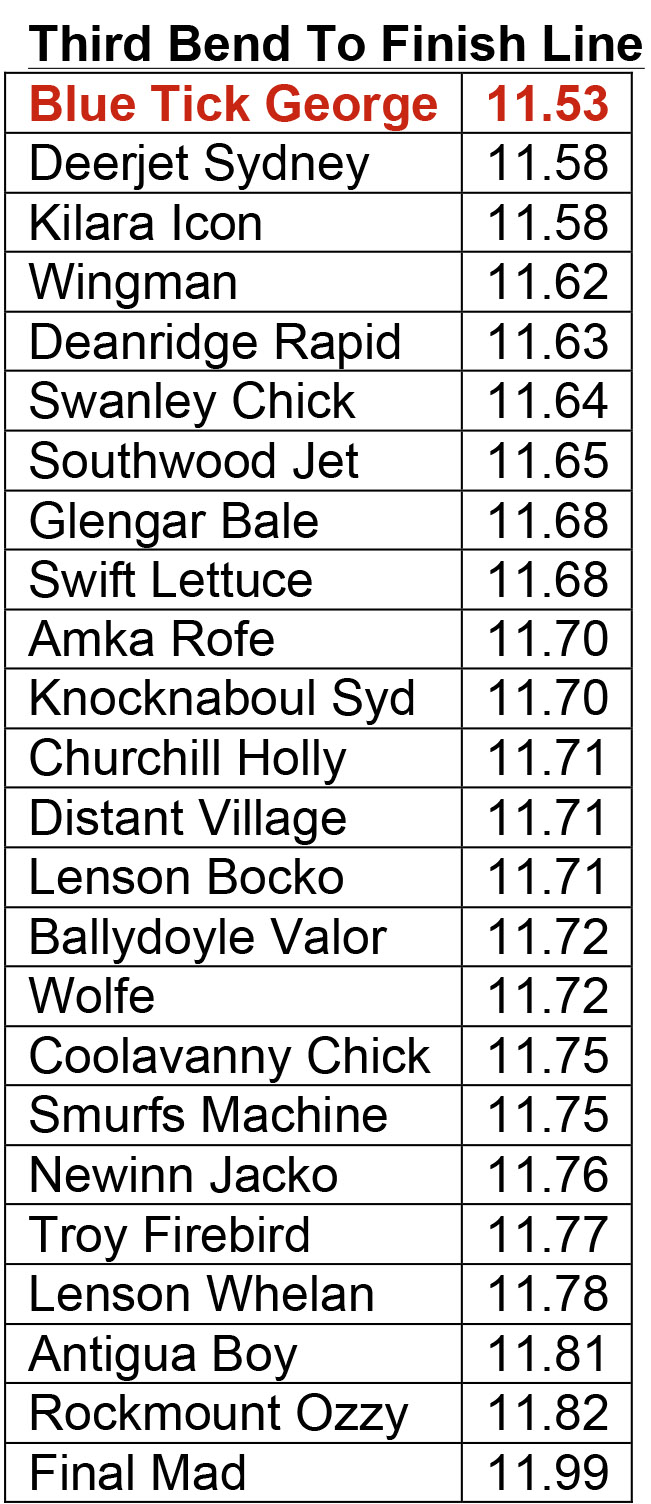 Stuart Tighe's Final Mad looked well drawn in heat 2 after the midweek withdrawal of Distant Star, he took full advantage of the space inside him to lead for the majority of the race before being picked up late by Graham Holland's Ballydoyle Valor and Robert Smith's British Bred greyhound Amka Rofe.
Heat 3 was taken in superb fashion by Richard Rees Southwood Jet who continues to impress whilst heat 4 saw Pat Buckley making a now familiar appearance on the winner's podium as his Deerjet Sydney popped out nicely from trap 3 before taking command of the rail and a dominant success over David Mullins Troy Firebird and Peter Harnden's Kilara Icon.
It was another Irish victory in heat 6 as Noel Hehir's Coolavanny Chick got the better of the Mark Wallis trained Antigua Boy whilst John Mullins' Rockmount Ozzy pulled off the shock of the competition so far as he landed heat 7 at a huge 40/1.
Last but by no means least if the Irish were having a party then John 'Ginger' McGhee, residing for the duration of the competition with Nottingham's Adrian McPherson, wasn't to be left out.
His Swanley Chick taking heat 8 from Jim Daly's Blue Tick George who run yet another good race qualifying in second whilst Alison Kelly-Pilgrim's Deanridge Rapid, though not at his pre competition trial best, put up an improved performance to qualify in third place.
AS the Derby's most successful trainer (to date), this year, Pat Buckley was philosophical about seeing his three qualifiers all drawn in the same heat.
He said: "If you owned any of these dogs individually, you would be happy enough to still be in there so I delighted to get the three through.
"They are all perfectly drawn so we are hoping for the best. I've checked them all over after the race and they all appear to be in perfect shape."
With heats 1-4 of the second round given as plus 30 and 5-8 as plus 20, this was some turnaround on the heavy conditions faced last Saturday. Groundsman Paul Smith and his team regularly produce one of if not the best racing surfaces in the UK.
Paul and his team take huge pride in delivering a safe running surface for the greyhounds and despite the rain last weekend the surface remained just that, safe.
The surface for Saturday's second round though was superb, Shelbourne rightly received huge credit for their fast but safe surface produced during the summer months, to produce an equivalent surface at Nottingham as we head into the middle of October took some doing. Credit where it is due.