To see Roxholme Nidge perform as well as he did at Yarmouth on Monday came as much as a surprise to me as anyone.
I get irritated with the 'wobblegobs' on the internet who accuse me of making excuses before the dog runs in case he gets beat. That has never been my way and I have often been quoted on the Star website saying about different runners, 'the dog is in great form and we have no excuses if we get beat.'
The situation with Nidge is that I feel he is still compensating for the last tendon injury when he was knocked over. I played football at a decent level and I know that that type of injury is prone to soreness and as a result, the dog carries himself a bit differently and puts more strain on the front end.
After the first round, we tried a different type of treatment. Instead of ultra-sounding him, we spoke to George Drake about it and started hot and cold treatment in the jacuzzi. It is quite an old fashioned way of dealing with the injury, but within two days, Hayley said, 'this dog is better already than he was at the end of last week.'
It wasn't just helping in the recovery, Nidge was loving it. Make no mistake, you get the dog out of the kennel for treatment every day and they soon get fed up with it. Nidge was loving this new option. Even so, I was still surprised that he ran as well as he did. Let's be honest, he comprehensively beat the opposition.
In the case of Glory, nobody is pretending that he is the class of Nidge. Not that dogs many are. But Glory is reliable, consistent and has never run a bad race. He has given us and his owners loads of fun. I do think he is capable of winning a Cat 1 at some stage. If he made the final, I would be certain that he would give it his best shot.
Looking at the draws for the semi finals, I am not sure that trap one is necessarily your 'smash trap' of choice at Yarmouth, but I have no complaints at how it has worked out for Glory. He should secure a decent run at the first bend.
I would rather Nidge had drawn three instead of two. As it is, he has decent early pace on either side and can't afford to miss his break or either dog could take his ground. But I have no real complaints and we should hopefully be coming back with at least one finalist.
---
On Saturday, we also have Dolly running in a Maiden Final at Crayford after recording the fastest 540 of the year in the heats.
I was quoted when she ran in the Derby as saying that I couldn't wait to see what she would do when she was able to dominate a race.
Even though she was breaking 5.00 for her sectionals, she was still between a length and a length and a half slower than the fast lads. On Saturday she had the chance to show what she was made of when she could dictate the race and she didn't let us down.
Will she get any further? I don't know. I never like to plan beyond one competition at a time, though if I am honest, her stride wasn't shortening at all.
The Jay And Kay Coach Tours Kent St.Leger is just around the corner, and at this stage, our only likely entry is Roxholme Poppy. She recorded 33.38 in a trial on the same night. At this stage, I will be using the Crayford race to get Poppy back to full fitness and then be thinking about Doncaster, possibly with both of them.
I haven't completely ruled out the Kent St.Leger for Dolly, and I am pretty confident that she could run flat out for around 40.00. But the Crayford trip is around 46 seconds, and that is a big difference. Maybe we will just think about the Essex Vase. Options open.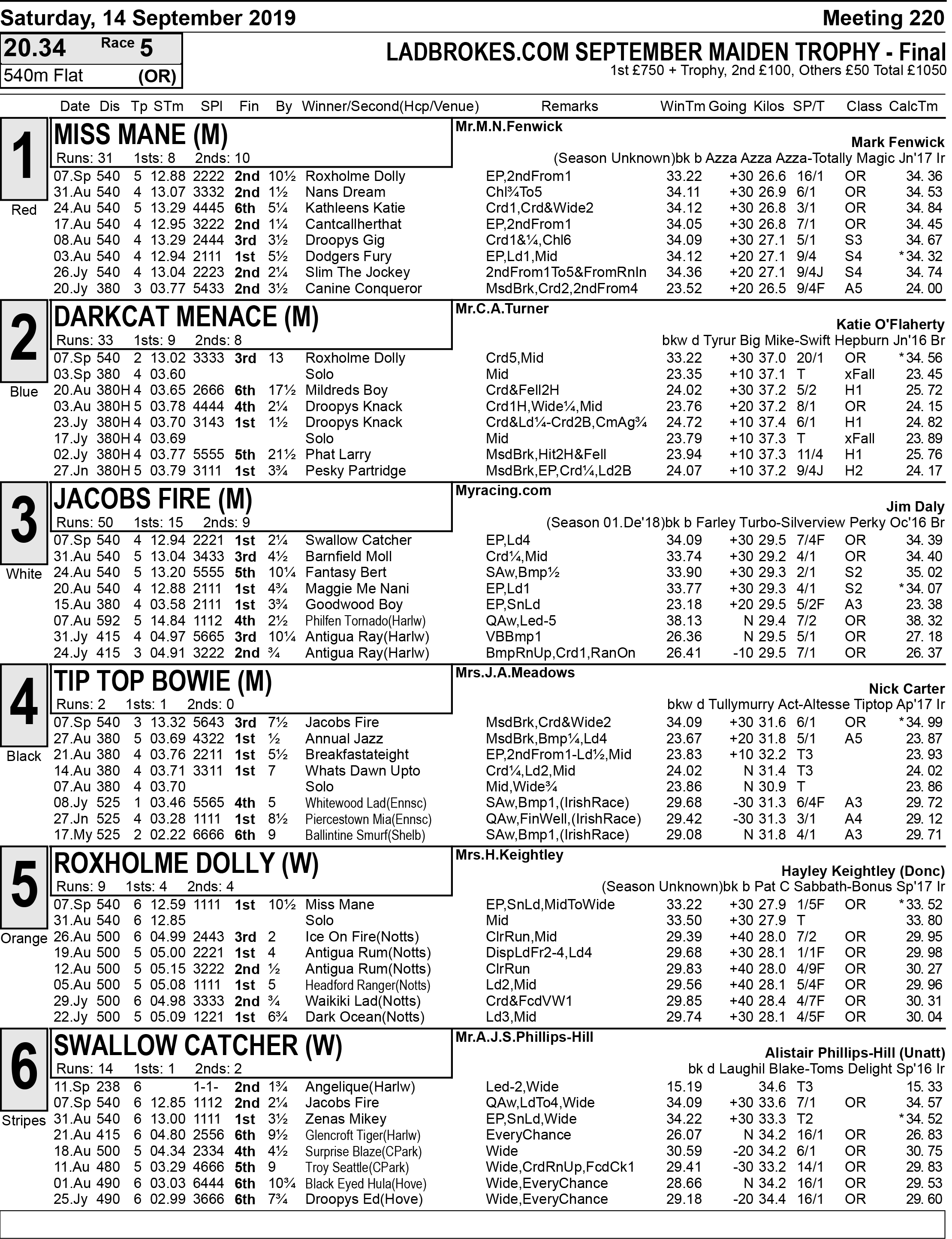 ---
I sometimes get asked what part of the operation is, with Hayley as the trainer. I sometimes get to help feed the breakfast and because of my expertise and interest, I also have a significant say in where and when the dogs run.
When it comes to the training, that is entirely down to Hayley, assisted by Craig. Hayley has a real feel and understanding of the dogs. There is so much more to this than simply winning big races with fast dogs. The fact that Nidge is racing at all, is down to their hard work.
Hayley always admired Charlie Lister in how much patience and attention to detail he put into his dogs. He would sometimes keep dogs off for six months or a year, but he saved their careers. You try to learn from the best. Behind the scenes and the glory, it is about graft, dedication and patience.
For example, we had a minor open race winner at Doncaster this week in Roxholme Diamond. She fractured a hock at Henlow back in April and it has been a long road back. Those kind of smaller victories give their own kind of satisfaction.
We also had Roxholme Jim win at the same meeting. I had to be persuaded to buy him and it has taken a while to get him right.  He wasn't race fit when he arrived in the kennel and when we did start to get him ready, he had to been withdrawn through kennel ickness. Hopefully he is now on his way.
Roxholme Hat is another who has been serious injured. He pulled the muscle away from the shoulder joint and has been with Craig in his living quarters without a thought of racing. It has been just a long slow process. In recent weeks, Hat has been galloping in the paddocks at night.
He is due his first handslip back tomorrow. We have no idea whether the injury will hold up, but if it does, it would be great to see him contest his third Scurry.
---
I am pleased to report that we have Hiya Butt back in the kennel after a spell at stud in Ireland with Eamonn Mackey.
They have taken some straws from him and we have been very selective about which bitches he mated, which is around a dozen including the likes of Acomb Ruby, Mrs Roo and Roxholme Hottie.
He is now with us for natural matings and we are planning to have some more straws taken.