Tonight sees the the first round of a new event for Nottingham, the Lowther Stakes. The 24-runner competition for bitches was held for its first three years at Towcester and was won by three outstanding females in Forest Twilight (whose track record for 480m was never bettered), Crossfield Molly, and Geelo Sapphire.
The calibre of this year's competition remains undimmed with the fourth heat in particular worthy of a Lowther or English Oaks final in its own right.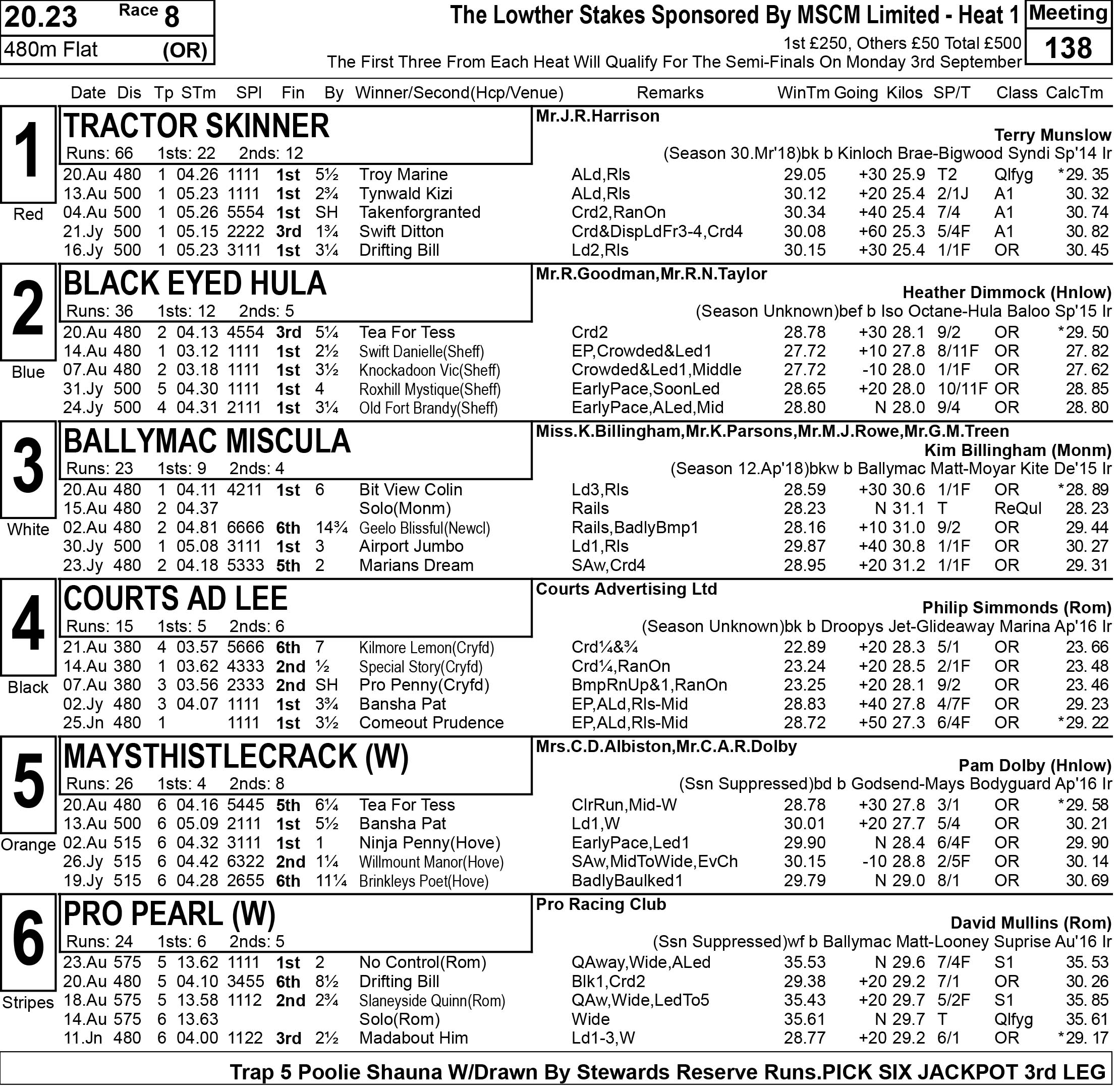 Tractor Skinner – this bitch is a credit to her trainer Terry Munslow.  22 career wins from 70 starts and comes into the competition having won 7 of her last 8.  A regular winner at A2 and A1 level and gained a much deserved maiden open race victory around here in mid July.  Don't let her lack of open race form put you off.  Trainer Munslow isn't a regular traveler and this bitch has a touch of class , a will to win and masses of local knowledge.
Willmount Manor – comes into the competition as a late replacement for Black Eyed Hula.  A3 and A4 winner at home track Hove for trainer Jamie Kingsley and has also won a couple of bitches opens at the track over the 515m trip.  Has trialed and run a couple of races around Nottingham in recent weeks , but will need to step up on all known form to trouble the leading players in this competition.
Ballymac Miscula –  9 wins from 23 races and importantly has good experience of this Colwick Park track.  Has won top grade and open class at home track Monmore and also has 4 open race victories here at Nottingham.  Can win off the front of coming from a little further off the pace.  A danger to all.
Courts Ad Lee – 6 wins from 18 career starts and a recent finalist in the Ladbrokes Guys and Dolls competition at Crayford.  A record of 3 wins in 5 starts around Nottingham , reasonably versatile on her draw position and in the more than capable hands of Phil Simmonds and assistant trainer Nathan Hunt so warrants huge respect.
Maysthistlecrack – brought into the competition as a replacement for Poolie Shauna.  Pam Dolby's bitch has a winning record of 4 from 26 , not an outstanding record but it's not for lack of ability.  Stays well and has experience of Nottingham that should serve her well.
Pro Pearl – David Mullins bitch is 6 from 20 around home track Romford , including when winning heat and final of a Friday night monkey competition over 400m there at the back end of May / June.  0 from 4 on her visits to Nottingham however and though that experience should serve her well , she's likely to find at least a few too speedy.
---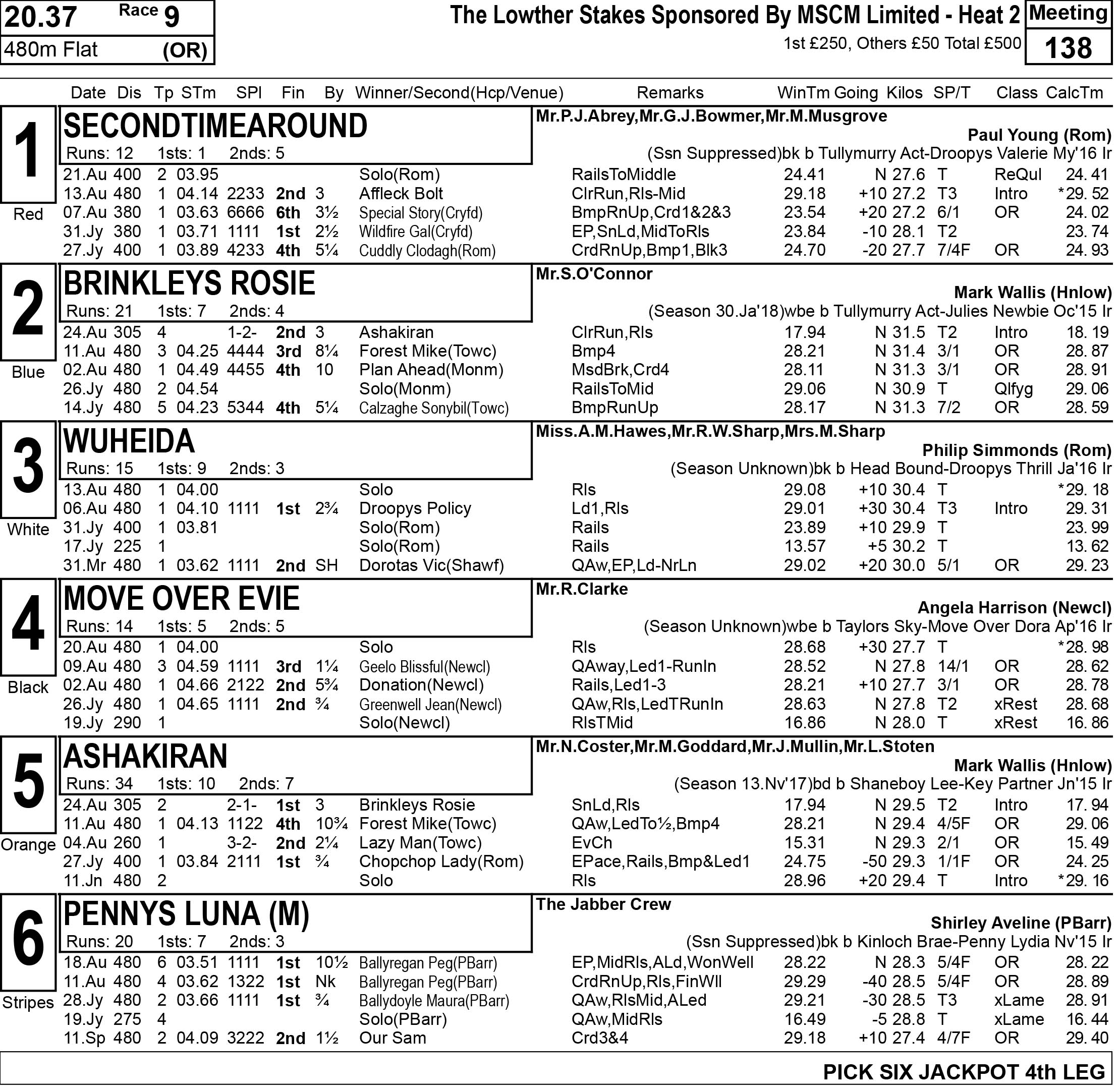 Secondtimearound – 1 win in 12 career starts for trainer Paul Young , that victory came in A1 class over 400m when scoring in an excellent 2395 (+10) and though no success since in open company , has always run with credit.  Trialed here on 13th August when recording a calculated 2952 over the Lowther trip of 480m.  Solo trial last week at Romford of 2441 calculated is some way off her best form.  Likely to find it tough in against this class of bitch.
Brinkleys Rosie – a winning record of 10 from 27 , 3 of which came on Irish soil , the highlight being winning the Harolds Cross Puppy Oaks (staged at Shelbourne).  Trialed here on Friday in a two bitch trial with kennel mate Ashakiran.  Looked in need of that look around when recording 1819 calculated over the 305m trip.  Nice sized 31 kilo bitch for trainer Mark Wallis and might just been one that has gone under the radar a little to date.
Wuheida – What can you say about Phil Simmonds classy , gutsy and pacy bitch ?  9 wins from 15 career starts including when winning second round , semi final and final of the GMG Oaks at Belle Vue in December last year.  Yet to really get going again this year but trials around Nottingham in the past couple of weeks of 2931 and 2918 show that she's heading in the right direction.  Major player.
Move Over Evie – top class bitch for trainer Angela Harrison.  A winning record of 7 from 17 , including open race success here at Nottingham as well as the north east venues of Sunderland and Newcastle.  Lost nothing in defeat when beaten behind Geelo Blissful in the recent William Hill Angel Of The North Oaks Final.  Trialed here last week in a top class 2868 (+30) off the back of an excellent 4.00 dead split.  Leading player.
Ashakiran – 11 wins from 35 starts for trainer Mark Wallis.  Open race winning form at Romford , top class A1 winning form at Towcester and a winner of a £2500 to the winner Inter-track race on Star Sports Derby Final night at Towcester in June.  Trialed here at Nottingham on Friday over 305m , beating kennel mate Brinkleys Rosie 3 lengths in 1794 (normal).
Pennys Luna – 10 career victories from 23 starts including open race wins at Monmore , Perry Barr and Swindon for trainer Shirley Aveline.  Stays extremely well as showcased by her victories over the 710m trip at Perry Barr , but has the pace to produce top class performances over 4 bends , highlighted no better than her 10 1/2 length victory over 480m at the same track in a high class 2822 (normal) last time out.  Coming back to form at just the right time and has plenty of experience , albeit in defeat , at this venue.
---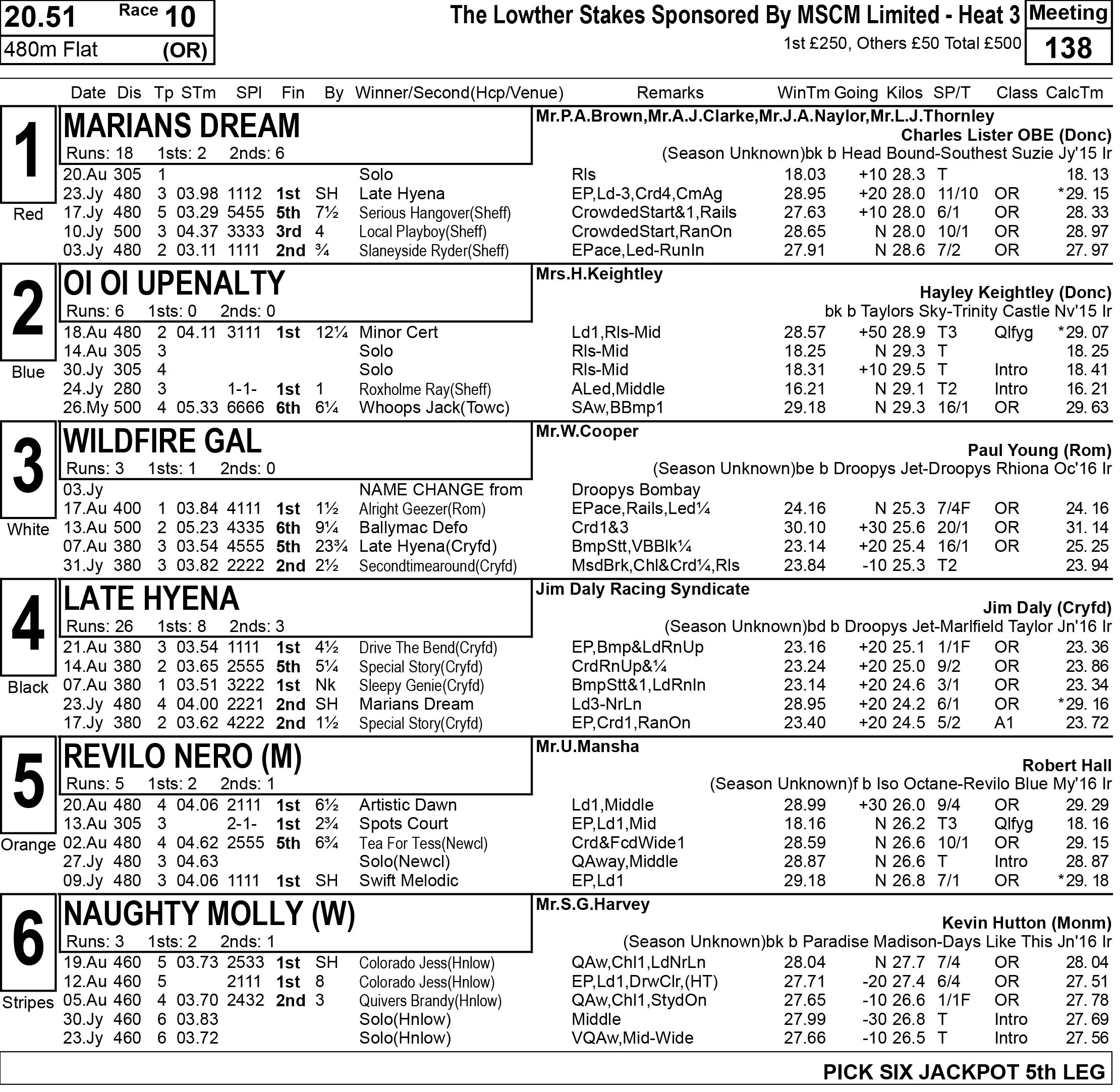 Marians Dream – Not really lived upto expectations since being purchased off the back of some excellent puppy form around Newbridge.  It has to be noted though that her 2 wins here in the UK have come over this Lowther course and distance including when winning last time out in 2895 (+20) when landing a gamble.  Strode out nicely in a 305m trial here last week , clocking 1803 (+10).  Will need to find some consistency if she's to be winning a competition like this , but is young enough to do so and in the hands of Charlie Lister and his team couldn't be better placed.
Oi Oi Upenalty – This bitch is from the very top drawer.  As pacy a bitch as I've seen on these shores in a lot of years.  Just the 5 wins from 20 career starts but make no mistake this bitch is capable of giving a start and a beating to some of the best dogs in training.  Looked certain to qualify for this years Star Sports Greyhound Derby Final at Towcester however picked up an injury at the semi final stage and was unluckily eliminated.  Has trialed around this venue 3 times recently , sprint trials of 1841 and 1825 were followed up by a 2857 (+50) trial when easily winning a 3 dog trial over the Lowther course and distance last week.  In top class hands under the trainership of Hayley Keightley and anything with this bitch in their wing mirrors will rightly be worried.
Wildfire Gal – very young bitch bought as a lot of Paul Young's runners are out of the Droopys Stud in Ireland.  Beaten on career debut at Crayford and though also beaten when contesting the first round of the GMG Puppy Classic here at Nottingham , that sighter will prove valuable.  Has since got her first win on the card when running out an easy winner of a 400m maiden at Romford in 2416 (normal).  Might find herself lacking a little bit of experience to trouble some of the leading players in this competition, however no doubting that this is a bitch with a very bright future.
Late Hyena – Crayford specialist for trainer Jim Daly having won 8 from 23 around her home venue.  Has experience around this Colwick Park venue but is 0 from 3 but did run well enough when leading Marians Dream until late on here a few weeks ago.  Will be a surprise if she's good enough to trouble some of the big guns in this competition however.
Revilo Nero – Lightly raced bitch with just 12 runs under her belt so far at 2 1/4 years old.  That said has a strike rate of 5 wins from 12 including 2 victories over this course and distance in 2918 and 2929.  An outsider for outright honours but local knowledge will serve her well.
Naughty Molly – extremely lightly raced for a bitch turned 2yo.  Won sole two starts at Galway , the second of those in a top class 2861.  Started off her UK racing career in the Henlow Maiden Summer Cup and though beaten in the first round she then went on to win semi final and final of that competition for trainer Kevin Hutton.  Lacks a look around Nottingham , however her trainer has a record to be feared when running greyhounds around a track for the first time without a sighter.  Rule her out at your peril.
---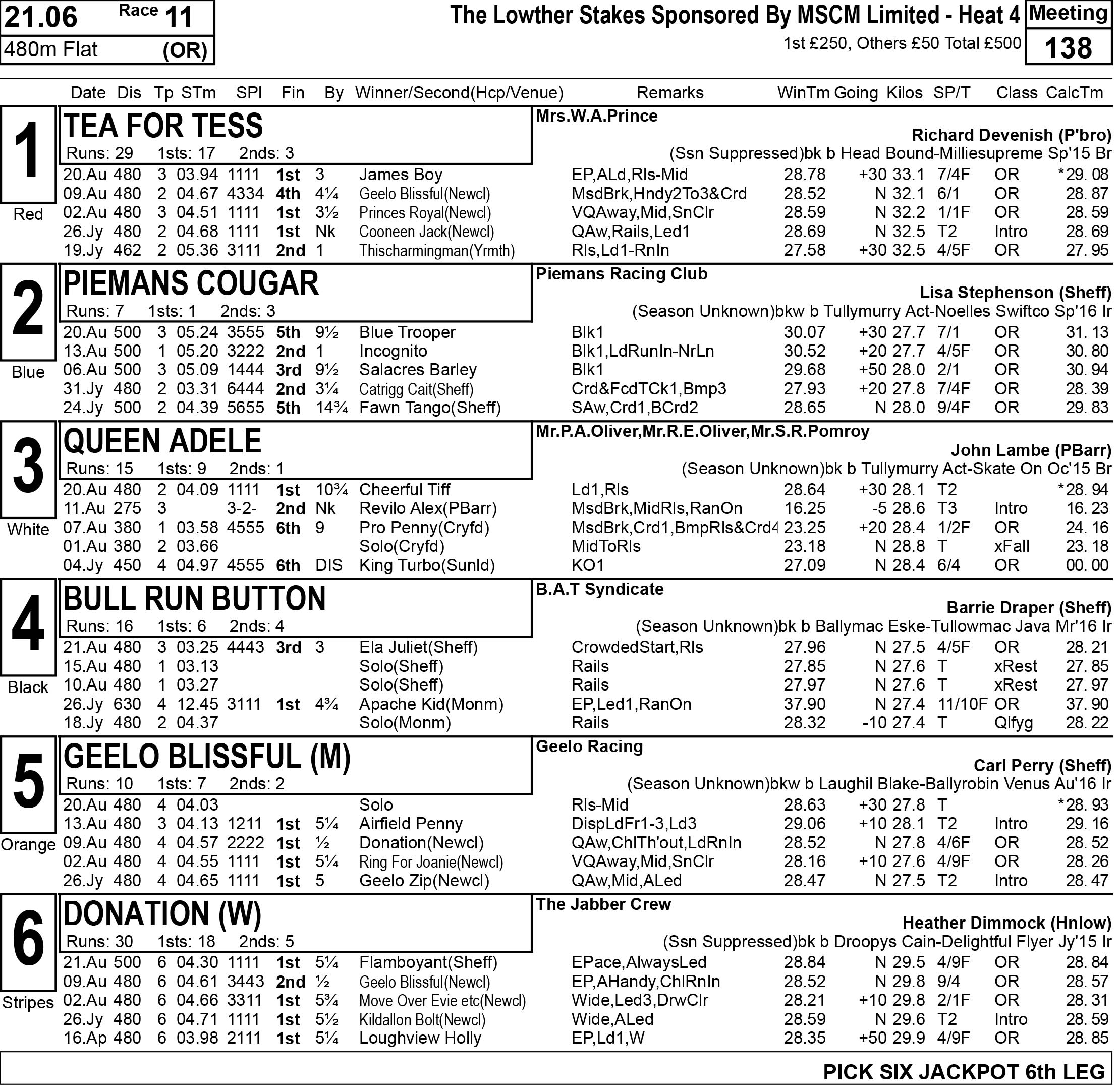 Tea For Tess has been expertly trained by her breeder Richard Devenish.  A winning record of 17 wins from 29 starts including open race success at Romford , Doncaster , Harlow , Belle Vue , Nottingham , Monmore , Yarmouth and Newcastle mark her out as extremely versatile.  A winner of the British Bred Puppy Oaks around Romford in 2017.  Tess had previously run just the 2 sprint races around this venue , winning one and falling in the other , before running away with a good class 480m open here last Monday.
Piemans Cougar has endured troubled passages on her starts at Nottingham so far , but a couple of good wins around Sheffield advertise this young pups potential for trainer Lisa Stephenson.
Queen Adele needs no introduction.  The John Lambe trained early paced flying machine has a record of 9 wins from 15 starts , including when going unbeaten throughout this years Bedfordshire Mini Derby at Henlow.  Not content with simply going unbeaten throughout that competition , Adele also set new track record figures in heat , semi final and in the final itself.  Adele advertised her well being with a 2864 (+30) trial around Nottingham's 480m trip last Monday.
The Barrie Draper trained Bull Run Button is developing a fearsome reputation and has a winning record of 7 from 21 in her career so far.  A winner of the Racing Post Juvenile around Sheffield earlier this year , Button was deemed unlucky by some shrewd judges not to find herself picked for the RPGTV Select Stakes at Nottingham and backed that theory up with a best of trial session 2948 (+40) over 500m when comfortable going faster than some runners who had been chosen by the Select Stakes panel.  Barrie Draper kept his thoughts private but one can imagine his view.  Button then ran a game race to win her heat of the RPGTV Oaks on Select night itself , before being pulled out of the final the following week.  A step up in trip looked sure to suit and this came at Monmore at the back end of July.  Lining up in the Ladbrokes Summer Stayers competition Button runaway with her heat by 4 3/4.  Injury was to see her pulled out of her semi final engagement however a 2785 trial around Sheffields 480m trip followed by a short priced but acceptable defeat over the same course and distance last week in the GMG 3 Steps To Victory advertised her current well being.
The Carl Perry trained Geelo Blissful is a young bitch with unlimited potential.  With 7 wins from just 10 career starts including when winning heat and final of the William Hill Angel Of The North recently at Newcastle , she has quickly established herself as one of the leading bitches in training.  An initial introduction to this course and distance when winning a 2 bitch trial against Airfield Penny by 5 1/4 in 2906 (+10) was bettered in a solo when recording 2863 (+30) last Monday when running the track notably better.
Heather Dimmock's Donation has long since established herself as one of the fastest and most durable bitches in training.  A winner of 21 of her 35 career starts including the Yorkshire Oaks in 2017 , she also won the GMG Oaks around this venue earlier this year.  After winning every round of the Coral Sussex Cup last year before succumbing in the final to the gallant Shaneboy Freddie , Donation really is a force to be reckoned with.