It is seven months since Towcester closed and Donna and I have taken the opportunity to re-evaluate the direction that the kennel is going.
At one stage we were up to 108 dogs which was just too much and we weren't enjoying it. We are now down to 68 and have a plan for a maximum of 60. It has not been easy, we have had to ask some very nice owners to take their dogs away, but we know it is the right thing to do.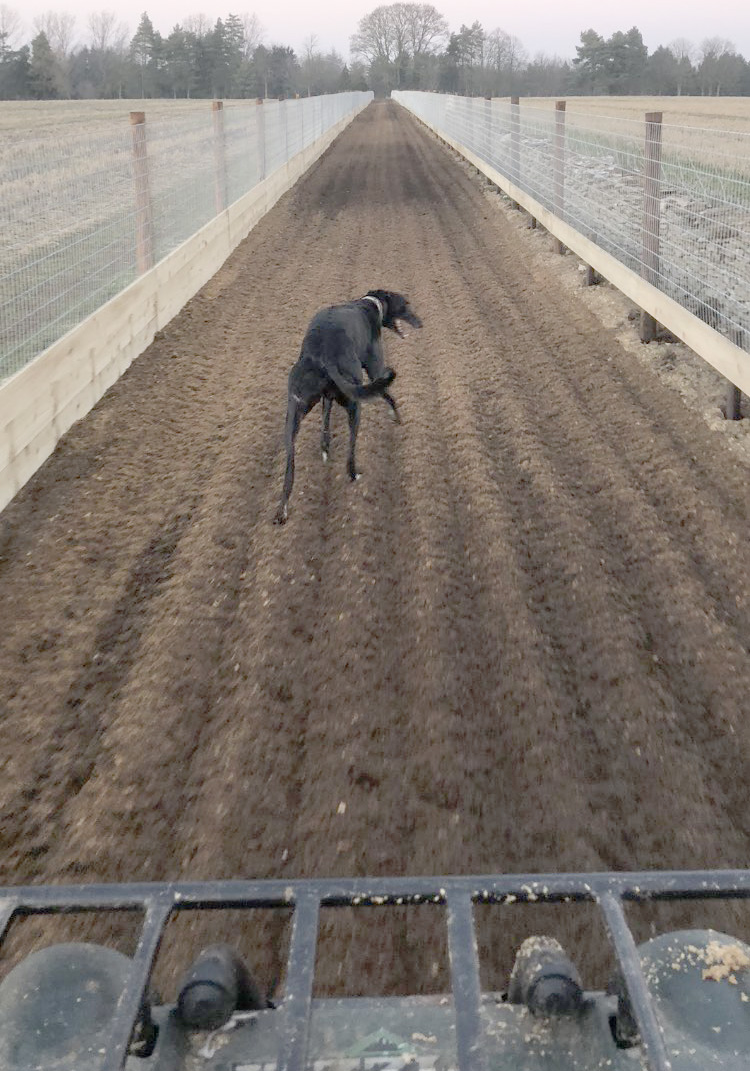 We have taken the opportunity to renovate the kennels, improve facilities for the staff, re-fence the gallop and lots more.
When the work is finished, we will close down one of the ranges and just use it for bitches in season.
We have around 20 on the strength at Monmore and they could not have been more helpful. They agreed that we could be kept to the Thursday, Friday and Saturday cards which means we can plan for things like veterinary visits and just generally not be overstretched.
---
We are involved in a few different events at the moment.
Prize Fighter is in the Golden Sprint at Romford. Ballymac Osby is our only runner in the Steel City Cup. I thought he ran very well in the Juvenile, but was just beaten by a very very good winner. We also have a runner-up in the Maiden Gold Cup at Henlow.
Looking further ahead, there is the Trainers Championship meeting. At the moment, Ballymac Osby and Drive On Hunter are both pencilled in for the standard. I would loved to have had Lazy Man for the sprint, but he is still returning after a gracilis injury and it will be too soon for him. So I will probably switch Prize Fighter back to two bends.
We have two or three options for the puppy race including Chicago Fire who has come through the grades at Monmore and his time on Saturday was in line with the Puppy Derby dogs.
We are very strong in the bitches race. Had it been over the 500 course, we would have been looking at either Galloping Moon or Magical Vera, but over the 480, we might edge towards Ravenswood Flo or possibly Bit View Bridie who ran very well at Romford last week.
It is the stayers races where we are struggling. We will probably have to switch a couple up in distance. Leedon Brandy has been around a while and has won over 575. We trialled him over the Monmore 630 last week and he did 38.00 which is promising.
After that, it is a choice of one from two or three including Madabout Philip. We did buy a little bitch called Patanjali with this in mind. She ran second to Towcester Story on the Night Of Stars, but has since come into season and it will be too early for her.
---
We are not planning to have runners in the Scottish Derby but are already planning towards the Star Sports Arc & LPS English Derby with hopefully five or six serious runners.
They would include Ballymac Osby and a new dog who we bought out of Youghal last year, Druids Busy Man. Magical Bale is due back with us in a fortnight's time, and of course Dorotas Wildcat.
He has been checked over after Hove and has been given a clean bill of health, including blood tests. I hope to trial him at Swindon next Tuesday and then we'll start looking for a few one-offs, probably three or four, at either Swindon or Nottingham.
---
I picked up our Irish Oaks winner Forest Natalee today on her return from Ireland where she was mated to Droopys Jet.
I had originally hoped to take her to Taylors Sky, but unfortunately he has a few problems, which Sean Bourke was kind enough to warn me about, rather than have her miss.
It is her second mating. The first are about six months old, by Laughil Blake and are being reared by Paddy Kehoe, who reared Natalee and the rest of the 'Dorotas' litter. This second litter will be born here and registered as British bred.
Her litter sister Dorotas Star, who won opens at Hove, Central Park and Wimbledon before being injured, is due to be mated to Magical Bale on Friday.