We started out with four in the Derby and we have three through to the third round with Kingsbrook Glynn having been eliminated. We could have entered another six or eight lesser dogs but what is the point?
I am enjoying every minute. It is a great Derby, well run and very open. You can have the best dog in training but if you have a railer drawn in five or six with lots of early pace on your inside, you are going to be vulnerable.
I am delighted with my three, now so much will depend on trap draws.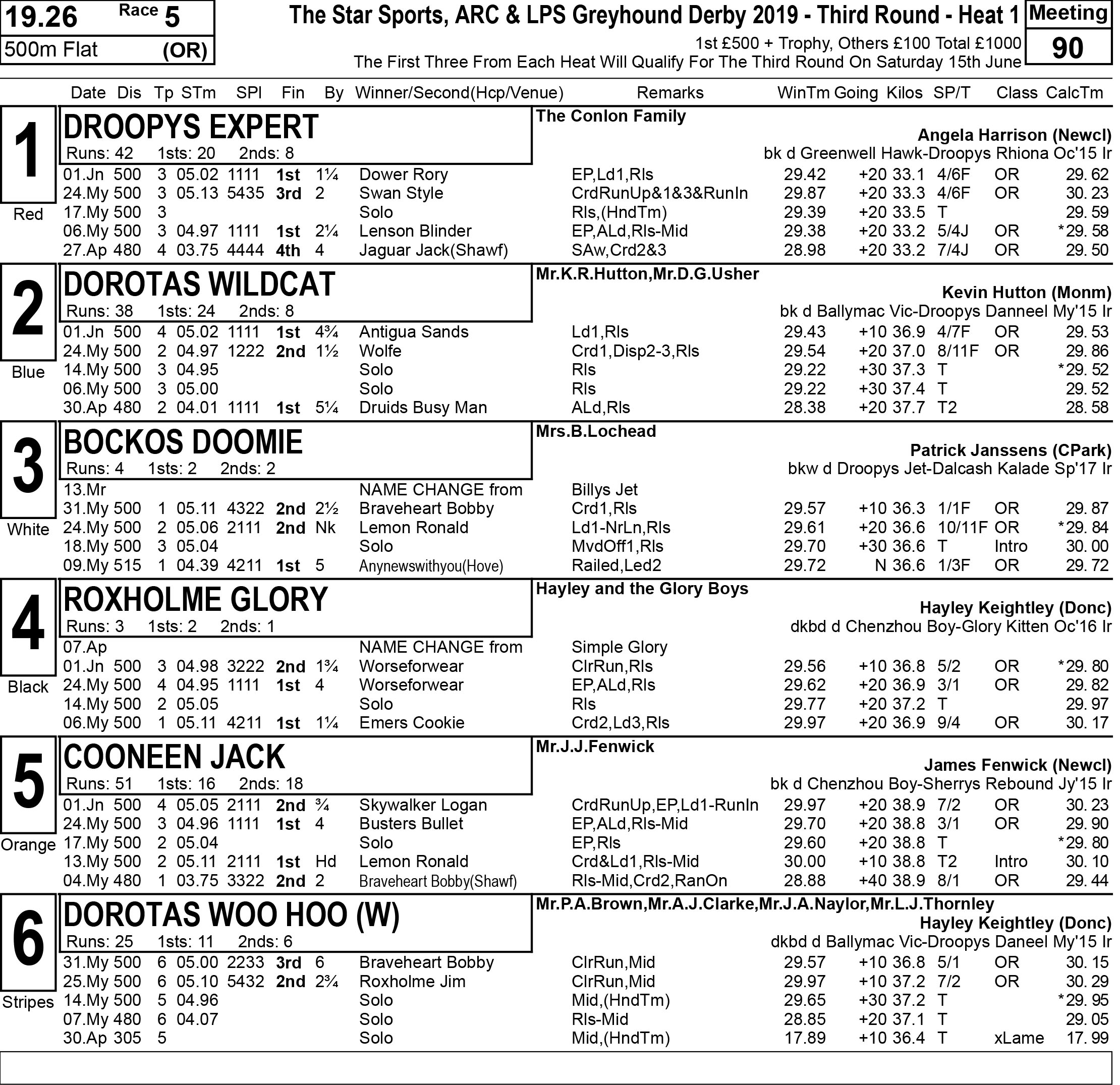 Wildcat is our first runner on Friday and he could have had it easier in the draw, though given there are five wide seeds, it could have been worse. He can run from any of the four inside boxes, though I would probably favour the three at Nottingham because he can drive the bend.
I thought he ran superbly in the buckle against Wolfe and again at the weekend. He is starting to look magnificent and I would guess just a couple of races short of being back to peak fitness.
We have lots of early pace on our inside but my bigger concern is Bockos Doomie diving for the inside. But our lad just gets on with it.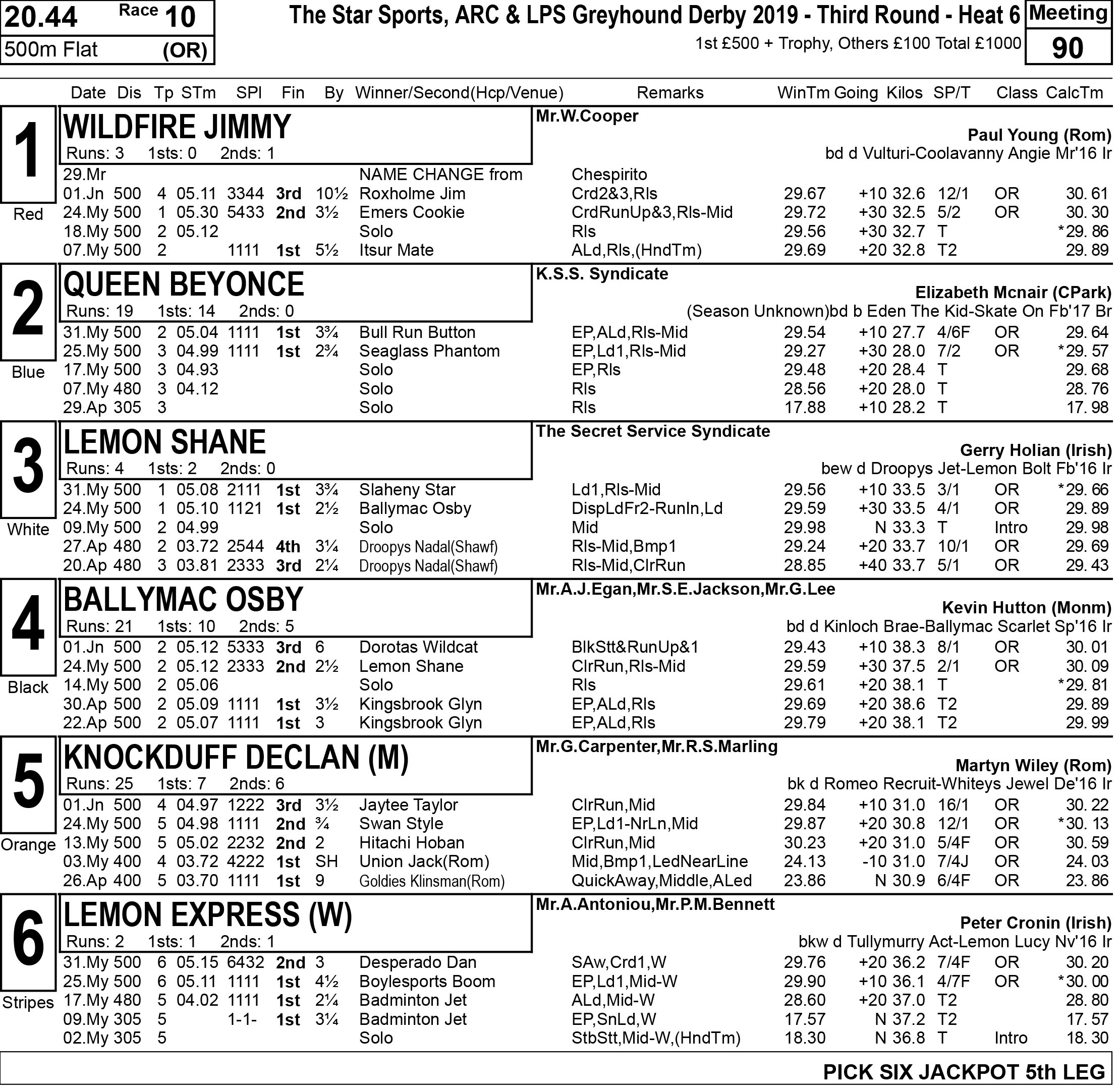 Ballymac Osby is running better now that he is back on more suitable tracks. He didn't really take to Sheffield but looks a different dog on places like Central Park, Hove and Nottingham.
Although he is approaching three, he was always a dog that was going to take time. He is a big, long greyhound and you could never do too much with him when he was young. He was also in the worse condition of any of the six dogs who were stolen a year ago, and spent two days on a drip at the vet's.
In my mind, Osby is a 'quarter final' dog. A good solid quality though two or three lengths off the real contenders, but fingers crossed he gets there. The draw is fine, he will go up in a straight line and hopefully be good enough on the night.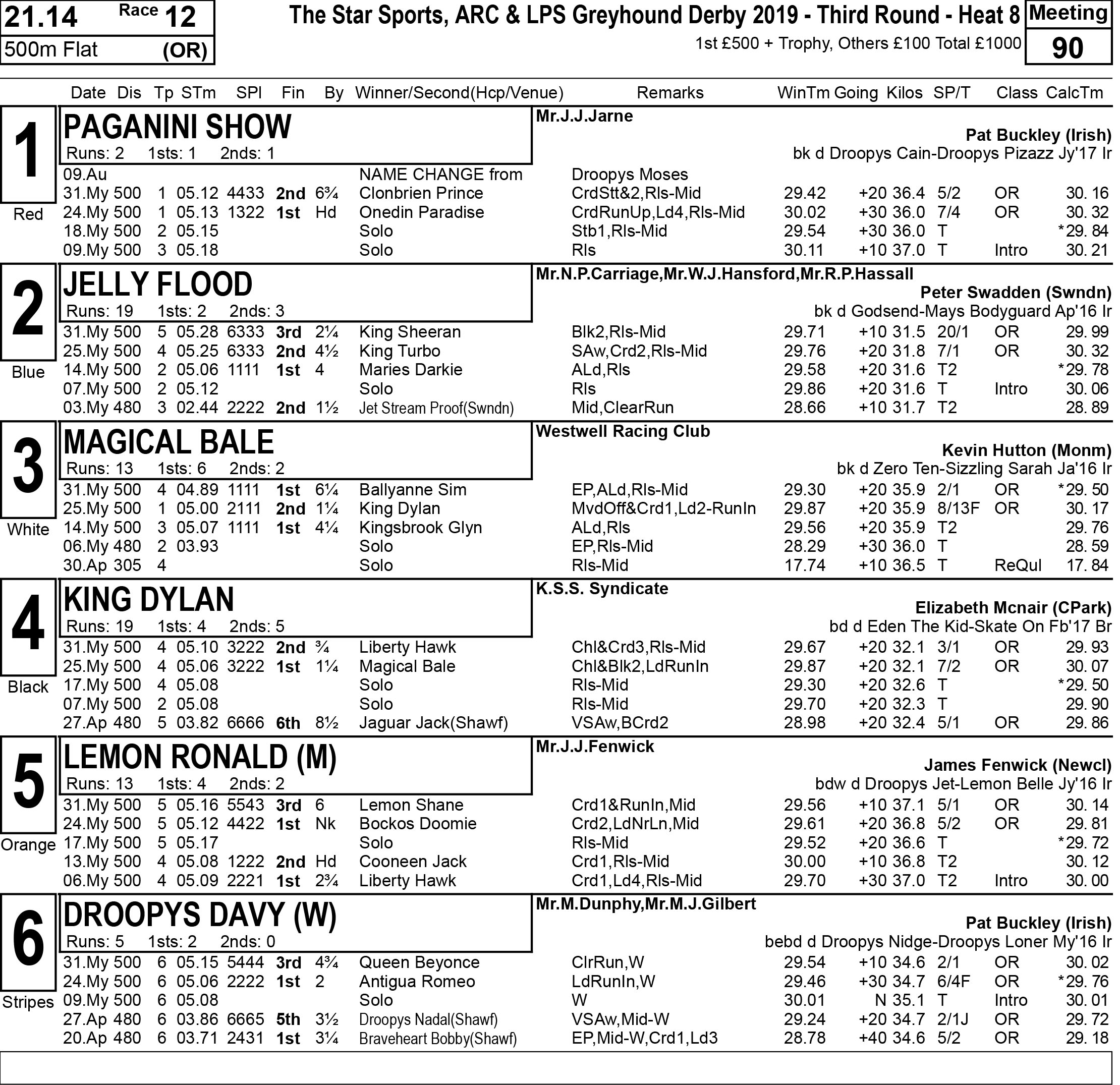 To be completely truthful, I couldn't have picked a much better draw for Magical Bale with a notoriously slow breaker on his immediate inside and the one not being the quickest to the bend.
I always expected it would take Bale a couple of races to get match fit; he hadn't raced since being knocked over in the Easter Cup. Last Friday suggested to me that he is well on his way. He gets the 500 trip really well and I would expect him to start at short odds-on.
If I am absolutely honest, if Bale and Wildcat don't reach the final I will be very disappointed. Nobody can take anything for granted in racing, but I know that both dogs have the quality to race among the very best.
---
With the Derby going on, we are just ticking over on the open race front.
We have taken a few down to Central Park recently and won the Maiden Final with Towstar Ciara on Sunday. Although the journey is a lot longer than Monmore, it is a nicer trip, on quieter roads. Anything but the M5/M6!
I really like the track there, a great test for the sort of dogs that we like to buy, and the running surface is always immaculate.
The first of the many new arrivals have just started qualifying. Headford Ranger and Headford Zidane went well at Swindon, and Slaneyside Izzy, who won the consolation final of the Irish Puppy Oaks is also making progress
Looking further ahead, Paddy Kehoe tells me that the Laughil Blake/Forest Natalee litter are just in from the paddocks though it will be a while until they are ready for schooling.
On the subject of pups, it is great to see the Breeders Forum arranging various competitions for British breds. We have never bothered with litters before, but to have these as an incentive has certainly encouraged us to make an effort with pups.