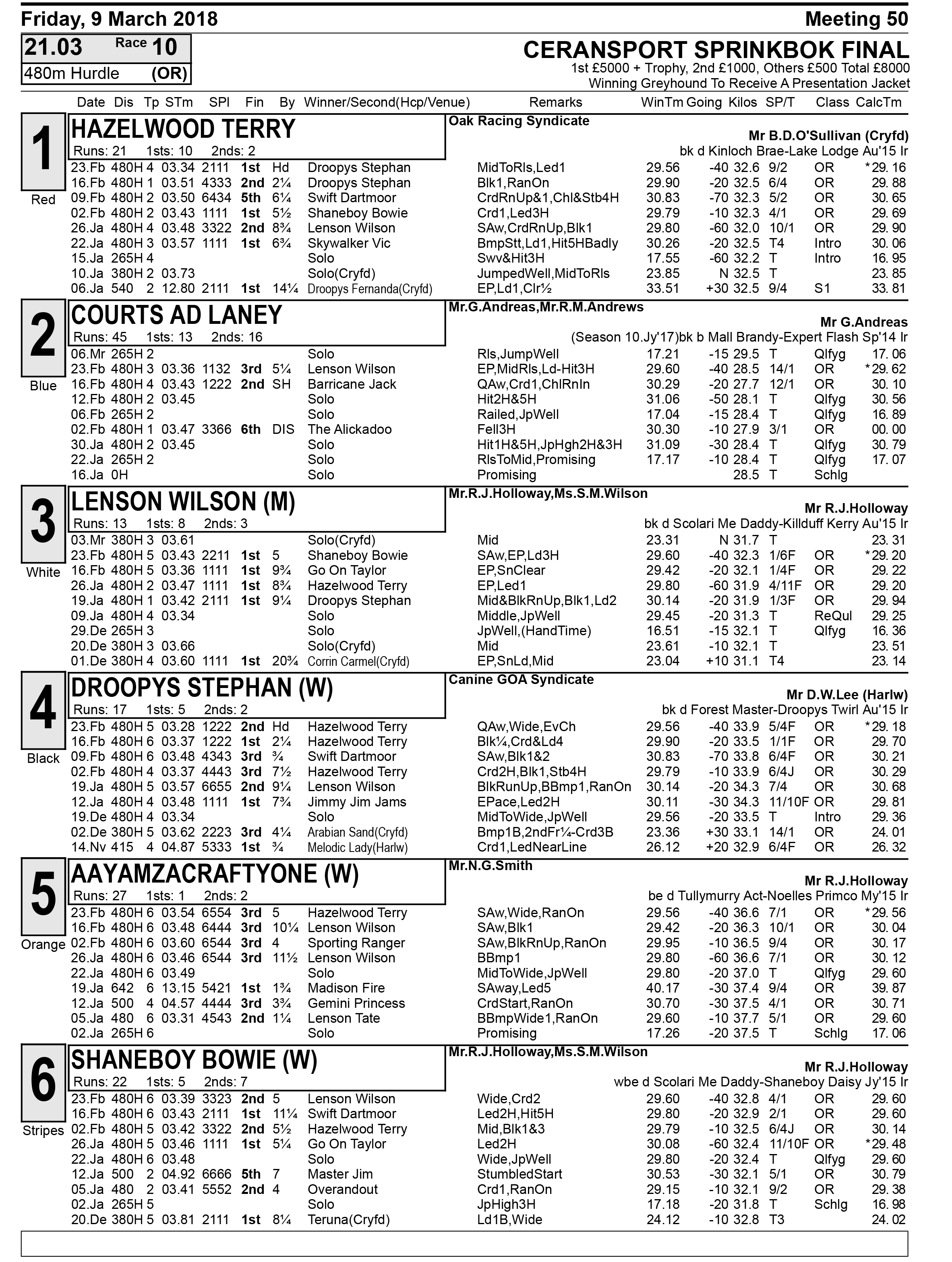 "I think the favourite should be odds on, but not as short as he is currently being quoted" said Central Park assistant racing manager Dan Homewood of Lenson Wilson in Friday's postponed Cearnsport Springbok Final.
Ricky Holloway's white jacketed runner is unbeaten in four races over the sticks and given the postponement of the final due to bad weather was trialled over the Crayford 380m hurdle course last week and clocked 23.31. (Razldazl Raidio's track record is 23.18).
Dan said: "There is not much between them. Wilson walked away in the semi finals but then powered on along the backstraight to win impressively. But Hazelwood Terry actually went quicker and if he was to break on the inside you never know.
"Courts Ad Laney had a trial here on Tuesday and also went very well, her best jumping so far. It should be a very good final."
Stadium guide to the final:
T1: Hazelwood Terry: Very impressive display in the semi-final clocking 29.56sec – the fastest he's run round Central Park over hurdles. He's improving with every run. Joint-second favourite with some bookmakers around the 6-1 mark
T2: Courts Ad Laney: Came into the competition as a reserve and has been a credit to connections.
Recorded her fastest time in the semi-final (30.02sec). Another dog improving with every race. A 66-1 chance at best.
T3: Lenson Wilson: Superstar hurdler, reliable and fast. The manner he won the semi-final after starting slowly but still winning by five lengths against a fast rival in Shaneboy Bowie shows this dog is still the one to beat. Odds-on.
T4: Droopys Stephan: Won his first-round heat in impressive style and was only beaten a head by Hazelwood Terry in the semis. Another dog improving with every race. Joint-second favourite with trap one at  6-1.
T5: Aayamzacraftyone: Another dog who has been a credit to connections. Coming third in both previous races means he has a hill to climb to win but will be running on, so any trouble could see an outsider win. Maybe him. A 33-1 chance at best.
T6: Shaneboy Bowie: A very fast dog on the flat and has proven to be a good dog over the hurdles, too. With crowding in the semis, his time can be forgotten. This dog clocked 29.60sec in the first round and a repeat will see him involved in the finish. A 12-1 chance.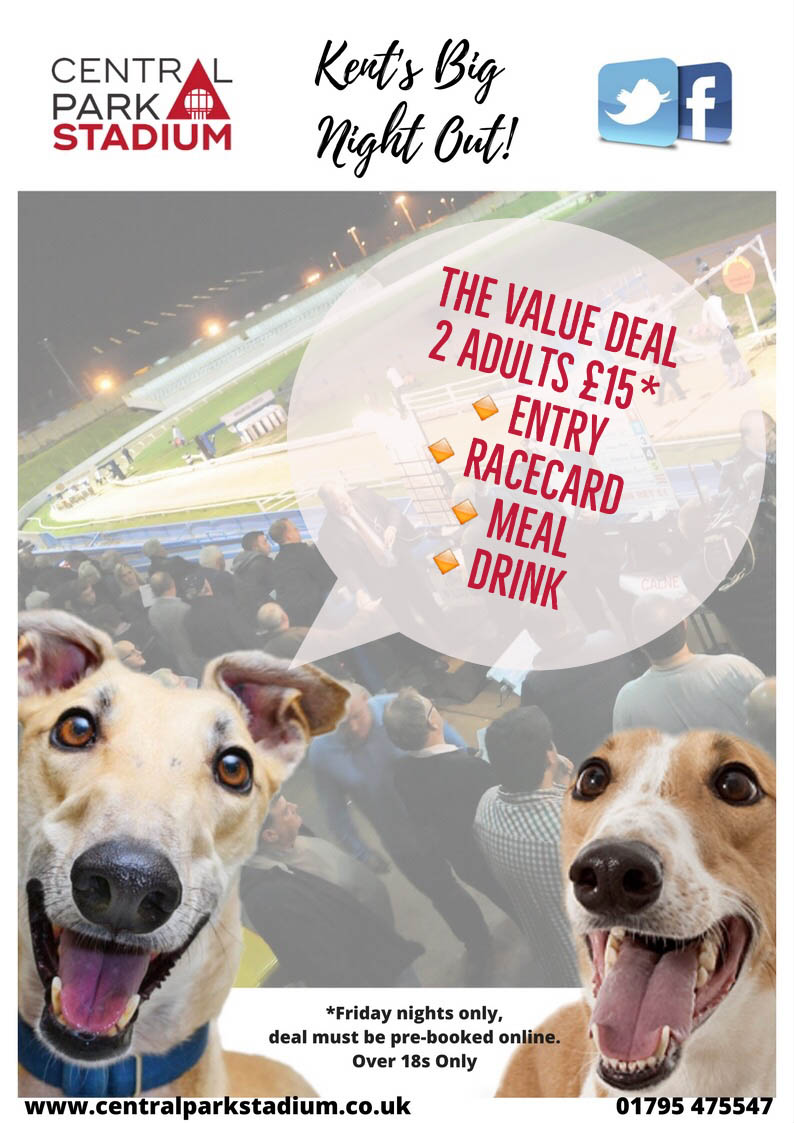 When Central Park boss Roger Cearns decided to stage a Mick The Miller evening, he could have found no better organiser than new young Operations Manager Kieran Lifely.
"I once asked my mate to drive me from Tralee to Offley to see the Mick The Miller statue. It half a day. I got out the car, took a picture and then suggested we head back. He thought I was a nutcase."
Born in London into a family with long roots to County Kerry, Kieran was taken to Wimbledon dogs as a toddler and has been passionate about greyhound racing ever since.
He said: "It started with my grandad who won the Kingdom Derby with a dog who was disqualified with the race going to the guy who owned the second, who happened to be a solicitor. I don't now the ins and outs but my grandad kept the prize money anyway. To this day, it is still only whispered about. My mum and dad went dog racing five nights a week. White City was their favourite."
"I couldn't believe it when Roger told me that he wanted to run a Mick The Miller evening. After a lot of messing around, I have managed to get the rights to show the film (Wild Boy) from the company who own it.
"I have also been in touch with the Natural History Museum at Tring to see if they will let us borrow Mick in his glass case for the night. The plan at the moment is to try to hold the event on his birthday. I have a load of memorabilia of my own including paintings and cigarette cards that I plan to bring in."
The Kent Silver Salver is next on the schedule at Central Park. Upped in prize money to £3,000 to the winner, it closes on Tuesday and starts next Friday.
The host track should have a big say with Droopys Blink likely to be among the leading contenders for the 265m event, though the Operations Manager will be scouring the entries for one particular name.
Kieran said: "Although I wasn't too fussed about it when I was younger, I have grown to love sprint racing and Queen Anna is my favourite runner in training."