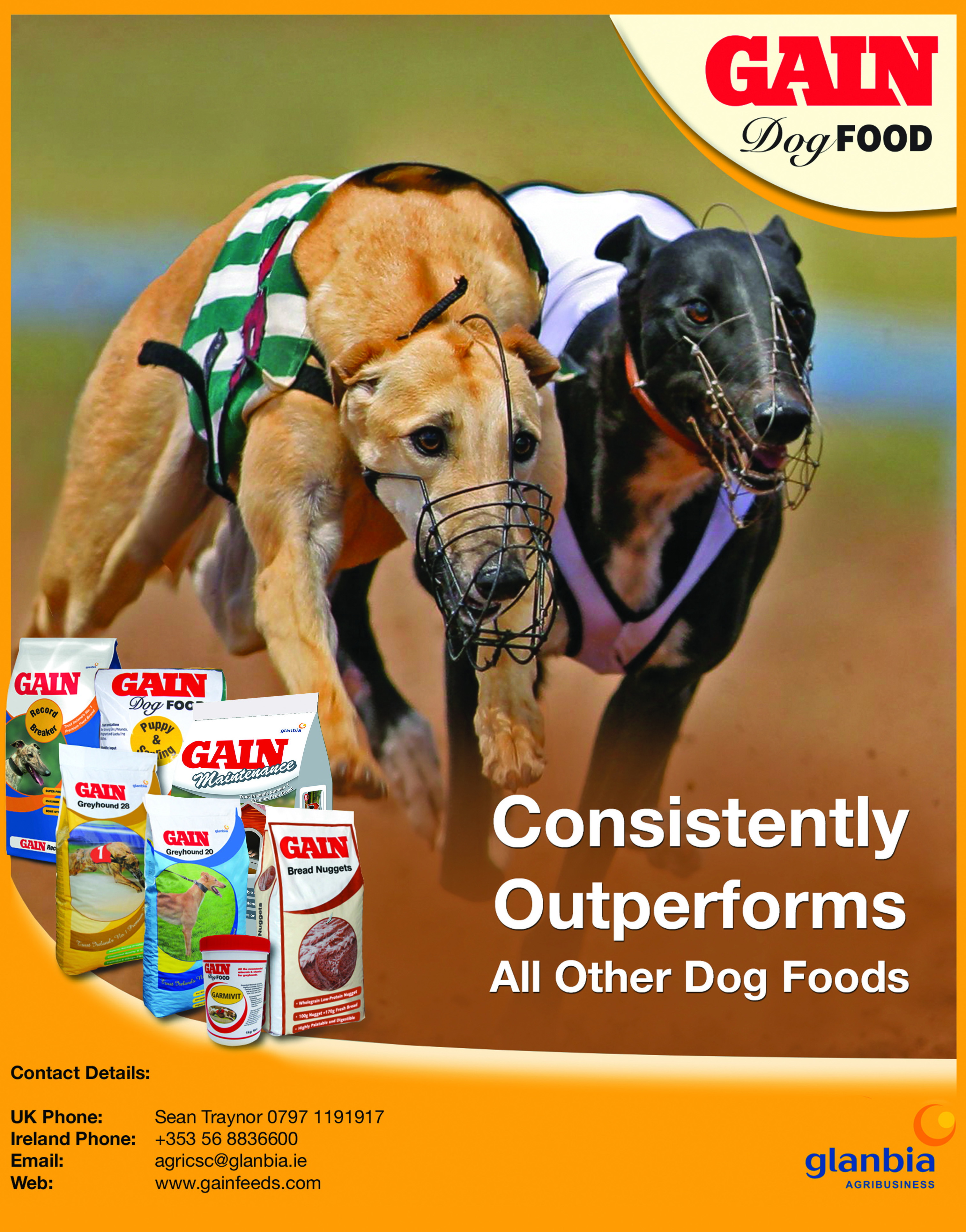 Assistant trainer Mark Keightley believes his faith in ante post favourite Roxholme Jim was entirely justified after the unraced blue clocked 27.58 (N) in the opening round of the Gain Nutrition English Puppy Derby at Henlow.
Keightley said: "He is one of the few dogs I have travelled to Ireland to see before I bought him. Our source Ernie Cook never lets us down, but he thought Jim could be a bit out of the ordinary and suggested I see the dog for myself.
"He was everything I hoped and the work he has done at home suggested he could be a bit special.
"He had one disappointing trial at Doncaster, which came out of the blue. We had him checked over by George Drake who couldn't find anything wrong.
"Maybe the going was too deep for his liking on that day? But his work at Henlow was very good.
"What I liked about yesterday was that he didn't just bullet out and have a solo.  He had every chance to show if he was chicken hearted or had any other faults at the bend, but he stuck to job. I am the first to admit that the draw worked out well in his favour with the two inclined to edge out, just as he wanted to do from one.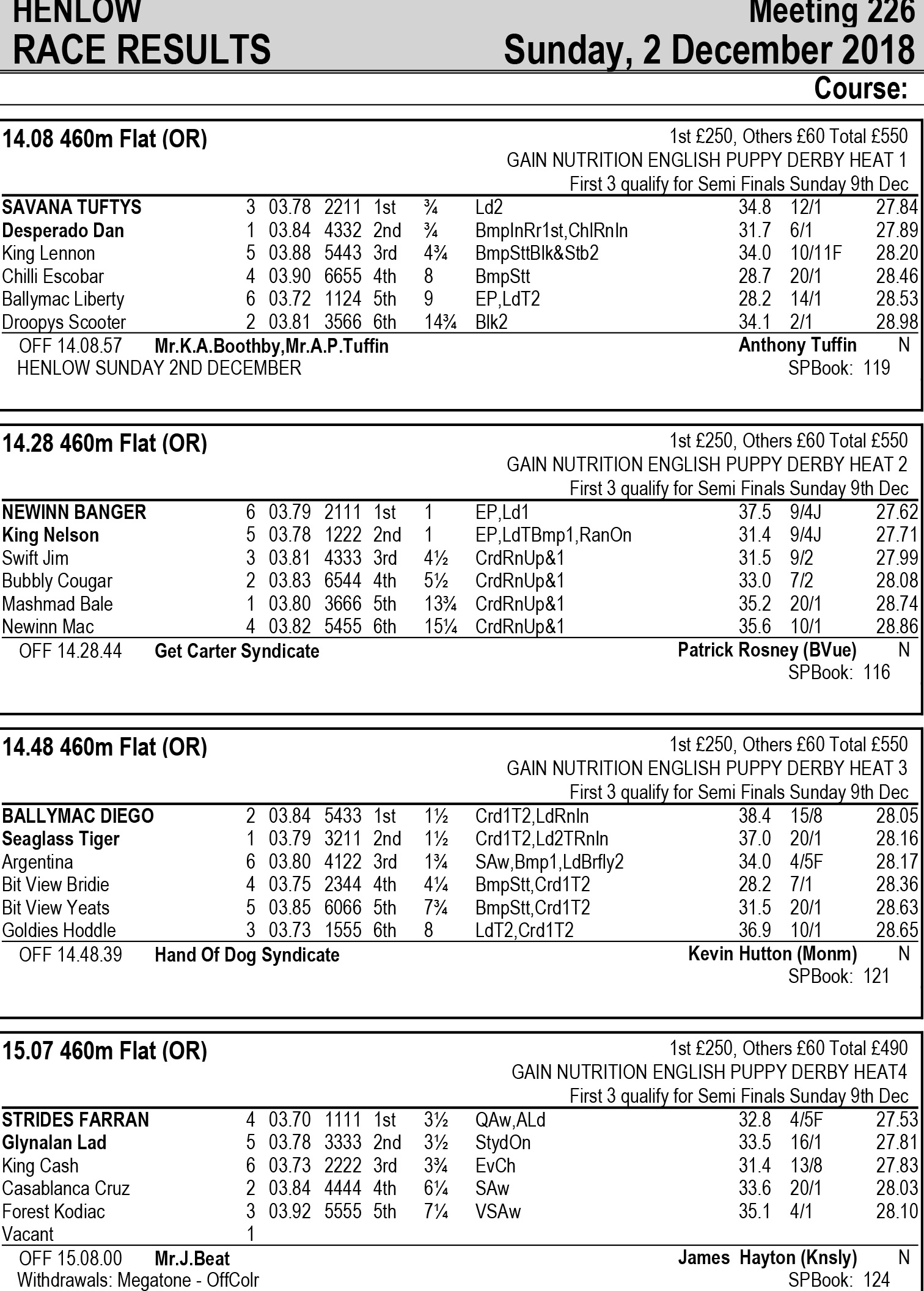 "The draw for the semi finals looks tougher and we will have to see if he can take that next step."
Non gambler Jim Hayton admits that the 25-1 ante post on Strides Farran was just too tempting to ignore, a price that looks even better after the March pup clocked the fastest time of the round, 27.53 (N).
Beaten in his first four races at Nottingham, the black has a 3/3 record at Lower Stondon with a best of 27.50. But it could all have gone so differently.
Jim said: "He didn't really settle in at first and his owner was thinking about sending him back to Ireland.
"I could see he needed a bit longer and asked him to give it a bit longer. We haven't really looked back since and I think he might just be the best dog I have ever handled.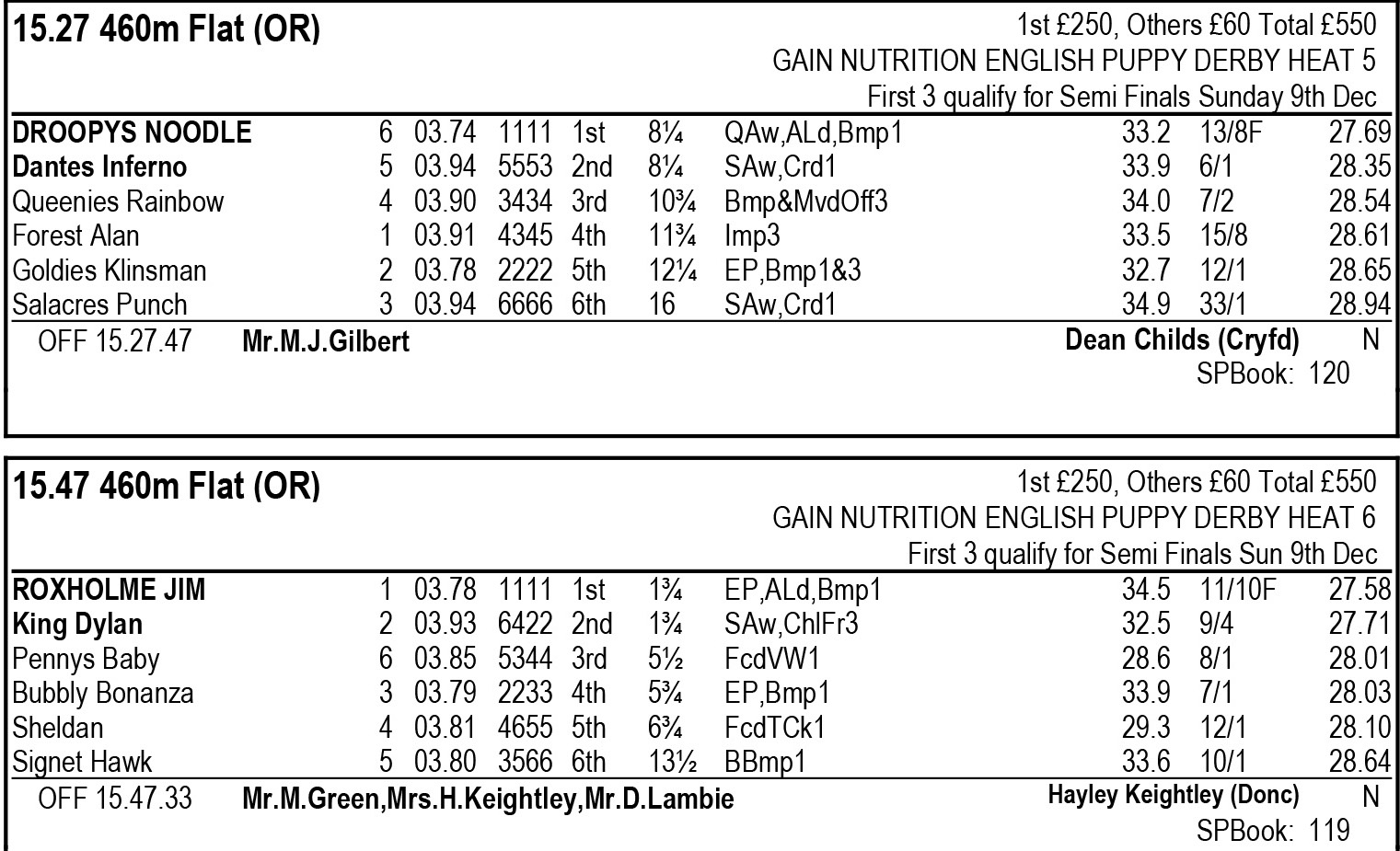 "He seems to have everything that you would want in a race dog. I was very impressed with the Roxholme Puppy, he looks a bit special, but I wouldn't swap. I have no problems with the draw for the semis, providing that he keeps on trapping."
Semis draw:
1) Swift Jim
2) Savana Tuftys
3) Desperado Dan
4)King Lennon (M)
5) Strides Farran (M)
6) Ballymac Noodle (W)
1) King Dylan
2) Ballymac Diego
3) Glynalan Lad (M)
4) Dantes Inferno (M)
5) Argentina (W)
6) King Cash (W)
1) Seaglass Tiger
2) Roxholme Jim
3) King Nelson (M)
4) Queenies Rainbow (M)
5) Newinn Banger (W)
6) Pennys Baby (W)