Patrick Janssens sent out the fastest qualifers in both the Coral Golden Sprint and Essex Vase and then saw his middle runner drawn stripes and wide seed handed the black jacket.
Kilmore Lemon took his racing record to 12 wins in 22 outings with another flawless performance in the 400m Sprint. The black soon took up the running and pulled away to beat Toolmaker Rambo by six plus lengths in 23.95. Kennelmate Bockos Alfie won the first qualifier in 24.38, Forest Chunk was also flawless when taking his division in 24.08 (all -10).
With four railers and two middle seeds the draw was always going to be intriguing and so it proved when Lemon drew the six box.
Patrick said: "That doesn't bother me at all. In fact, I would rather be on the outside of Newlawn Adam because if he was drawn six, he might cut across us. Lemon is fairly average for the first three or four strides but once he gets going and switches the turbos on he has outstanding pace. He will go to the bend in a straight line.
"He is a top, top class sprinter who gets the 400m. His pace along the backstraight is incredible, he must have taken six lengths out of Toolmaker Rambo between the second and third bends, and Paul's dog doesn't lack ability. All I want is for him to come out with a reasonable break and we will take our chances from there. I am convinced he is the fastest dog in the race.
"I am delighted to have Bocks Alfie through too. He is a real tough nut and keeps reaching these big finals. Make no mistake, if Lemon gets it wrong, he is more than capable of winning the final as he has shown throughout his career."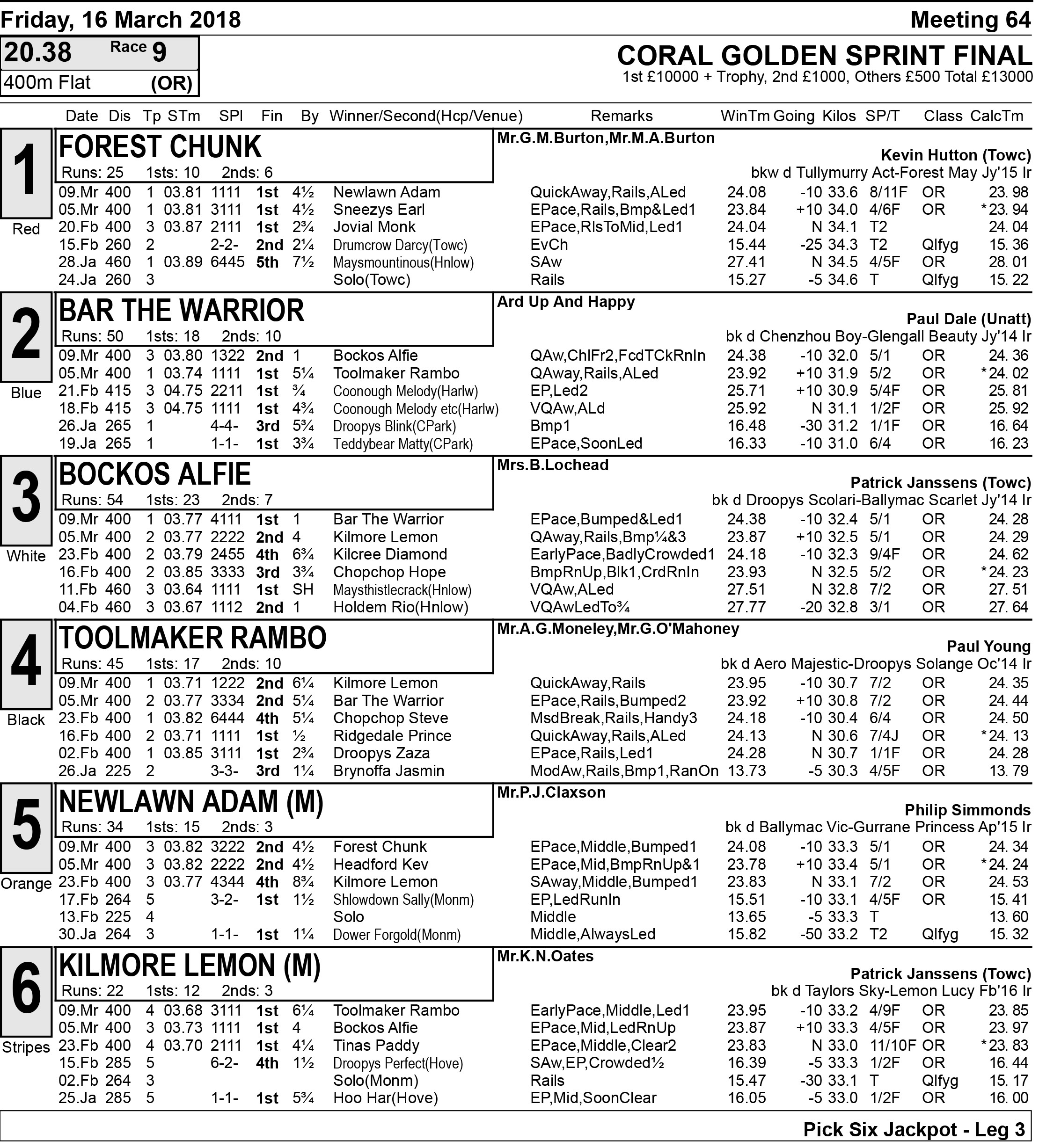 With so much talent on show, it would have taken a brave punter to have backed Barricane Carina (8-1) to not only win a tough heat but to do so in the fastest Essex Vase qualifier: 35.98 (-30).
In the final she will be taking on two runners who each made the 2016 final. Roswell Romanov (2nd) and Oakfield Caesar (5th) who won their respective semis in 36.08 and 36.11. Romanov, as the only railer was handed the red jacket, Carina was handed the worst possible option when drawn in four.
Patrick said: "That isn't good. She has come out of A5 at Towcester where she was running very wide and has done brilliantly to get through to the final.
"Realistically, I don't think she is the class of at least a couple in the race. I think she is capable of a 35.30 run, which probably wouldn't win the final, but you never know. If she comes out in front, she will take some catching but I think we will be relying on a bit of trouble."