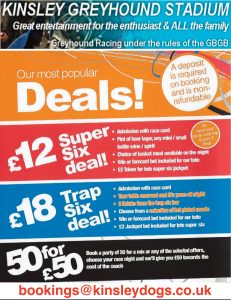 Kinsley have attracted Irish interest for their forthcoming Betfair Gymcrack with Peter Cronin set to bring two youngsters including the recent Clonmel winner Angry Man. Others with trials booked include Pat Rosney, Dean Childs, Hazel Kemp, Phil Simmonds and Julie Bateson.
Joint racing manager Andy Mascarenhas said: "The event has got bigger every year and although we have had Irish runners for the TV Trophy, these will be for the first for the Gymcrack.
The £8,000-to-winner event (462m for June pups and younger) closes in a fortnight with the opening round set for Sunday April 30. It concludes two races later on Tuesday May 18.
Kinsley's kennel strength is particularly strong at just under 400 runners including its first set of owner trainers.
Mascarenhas said: "We don't particular need them in terms of a dog shortage but John (Curran, joint promoter) is on the rules committee and was one of the people keen to get the rules changed.
"We have had two owner trainers with runners so far, Craig Brown from Chester and Paul Howard, who is based at Catterick Garrison,  plus another two still qualifying their dogs. Paul Howard has done particularly well. He was an owner with Rebecca Perkins before she left for Sheffield, and one of his runners, Herecomestheboom, has won three of his five races. What is really great is that it is a real family affair. The kids have been here to see the dog win and they get so excited."