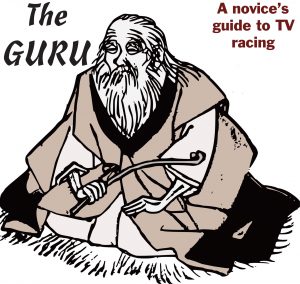 Prepare to be enlightened. Why is one the most important races in the greyhound racing calendar entitled the Regency?
The clue is the host track, the Brighton and Hove Stadium, which has been staging the event for almost 70 years.
Back in the 1940s, the stadium management opted for a local theme for their premier competition and what better than The Regency? It was named after George IV, the Prince Regent who ruled the country when his father was deemed unfit to do so.
George left behind a 'Regentcy' legacy in the town, most notably the Brighton Pavilion.
Tonight's feature race is off at 9.08pm but there are plenty of exciting races in the build up
First race – 285m (roughly half a lap)
The first race will be contested by 'six Linford Christies'. If you were to list the ten best sprinters in England (220m-400m) most of this field would be among them.
But which one will set punters on their way? If you were going for brawn in your selection process, then you might edge towards Ela Ela Genie (T3) who is 37 kilos of powerful muscle and sinew. He will probably start favourite at 5-2 – or thereabouts. In other words for every £1 bet, your return would be £3.50 including your stake.
But bear in mind, the difference between all six runners over 285 metres is probably only about 0.3 seconds. Not a lot of room for error, or a slow start. Point three of a second, about as long as it takes to say "what the. . .?"
Who are the alternatives? The watching Essex boys may fancy one of their own, Young Blitz (T4) from Romford who will start at around 12-1. Representing Southampton will be Only One Leemac (T6) who will probably go to traps at around 8-1.
Favourite: Ela Ela Genie (T3) Outsider: Young Blitz (T4) Guru Guide: Jumeirah Maximus (T2)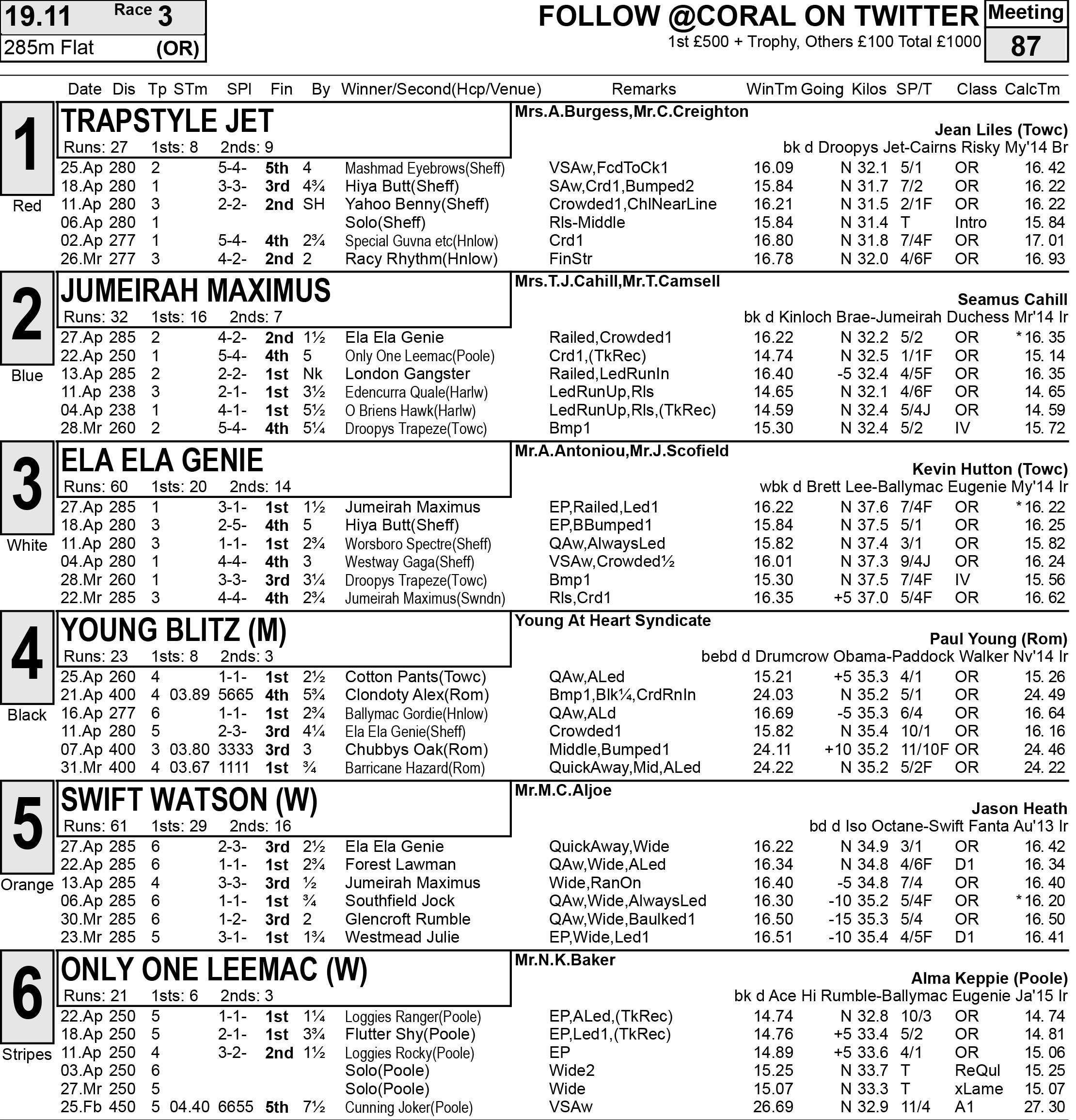 Second race – 475m (a fraction over a lap)
The second race on the card is over 475m which, is just over a lap. So its quite a short run to the first bend. You really need to be away and gone.
In trap six we have one of the most exciting young dogs in training Forest Con – who has already won one big final worth £12,500. Con will probably start at around even money favourite (1-1f). At those odds, you would double your money.
However, many of the locals might just edge towards one of the most prolific winners in Dusko Popov (T3). He has won six of his last eight races at his home track and will probably start at odds of between 2-1 and 3-1.
Favourite: Forest Con (T6) Outsider: Mexico (T5) Guru Guide: Dusko Popov (T3)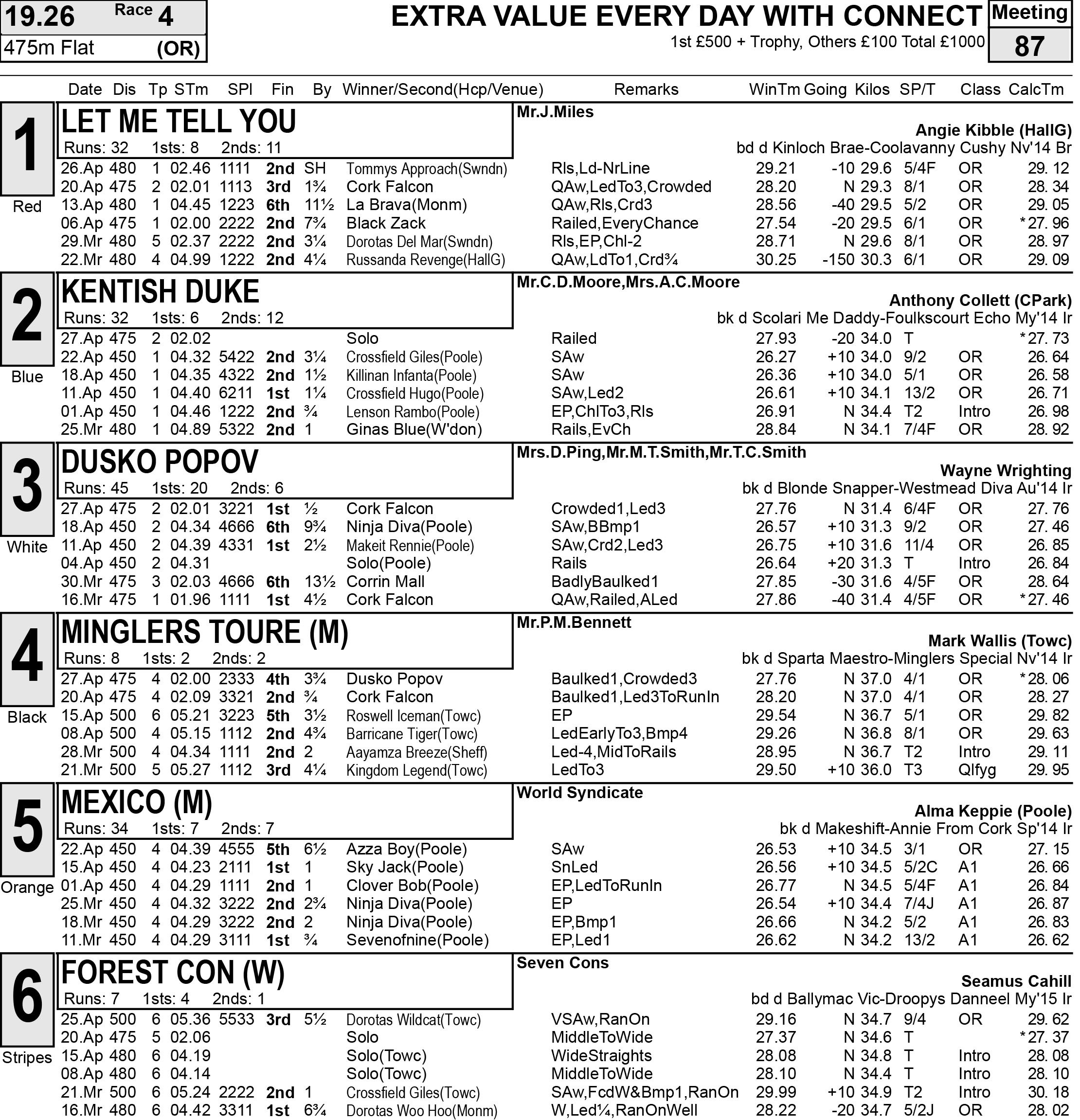 Third race – 515H (a lap and a bit – over hurdles)
Everybody loves a hurdle race. As for dogs who love to jump two foot fences while travelling at 35 mph. . . . They vary of course, but if you had to describe hurdlers as a group, you might use the term 'character'. You know the kind of thing, in a band, the drummer is 'the character', in a football team, it's the goalie.
On display tonight are argubably two of the three fastest hurdlers in training. Wearing the orange jacket of trap five is the outstanding jump star of 2016, Ballymac Manix. Up against him, in trap two, is one of the young pretenders to his crown, Sober Call.
Sober Call has won seven of his eight hurdle races so far and will start at roughly even money. Ballymac Manix is starting to show flashes of his best form but will be slightly bigger odds.
Beyond those two, you are pretty much guaranteed at least 10-1 for your fancy.
Favourite: Sober Call (T6) Outsider: Trickymistyblue (T3) Guru Guide: Sober Call (T6)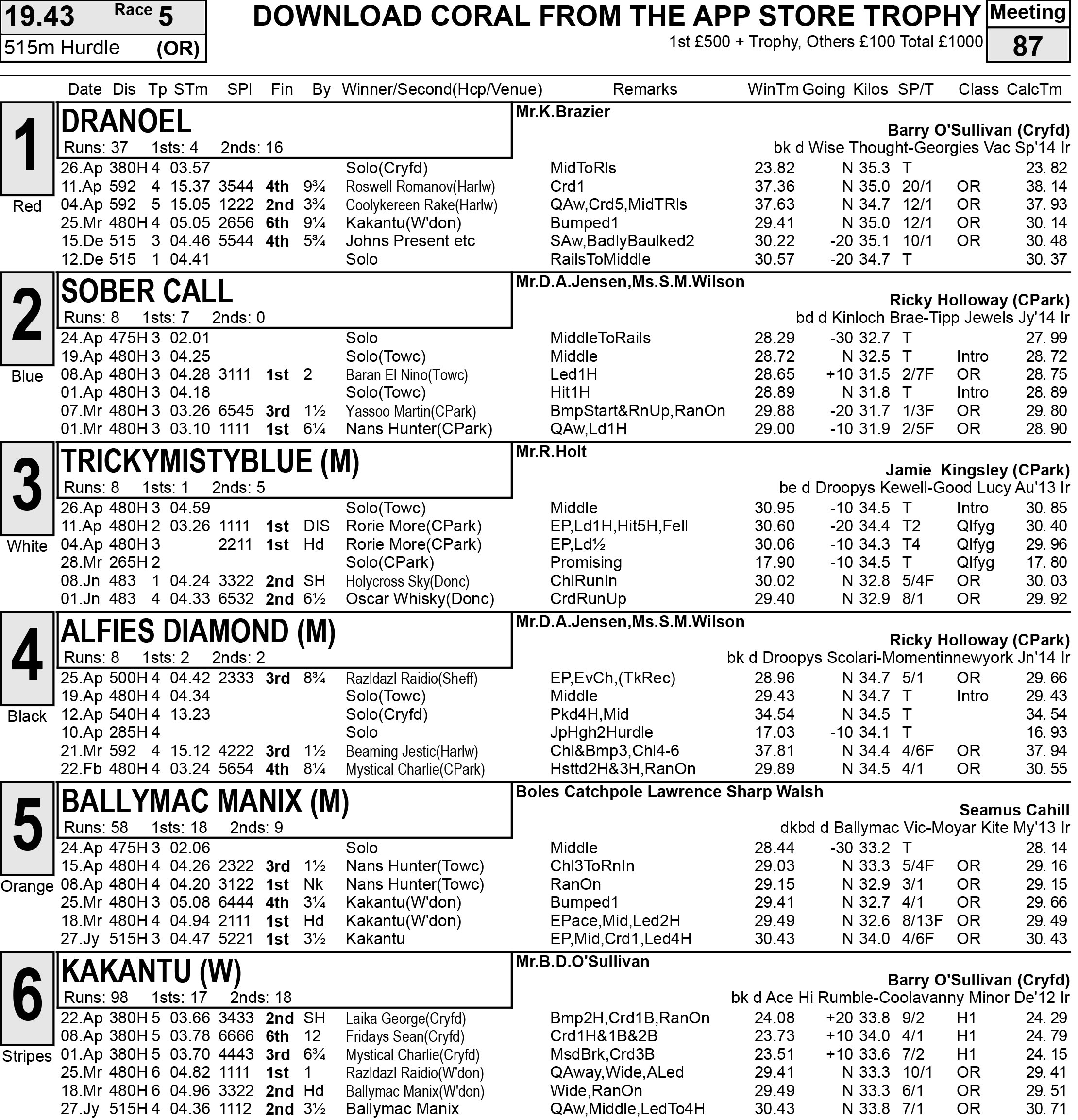 Fourth race – 515m (a lap and a bit)
If you would bet money on spotting a drunk in a kebab shop or a fat bloke in McDonalds – this is the race for you. You like 'certainties'.
The bookies make the striped jacketed Brinkleys King as short as 1-2f (£1 outlay for £1.50 return) to win tonight. Why? A combination of reasons! He has not only won seven of his 15 races, he has usually done it in style.
As for the opposition, Glamorous Sharif (T5) is reckoned to be he biggest danger. Unless of course you haven't backed a winner all night, your favourite colour is red and your name is Lee. . .
Favourite: Brinkleys King (T6) Outsider: Swords Wizard (T2) or Shaneboy Style (T5) Guru guide: Houdini Lee (T1)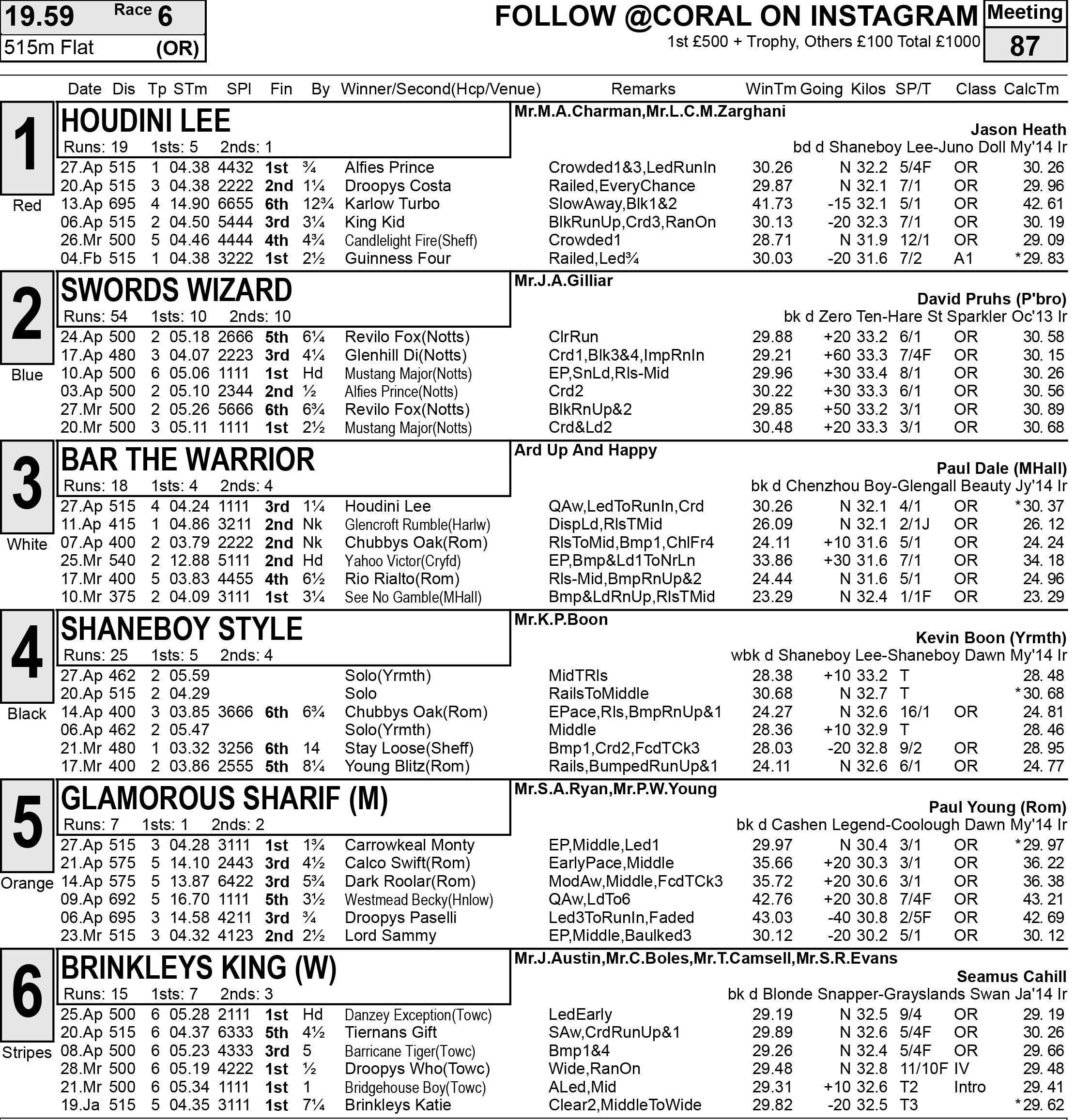 Fifth race – 515m bitches (a lap and a bit)
The fifth race is 'girls only' and features not one, but two Pollys, an Abby, and at least one Duchess.
The last named once won a big race here called the Brighton Belle, but in greyhound terms the Duchess in now in full throes of middle age and maybe no longer the belle of the ball.
Don't rule the old girl out though. Although she is four years old, she is still a classy female and can the youngsters a run for their money.
The bookies reckon the two Pollys are her biggest danger with Droopys Polly – eight wins from 18 races – as the more likely of the two.
Favourite: Droopys Polly (T2) Outsider: Outlier Maybe (T4) Guru guide: Airforce Duchess (T3)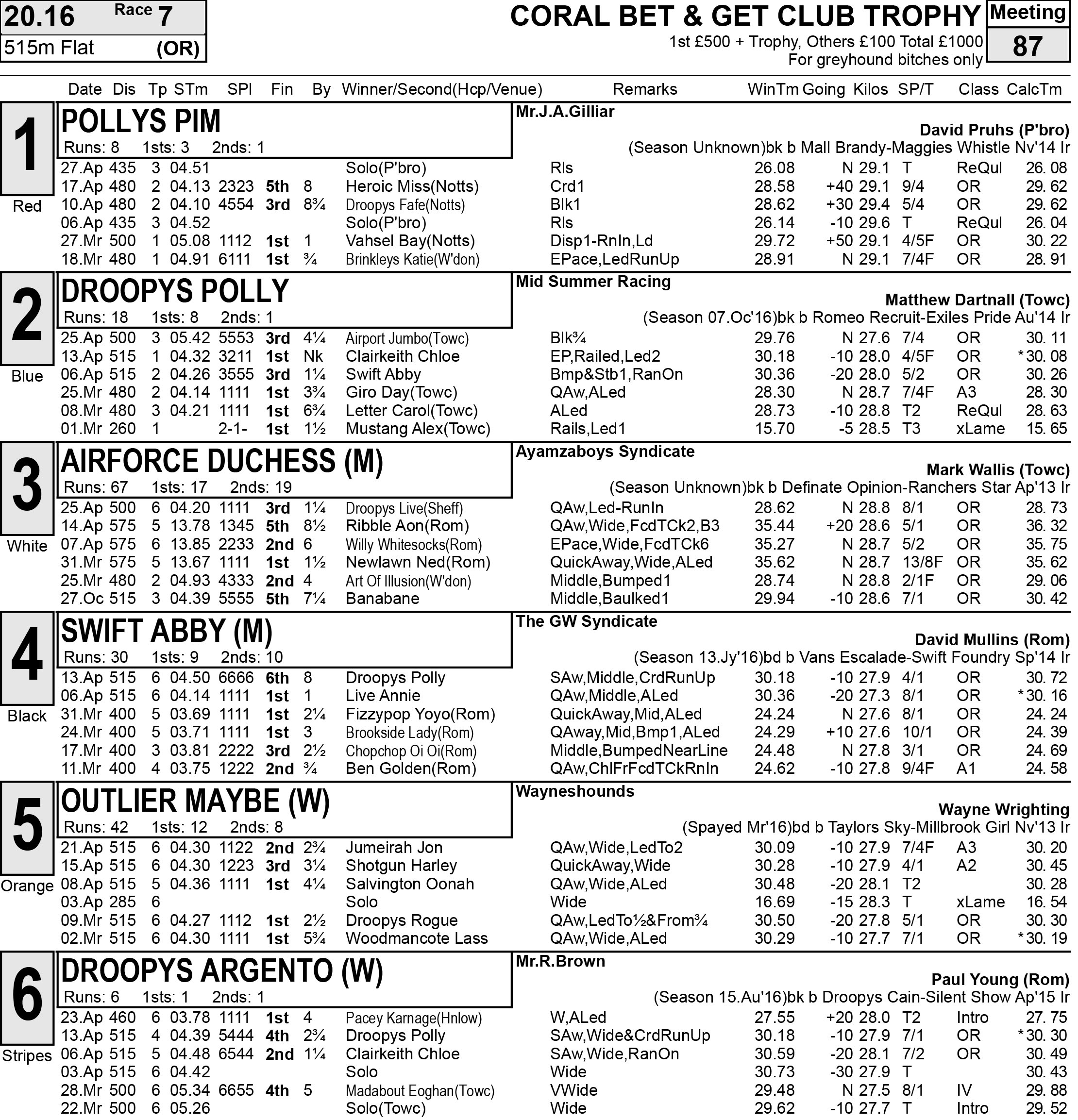 Sixth race – 740m (an extended lap and a half)
The longest race of the night, of a lap and half including the full extent of the far side – some 45 metres further than the Coral Regency Final.
740 metre races are quite rare at Hove so there is bit more guesswork than usual; though the slightly shorter 695 metre distance is a pretty good guide.
It will only take about an extra three seconds for the runners to cover the extra distance, though that might still be crucial.
Karloe Turbo (T2) was very unlucky not to make the Coral Regency Final and a lot of shrewd judges think he will show 'what might have been' in this support race.
Most of the runners have plenty of form and their abilities are well known. Look out though for Bubbly Tempest who has won three of her five races and could have a very bright future in front of her.
Favourite: Karlow Turbo (T2) Outsider: Spa Road Piper (T43) Guru guide: Karlow Turbo (T2)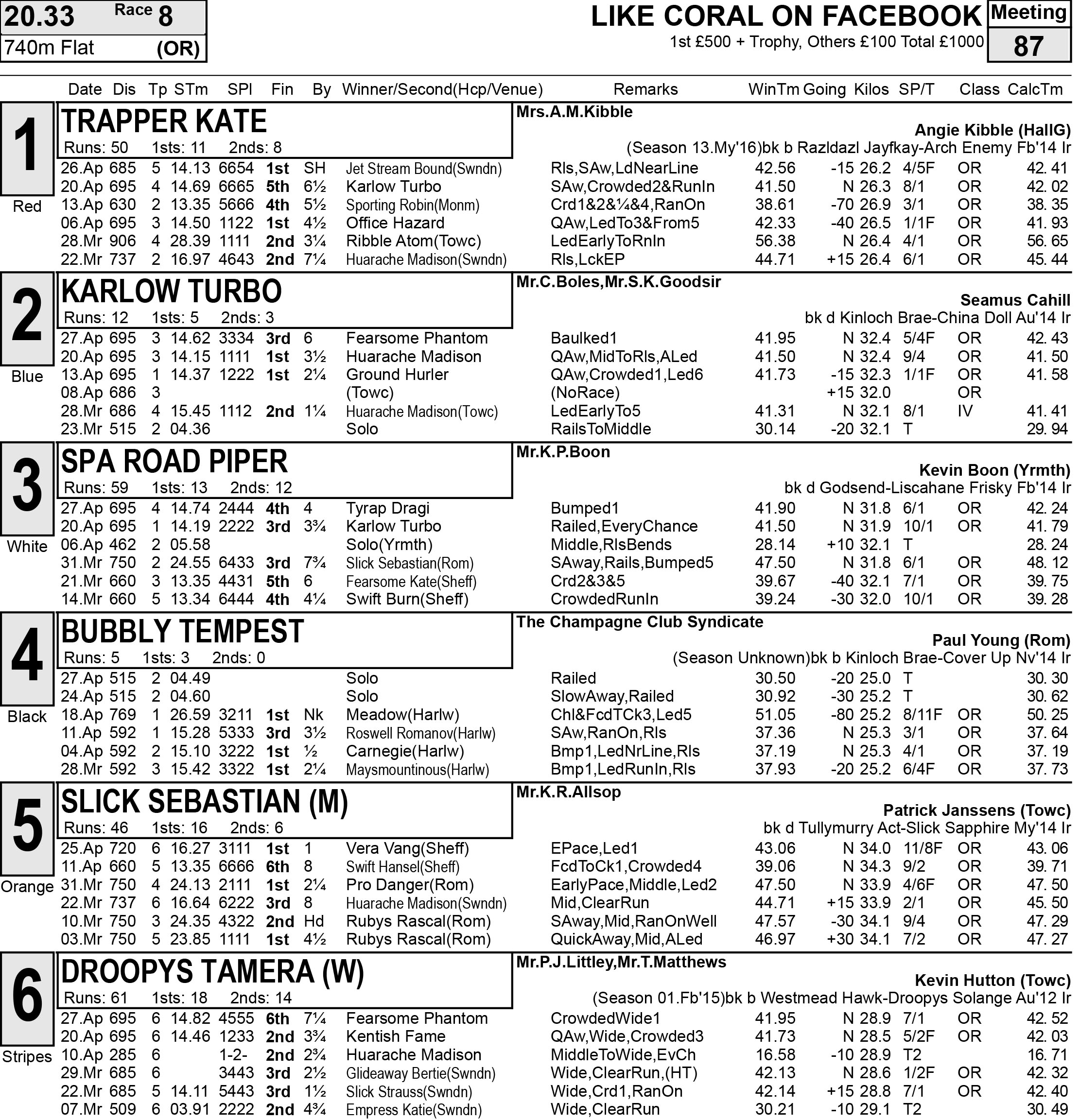 Seventh race – 515m (a lap and a bit)
The seventh race is back over the 'four bends' the glamour distance which is always heavily contested. This is no exception and features some very good greyhounds.
They come no better than Barricane Tiger (T1) who travels from Suffolk in search of more riches. The Tiger won the £10,000 Coral Sussex Cup over the course and distance last year and will be very hard to beat.
But in Droopys Missouri (T6) he faces another big race winner here who also won his last race in the fastest time of the year.
Another of the Droopys runners, Acrobat (T2), who is a former Irish star may well dispute favouritism.
Favourite: Barricane Tiger (T1) Outsider: Bockos Bolassie (T4) Guru guide: Droopys Missouri (T6)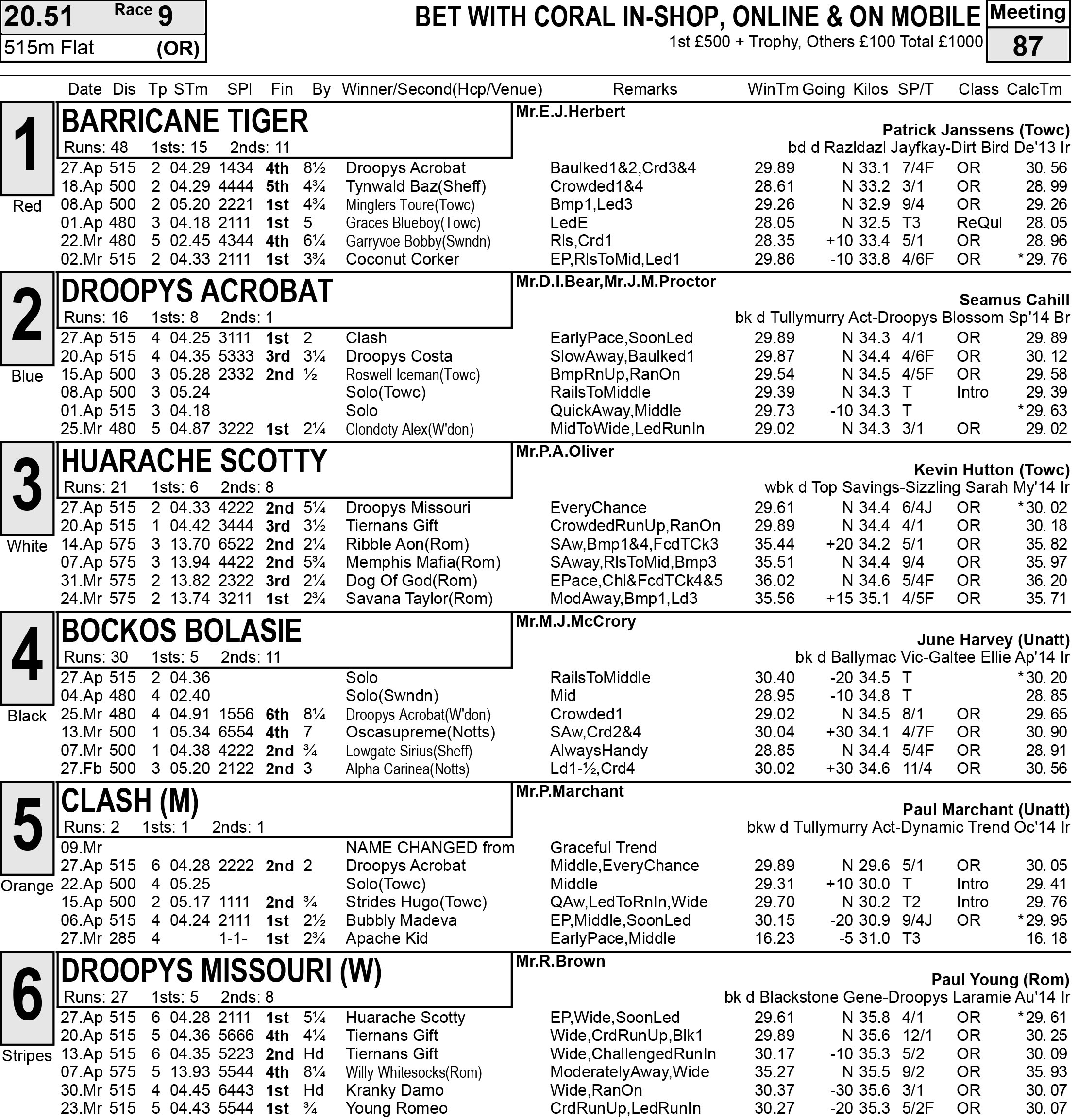 Eighth race – CORAL REGENCY FINAL 695m (roughly a lap and a half)
So onto the finale – worth £10,000 for a little over 41 seconds work. In fact, there have been two qualifying races and the two quickest runners according to the stop watch, are the kennelmates who travel down from Suffolk – Rubys Rascal (T4) and Aayamza Breeze (T5).
Breeze was fastest in the first round and rated a bit unlucky when beaten by Rascal when they met in the semi finals.
The bad news is, they are both drawn in traps that they didn't want. Both would ideally like the traps closer to the inside rail and there could be a bit of bumping before they get the chance to showcase their ability. The good new is, they are trained by champion trainer Mark Wallis, who won the race last year.
On qualifying form you cannot rule out any of the finalists – all three semi finals were contested to within three lengths.
The Guru is going to take a chance with Fearsome Phantom (T3) who doesn't lead very often, but when he does, he doesn't get caught. Doesn't that 8-1 (currently) sound tempting?
Favourite: Aayamza Breeze (T5) Outsider: Slick Strauss (T1) Guru guide: Fearsome Phantom (T3)