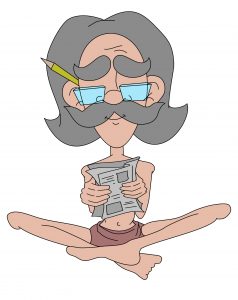 A non-form guide for the greyhound racing novice. . .
What exactly is a Gymcrack?
Horse racing followers will know the word Gimcrack, (note the spelling) as a race named after a famous 18th century racehorse. In fact, the word – with the 'i' originally meant shoddy or worthless.
For greyhound folk though, the Gymcrack is one of the most important puppy races in the racing calendar.
The event had its roots at Hackney, long since closed to become part of the Olympic Village.
It then switched to Hall Green in Birmingham but before finding new roots in the Yorkshire mining town of Kinsley back in 2011.
But before the finale we have seven races over four different distances featuring runners who have traveled from as far away as Norfolk, Essex, Newcastle and Waterford in Ireland. .
First race – 462m (just over a lap)
The first race features a group of 'old pros' including the 2015 Gymcrack winner Stay Loose (T2) who will have plenty of supporters, particularly as he is trained by the multiple Derby winning trainer Charlie Lister OBE. The likely favourite is the Essex boy Bubbly Turbo (T3) who has won eight of his 21 races to date and will be the best supported runner in the race thanks to the dozens of members of the Bubbly Club Syndicate who own him. If you want to go the 'local knowledge' route, then you have the locally born and trained Russanda Rubin (T4) and the appropriately named Popular Paddy (T5). Both are expected to start at around 12-1.
Favourite: Bubbly Turbo (T3) Outsider: Popular Paddy (T5) Guru Guide: Stay Loose (T2)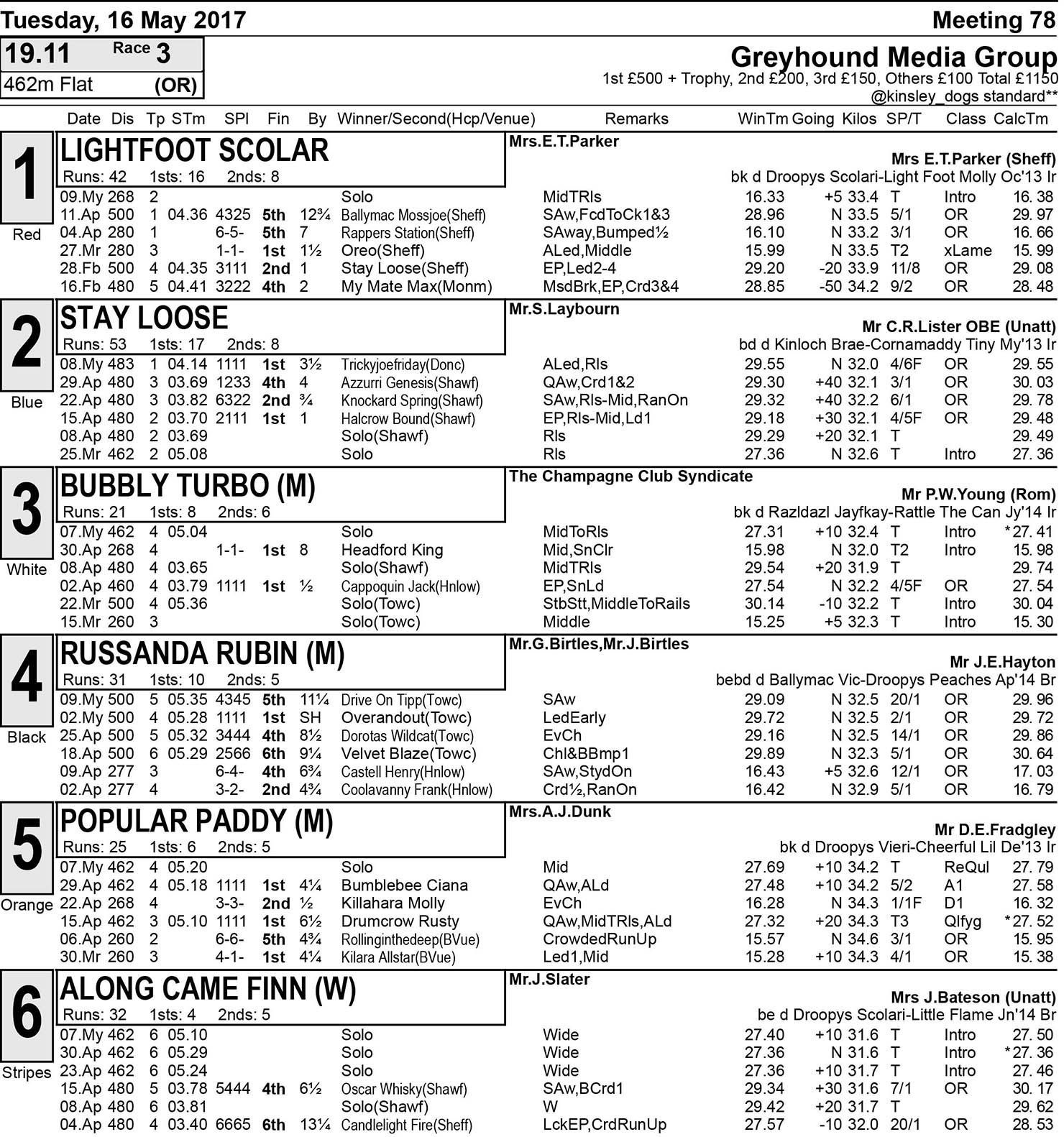 Second race – 650m (roughly a lap and a half)
The bookies expect that the first of the long distance races will be dominated by Mustang Golden (T3) and Barnside Chloe (T4). The Guru would be a bit cautious about the former who hasn't always delivered with only four wins in 30 races. Chloe on the other hand would be very strongly fancied indeed if the race was at her home track of Sheffield. Traps one, two and six will all be around the 5-1 to 6-1 mark which may be of more interest to the casual punter.
Favourite:Barnside Chloe (T4) Outsider: Mayshillbillyboy (T5) Guru Guide: Slick Salsa (T1)
Third race – 844m (just over two laps)
Marathon races – from about 750 metres and upwards – are always popular, and can be quite intriguing when you are dealing with runners tackling that distance for the first time.
Will they won't they stay the extra distance? In the case of Slick Strauss (T4), the Guru is confident that he will. Although he has never raced further than 750 metres, the mighty Strauss looks capable of leading from the traps, never to be headed.
The obvious danger is Bubbly Tempest (T3) who has won three of her seven races including one over 769 metres. She is still a bit of an unknown quantity – so you never know. If you fancy one at a big price, the locally trained Soviet Lady (T5) may be as big as 20-1.
Favourite:Slick Strauss (T4) Outsider: Soviet Lady (T5) Guru Guide: Slick Strauss (T4)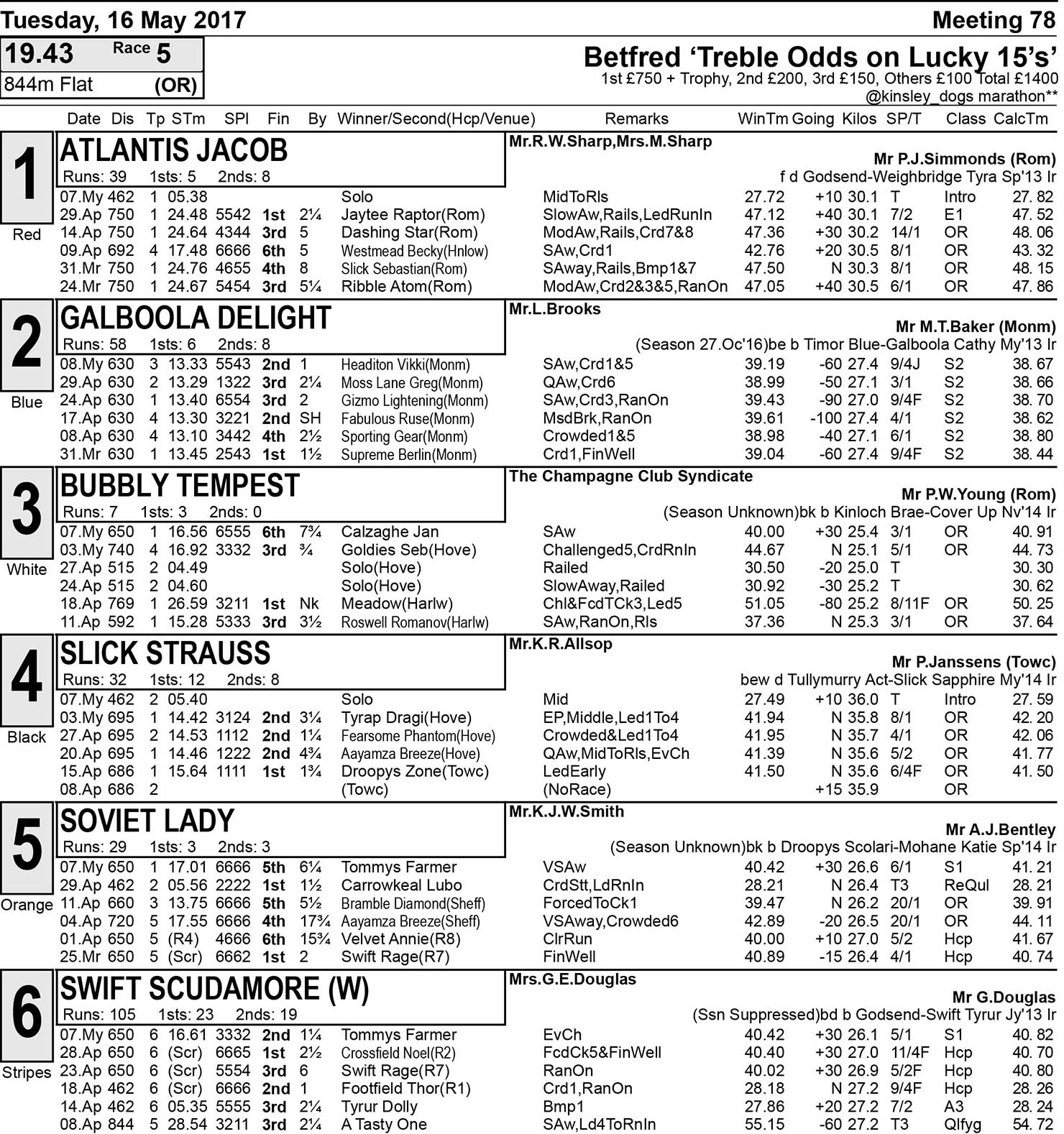 Fourth race – 462m (just over a lap – bitches)

It's 'only girls allowed' in the fourth race and if the bookies are right, it will be headed back to Goole with Early Mist (T1). The black and white lady, who celebrated her second birthday earlier this week has never raced at Kinsley before, but at home track Sheffield she would be very strongly fancied indeed. Her biggest danger is probably her next door neighbour Acomb Ruby (T2). She was a regular winner over this course and distance before seeking fame and fortune around the country. This is one of the most competitive races on the card though and The Guru is casting a benevolent eye on the local runner Goes Green (T4) who is looking to win her fourth race in a row and likely to start at around 6-1.
Favourite: Early Mist (T1) Outsider: Lowgate Ginny (T6) Guru Guide: Goes Green (T4)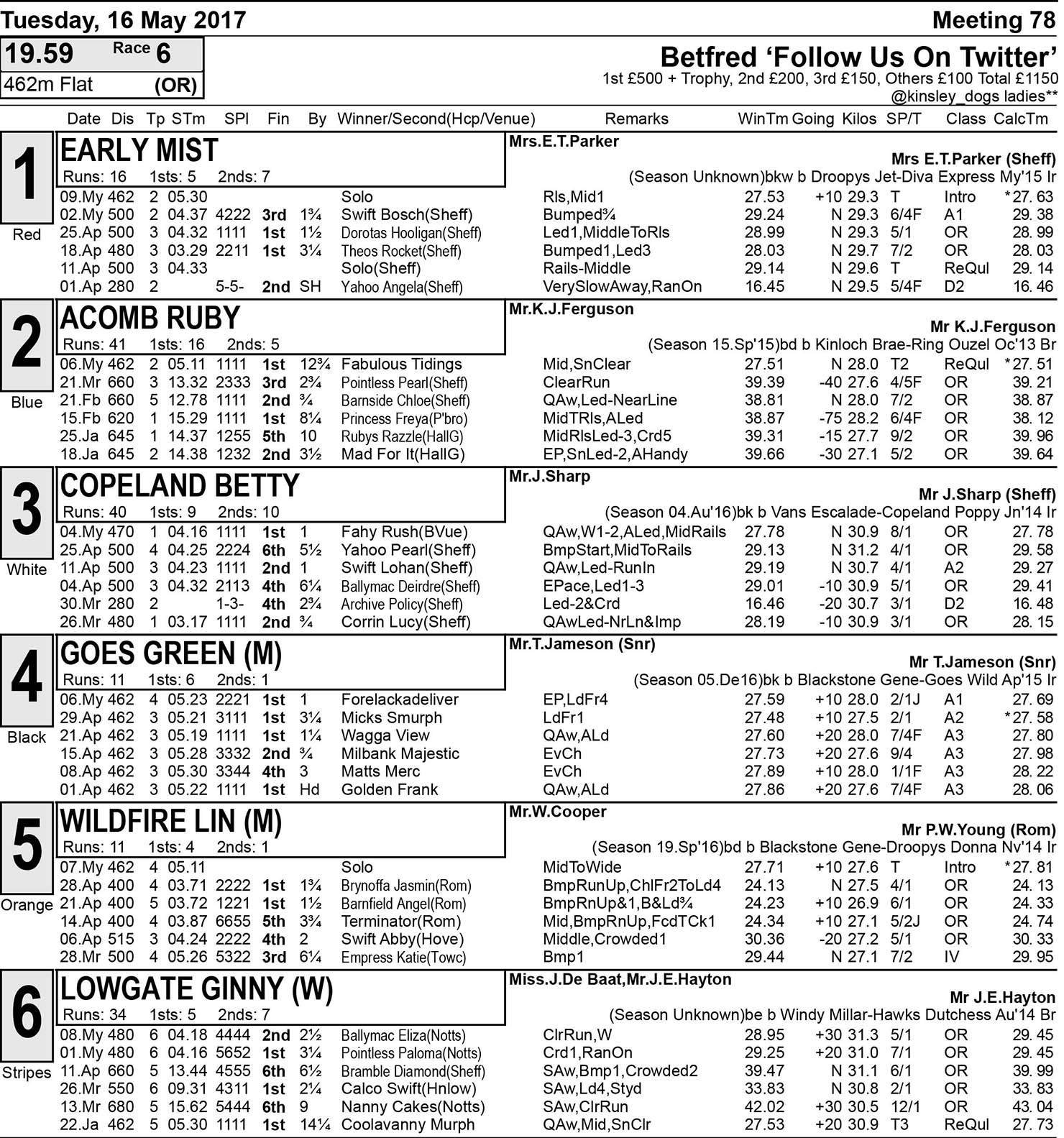 Fifth race – 462m (just over a lap – puppies)
The fifth race is for pups and as experienced punters will know – youngsters are not always the most reliable guide to form. This particular race is of interest because all six runners originally took part in the Betfred Gymcrack but failed to make it to through to tonight's big decider.
Based on that form, the likely winner is Dower Forgold (T3), one of the two Romford based runners in the field. But, only two of the field have race careers going into double digits so this really is one race where even The Guru is scratching his head.
Favourite: Dower Forgold (T3) Outsider: Viking Bertie (T2) Guru Guide: Barricane Merlin (T4)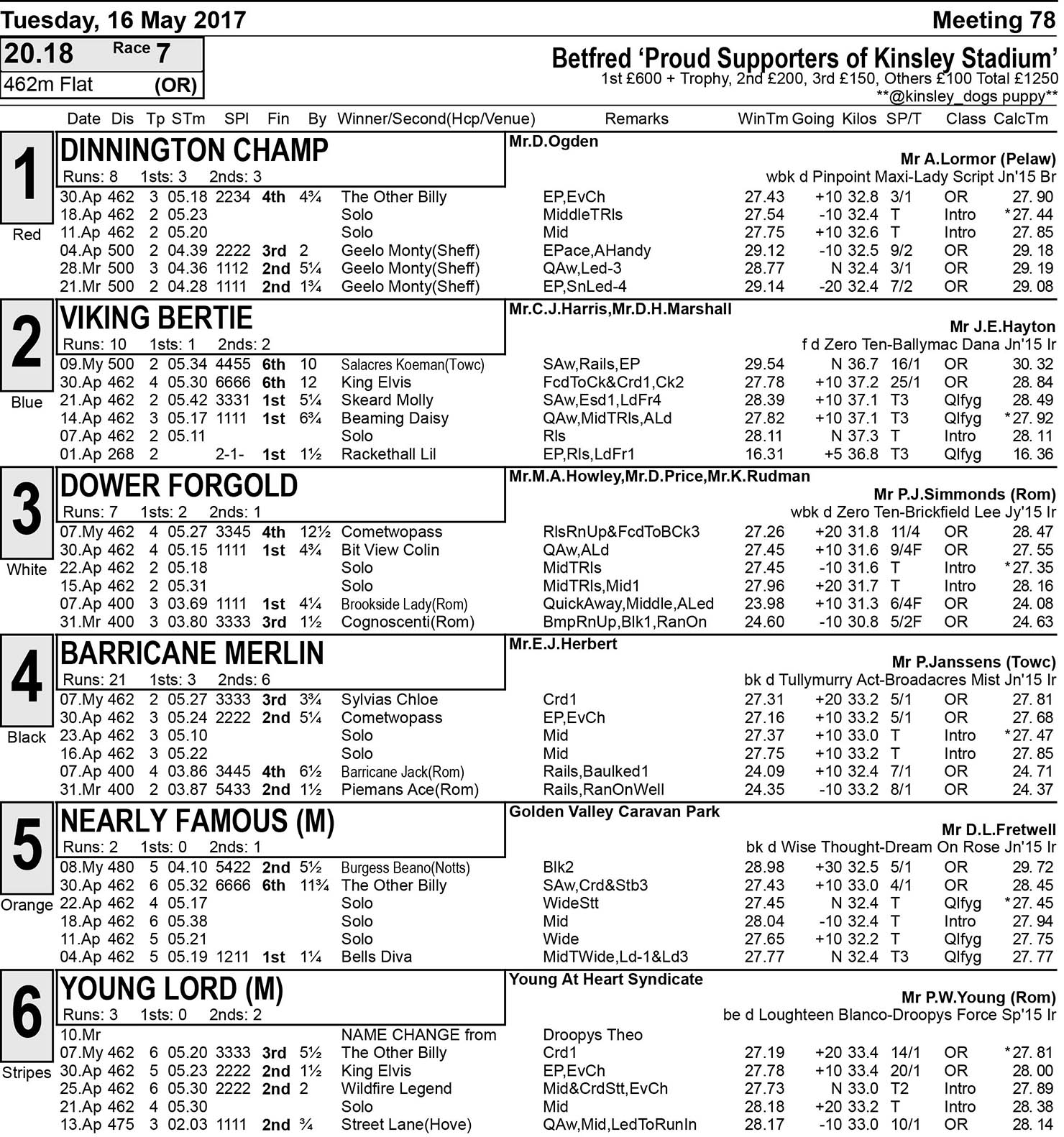 Sixth race – 650m (roughly a lap and a half)
An absolutely cracking race over the lap and a half course involving six very fast greyhound. This is a final with Calzaghe Jan (T1) and Swift Hansel (T6) having won the two semi finals. Hansel covered the 650 metres in 0.15 of a second quicker than Jan, which equares to roughly two body lengths and will probably start as favourite. But The Guru thinks there is a big run in Geelo Bullet (T4) who is likely to start at around 6-1.
Favourite: Swift Hansel (T6) Outsider: Katies Vixen (T3) Guru Guide: Geelo Bullet (T4)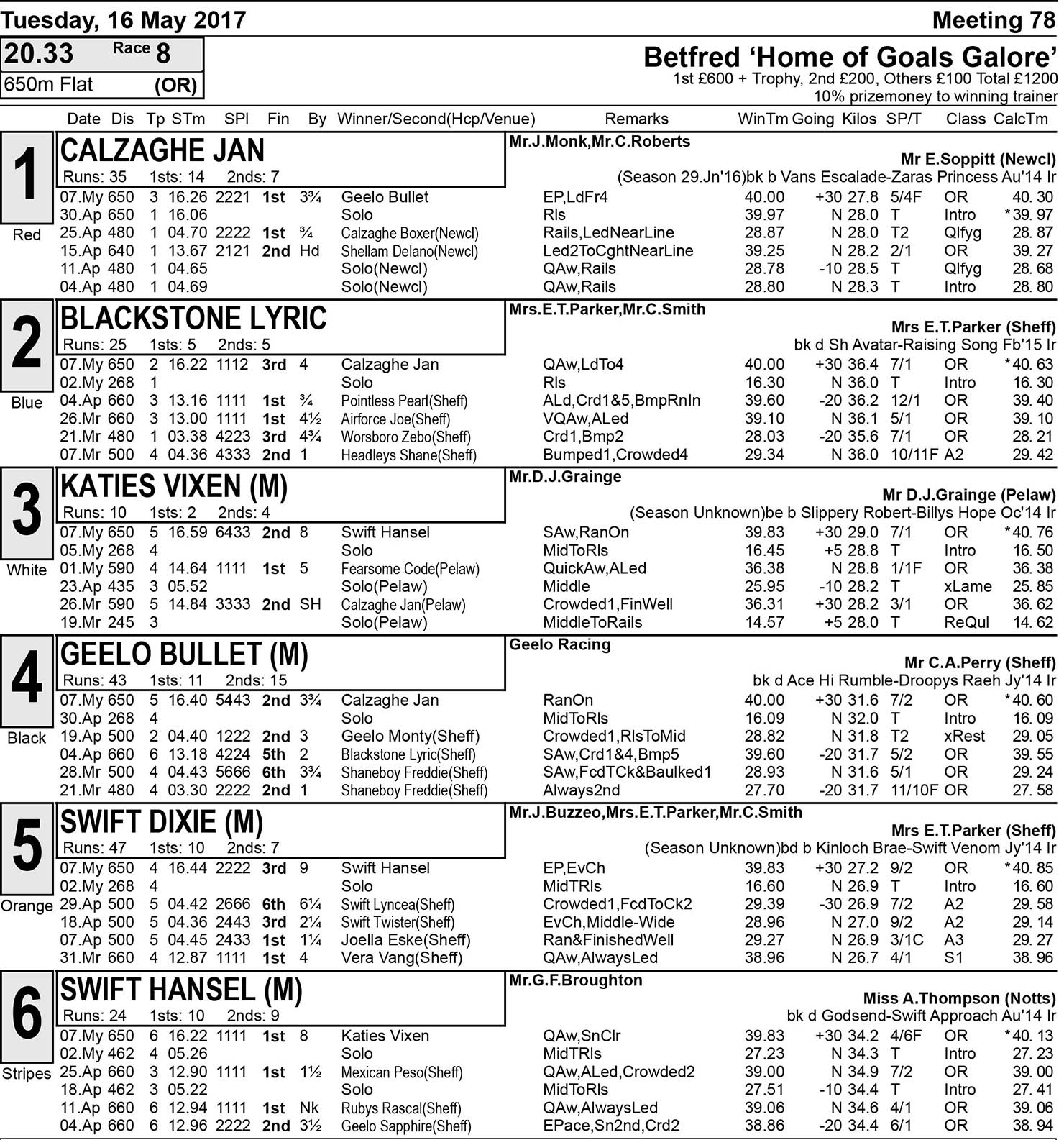 Seventh race – 268m (roughly half a lap)
Blink and you could miss it – but only if it takes you around 16 seconds to blink. That is the kind of timescale that these six sprinters will need to cover the 268 metre sprint final.
But the first second probably matters more than the 16th. It is very difficult to win from the back of the field and on times alone, there was only two body lengths between all six runners in the heats. If they were to repeat their heat form, then Daytime Flyer (T5) holds a short head advantage over Wirehead (T1).
As for the Chelsea fans out there, how could they possibly look beyond Calzaghe Costa (around 5-1) in blue (T2), and possibly a forecast with Walk The Talk (T6) to finish second?
Favourite: Walk The Talk (T6) Outsider: Geelo Gaga (T4) Guru Guide: Wirehead (T1)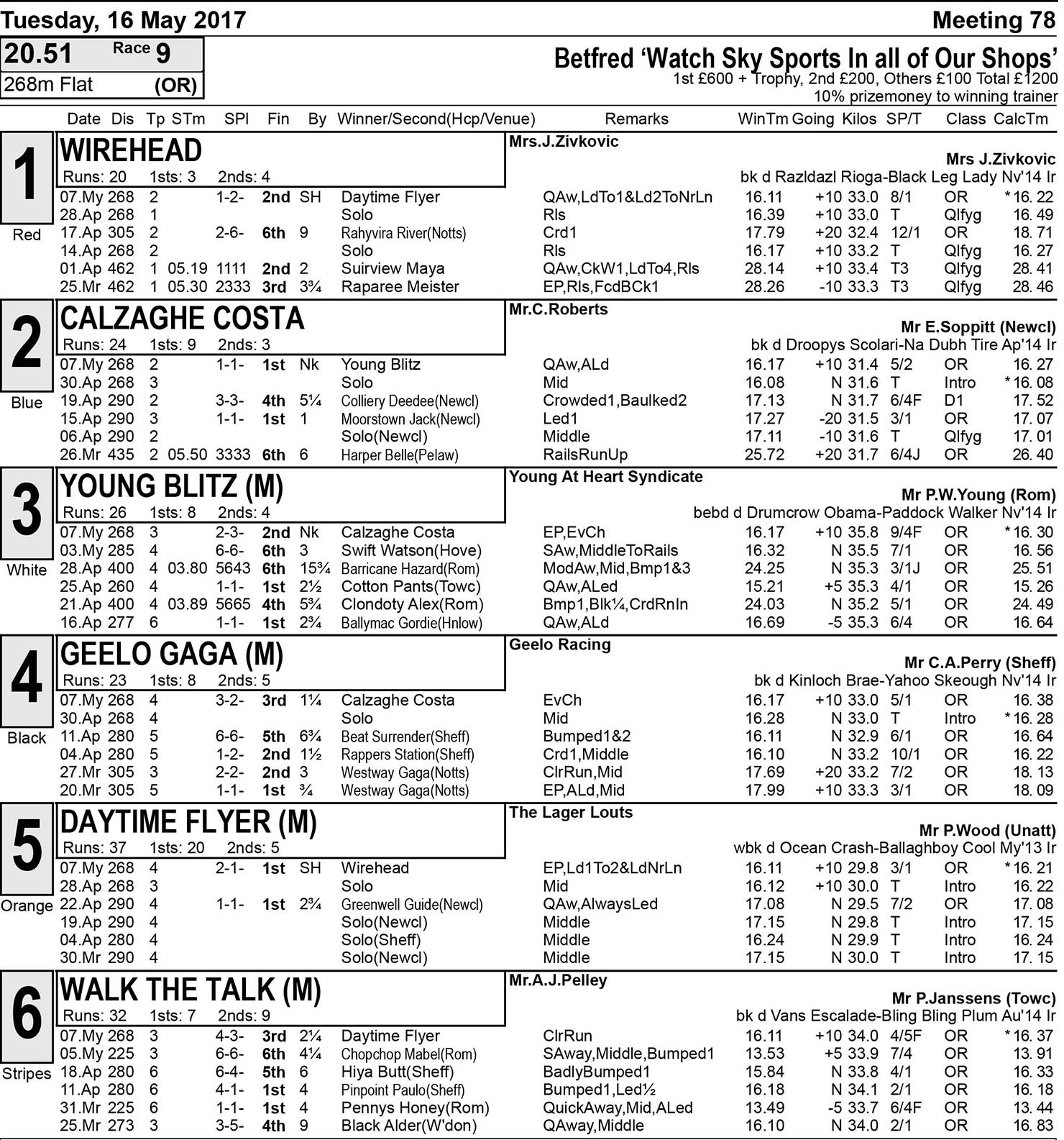 Eighth race – 462m (just over a lap – THE BETFRED GYMCRACK FINAL)
The event's first Irish entry Cometopass (T2) and The Other Billy (T3) are unbeaten in the competition to date from their two races with the latter being narrowly the fastest. As so often is the case in greyhound racing though, the question is, who will get a clear run – even in a race reduced to five runners?
The two mentioned are both very fast in the early part of the race, while Ballymac Healy (T1) arguably has the better draw. The Guru though foretells Barricane Jack (T4) being handily placed as the others hamper each other and going on to win the race. On the morning of the race he was still available at 10-1!
Favourite: Cometwopass (T2) Outsider: Swift Chaser (T5) Guru Guide: Barricane Jack (T4)