After weeks of preparation, our Derby starts in earnest on Thursday night when Nicki sets out with our 11 first round runners.  She should be at Dave Firmager's kennel by midday on Friday and I will be expecting her back at about 9am on Sunday.
It has already been a long preparation but I am happy with all the dogs who are all in great shape and ready to compete.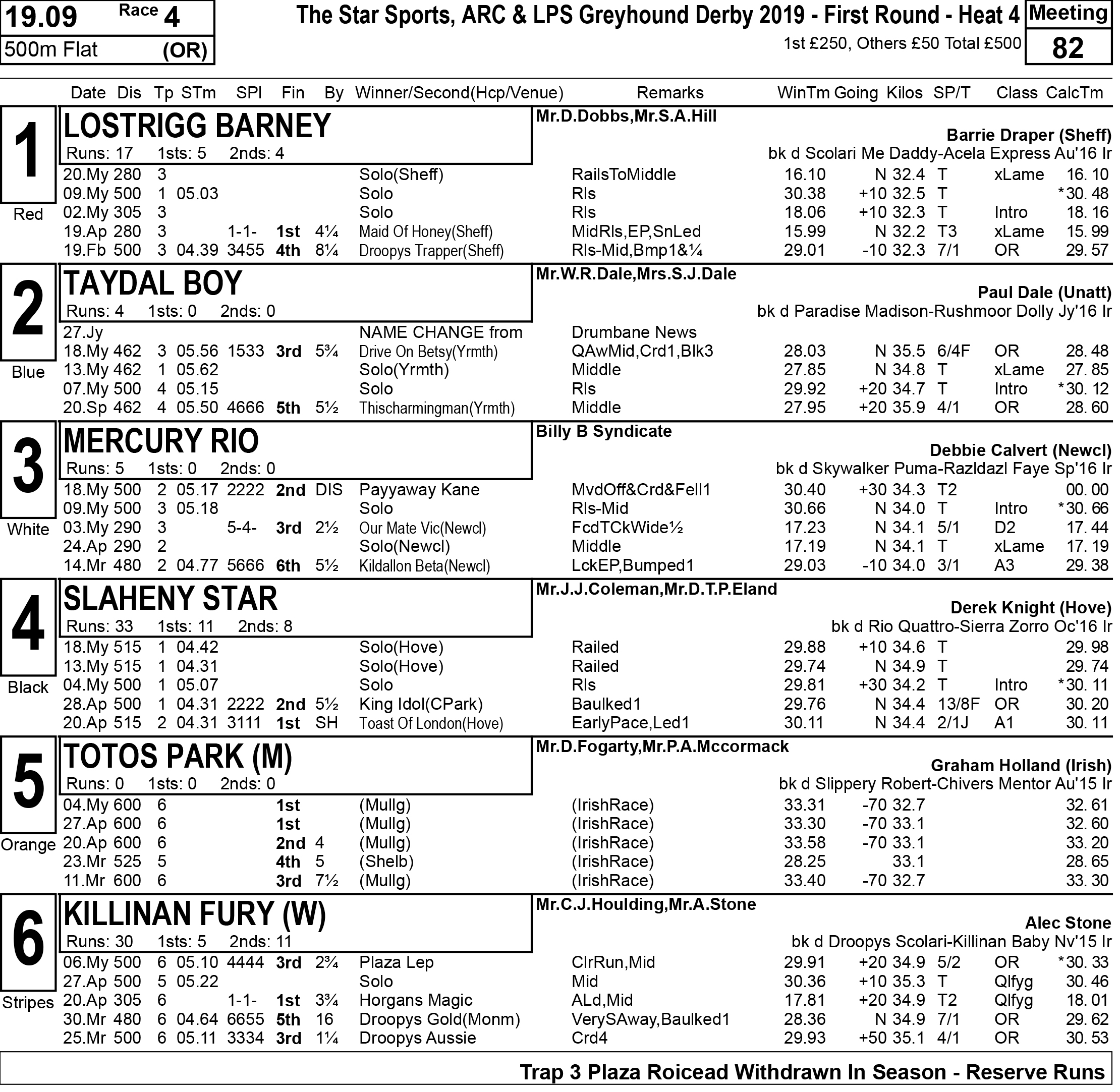 Totos Park is our sole runner without Nottingham experience though I am not too concerned. I never dismiss the opposition, but the betting would suggest that we have missed most of the hotpots. It is a decent enough draw and Park is an experienced open racer, with 29.34 winning form for 550 at Shelbourne Park, who should be able to negotiate the track without a trial. Quite happy.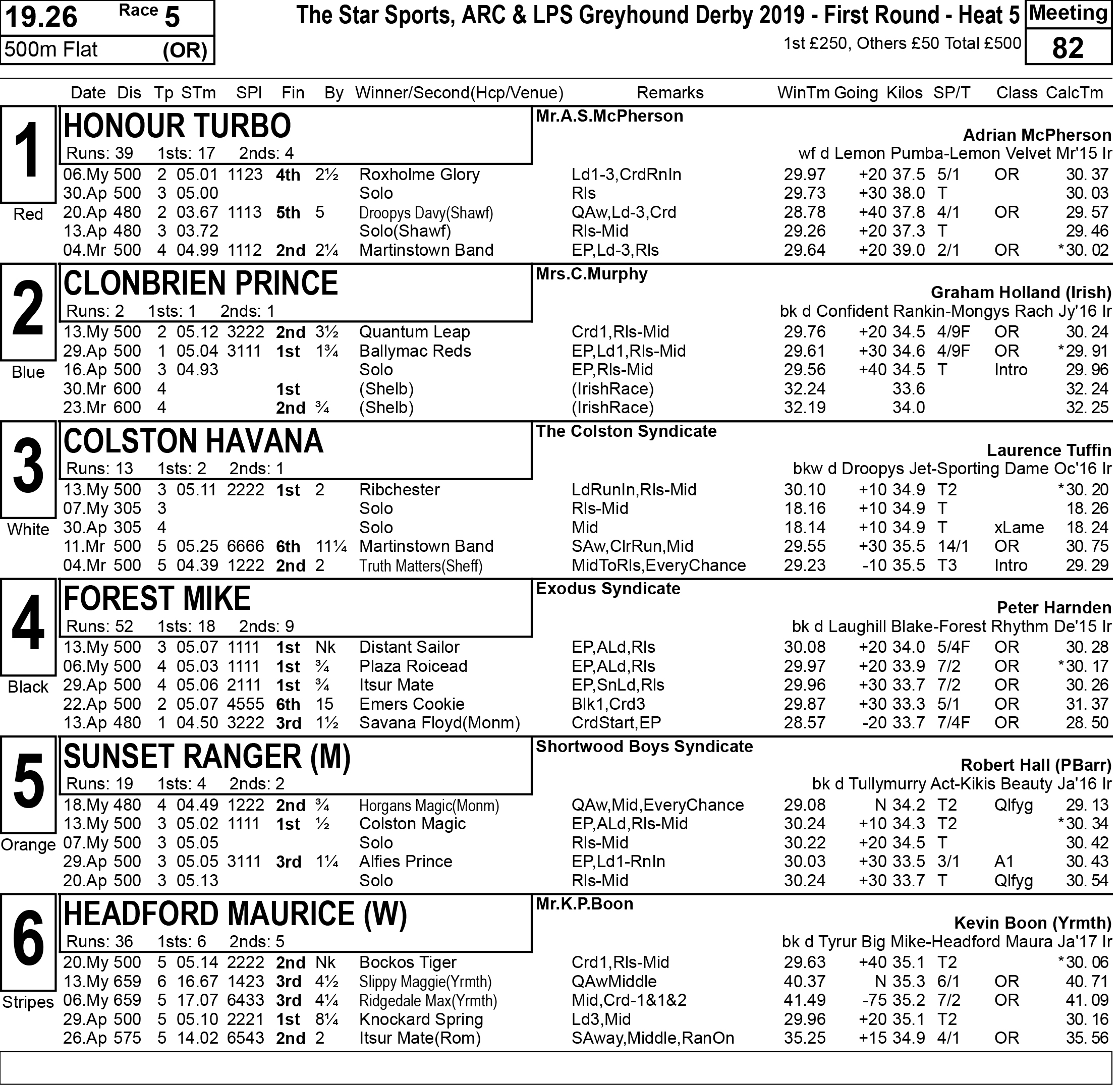 Conbrien Prince missed his break in his last race at Nottingham and I thought was unlucky that he was shut off as he tried to come past off the last two bends. I was delighted with the run because he was a bit short of work. He had finished runner-up in the Easter Cup on March 9th and then won the Gain 600 on the 30th, so we had eased up a bit in his workload. He has since had plenty of galloping at home and I would expect a significant improvement. He is a very good greyhound.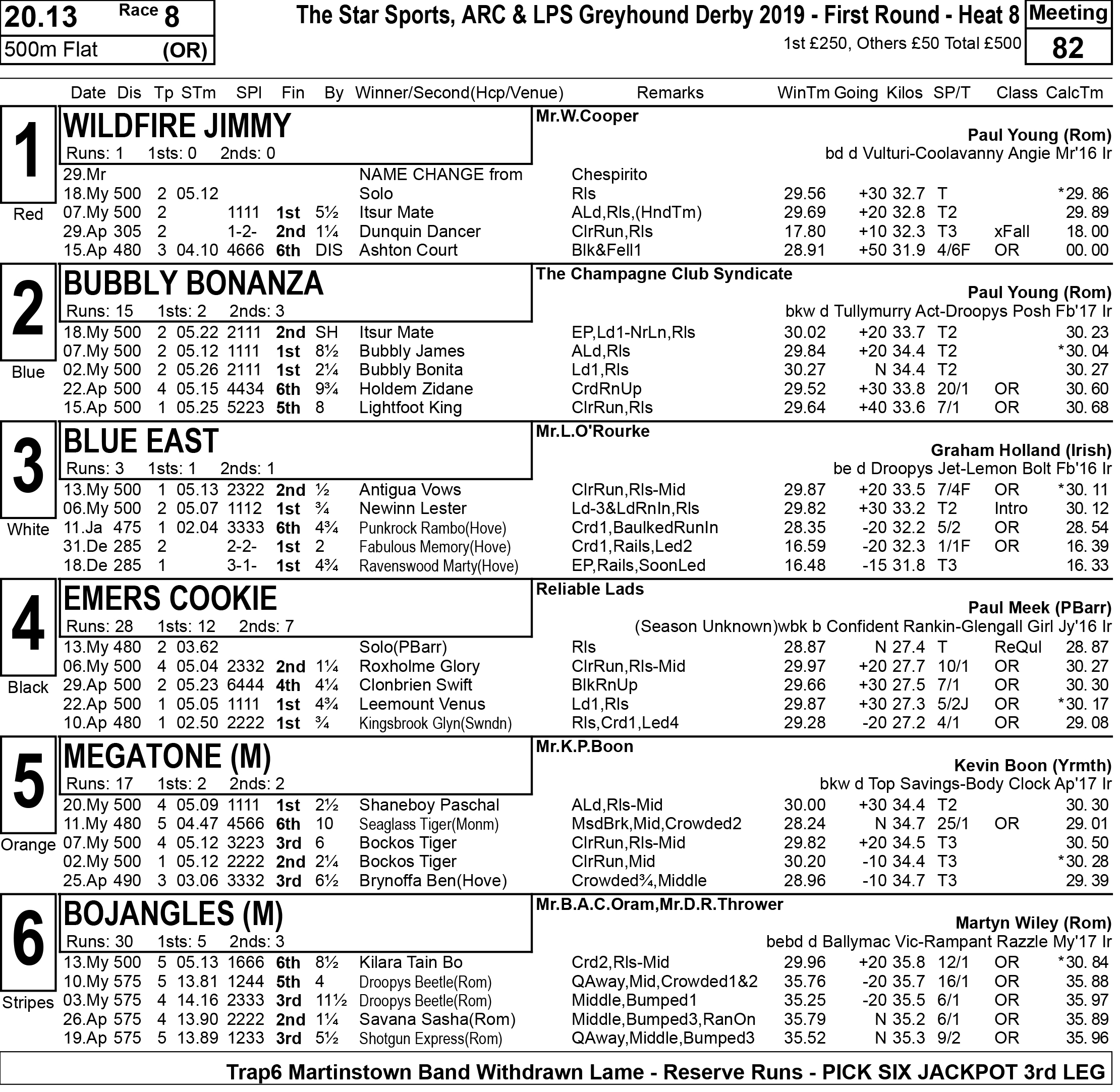 Blue East would have struggled to see out the 550 earlier in his career and although he has lost a bit of his exceptional early pace, he is staying on better as he showed to win the Select Stakes over 550 at Waterford. But he hasn't lost that much and the long run to the bend is ideal for him. I thought the bitch that beat him in the trialstake ran an absolute cracker. Is this race any tougher? I don't know. If he breaks I would expect him to lead up. He wants the inside and if he gets the rail, he won't give it back. Then they would have to catch him.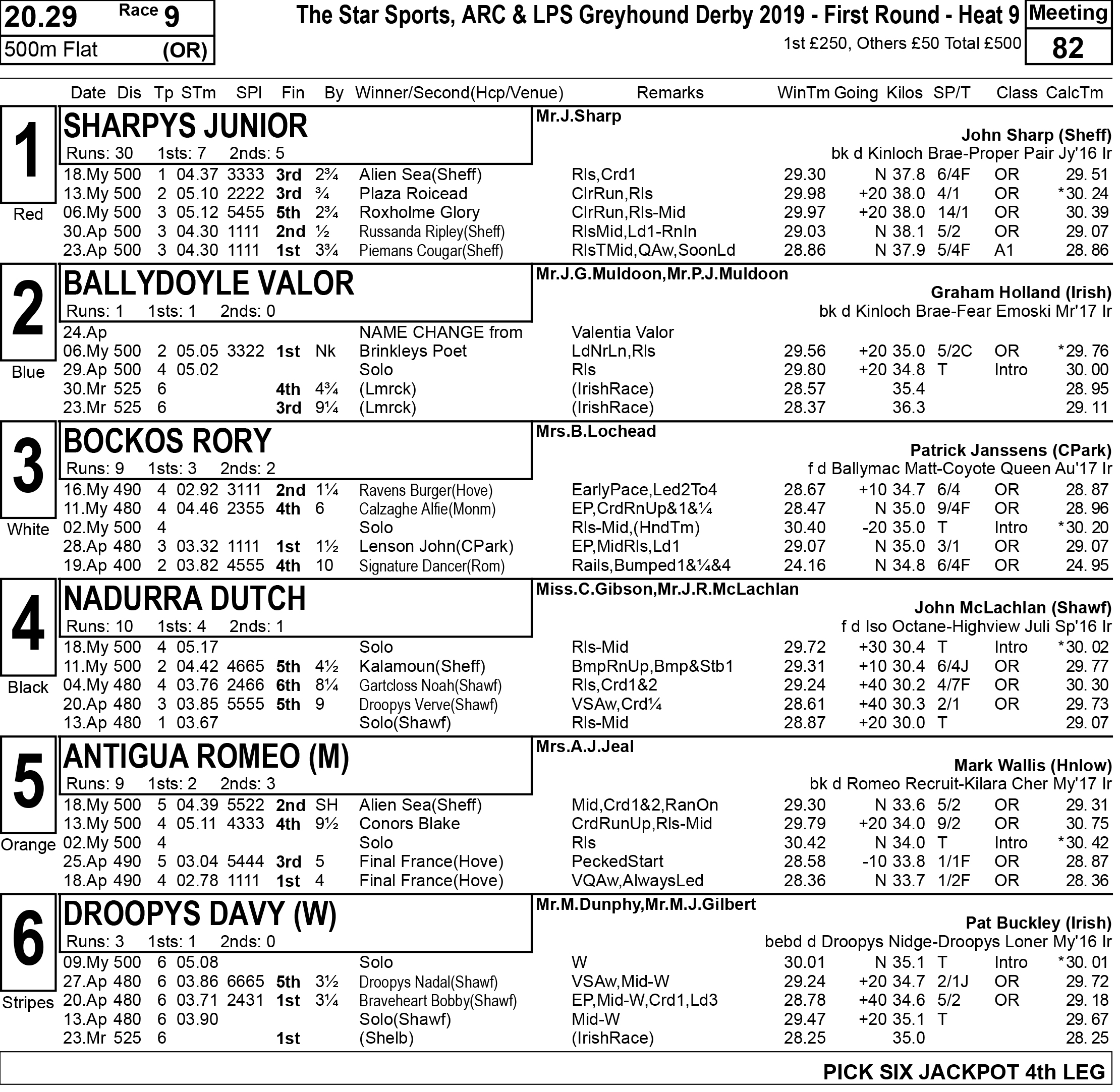 Ballydoyle Valor hasn't achieved as much in his career as some of my other runners – yet. So I was pleasantly surprised by how well he ran in his trialstake. You would think he could only improve. He has decent enough early but is not short on stamina. I think a lot of him and he looks decent ante post value at 50-1. The obvious danger on Irish form is the six, but I think this is a tough track for wide runners to get a run at the bend.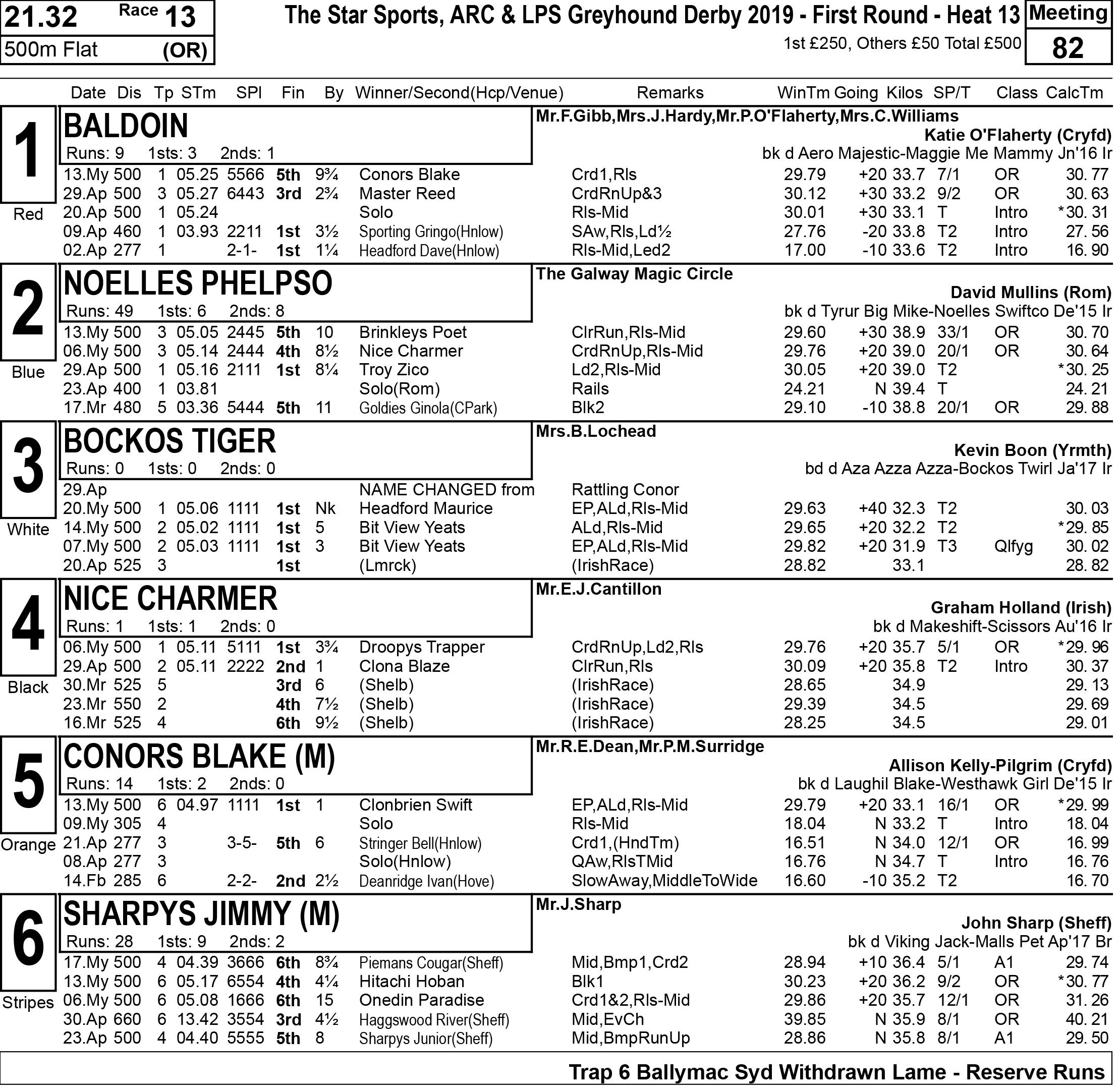 Nice Charmer is well named. A good genuine consistent dog who has run in high class company throughout his career. Ideally he would like the inside, but he will go in a straight line to the bend and then rail. He could progress further than some of the shorter priced dogs because he never knows when he is beaten and never gives up. Every year there seems to be one experienced old pro who gets to the final. He might be ours.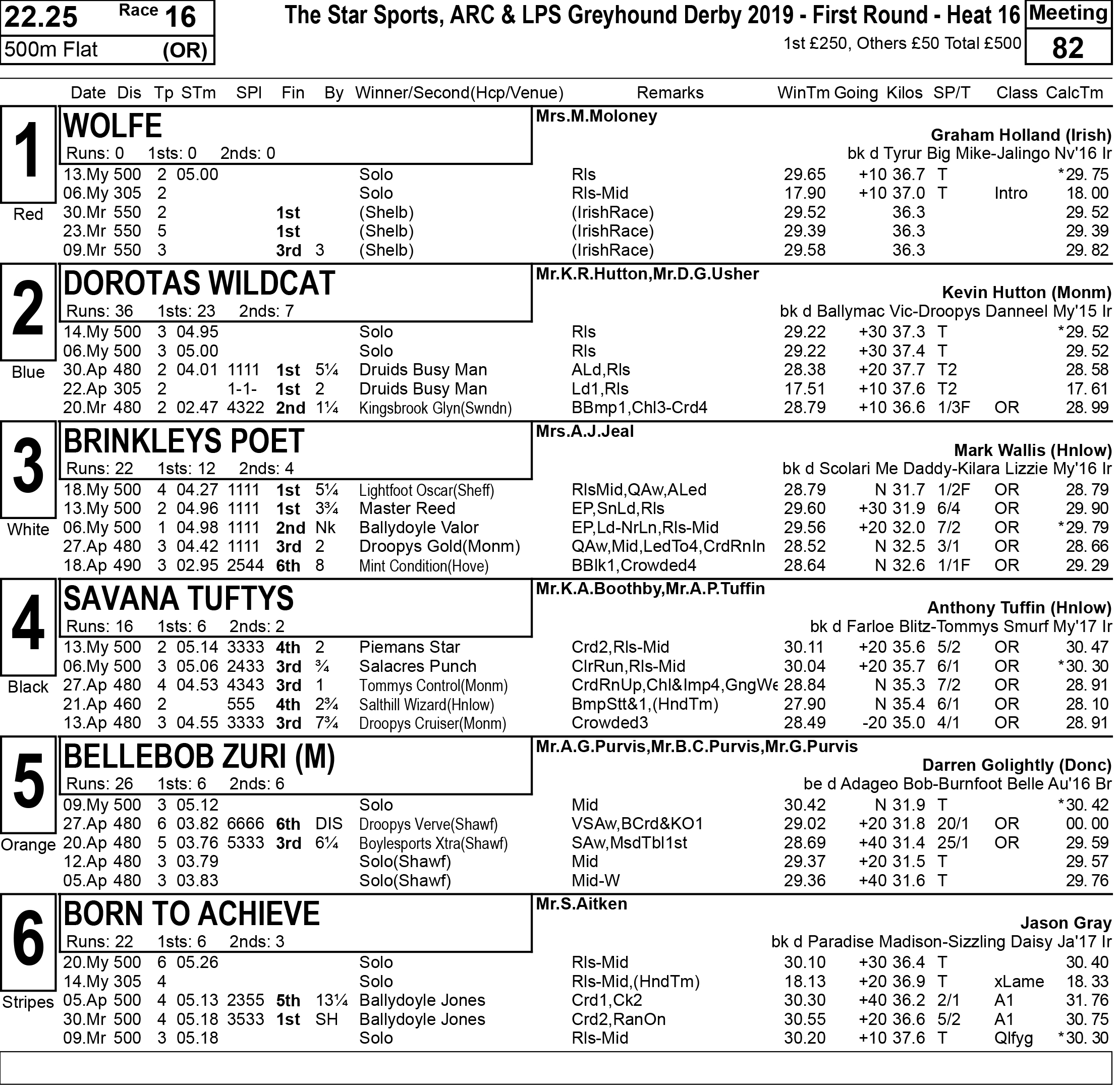 Wolfe is in a very tough heat but I am not too concerned. He would struggle from any other box but this should suit him down to the ground. He isn't the fastest trapper but he has awesome early pace and the long run to the bend looks made for him. On our gallops at home he destroys my other runners for early pace. He was schooled at Youghal, which is quite a sharp track, and it has made him a good tracker. The bends won't worry him. He is quite an interesting character with a great temperament. At home he seems half asleep most of the time but he completely changes when he comes racing. He is so focused. He is known by the family as 'a sheep at home and a Wolfe at the track'.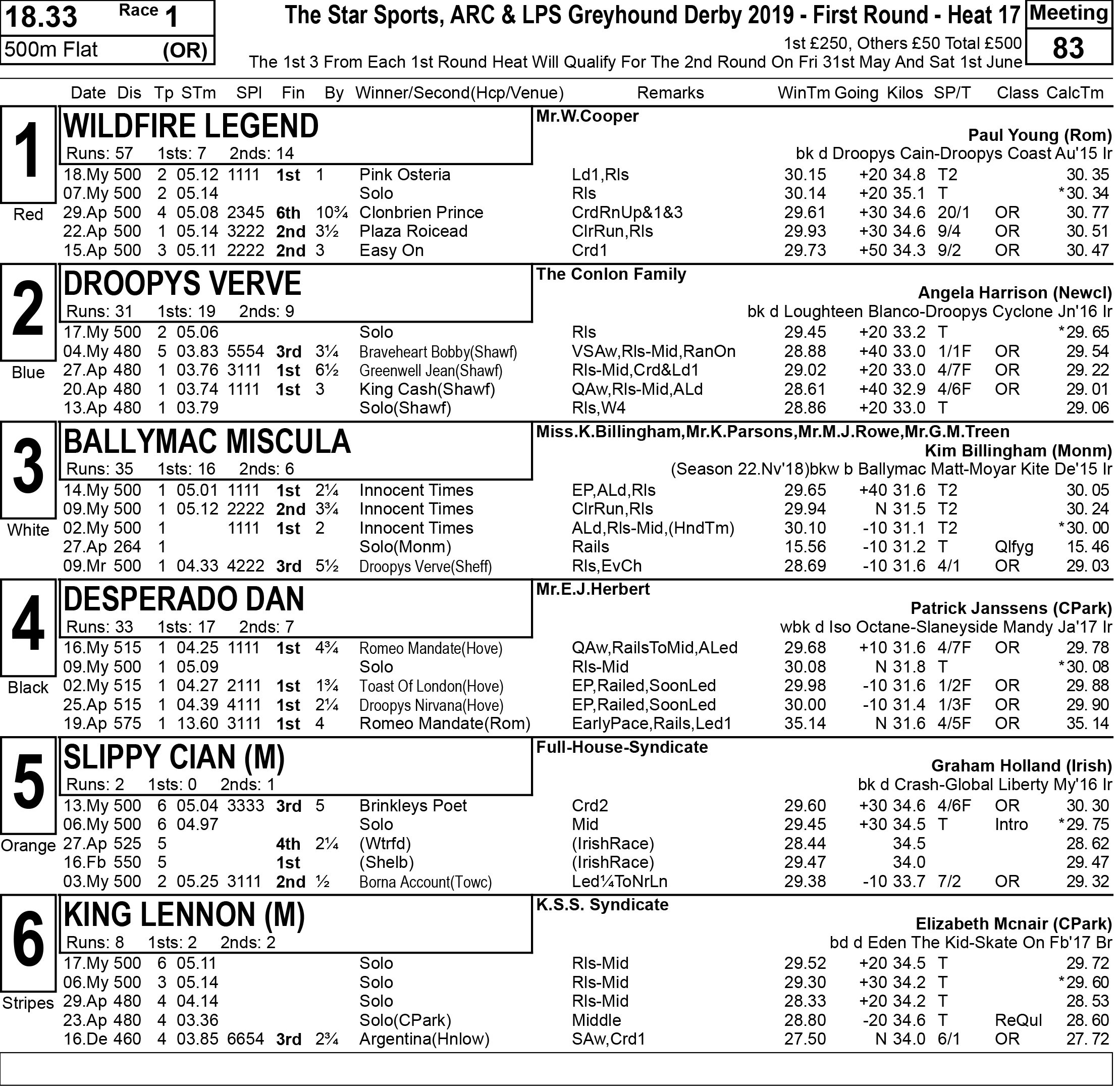 Slippy Cian is one of our most experienced dogs who I think deserved to have won more big races that he has. In terms of overall quality, in my opinion, this is one of the toughest heats with good dogs throughout. Droopys Verve has a well earned reputation but there are others capable of giving him a run. I am quite happy with the draw and at this stage would settle for qualifying.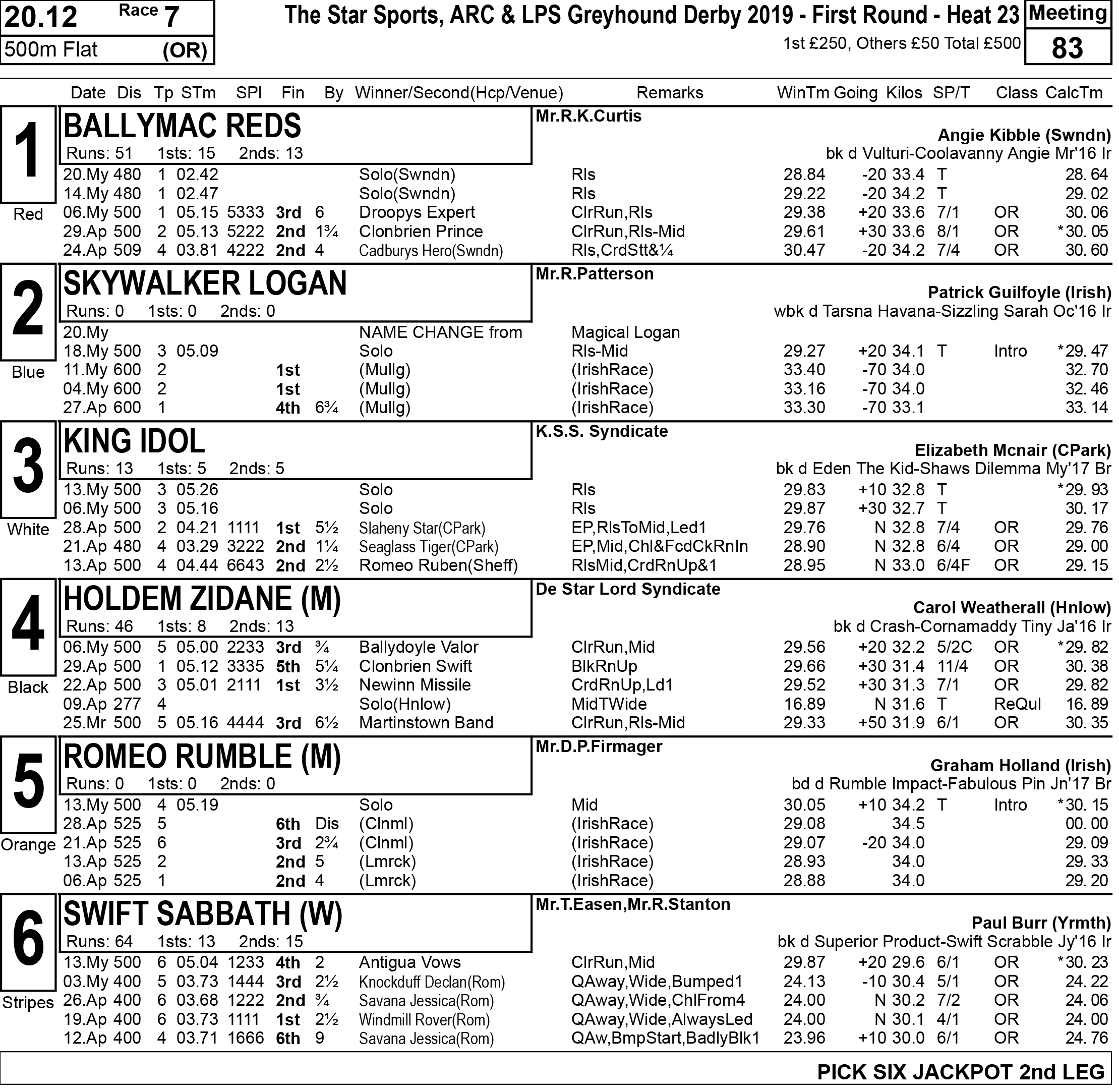 Romeo Rumble faces by far the toughest task of any of our runners to qualify. He isn't without ability but is very inexperienced and up against a top top class dog in Skywalker Logan. If he gets through I will be delighted and it will only add to his learning curve.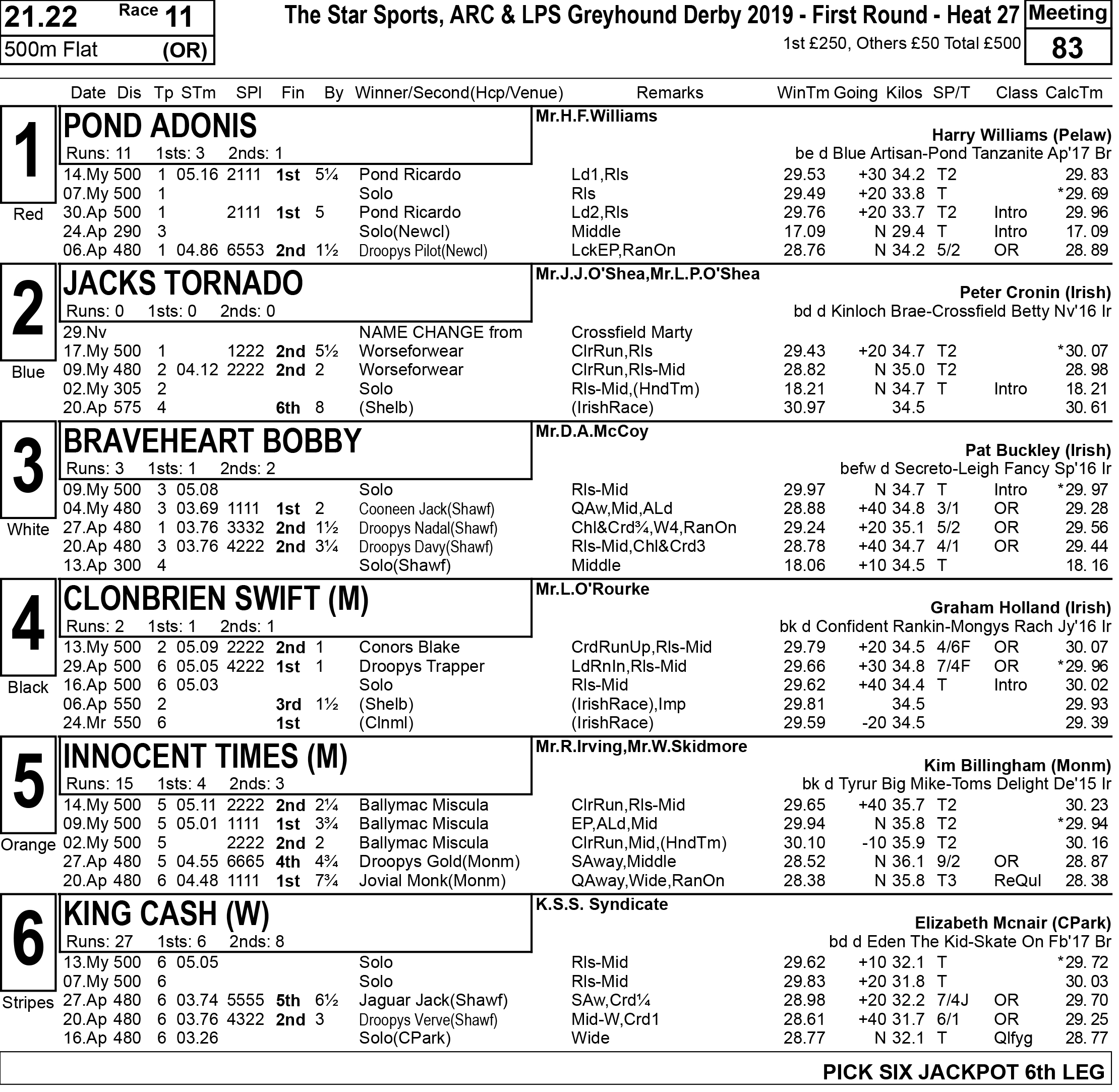 Clonbrien Swift is another tough one up against the Scottish Derby winner Braveheart Bobby who really is well named, a very brave and genuine hound. I would settle for qualification but I really think Swift can give him a run. He is perfectly drawn in four and has been well worked at home.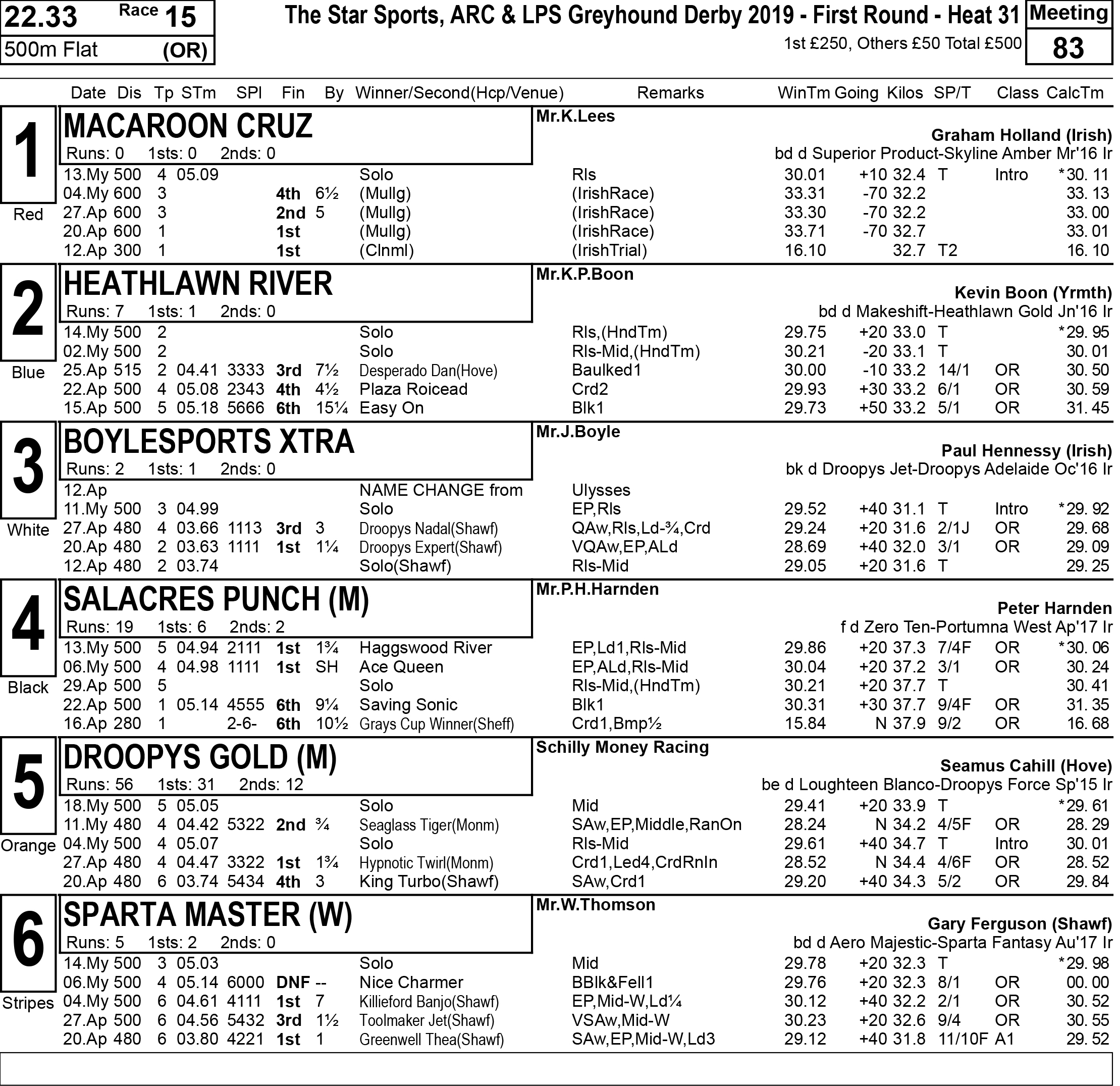 Macaroon Cruz is perhaps our most versatile dog. He has raced over 750 yards, and stayed about 730 before the wheels came off. But he has been prolific over 600 and has 29.45 winning form for 550 yards at Shelbourne. He would struggle from any box other than red in my opinion but I expect him to put on a decent performance. We were restricted by injury but have recently been able to get some work into him and I would be hugely disappointed if he didn't qualify. I will be hoping to avoid Boylesports Xtra on the run-up. He swerves straight to the rail.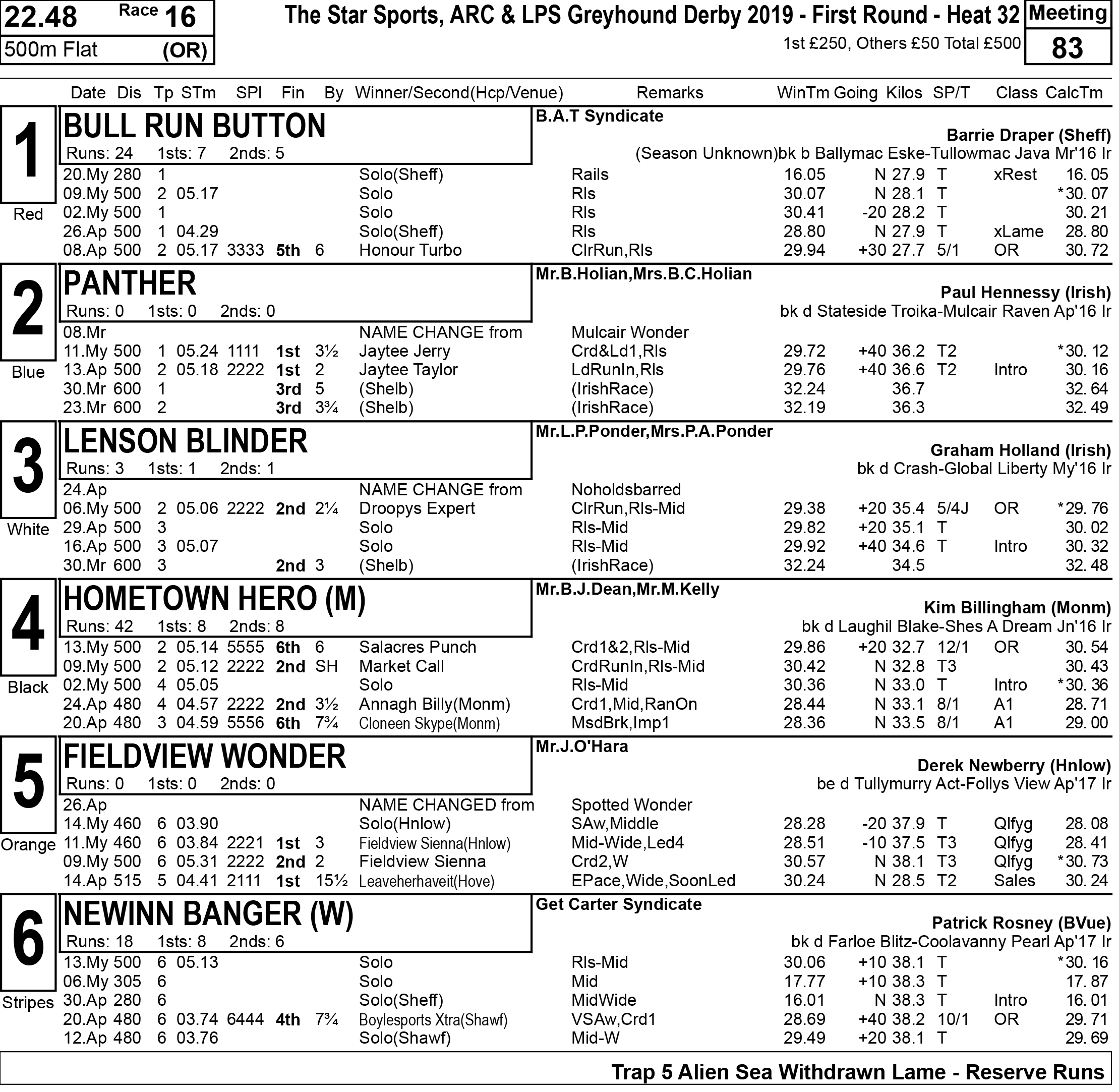 Lenson Blinder will probably start as favourite for the last heat and although he has taken time to adapt to Nottingham, he has an obvious strong chance. The red has decent early but Panther doesn't and unless Blinder makes a hash of the start, I would expect him to be at least disputing the lead at the bend. He is just a class dog. He is also a very cool individual, and a bit like litter brother Slippy Cian is a bit pig headed. If you watch him on parade, once he reaches the trap for the first time he digs his heels in. Y0u can't persuade him to walk another step.
(What is it they say about dogs and their owners? Not Pat obviously!- Ed)