I am really looking forward to another big night at Shelbourne Park on Saturday – the Night Of Stars. We have eight runners and hopefully have a few with chances.
Our first runner is Droopys Cabaye in the 550. He is drawn three, which isn't ideal, but there are three more wide seeds on his outside. I think he has enough early pace to lead and will take some beating.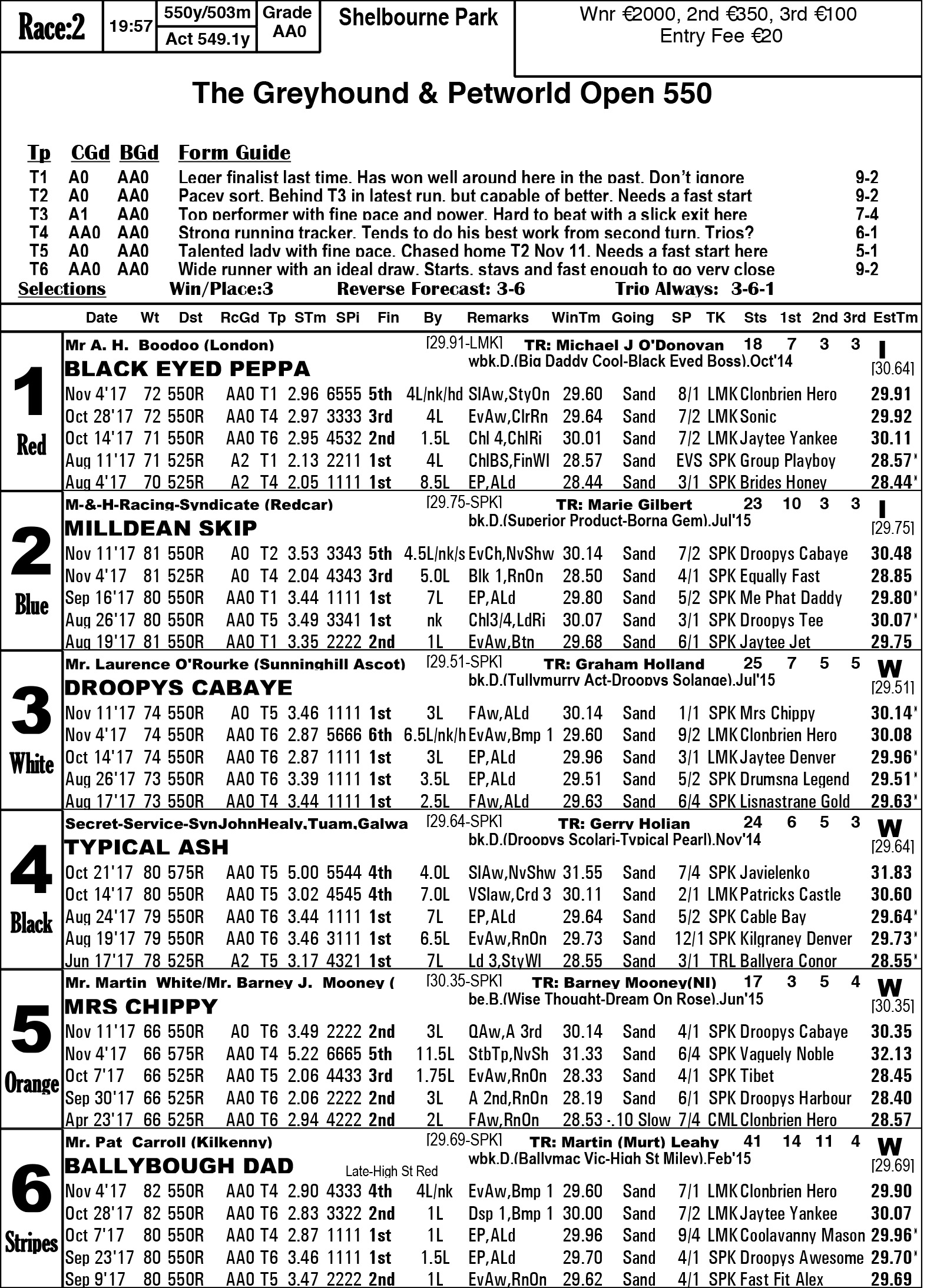 Our next runner, Riverside Bubble, is owned by my daughter Rachel. She is running in a bitch puppy open after winning at Clonmel in 28.78. I wasn't sure she would get in the race, and then she draw trap five when she wants the inside. Basically, I don't think she can win it, but I thought it would be nice for Rachel to have a runner on the night.
When I told her, her response was 'Why did you do that? You know she can't win it!'
Some owners just do your head in!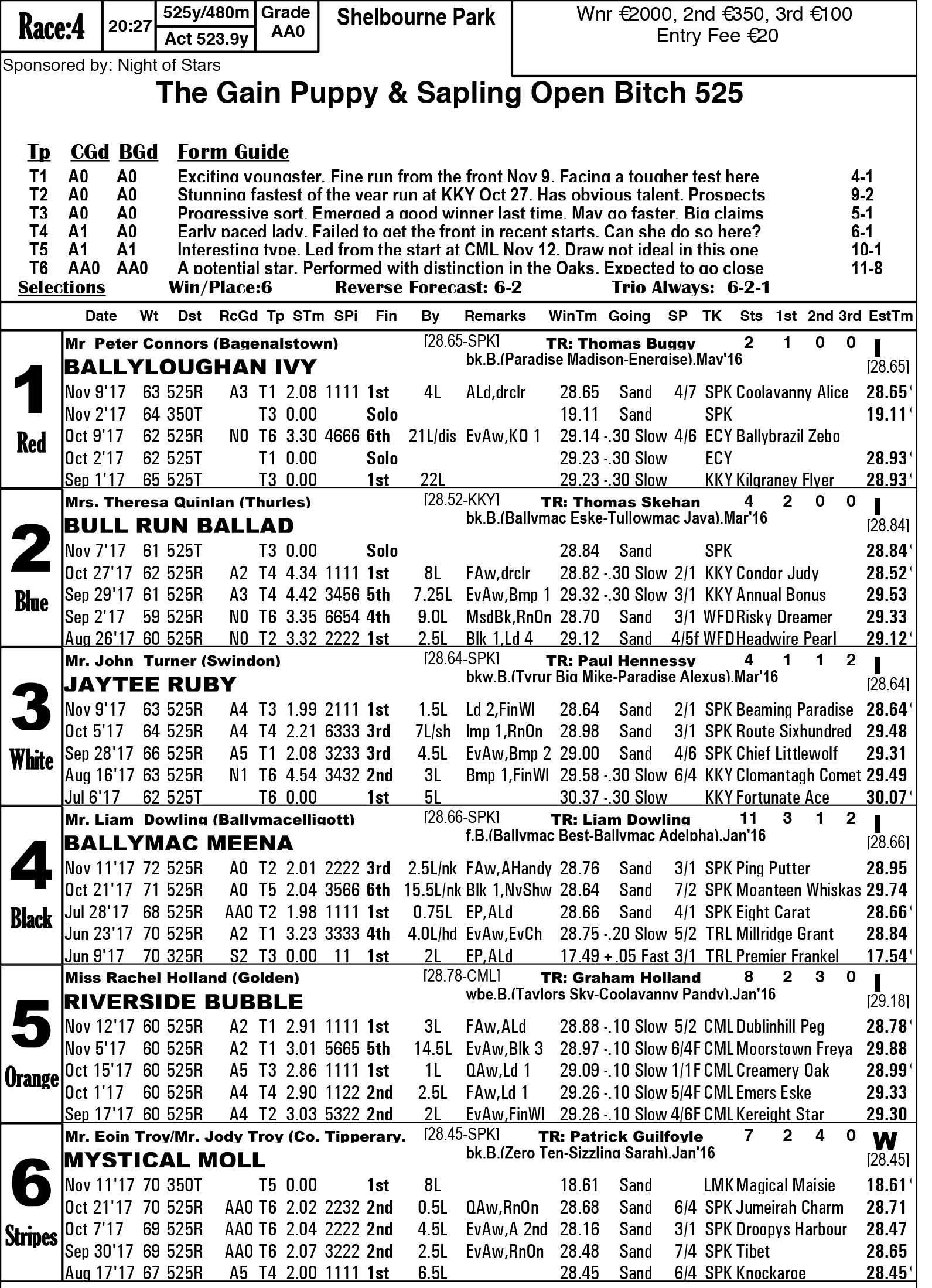 Our next runner is Newinn Trump, who is owned by Paul Carpenter, in the race for dog pups. He is a very nice young dog who has won his last four and is a real 'catch me if you can' performer. The two and the five are the dangers, but I would expect him to go very well from trap one.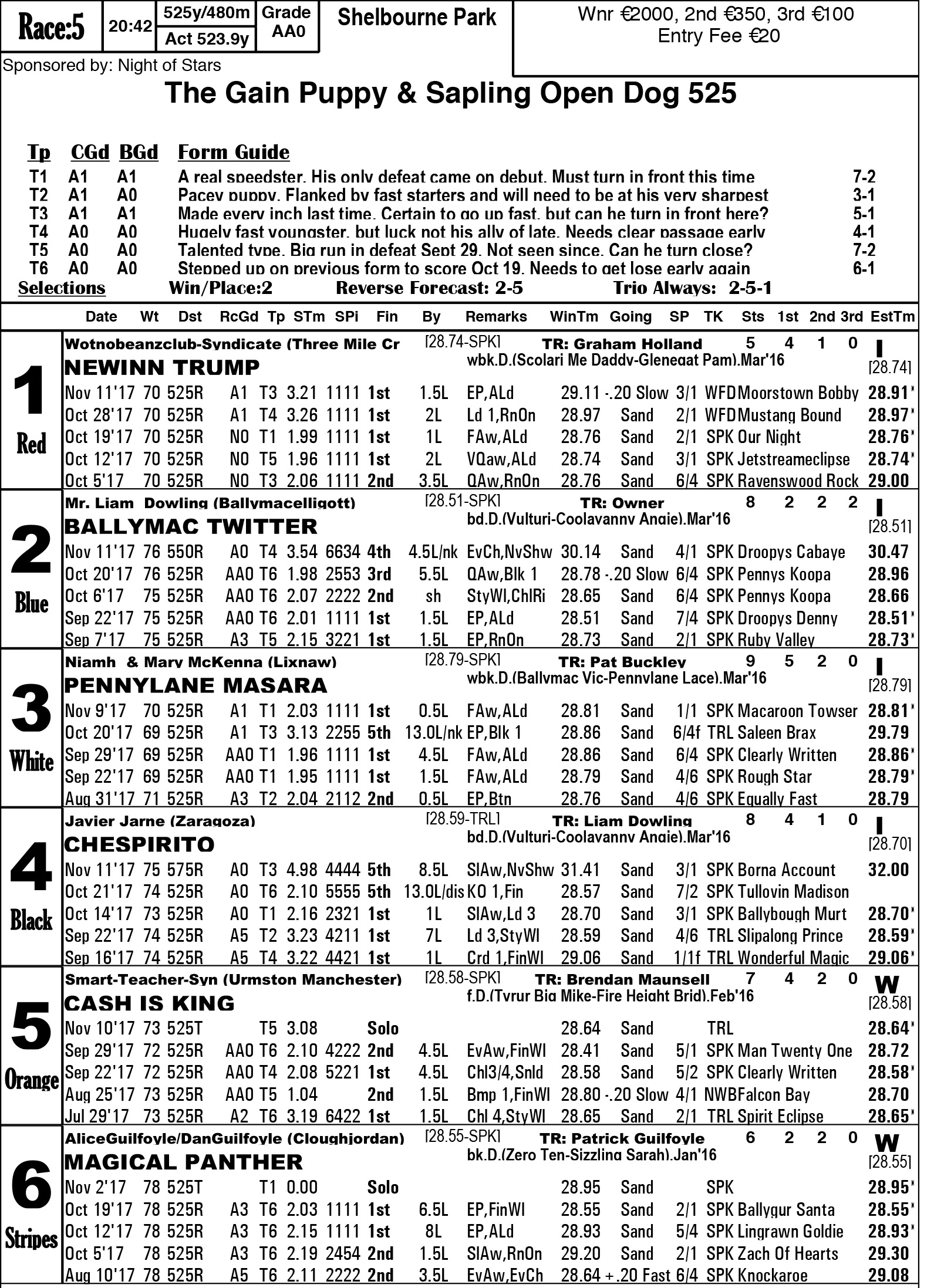 Drive On Tipp runs in a very good class field where Man Twenty One looks to be the one that they all have to beat. Our dog can certainly give him a run if he breaks at his best, though he can be erratic. He seems to be a dog who performs best when he is fresh to a track and he will be when returning to Shelbourne Park. I am reasonably hopeful.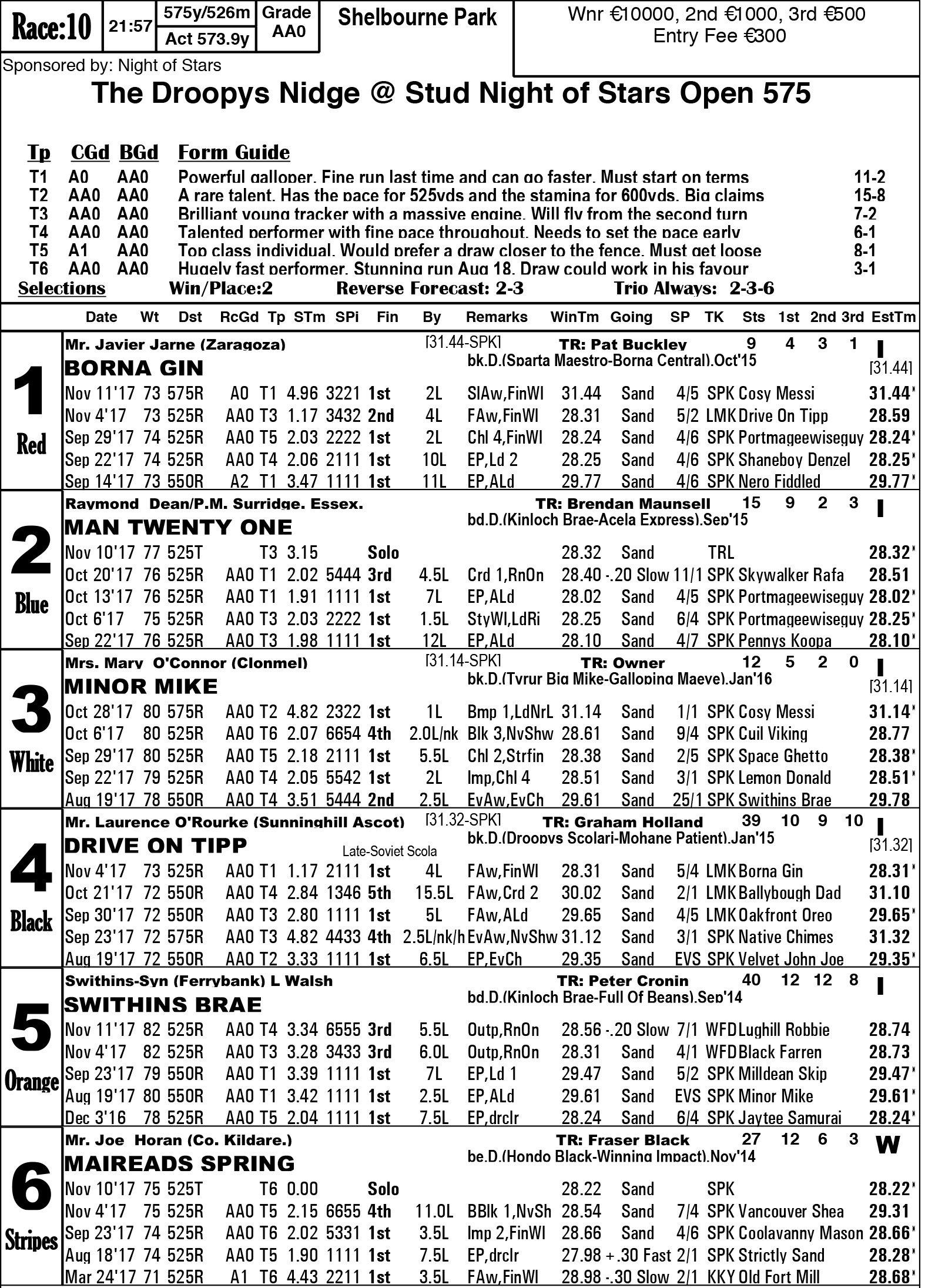 I was originally planning to run Lughill Robbie in the sprint but he is a middle seed and I calculated there was a strong chance of him getting trap six which is a very poor box for that distance at Shelbourne – for whatever reason.
Looking at the race, they all very similar types to Robbie, I can't see any of them coming from behind to win. I think we have a very decent chance though Buckos Dream is probably the biggest danger.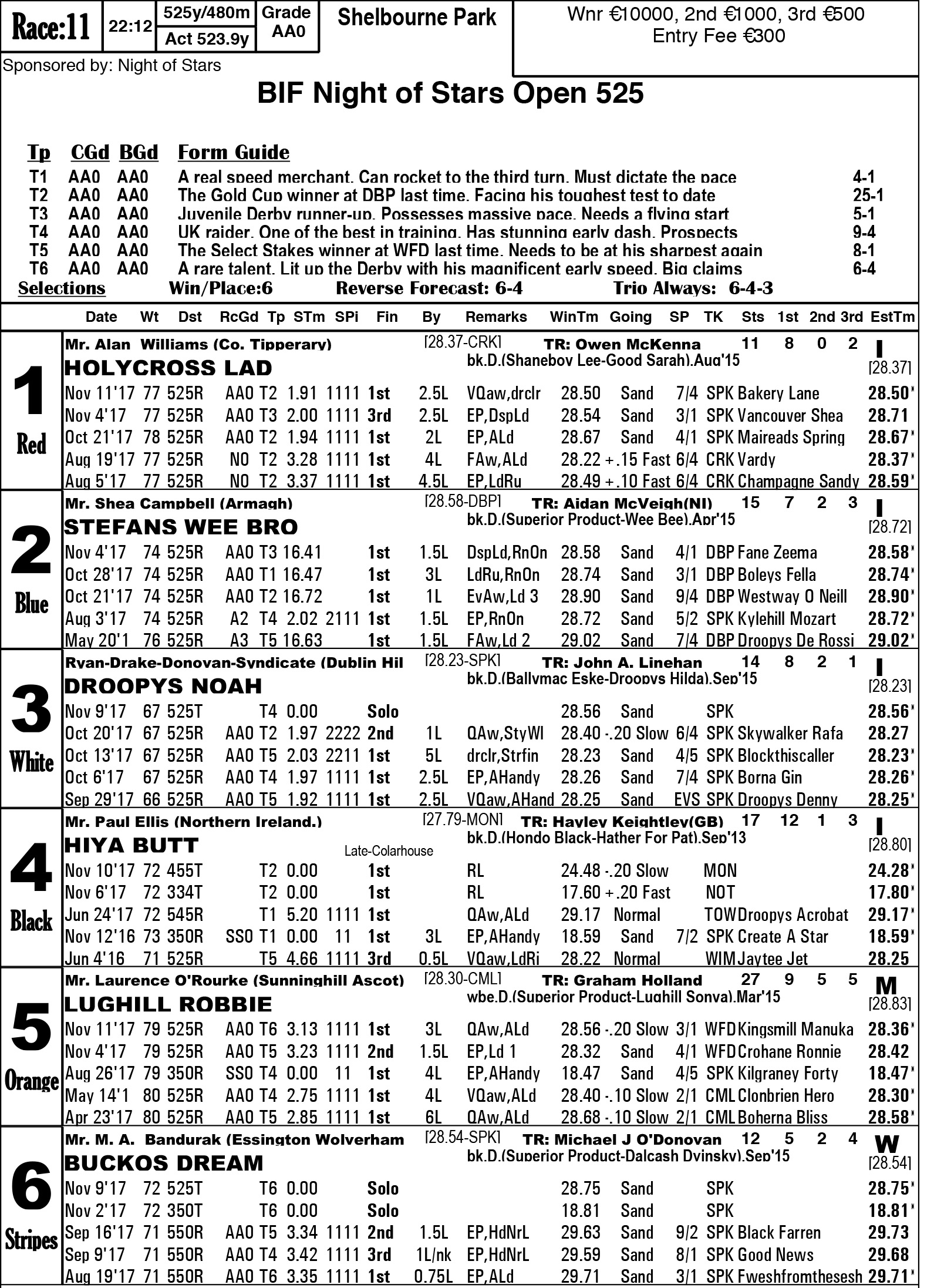 We have two in the 550, Black Farren and Clonbrien Hero. I think Farren would give Hero a good run for his money if he can clear the one on the run to the bend. But I am happier with the draw for Hero who I would expect to start favourite and be the one they all have to beat. But I don't underestimate any of them, Kilgraney Ace in particular is a very nice greyhound.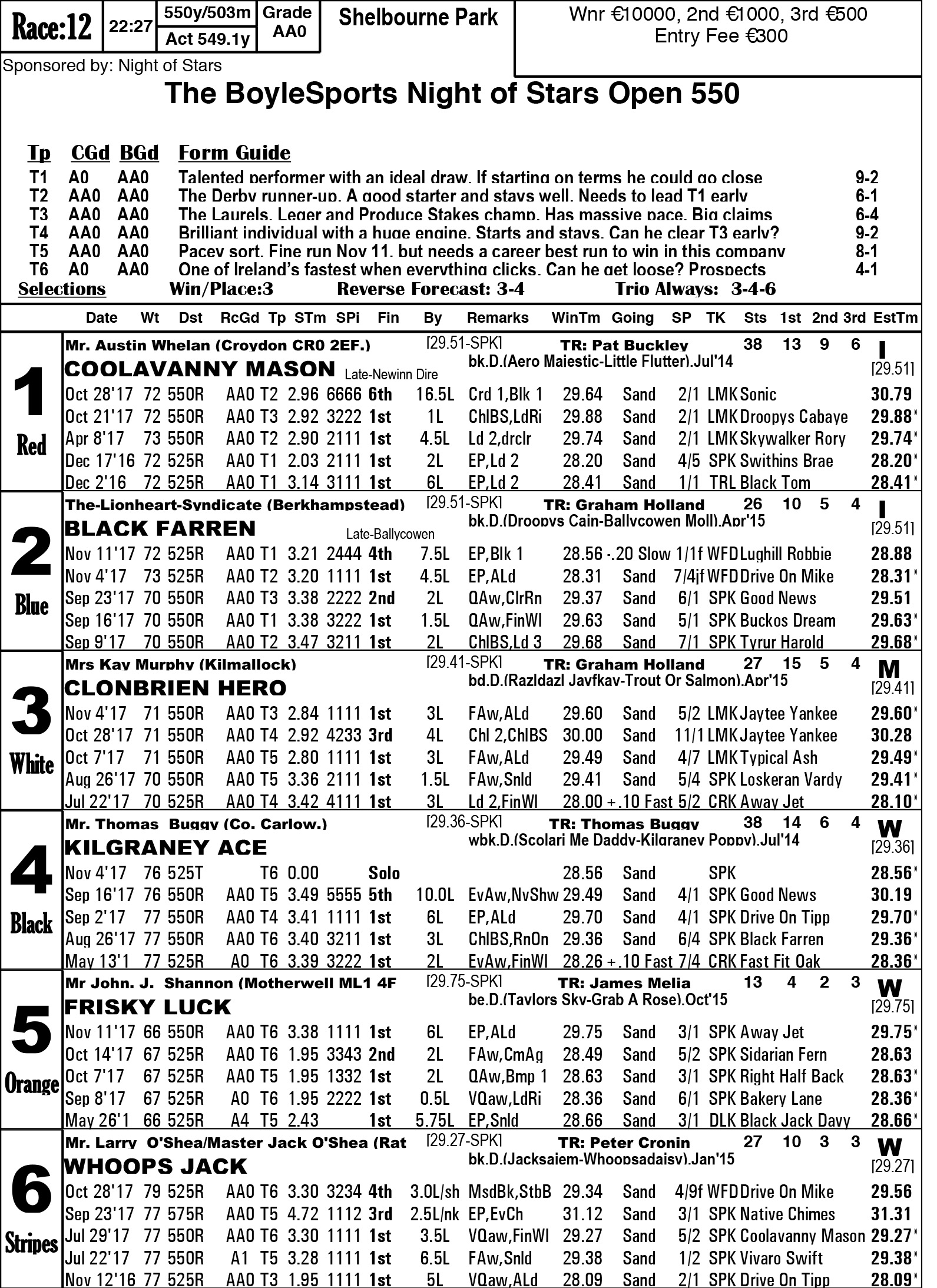 Finally we have Sonic in the 600. I thought he ran a mighty race behind Hero at Limerick and he is a dog who really deserves to win races of this calibre. He is probably our best chance on the night.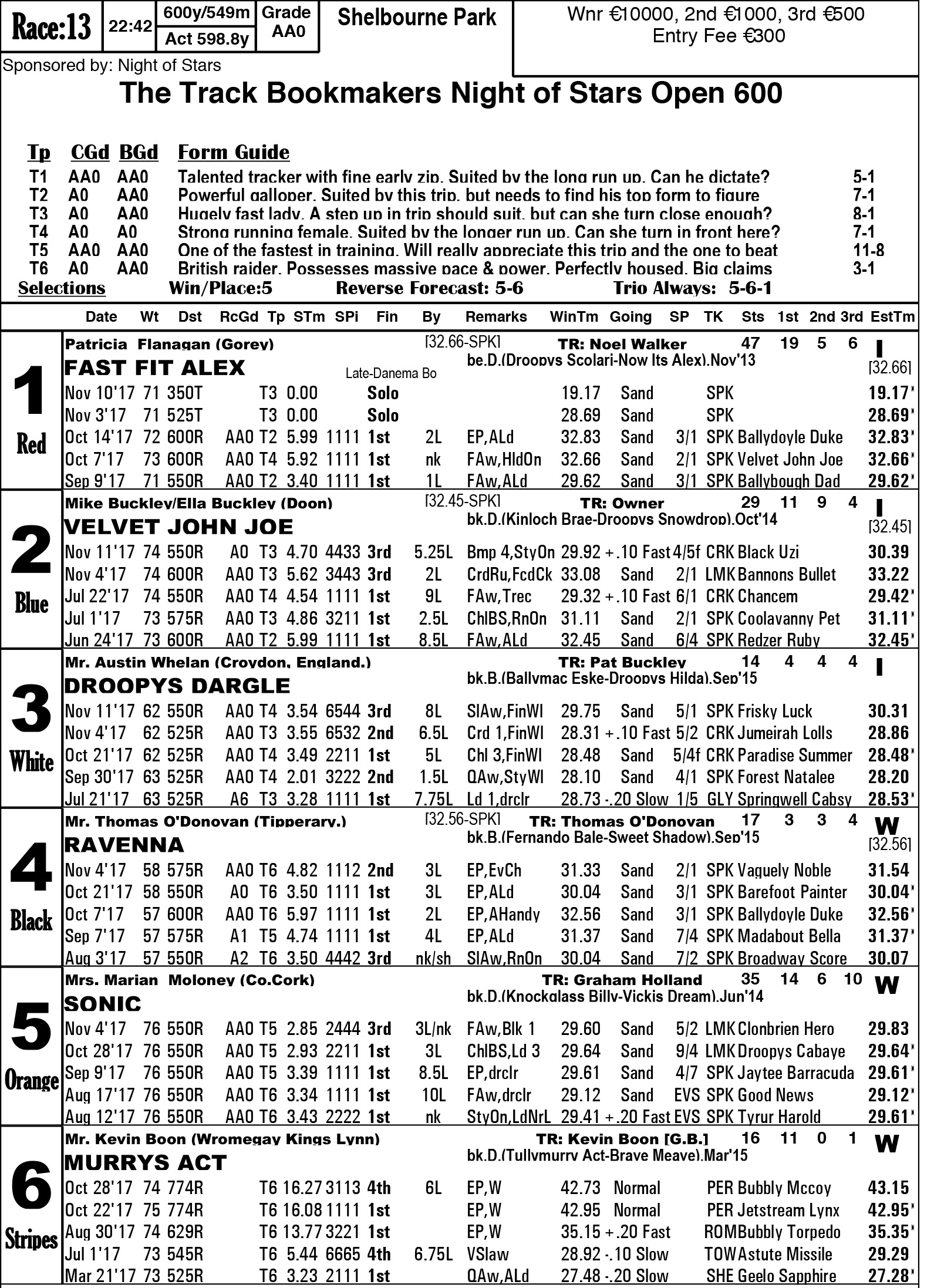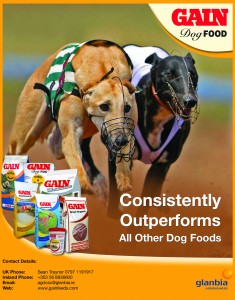 I was delighted with Lughill Robbie in the Gain Select Stakes Final at Waterford.
There had been plenty of rain and the track was struggling to drain the water which was worse on the inside. Robbie took full advantage and improved for the run in the heats, as I suggested he might.
I was a little disappointed at some of the coverage in the Irish press. Neither Robbie, or our Leger winner made the front page.
Personally, I don't a damn about the publicity, which is normally negative towards me anyway. Besides, it is the dogs who are the stars, not the trainer.
My real grievance is for the race sponsors. At Waterford it was Gain, and also for the owner, Larry O'Rourke. The man puts such a lot into the game, including as a sponsor, and deserves a little bit of acknowledgement.
Ballyvoe Bobby broke his hock last week and has come into the house as a pet. He is a lovely greyhound and popular with everyone.
Sadly, we lost our previous house pet very recently. Sidarian Rhythm had been living with us since he broke a hock on the track five years ago.
Unfortunately, old age hadn't calmed him down. He still loved to tear up the gallop but unfortunately broke the hock again and couldn't be saved.