It is very sad that Clares Rocket has had to be retired. The wrist flared up after his trial at Towcester. It certainly wasn't bad but it was only a sprint trial after all. After consultation with the owner, it was decided to retire him. He is now living as a pet in the house with us and Garryvoe Bobby – and quite frankly, he's a bloody nightmare.
It took him one day to learn to negotiate the stairs and he worked out that if he looks through the upstairs window, he can see the dogs on the gallop. Poor old Bobby doesn't know what has happened to his 'couch potato' lifestyle.
Our other great favourite Sonic has also been retired after damaging a gracilis at Shelbourne Park on Saturday. He is going home with his owner as a pet. A lovely dog, it has been a privilege to train him.
We still plan to go ahead with a Derby trip with Clonbrien Hero and Noholdsbarred who has just been bought by Lenny Ponder. He is a nice dog, with a 28.54 on his card at Clonmel, and a litter brother to Slippy Cian.
He has been trained by his breeder Perry Aylward, though beyond that, I am still getting to know the dog. The plan is for the two dogs to travel overnight and trial at Towcester before the Saturday morning meeting.
It will be a busy weekend, with two in the Kirby Memorial at Limerick and Rural Aloha in the Puppy Oaks Final at Shelbourne Park.
Our two at Limerick are badly drawn and the final looks at the mercy of Droopys Davy who is drawn on the outside. I think Blue East can match the six to the bend but he will be heading to the rail. Slippy Cian is a very fast dog but he would need to come out under the lids to get a clear run.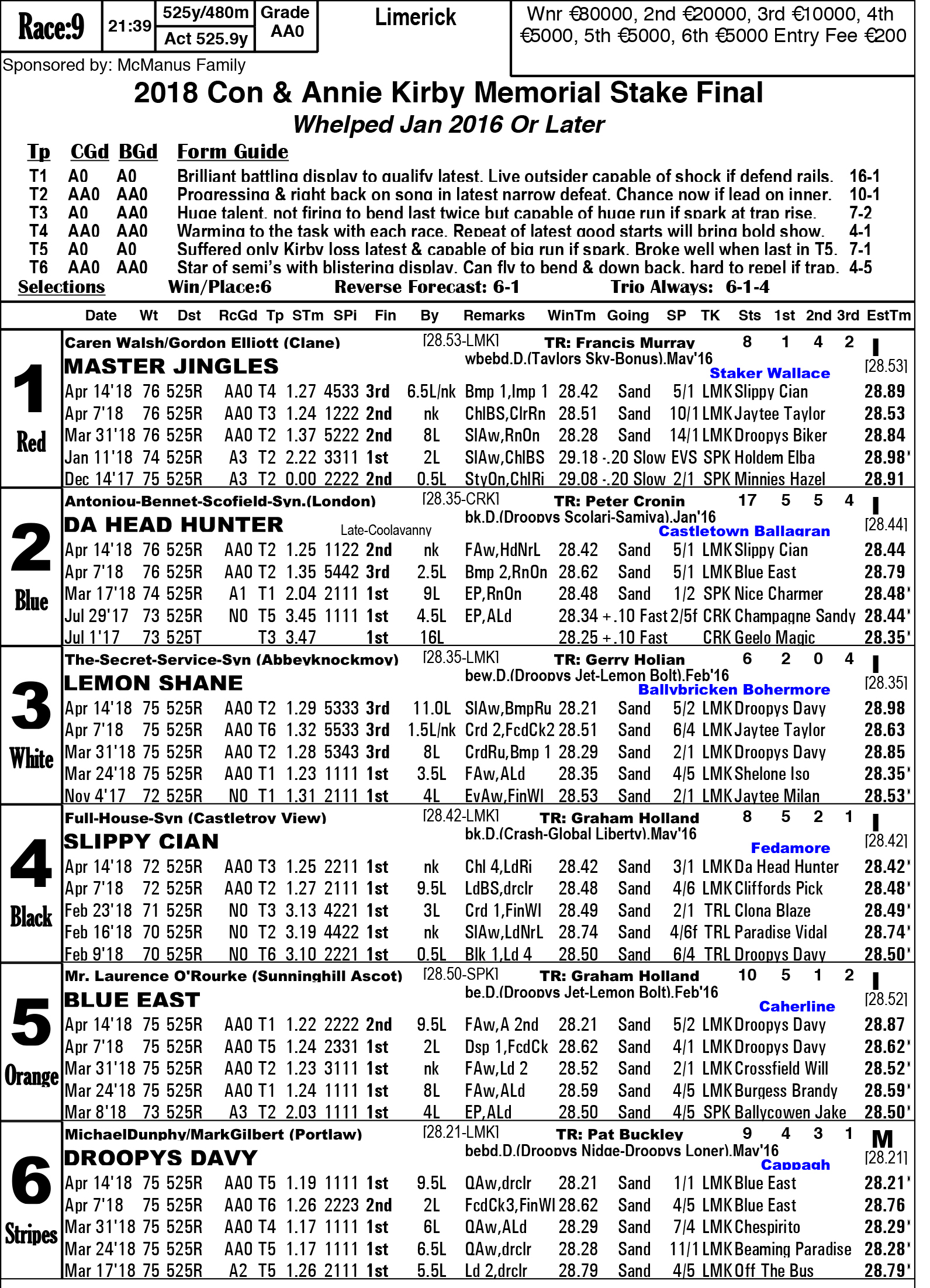 Rural Aloha has been beaten in the last two rounds of the Puppy Oaks, but I think she has a very good chance in final from the outside. I am convinced that there is a big run in her.