Trainer Graham Holland has 13 runners on Saturday's night's Shelbourne card including three runners in the semi finals of the Boylesports Irish Derby. Here is his view on the eleven races.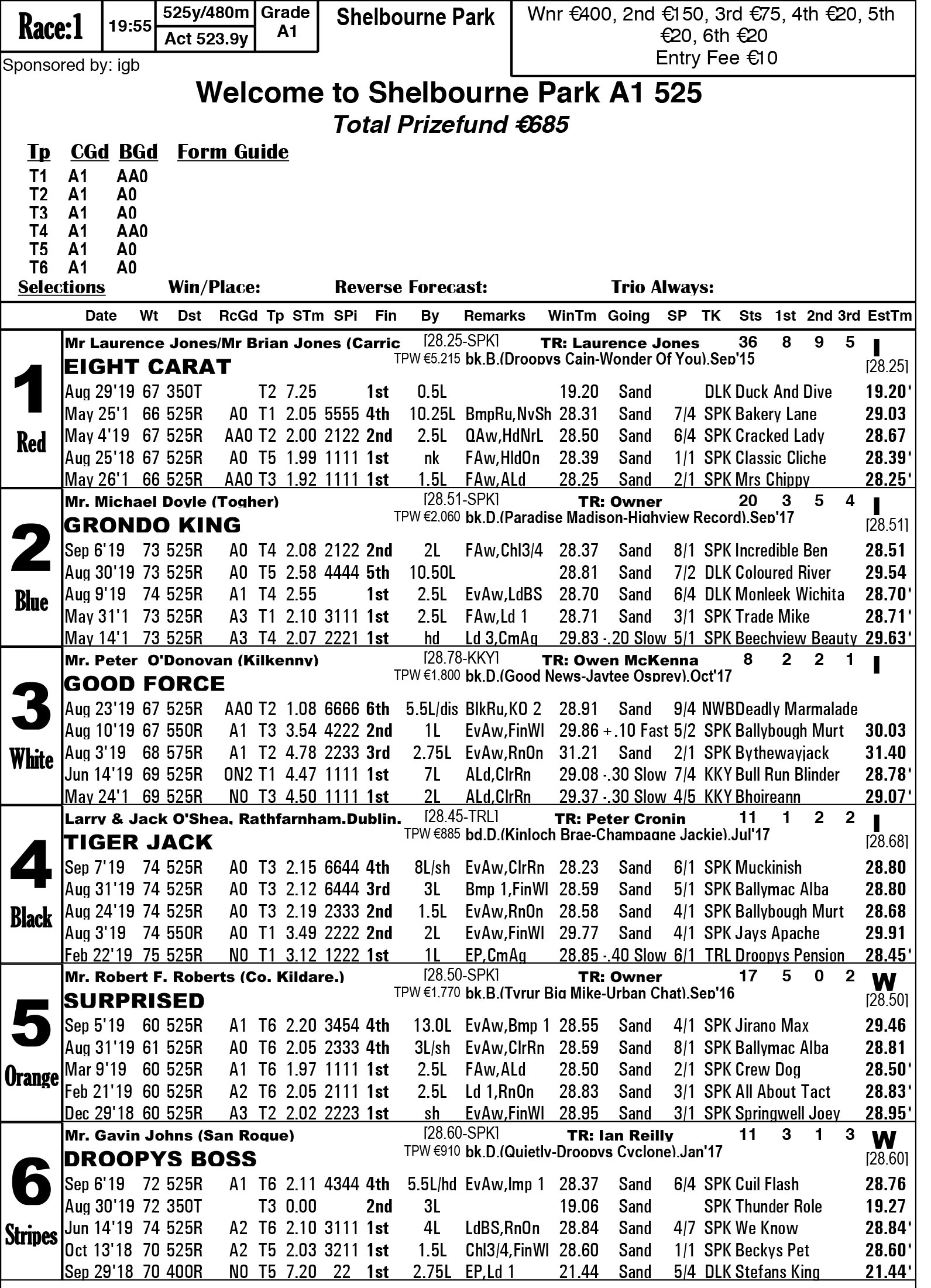 She is getting on a bit, but I quite fancy Eight Carat in here. She has been a good bitch in her day and looks ideally drawn in red.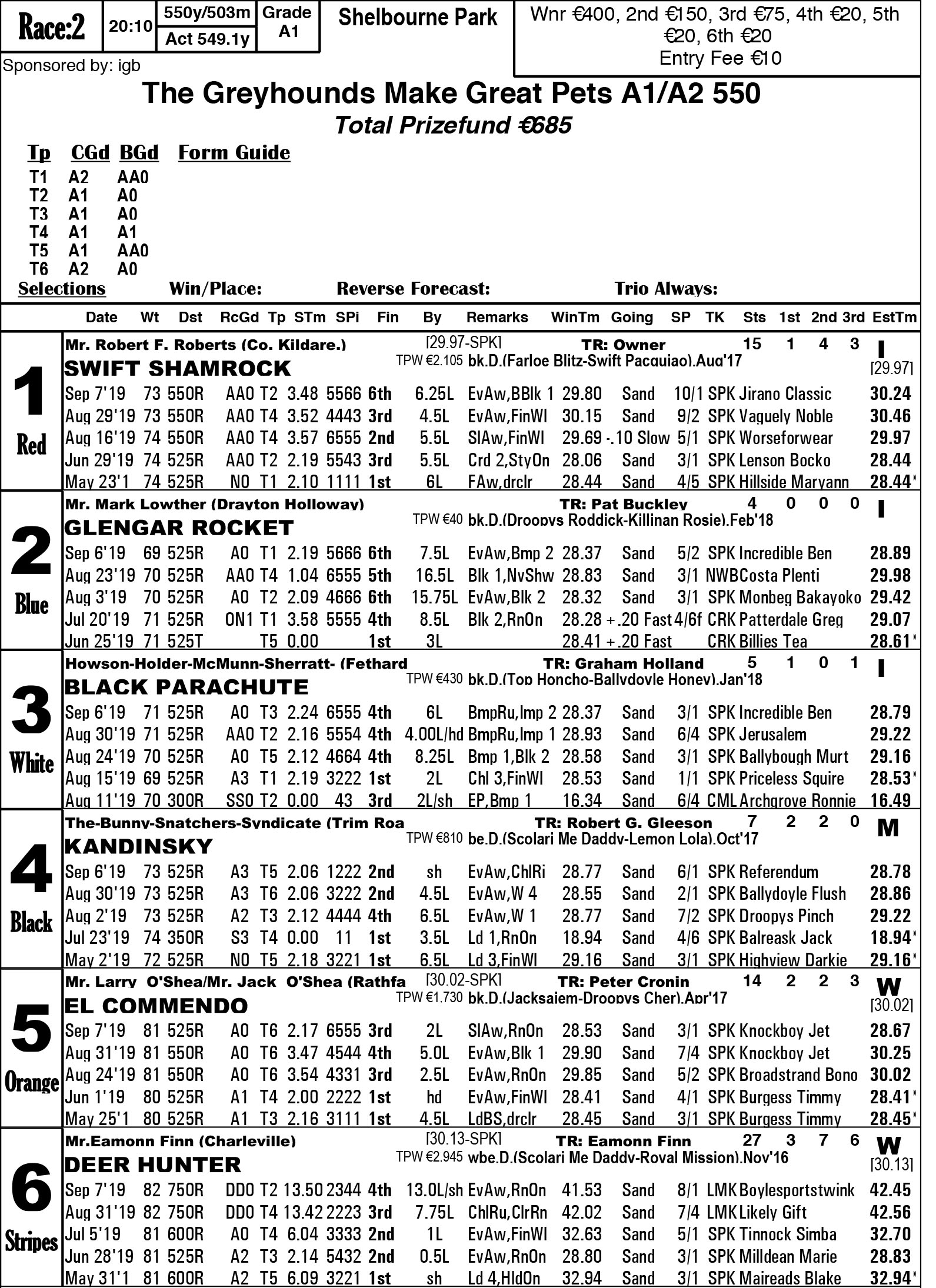 This looks a tough race to call and with nothing leaping off the racecard, I will show a bit of loyalty to Black Parachute. He is a genuine young dog who has been a bit unlucky in his first two races. I can't pretend to be confident about him winning, but I know he has some ability and hopefully he can show it on Saturday.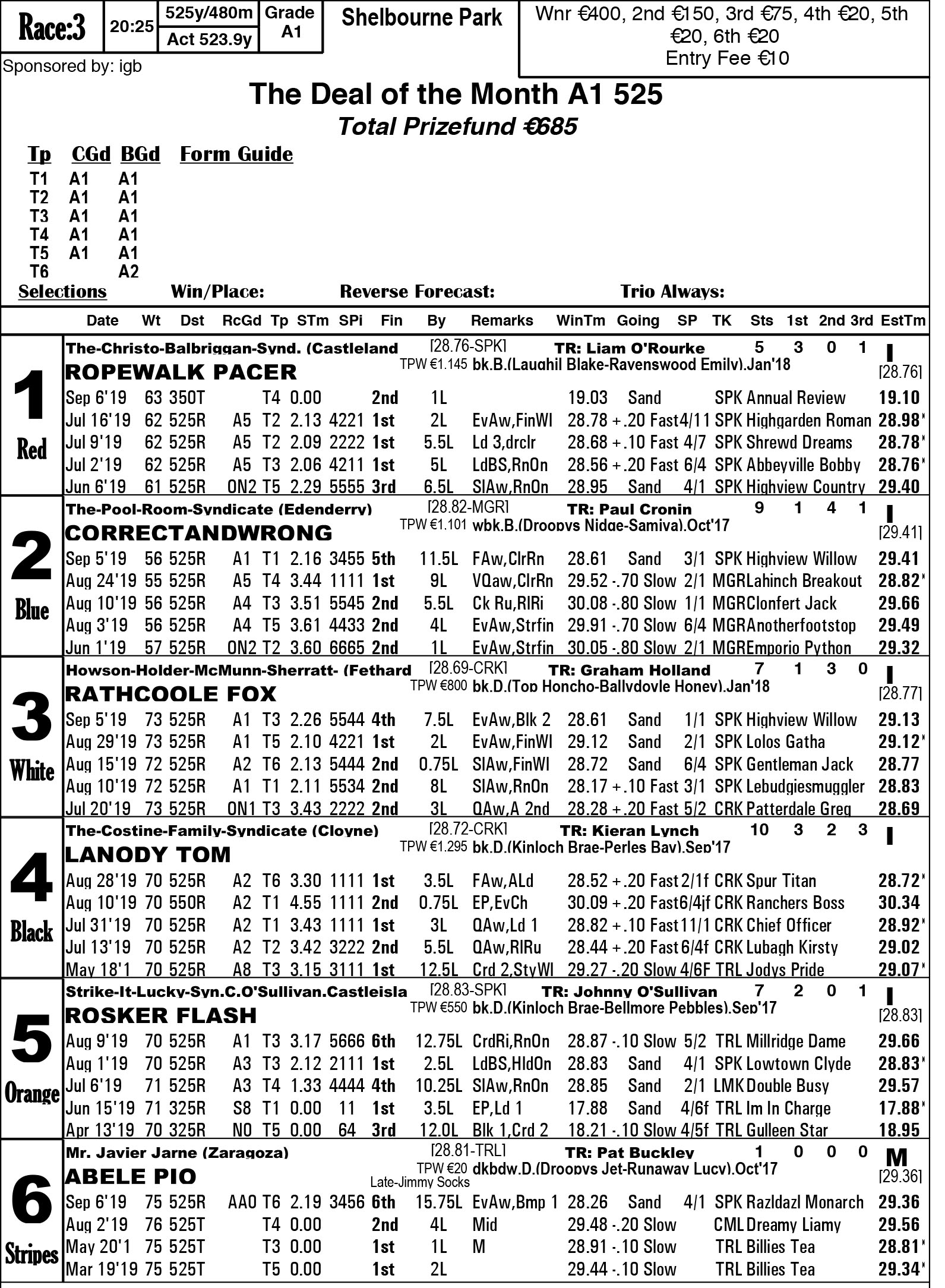 This race is quite similar to the last with Parachute's brother Rathcoole Fox representing us. He has a bit more early than his brother but is a little bit nervous and taking time to get used to racing. But with little between them, I think I would just edge this one to Lanody Tom, even though he doesn't know the place.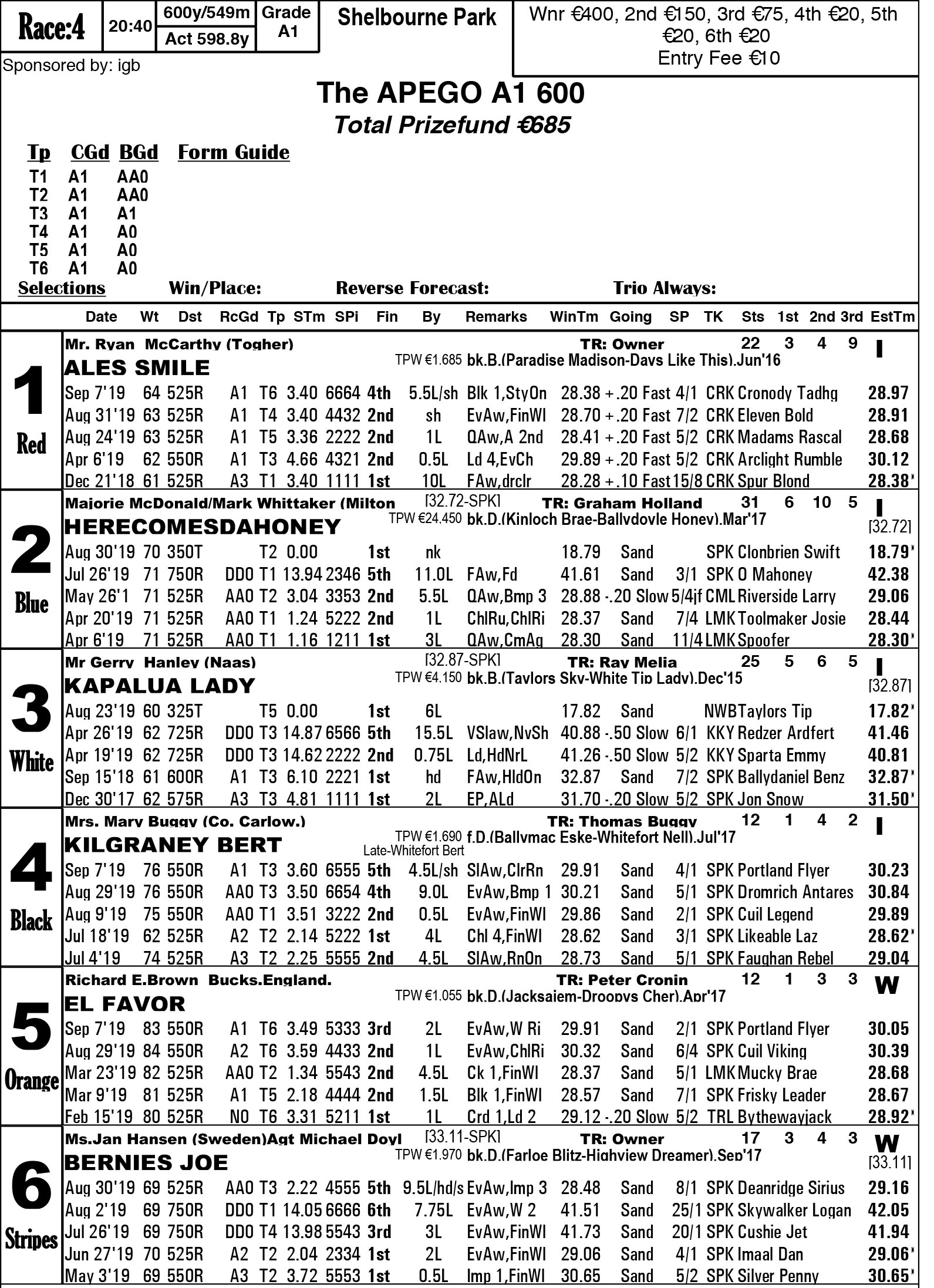 If he was fully fit, I would really fancy Herecomesdahoney in here. He has been off with a virus and wasn't expecting him to be over the 600 for his first run back. Even though he needs the run, I will give him the benefit of the doubt in a race where there is no stand-out bet.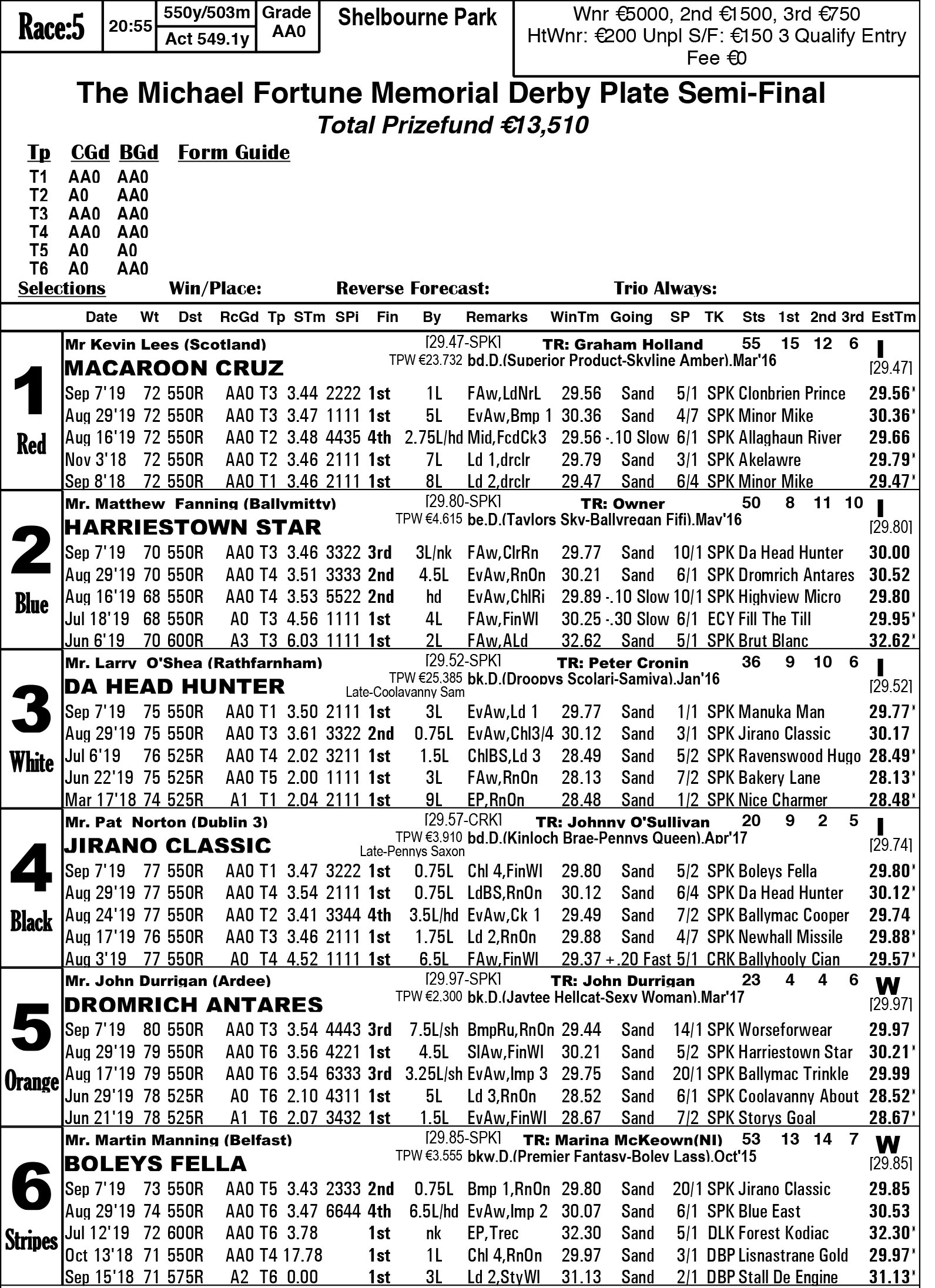 Even though this distance is short of his ideal trip, Macaroon Cruz is probably running in the form of his life over 550. He has a perfect draw in red and is a decent breaker, albeit he lacks the early to get to the bend in front. The obvious danger, and a dog I like a lot, is Da Head Hunter. Loyalty sees me edge it towards Cruz, though I would be thinking 'reverse forecast'.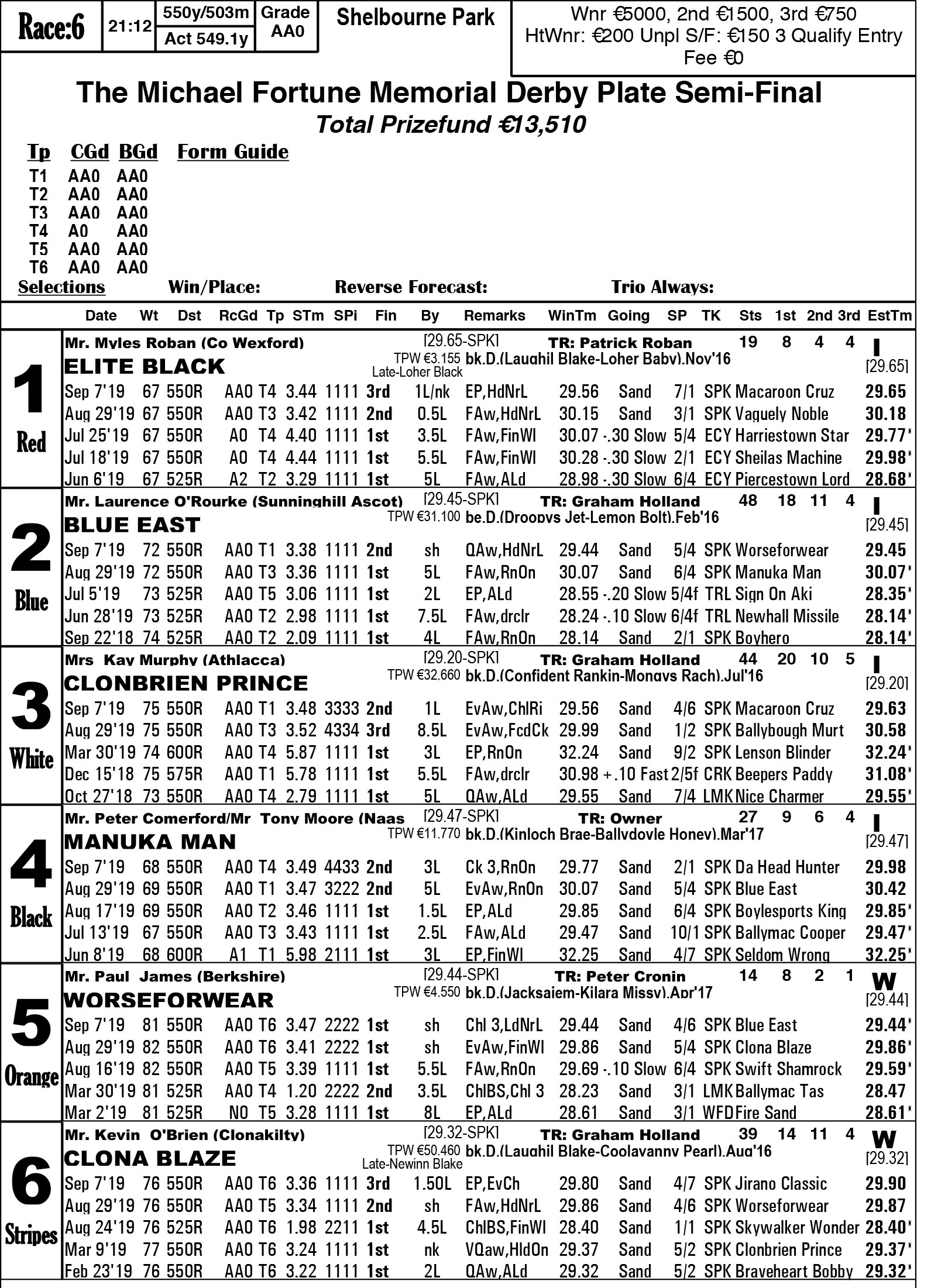 We have three in the first semi of the Plate and this race could go many ways. Elite Black has very good early on the inside, Manuka Man also has decent early and will go to rail. How that will pan out as the inside four go to the first bend I have no idea. So I am looking at the outside. Worseforwear ran well to pick up Blue East last week. Clona Blaze disappointed me on Saturday. He had every chance after leading. He has been blood tested and checked over. I can find nothing wrong, and am relying on his class to see him through but it is a very tough race to call.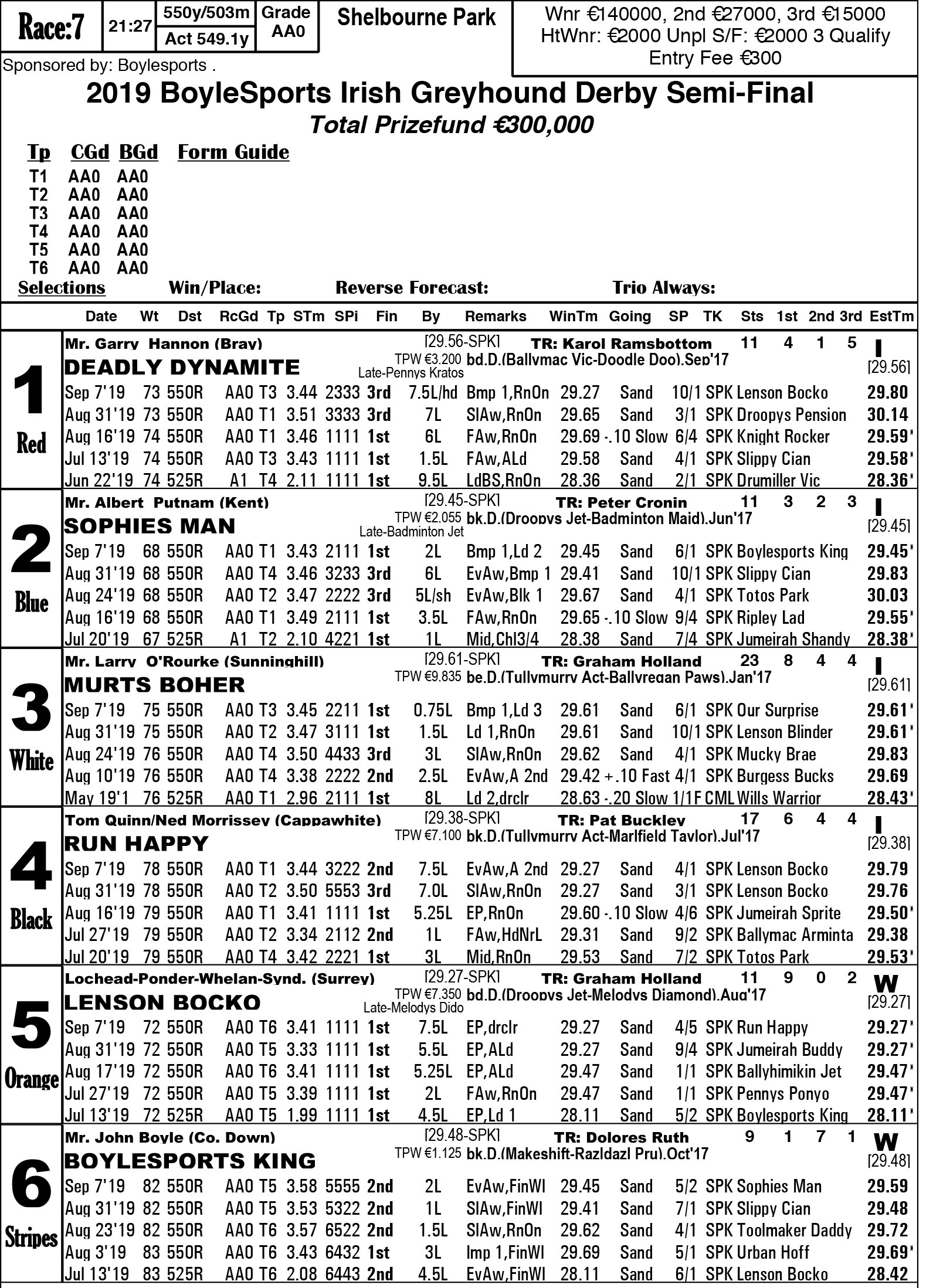 I don't ever take anything for granted but Lenson Bocko is fit and well, the draw looks decent, and the form is there for everyone to see.  That is all I can say. I expect him to win. Looking at the remainder, I think Murts Boher is consistent and could possibly lead up the inside three. He is getting better and better. I would expect Run Happy to go in a straight line to the bend. In the words of Doris Day, 'what will be, will be'.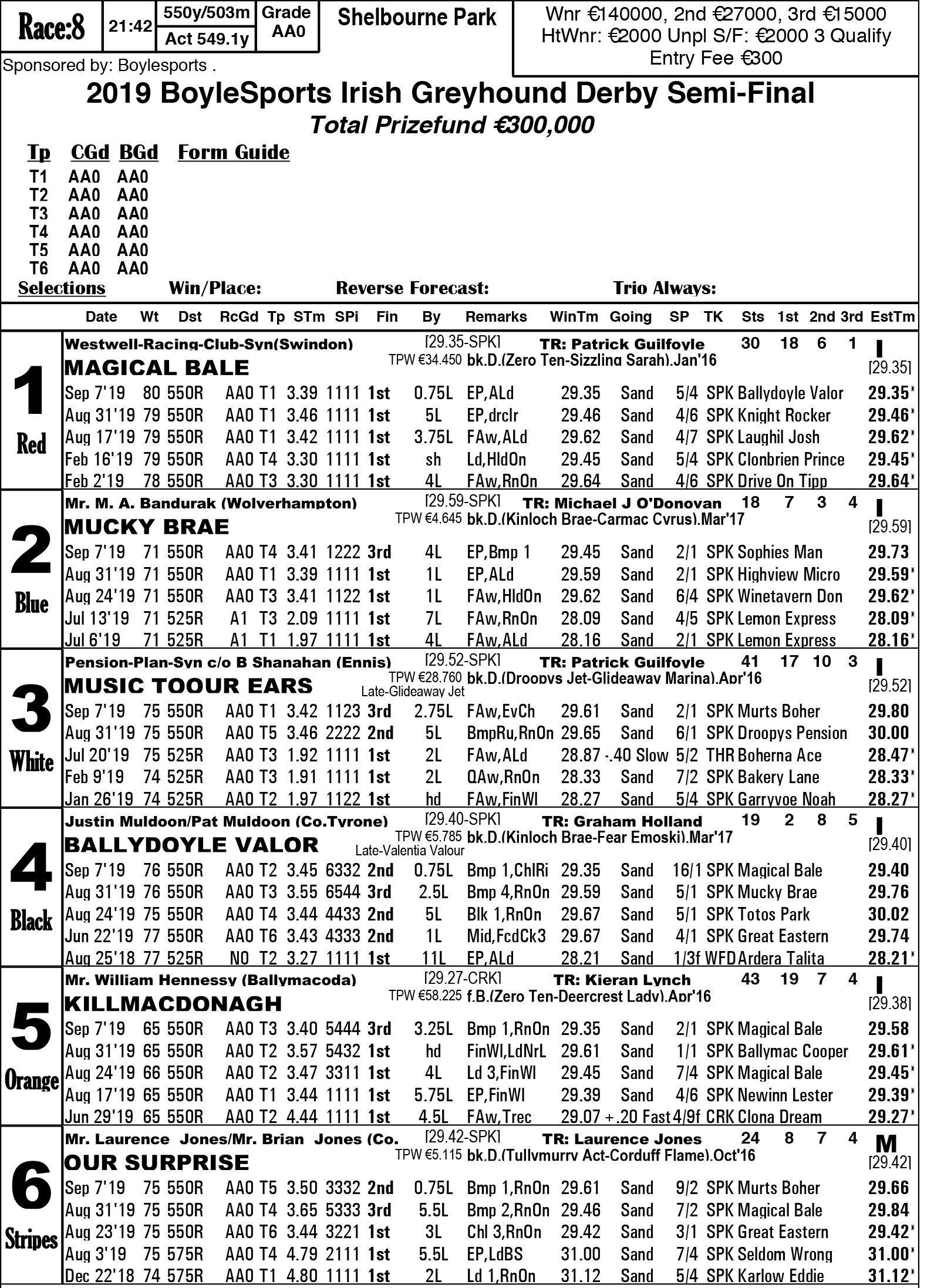 The second semi is a race that a BAGS racing manager would be proud of. I would fancy a fully fit Magical Bale – depending on fitness – to have the class and early pace to lead up and go on and win. Whether Killmacdonagh can get a run behind from a poor draw remains to be seen. But it is a pig of a draw. Mucky Brae is very fast to the bend, Music Toour Ears will take full advantage if the other two don't get clear and he will head to rail. Since trouble tends to escalate from inside-to-outside, it is anybody's guess what will happen to the four, five and six, let alone the 1-2-3. I don't think it matters how quickly Ballydoyle Valor traps because he doesn't have the early pace of the inside three anyway. I just hope he can stay out of trouble and go through any hole that appears at the first bend. He might be a big price, but I genuinely think he has a chance to qualify.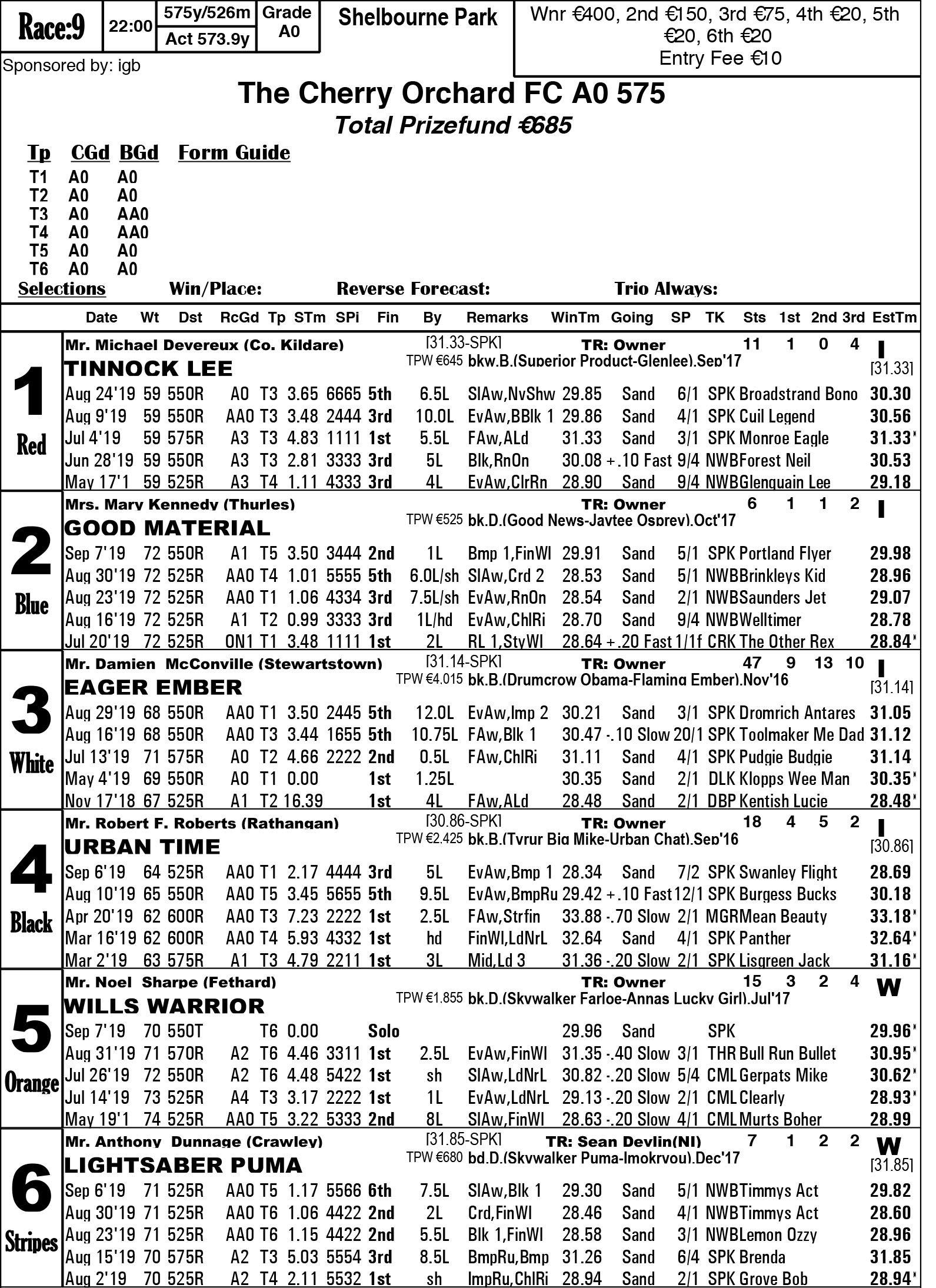 If I was forced to pick one here, it would probably be Eager Ember with Good Material as the danger.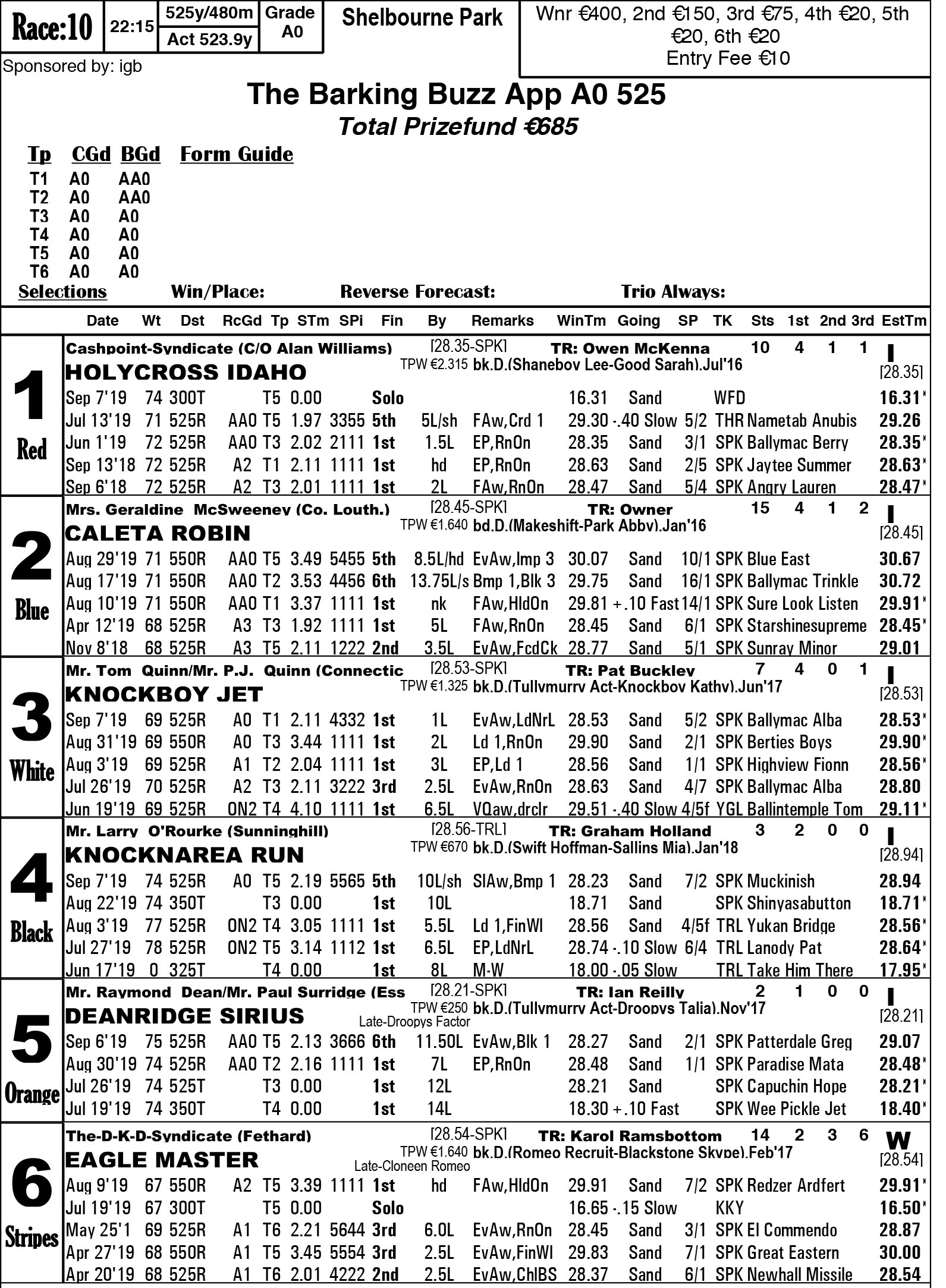 This is an interesting race with Deanridge Sirius, who went below the sprint track record presumably looking to get Puppy Derby experience. It is a similar story for our Knocknarea Run who I think has tremendous potential. But given his extra experience, I would probably just edge towards Knockboy Jet.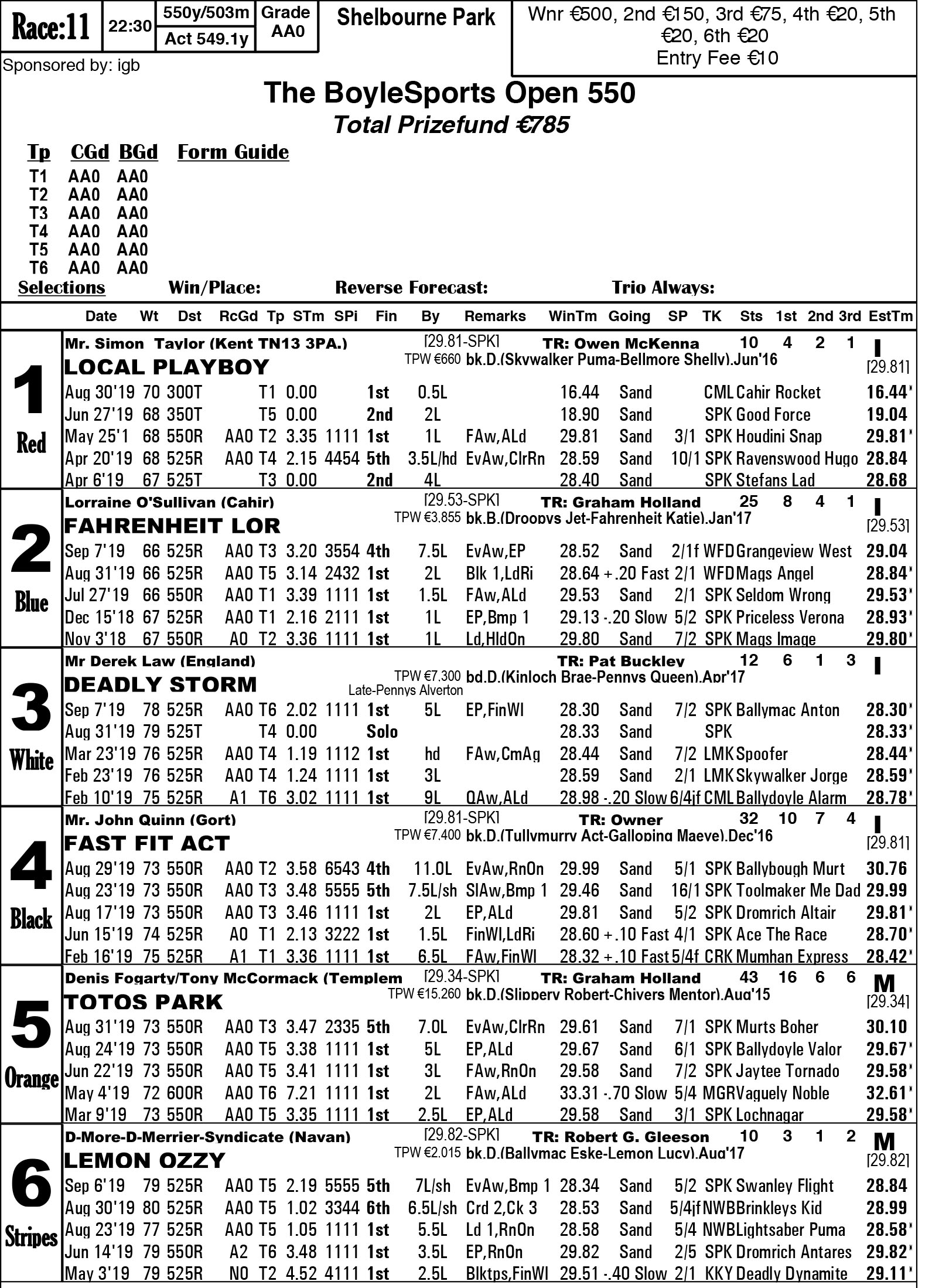 We have the veteran Totos Park in the last and I expect him to run well. When doesn't he? We also have Fahrenheit Lor who found herself on the wrong side of Grangeview West in her race at Waterford. She will certainly win her share. On recent form though, I think Deadly  Storm is the one they have to beat.