We are thrilled to have six dogs through to the quarter finals of the Boylesports Irish Derby, including several of the leading fancies. But I have been in this business too long to do anything other than take one race at a time. As soon as you start thinking beyond that the wheels tend to come off.
The first quarter final is the only one where we don't have a runner and in some ways I am glad we avoided it; it is an absolute cracker. It features the joint Derby favourite Jaytee Taylor in six and in my opinion, this will be his biggest test to date. He has three of the fastest dogs to the bend still in the Derby drawn on his inside.
I am a huge Whoops Jack fan and although he missed his break last week, I cannot imagine him missing it twice. He is an absolute machine. As for Cabra Hurricane, his speed to the third bend has been a revelation. I was surprised he stayed on as well as he did last week, but he is a young dog and apparently still improving. Kilgraney Master is also blessed with tremendous early speed. They can't all get around the bend at the same time, but let's hope they can all do it safely.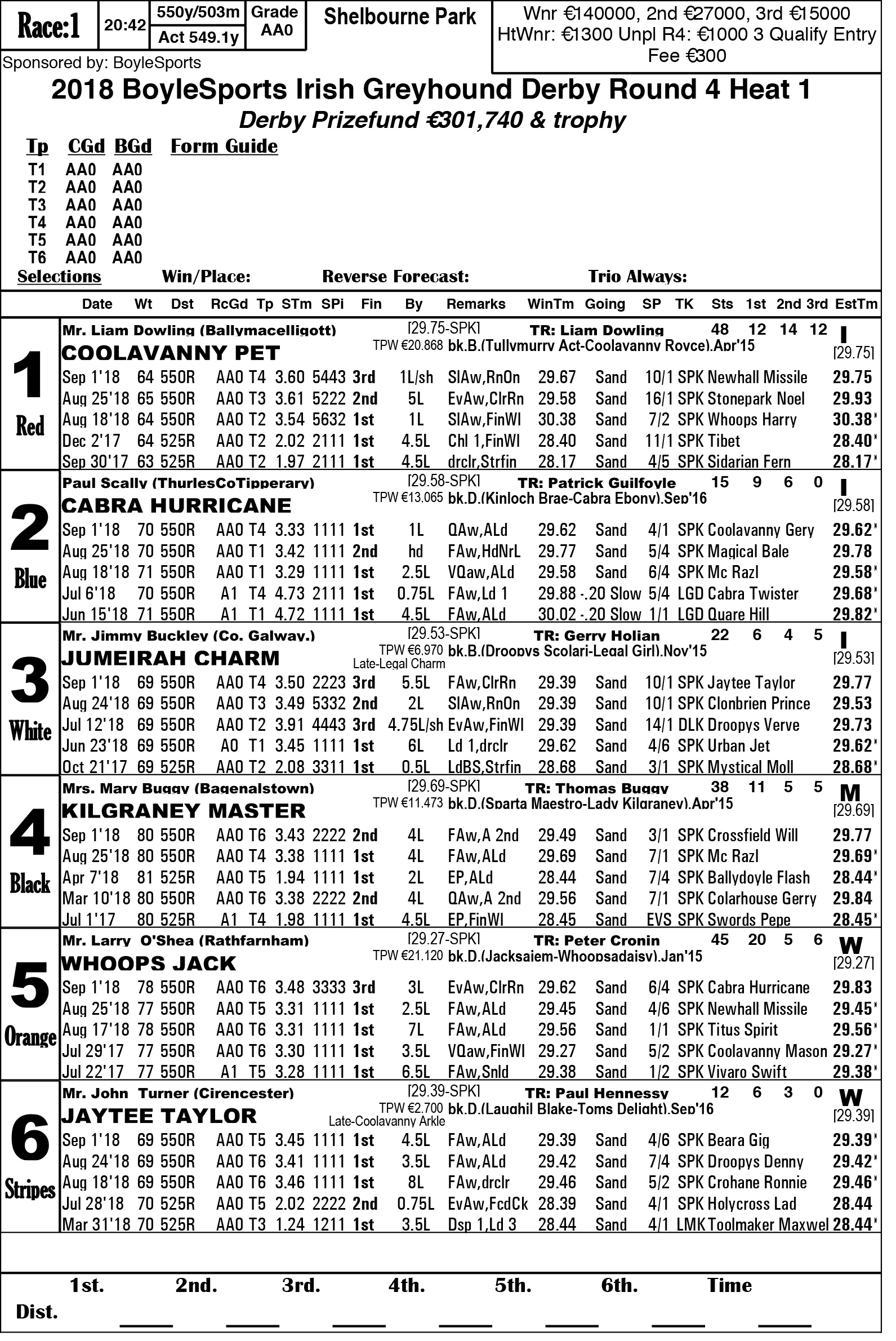 ---
We have the five and six in the second heat. They are taking on each other for the second time in a row, though this time their positions are reversed. Totos Park has been the find of the Derby for me.
I don't think he came into anyone's thoughts ante post but he has not put a foot wrong. Slippy Cian missed his break last time, but is capable of reversing form with Totos if he gets it right at the traps. I was very impressed with his trackcraft last Saturday. He weaved in and out to qualify when many others would have found trouble.
The obvious danger to our pair is Magical Bale who ran exceptionally well behind Lenson Blinder. It wasn't until the latter stages that Blinder got away, though he will have to avoid Bakery Lane who is not devoid of early himself and will move to rail.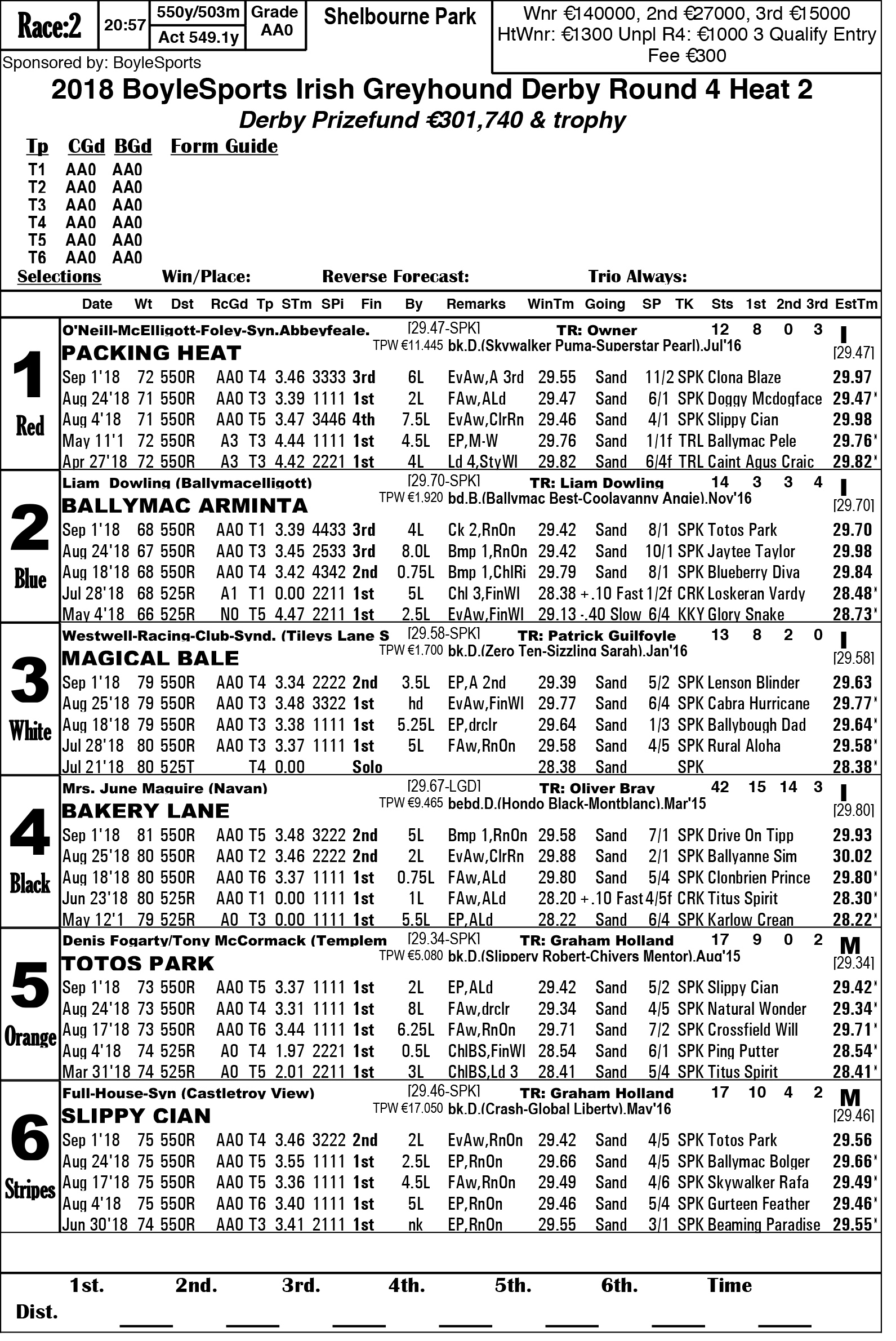 ---
We have three in the third heat and it really is a case of fingers-crossed for all three. I couldn't be happier with Drive On Tipp's draw on the inside, though he will need to break at his best if he is to hold onto the rail from Doggy McDogface.
I think Lenson Blinder can lead up on the outside. We had a few problems with him before last week's heat. We weren't sure whether he would run and then owner Len Ponder decided to fly over. Thankfully it all went to plan and he came off completely sound. Clonbrien Hero moves to middle from the rails but will move to the rail if he leads up on the outside. I don't expect him to lead Blinder though.
That won't present a problem to Hero. He is a genuine competition dog who finds a way when you think he has nowhere to go. He can hopefully look after himself on the outside and qualify.
---
The final heat will probably see Crossfield Will start as favourite, though he will need one of his better breaks to get past Ballyanne Sim on the run to the bend.
I quite fancy our dog Clona Blaze though. He is one of the few wide runners still in the competition and I would expect him to lead the outside runners. If Crossfield Will does get held up, Blaze might have enough in hand to hold on.
Really though – this is all about qualifying and them all coming off sound. I have seen too many unbeaten dogs reach the final and then it all goes wrong for them. I just want to be there and take our chances on the night.