We started out with 16 in the Boylesports Irish Derby and if you had offered me five in the semi finals, I would have snapped your hand off.
But greyhound racing will always bring you down a peg or two if you get too cocky, and we are all still aware that there is nothing through to the final. At this stage, I would love to have two or three runners.
Thankfully all of ours came through the quarter finals with no ill effects. They have all been in the jacuzzi today and there will be no excuses on Saturday
On Saturday, the only one we lost was probably the dog that most people would have had as our leading contender, Lenson Blinder, and I was absolutely gutted.
The editor has always told me what a great guy, the owner Len Ponder is, and on Saturday I found out for myself. You only really learn about someone when they get beat; everybody can be a nice guy when they win.
Len was an absolute gent, a real sportsman who took it on the chin. In fact, I had never really had much time to speak to him in the past, but I discovered that like us, he is very family orientated and a man of great dignity. I would really love to win something with Blinder for him one day.
Someone was trying to wind me up on Saturday and said that the draw had been made and all of our five were in the same semi. I think he was a bit taken back when I replied, 'that's great news, that means we will have at least two finalists'
Overall, I prefer the English system for draws where the seeds are evenly allocated. On Saturday, one semi will feature two wide runners and four railers, the other has four railers and two wides.
I realise that some people will say 'a champion should be able to win from any box', but that is only if he is allowed to do so. Give me a trouble free race any day.
A couple of people had said, 'which of yours would you like to win with' and again, the clichéd answer is 'any of them'.
But it is true.
Every dog and his connections have their own story, as I am sure is the case with the other seven runners still in it.
I would love to see Drive On Tipp win it for owner Larry O'Rourke who has been such a fantastic owner, race sponsor and general greyhound racing supporter for many years. He would be well overdue a night to remember.
I think Slippy Cian would be a worthy winner of the competition as one of the classiest dogs still in it. I was delighted with his quarter final win and he showed all the intelligence and track craft that I have spoken about in previous columns. A top top greyhound and worthy Derby favourite in my biased opinion.
Totos Park only came into the competition to get fit after injury setbacks. I greatly underrated him and it is so exciting when a dog exceeds all expectations for myself and the owners.
I would love to see Clona Blaze win it so I could score some 'told ya so' points over owner Kevin O'Brien.
I bought Clona for Kevin as an unraced pup and he took a while to get going. Kevin originally wasn't that convinced and the dog could easily have been sold on.
Thank goodness he wasn't. Can you imagine how he would have felt now? But fair play to Kevin, he trusted my judgement above his own and I am thrilled it is all coming right for him. Mind you, we've had a bit of banter and I've given him plenty of stick over his lack of faith.
The only problem is, he hasn't been to the track so far, and I've warned him about being a bad omen by turning up now.
As for Clonbrien Hero, how I would LOVE to see him win it and have the whole background to his past brought into the limelight. We have been treated disgracefully by the IGB.
We have two in the first semi finals and their running styles could not be further different.
Pat Guilfoyle's pair should dominate the inside on the run to the bend and I would expect Clona Blaze to lead up on the outside.
Cabra Hurricane has exceptional early pace, even more than Magical Bale I would have thought. I can't see either Drive On Tipp or Newhall Missile going with them, and it's a case of will the inside pair hamper each other, and what space will they leave. Certainly Magical Bale is desperate to move to rail.
I would love to see Drive On Tipp in a close up fourth off the second bend and take our chances from there.
From what I have seen so far, I don't think Jaytee Taylor has as much early as Clona Blaze who should get a solo on the outside in the early staged. If he avoids whatever trouble there is at the first bend, you would expect a big run from Taylor from the second bend onwards.
But don't underestimate Blaze who is fanatically keen to win at all costs. He goes into the hare box like a lunatic at the end of the race, to a point we have to try and get between him and it in case he hurts himself.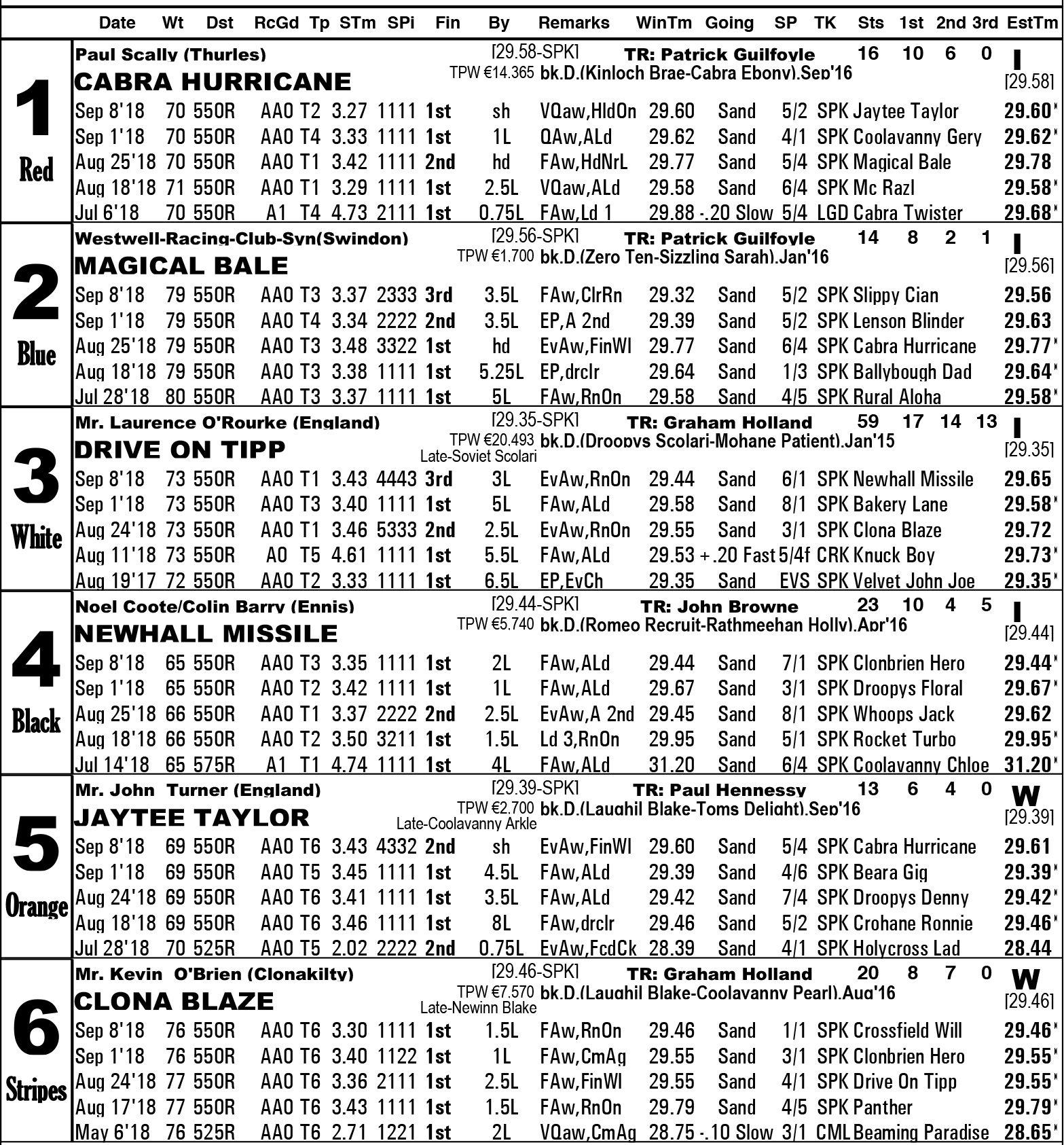 I am really not happy with the draw for the second semi final. Given a choice, I would swap the draws of Slippy Cian and Totos Park.
My concern is that Clonbrien Hero will move out from the boxes and could hamper Slippy Cian, whereas Totos Park will be moving in at the first opportunity.
Given my time again, I would perhaps have put a 'W' on Slippy Cian because he can run from any box would avoid more trouble on the outside.
I thought Clonbrien Hero should have won his quarter final but for coursing the hare off the last bend. Instead of coming on the inside, he jumped over the back of the leader and went around the outside.
He definitely chooses his own path in the race because although he moves out on the run-up he then cuts the bend.
Sometimes in a race you are reliant on a bit of trouble in a race to see one of your dogs qualify.
I would settle for this being a trouble free race for our three and see how many would qualify on merit.