We ended up entering eleven runners for the Star Sports/ARC/LPS Greyhound Derby, which is a couple more than I originally anticipated.
Some people will say 'there are only three or four of them who are serious contenders'. While that might be true on paper, we have won a lot of finals over the years with dogs who I thought were making up the numbers when I entered them. The old adage about 'you've got to be in it. . '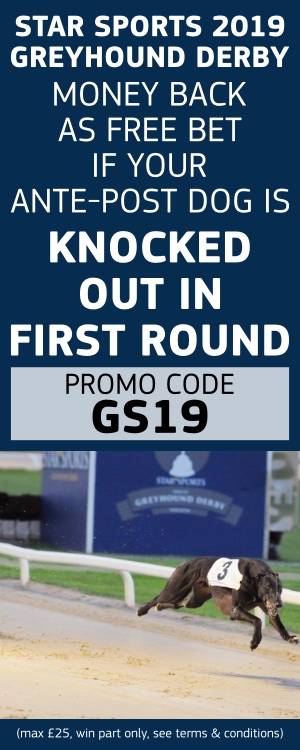 We have brought dogs over to Wimbledon and Towcester but for all sorts of reasons, this Derby campaign should hopefully be the most enjoyable.
It is a long tough ordeal but the fact that are we able to kennel the dogs overnight at Dave Firmager's kennel is a huge bonus. It is a lovely place, only 20 minutes from the track, and it gives the dogs a chance to relax in the kennel, and whoever has brought them over, a few hours to have a shower and freshen up.
There has also been a lot of common sense applied to his Derby. That would include staging the entire first round over two nights, allowing a week between each round and setting up the seeding panel.
Nottingham have also bent over backwards to help. Transferring entry fees between Ireland and the UK is more fiddly than it should be but Nathan Corden has been very patient and accommodating.
Given the number of runners involved, we will have at least three staff on hand, though thankfully, an old friend and dog man from the West Country, Dave Simpson, is coming along to give us a hand.
It has been a learning curve for us, and the dogs. Nottingham is not the easiest track to run. Most dogs like to rail at the first bend, but run middle to wide at the third bend.
I think it takes at least three runs for most dogs to adapt to the place and I would expect a lot of the local runners to do well, particularly in the early rounds of the Derby.
There are quite a few differences between the two circuits, particularly in terms of the run to the bend, but Nottingham reminds me a bit of the Dundalk 550 which is as tough as any 550 in Ireland. Don't forget the 620 trip there is four bends.
The racing surface, which is regularly plated throughout the meeting, has been excellent though from the way the going varies, you can see that the track staff have to be on top of it the whole time. The track is quite exposed and appears to have very good drainage so they have to water heavily. With the warmer nights it is going to be a non-stop battle.
We have won four trialstakes to date and most of our runners now have a decent knowledge of Nottingham. They are:
Ballydoyle Valor: He has just come into the kennel after being sold. I know the litter well and they are lovely kind greyhounds. Valor did 28.21 at Waterford on debut and was recently in the Con Kirby. I have taken a bit of weight off him and seeded him rails and I was delighted when he won his trialstake in 29.56. A very nice young dog.
Blue East: he made a bit of hash of his trialstake. He showed good pace to catch the leader Antigua Vows and always goes past on the inside. This time he hesitated and switched to the outside which cost him more than the half a length he was beaten. Still a good run.
Clonbrien Prince: He did 29.56 on his first look at the track, won a trialstake in 29.61 (below) and then was beaten next time out, running second. It was slightly disappointing, but I am not too concerned. Prince is a dog who takes a lot of work, at least a run a week, and with the competition in mind, I have been reasonably easy on him at home. He ran well in defeat, and these trialstakes are there for the experience after all.
Clonbrien Swift: ran well in his trial, won a trialstake in 29.66 (below) and was beaten a length last time out. He didn't run badly but we are still learning about him because he is a dog who hasn't had a lot of racing. We started him off on the outside, but he showed an inclination to move in at Clonmel. We seeded him rails at Nottingham and clearly it didn't suit so he has now been seeded 'middle'.
Lenson Blinder: I don't think there is any argument that of all my team Blinder has struggled most with the first bend. The good news is, I think he is getting better with every run. He clocked 29.92, then 29.82 and finished second (T2 below) in his trialstake though the winner, Droopys Expert (T3) clocked 29.38 must rate as one of the fastest four dogs in Britain when he gets a clear run. You can't expect to give dogs of that calibre a start and expect to beat them. But it was still a good run and thankfully he won't be competing against 191 Droopys Experts.
Macaroon Cruz: Probably the strongest running dog in the kennel. He has had flexor tendon injury which has meant we haven't got as much work into him as we would like but he deserves his place.
Nice Charmer: I was chuffed for owner Eric Cantillon when Charmer won a trialstake. The dog has had a virus and been a bit below his best but you can't beat nature. Charmer is an absolute 'summer dog', even in heated kennels in the winter, we have to coat him up. He should be racing in the Bahamas, but shouldn't we all! He has had a series of poor draws in Ireland recently, but he is a seasoned campaigner and with a few decent inside draws, he will continue to be a serious campaigner.
Romeo Rumble: The most inexperienced dog in the team by far and still to develop his track craft. Hopefully the competition will bring him forward but his best days are still in front of him.
Slippy Cian: did a nice trial, 29.45, but got himself a bit wound up in his race on Monday and didn't break and was then badly hampered at the second bend. We know he is a class dog and will be all the better with another couple of races under his belt.
Totos Park: The only dog who I haven't been able to get some Nottingham experience into because of Irish commitments, most recently the Cesarewitch. But he is an Irish Derby semi finalist with 44 races on his card and can hopefully learn on the job.
Wolfe: I have been really pleased with how Wolfe has taken to the track. He has been a bit behind the others in preparation after picking up a niggle. He did a decent sprint trial and then 29.65 (+10) in a trial. He needed that run and should come on. In terms of racing style, Wolfe isn't the quickest breaker but he has outstanding pace to the bend and the long Nottingham run-up should be ideal.
---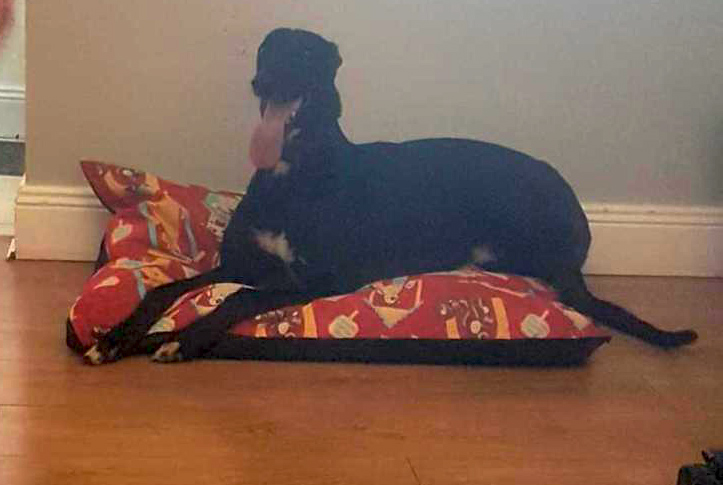 We saw off one of our popular stars last week, Drive On Tipp.
Tipp has been a wonderful servant for Larry O'Rourke, spent most of his career in top class and won 20 races.
He was even the Towcester track record holder at one stage.
He has very quickly settled to life on the sofa with Mark Halley in Cashel.
Mark used to work for me and will be bringing Tipp back here whenever he goes on holiday.