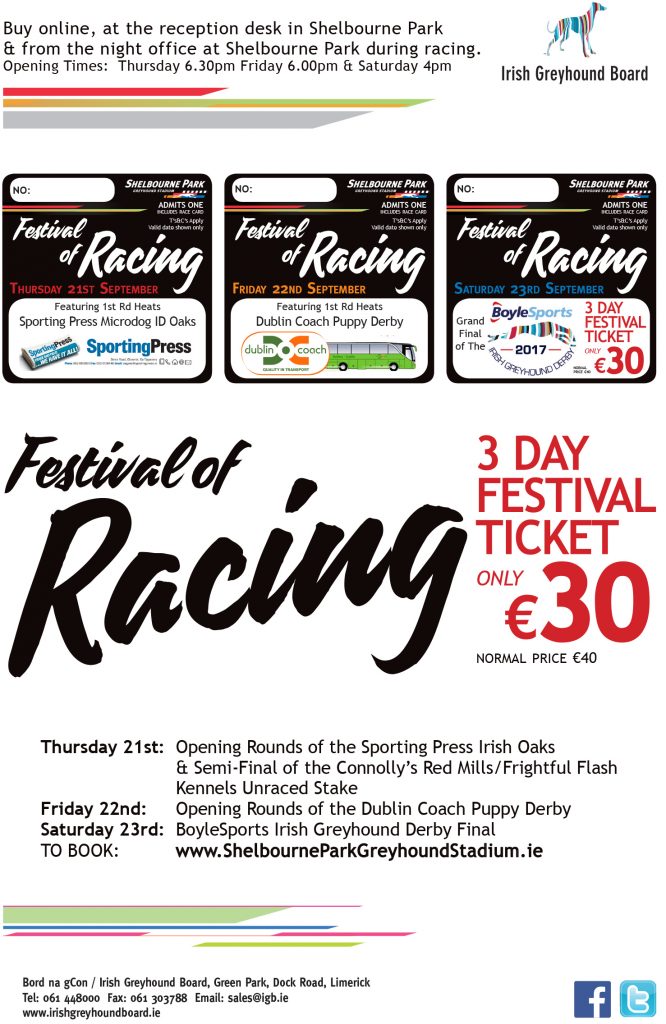 I am over the moon with the performances of the whole kennel in the Derby so far.
We had 14 runners going into the second round and I hoped at least seven would still be in it this week.
As it turns out, we still have 11 in it including at least one in every heat.
We know that they all aren't capable of winning it, but at this time of year, with so little else on, you would just be looking at them on their beds.
Besides, as Seamus (Cahill) said before the English Derby Final, he knew he didn't have the fastest dog in it, but they won it anyway.
That's just how it works out sometimes and best of luck to them.
The way I see it, we are just lucky enough to have some very fast dogs and our job is to try to get them fit and keep them sound, as best we can, throughout the event.
In the first heat we have Sidarian Fern who is just coming out of season. She shouldn't really be in the Derby. We threw her in the deep end because we needed races for her. She has done so well and won back her entry fee. I wouldn't be at all gutted if she was eliminated,as long as she came off tsound as it would mean we could then prepare her for the Oaks which was always the main objective.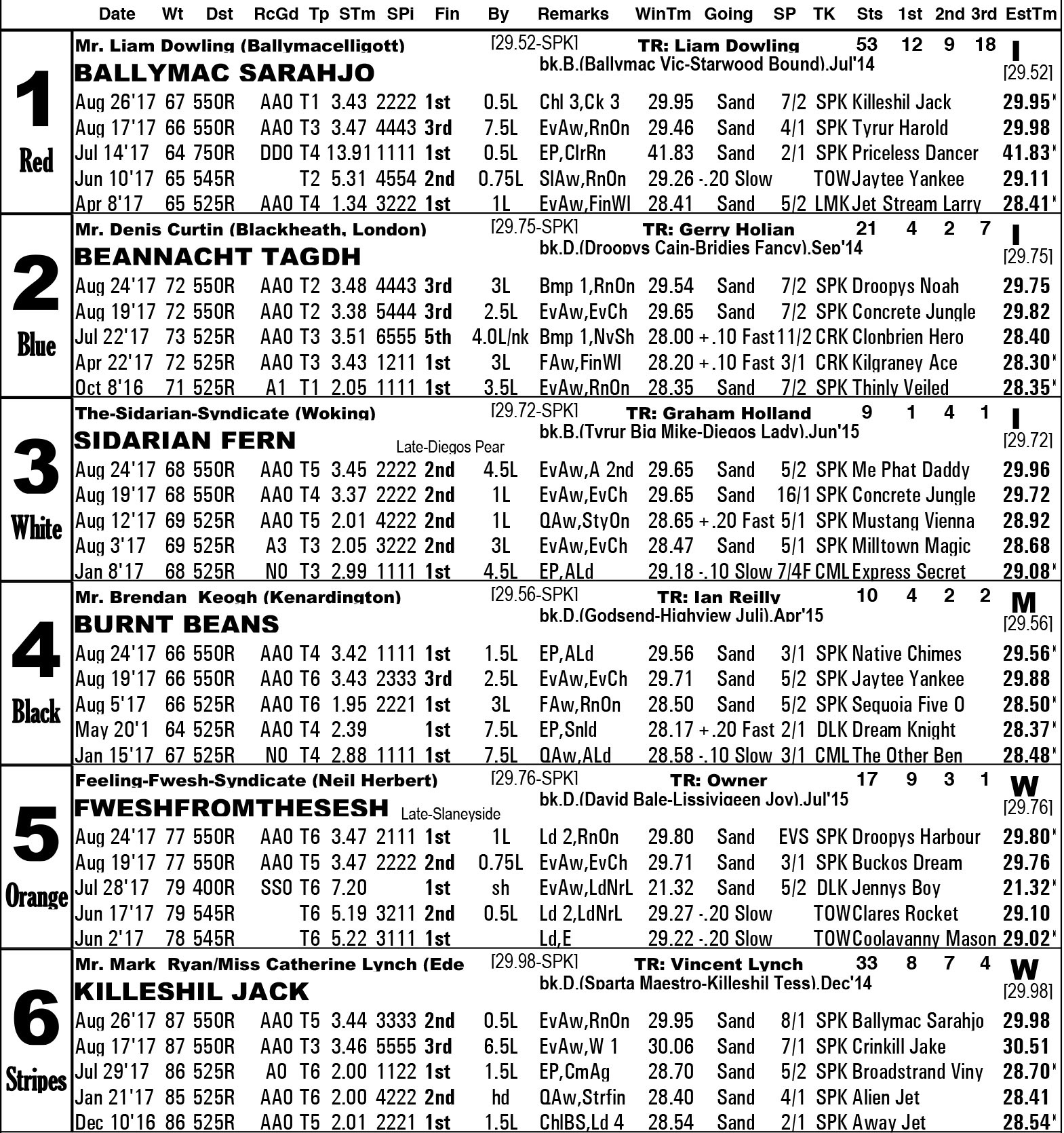 With Cable Bay withdrawn, I would settle for second place with Black Farren in the second heat. Our dog ran well first time out but needed the run. Tyrur Harold is obviously the one to beat in the race.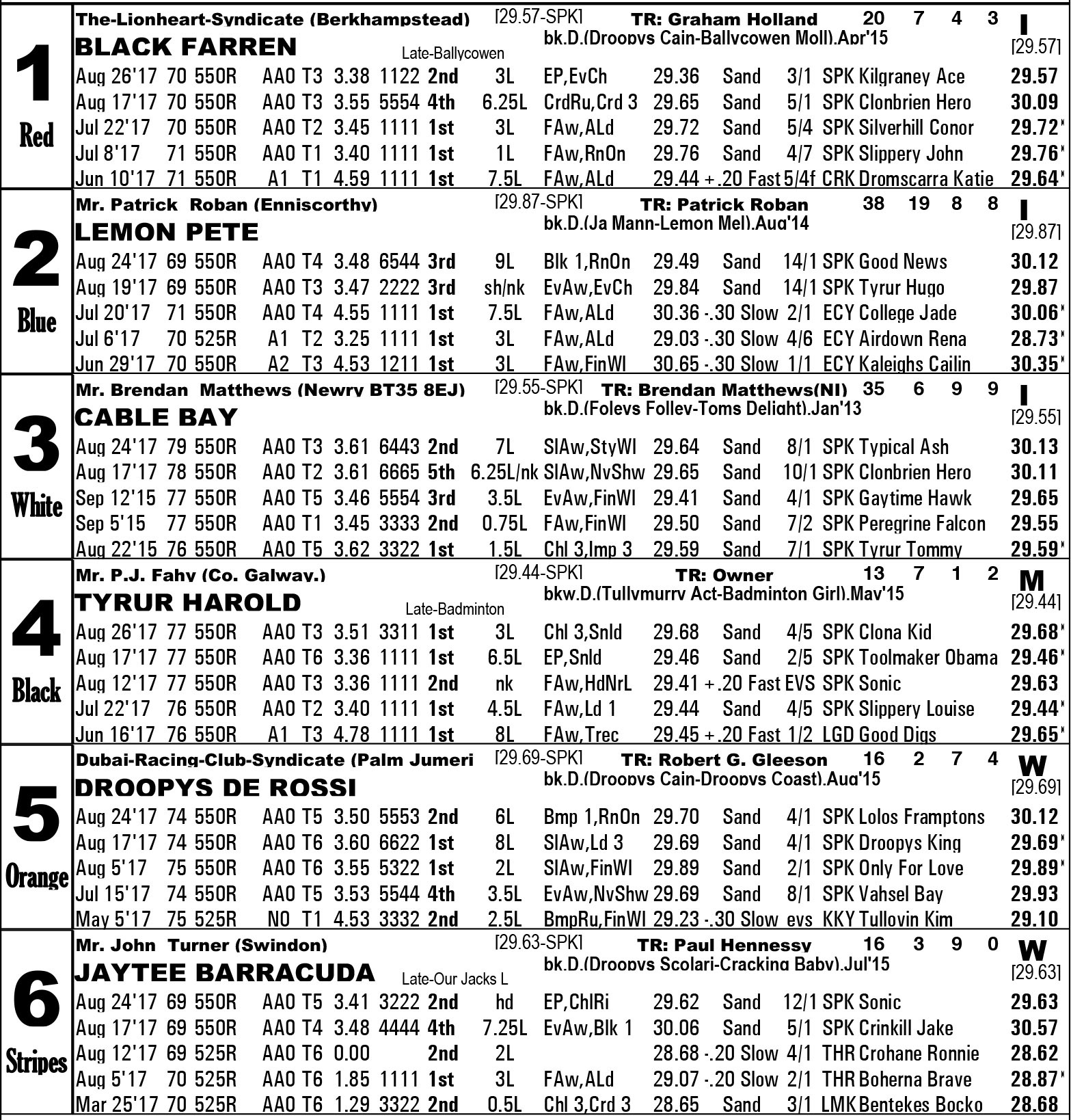 Clona Kid is really a 525 dog who ran above himself in the first round. I thought he was too far behind but he ran on well. He will need to do something similar here. The danger is obviously Native Chimes though he looks badly drawn.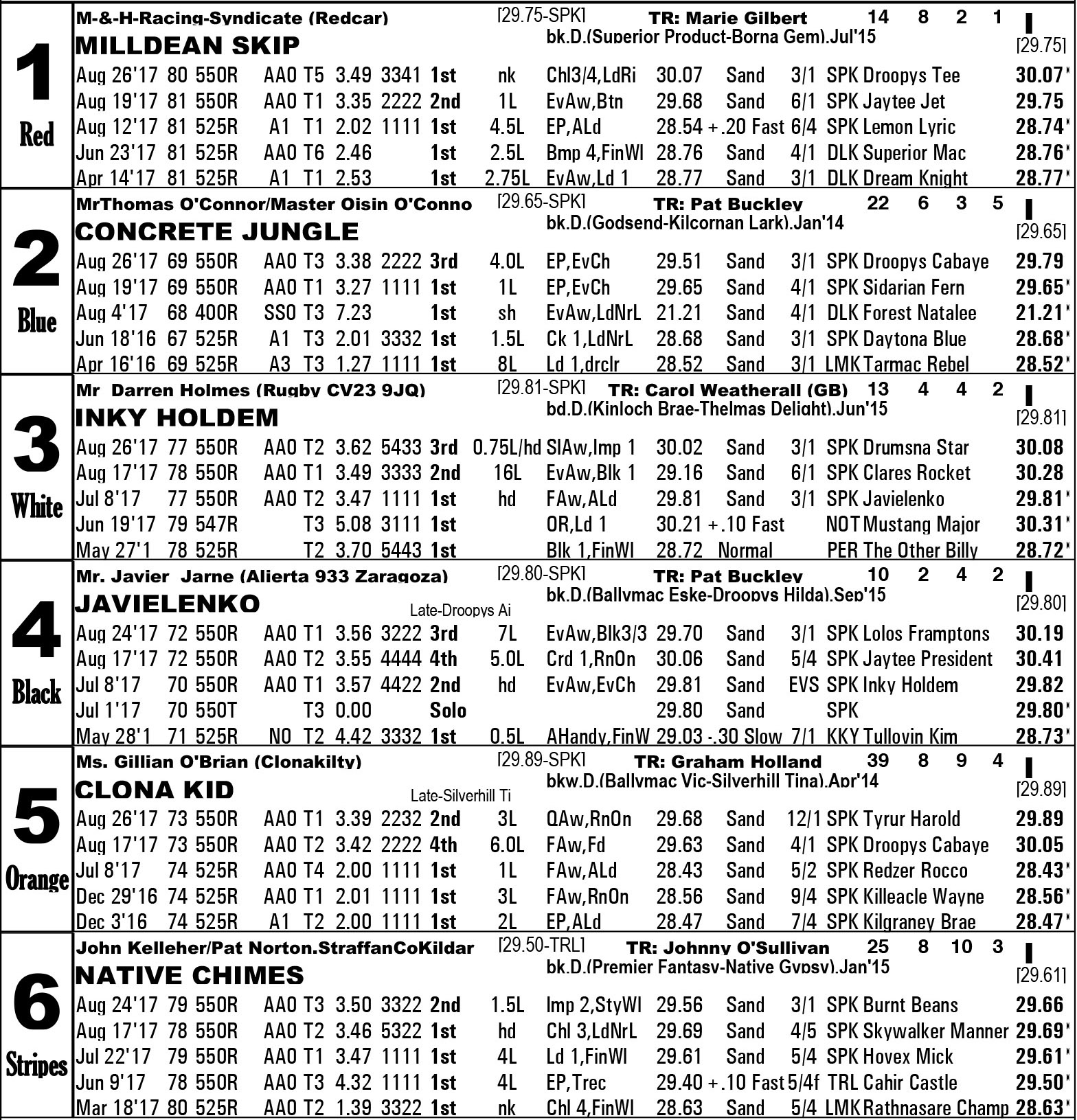 We have two in the fourth heat which is a five runner race anyway(Dorotas Wildcat withdrawn). Hovex Mick is running out of his skin at the moment and I think he has a very good chance here to lead all the way. Skywalker Manner looks badly drawn. Jaytee Jet has been a great dog, but he is coming up to four and that may work against him. As for Impressive Guy, he is a mystery too me. He runs badly when I expect him to, and then takes off when I don't fancy him. I have no idea what he will do. I'm leaving him to train himself!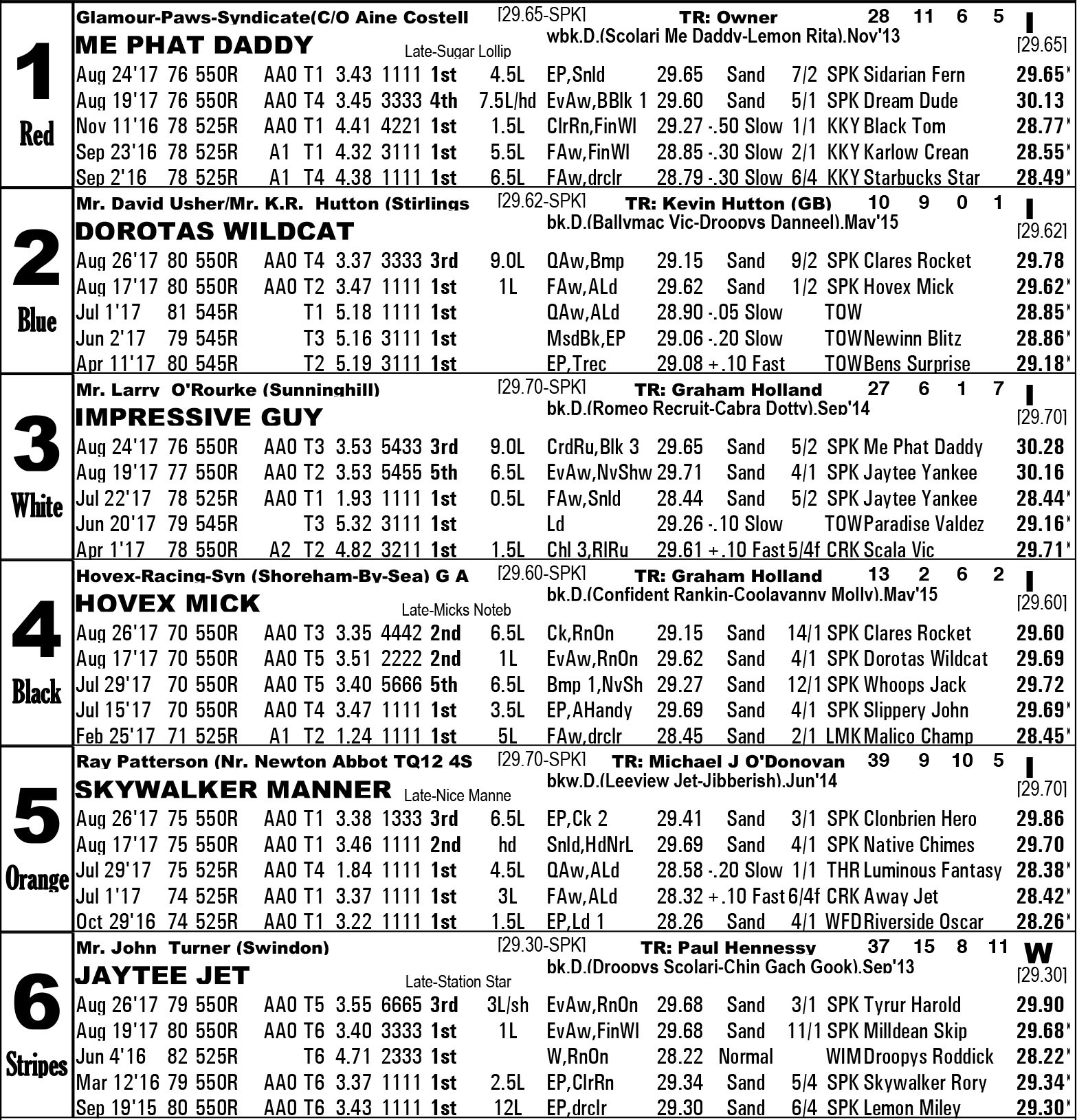 Droopys Cabaye came into the kennel as an A1 performer and in his first couple of races, where he won in photos, I had a few doubts about him.  We have tried to get to the bottom of him and he seems to be improving. I would expect him to qualify, though it might be behind Good News.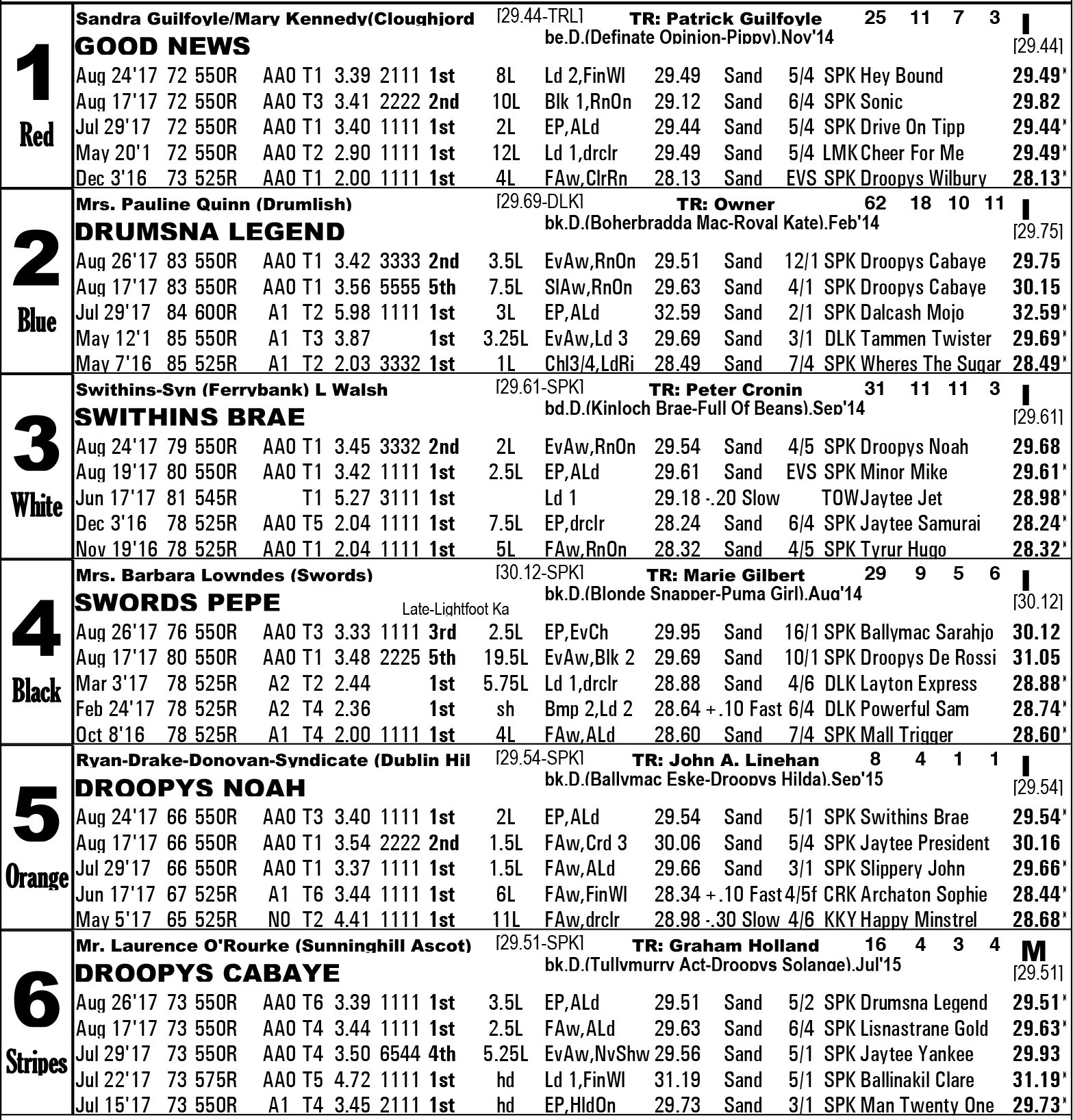 We have two in the next, Clares Rocket and Kiss And Hug. What can you say about Rocket? We know he is a fast dog. Is he a lucky dog? He can get a bit trapped up in himself and we just stay on top of that. He is fit enough, we just need to keep him sound, and then. . .  who knows? Kiss And Hug ran poorly in the first round but then improved a bit. He needs the runs and can qualify though I don't like the draw, he prefers the middle.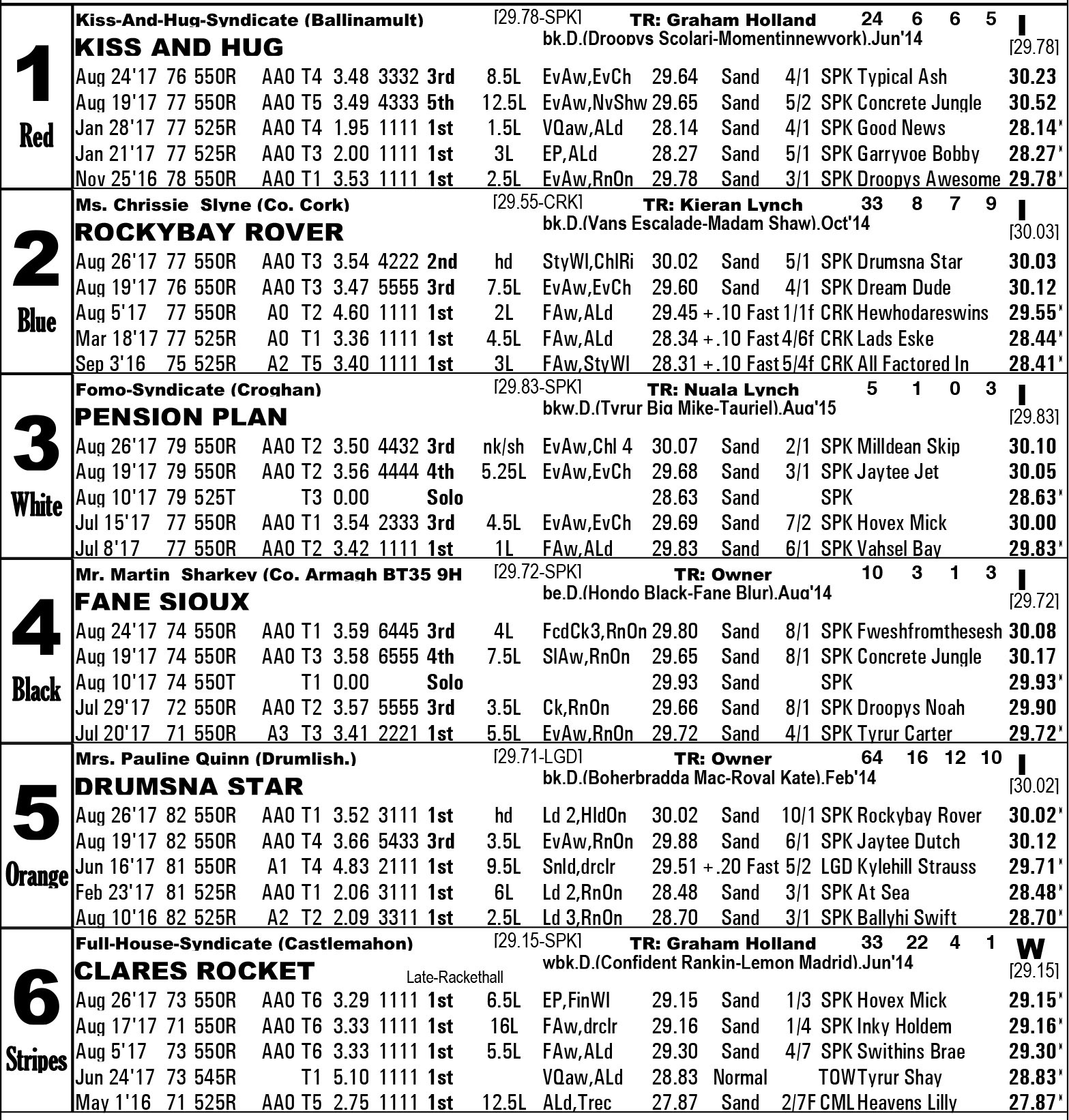 I was delighted with Sonic in the last round. He got himself behind and I was just hoping to see him qualify but he got up to win. It took a lot out of him but he should be fine this week. I am happy with the draw. When he was drawn in the three and four, he turned right at the boxes. I would expect the five to lead up and hopefully get a run behind him. We know how fast he is when he gets a clear run.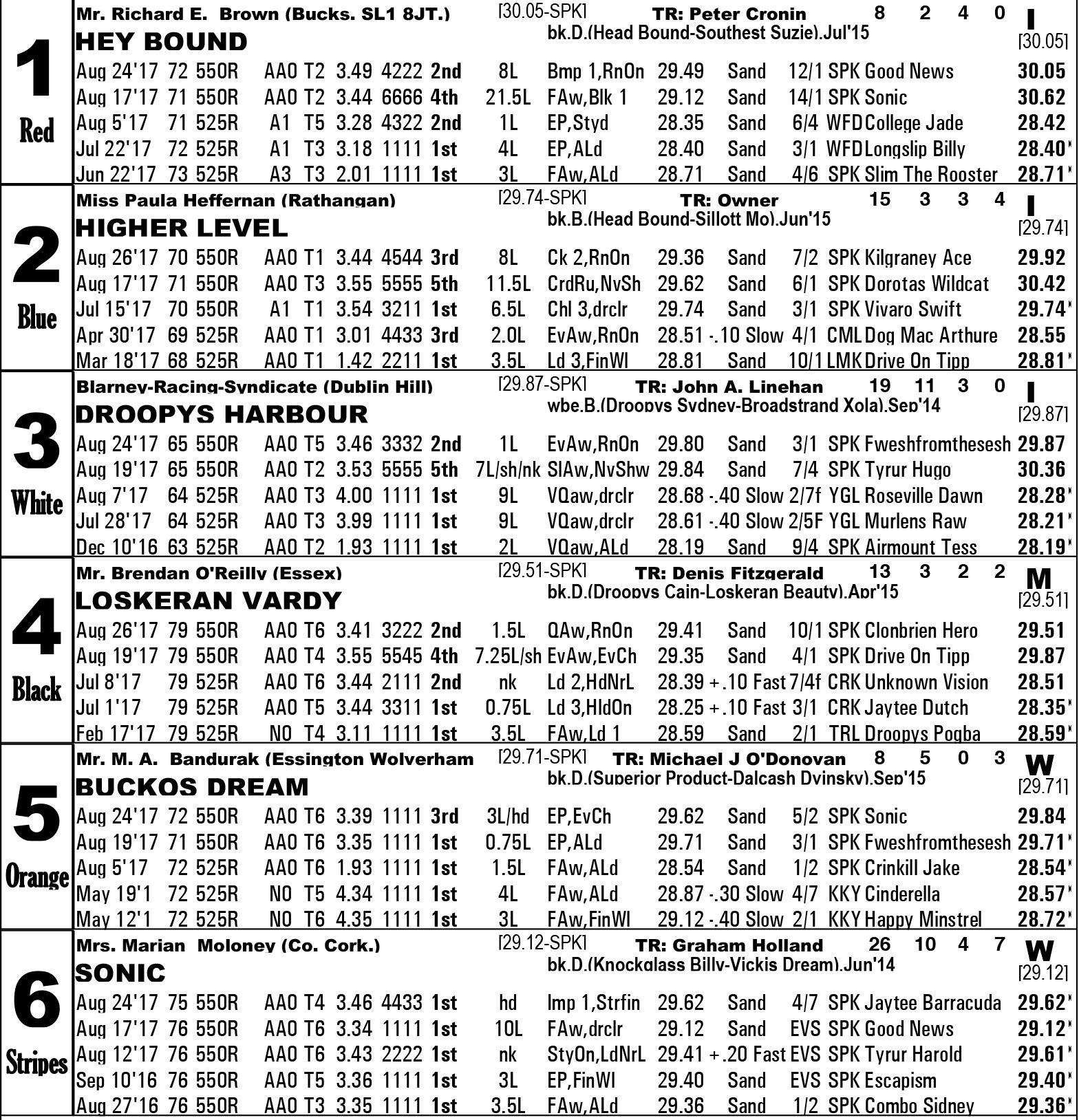 I am happy with the way the draw worked out for Drive On Tipp and Clonbrien Hero. Hero likes to run middle and I was very impressed with him last week.  Drive On Tipp disappointed me in the Champion Stakes Final but then ran really well and clocked 29.35 next time out. One should suit him.