We still have five runners in the Derby as we go into the quarter finals and are just hoping for qualifiers at this stage.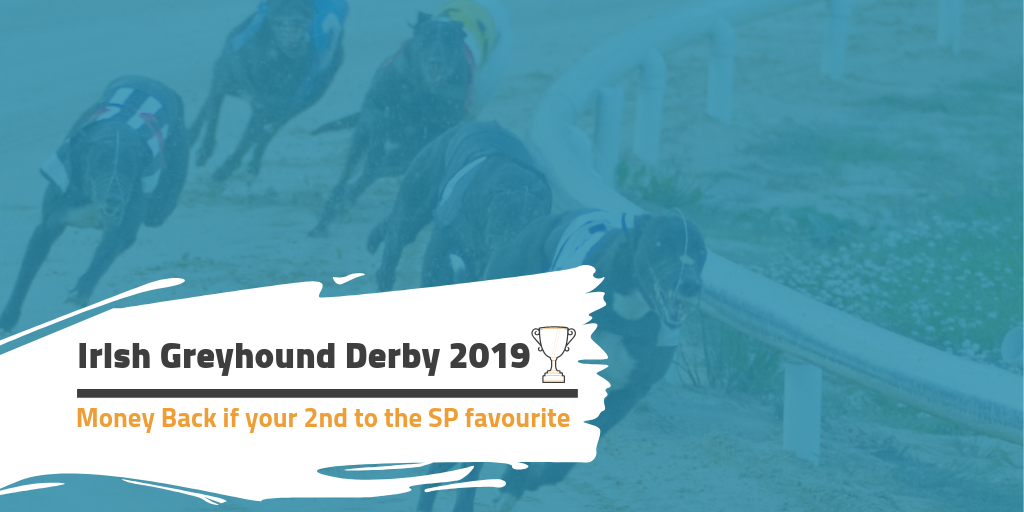 There are is so much early pace in the first quarter final, not least Grangeview Ten who I expect to lead on the rail.
Run Happy badly missed his break last weekend and benefited by some trouble at the third bend to take a qualify place. He couldn't afford to do that again.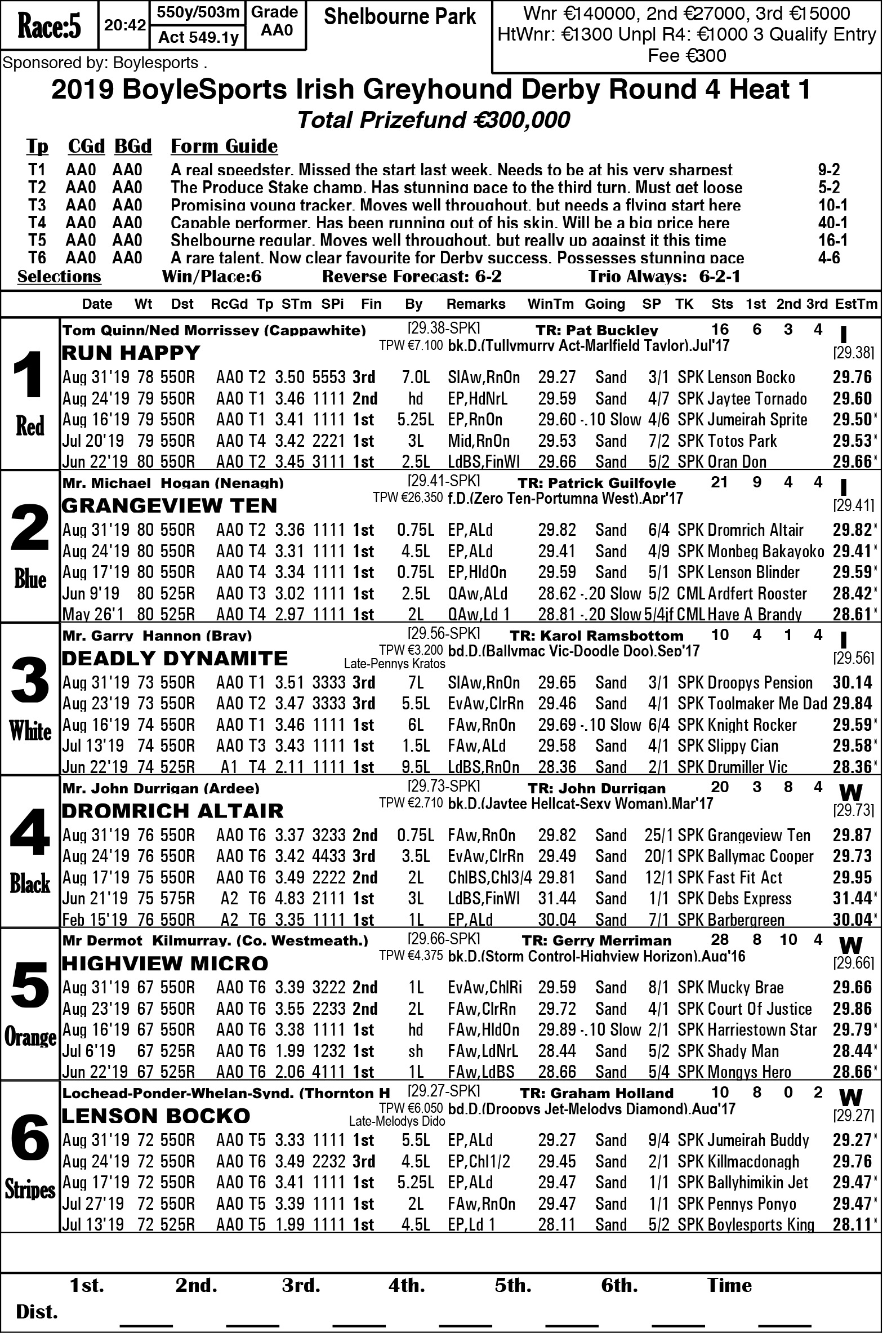 But I would be lying if I said I didn't fancy Lenson Bocko. I thought he ran a tremendous race last week. We have had a couple of issues with him with cramping and I changed his diet before his run last week. He certainly stayed on better, though I can't say whether the new regime had anything to do with it. or whether he is just coming to hand.
I am certainly not taking anything for granted, because as I said, there is early pace throughout the race and he will have to clear Highview Micro who is also a decent early paced wide runner. Bocko will gradually move across on the run to the bend providing he traps okay. If he does, then I would expect another good run from him.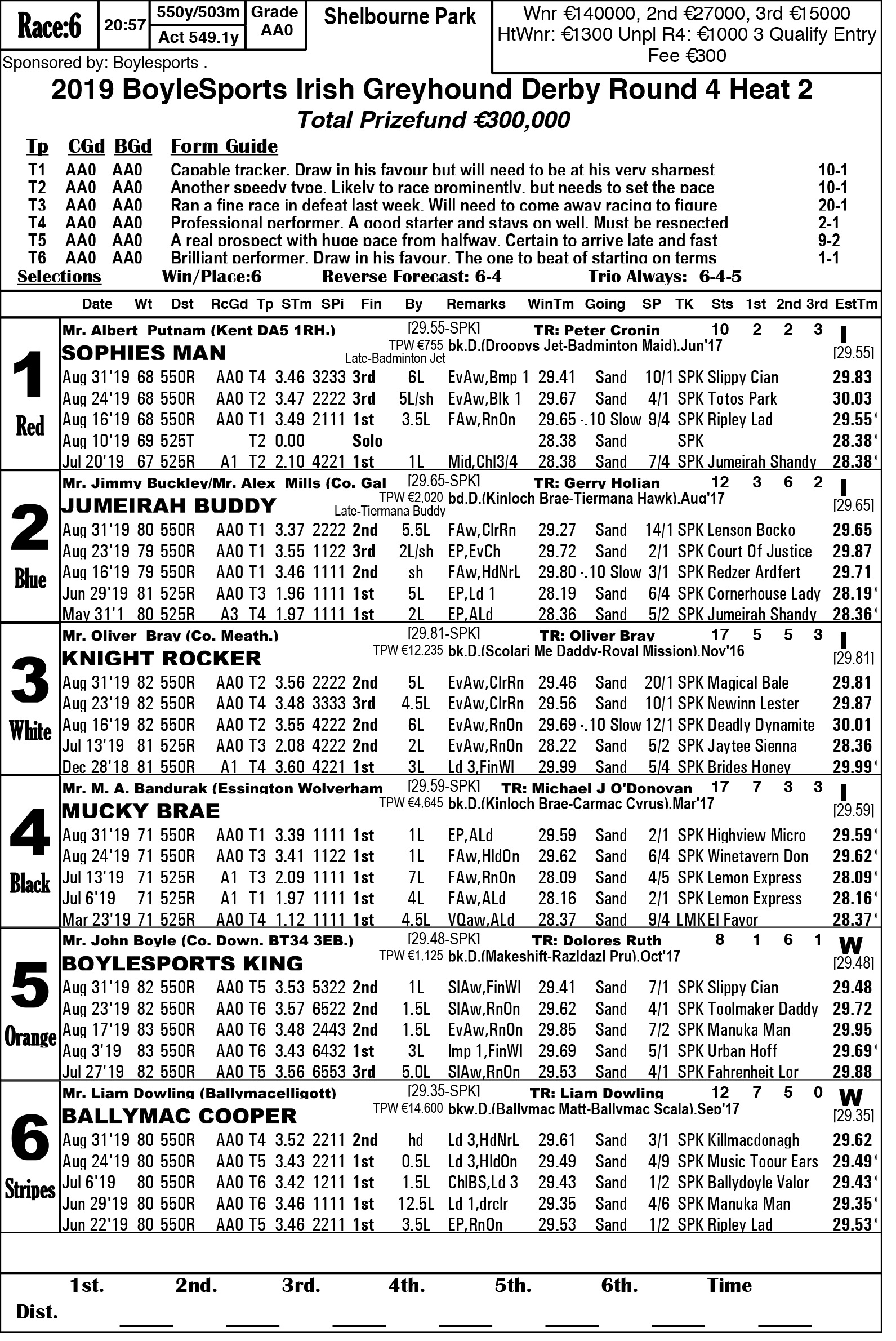 I thought Sophies Man ran very well behind Slippy Cian last time out despite a poor draw. I expect Mucky Brae to move to rail on the run-up, but I quite fancy Jumeirah Buddy who I thought ran particularly well behind Bocko last week.
I will confess to finding Boylesports King a real enigma. He just might develop into a 600 yard superstar, but at the moment, I think he is vulnerable to finding trouble. If he gets a clear run, he can certainly run on to qualify.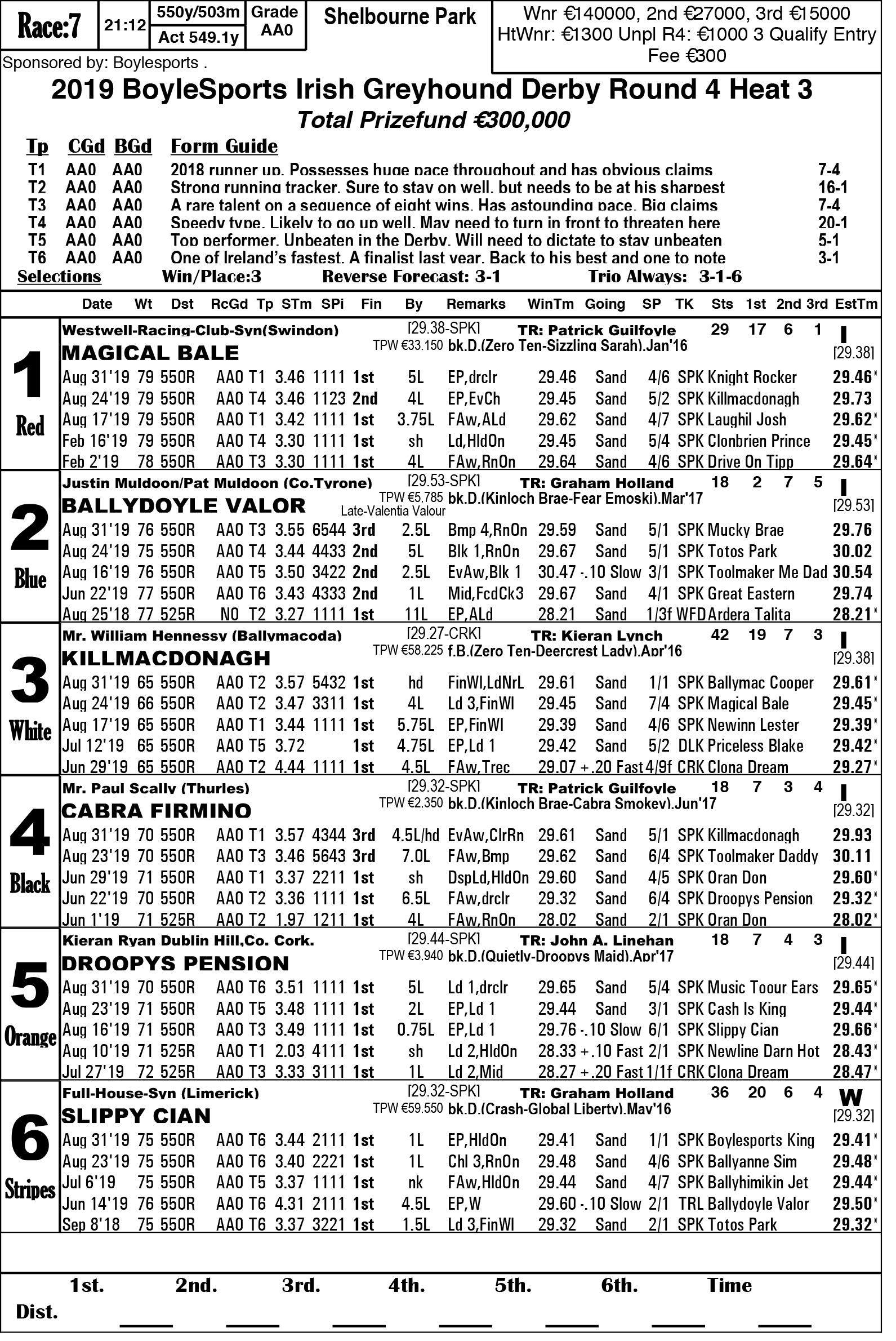 We have two in the third qualifier which looks incredibly difficult to call. I thought Magical Bale's winning time on Saturday was a bit disappointing (29.46). Since we all know how good he is at his peak, you would have to assume that there is more to come and he looks exceptionally well drawn in one.
He meets Killmacdonagh Again, and I think this is her toughest race to date. If I try to picture the first bend on Saturday, I can see Bale with the advantage and 3-4-5 all squeezed from room. Cabra Firmino and Droopys Pension will try to take the bitch's ground. They can't all get around.
Of our two, Ballydoyle Valor doesn't have the early to go with the others. It suits him to be in faster company because he can slot in behind them and hopefully sneak through on the rail. I admit I am biased, but I think Slippy Cian can get a clear run on the outside. But he cannot afford to miss his break or he will be the goalkeeper on the outside and the trouble will come across to him.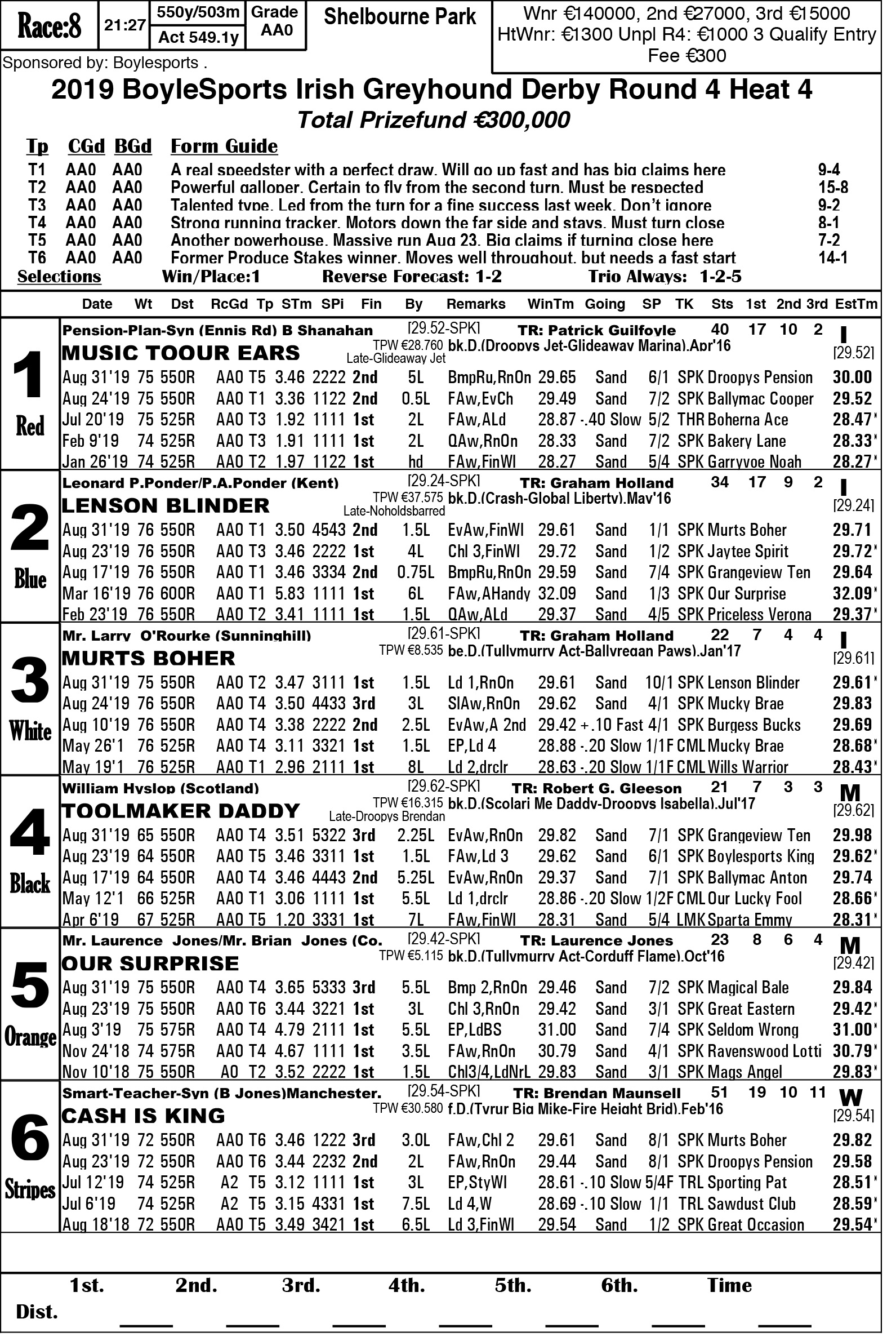 When the draw for the fourth quarter final came out, I think everyone breathed a sigh of relief that Music Toour Ears drew trap one. I think he and Murts Boher will go to the bend together, providing Murts produces one of his better breaks.
Lenson Blinder should get a clear run on the rail and I fancy him to run on and pick up the leader(s). The outside three are probably better suited to slightly longer distances, and will be running on late.
---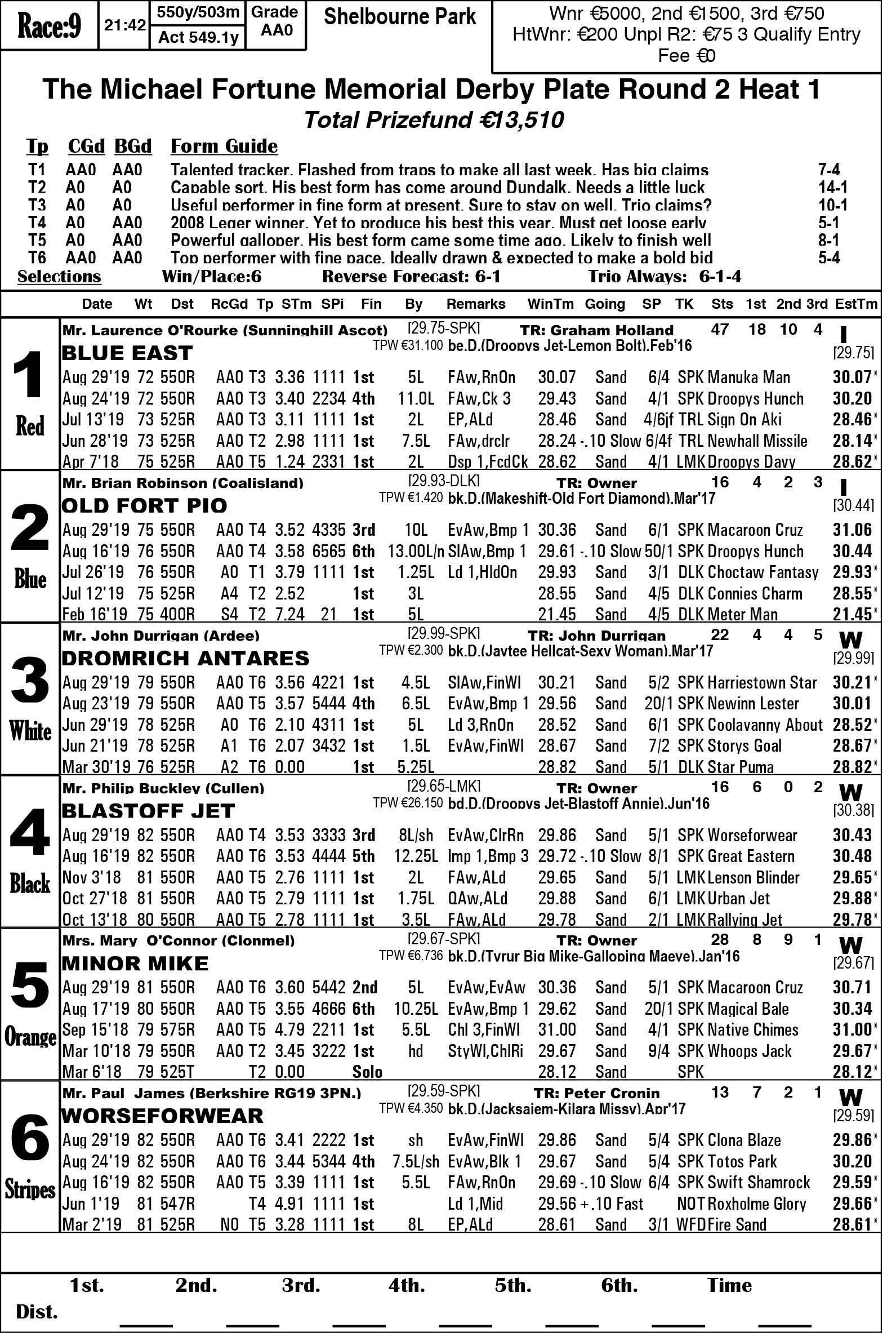 I expect the first heat of the Michael Fortune Memorial Derby Plate to be closely contested by Blue East and Worseforwear.
Blue East barely gets the 550 yards and I moaned that he wasn't helped by the slow going in the heats last Thursday. But to be fair, the reason it was so slow was because they were replacing units in the sprinkler system. The Shelbourne track staff are very dedicated and it is good to see them trying to get it right.
That said, I think Worseforwear could still be too strong in the latter stages and looks a good bet for Peter Cronin. A 6-1 forecast in my book.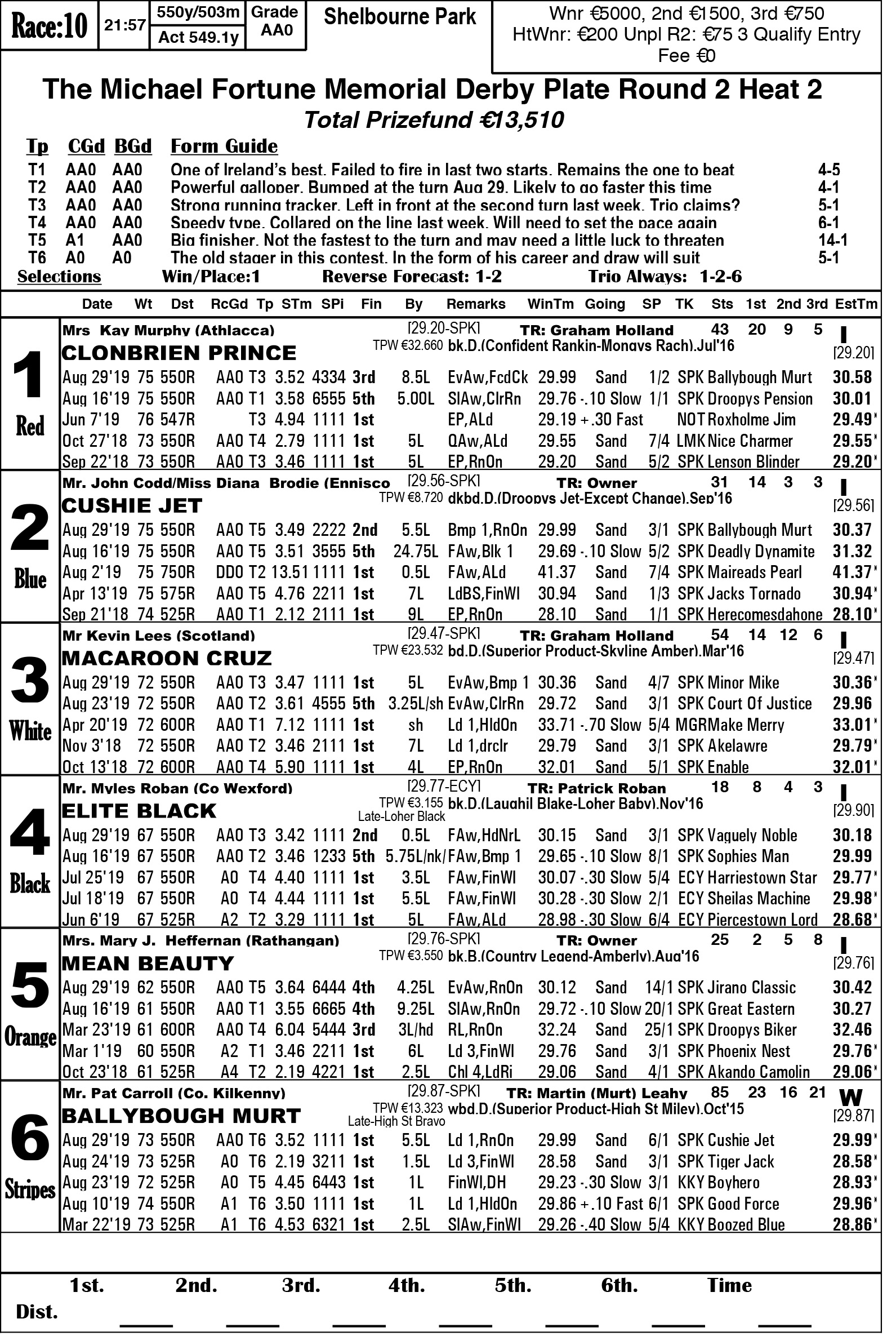 The English Derby took a lot out of Clonbrien Prince and it has taken a while for him to recover. He hit the rail in the first round of the Derby and that put his fitness back further than I would have wanted.
Cushie Jet is a good consistent performer and Macaroon Cruz took a drop in class to win his heat last week. So I see this as being between the three of them and I fancy Prince to return to form.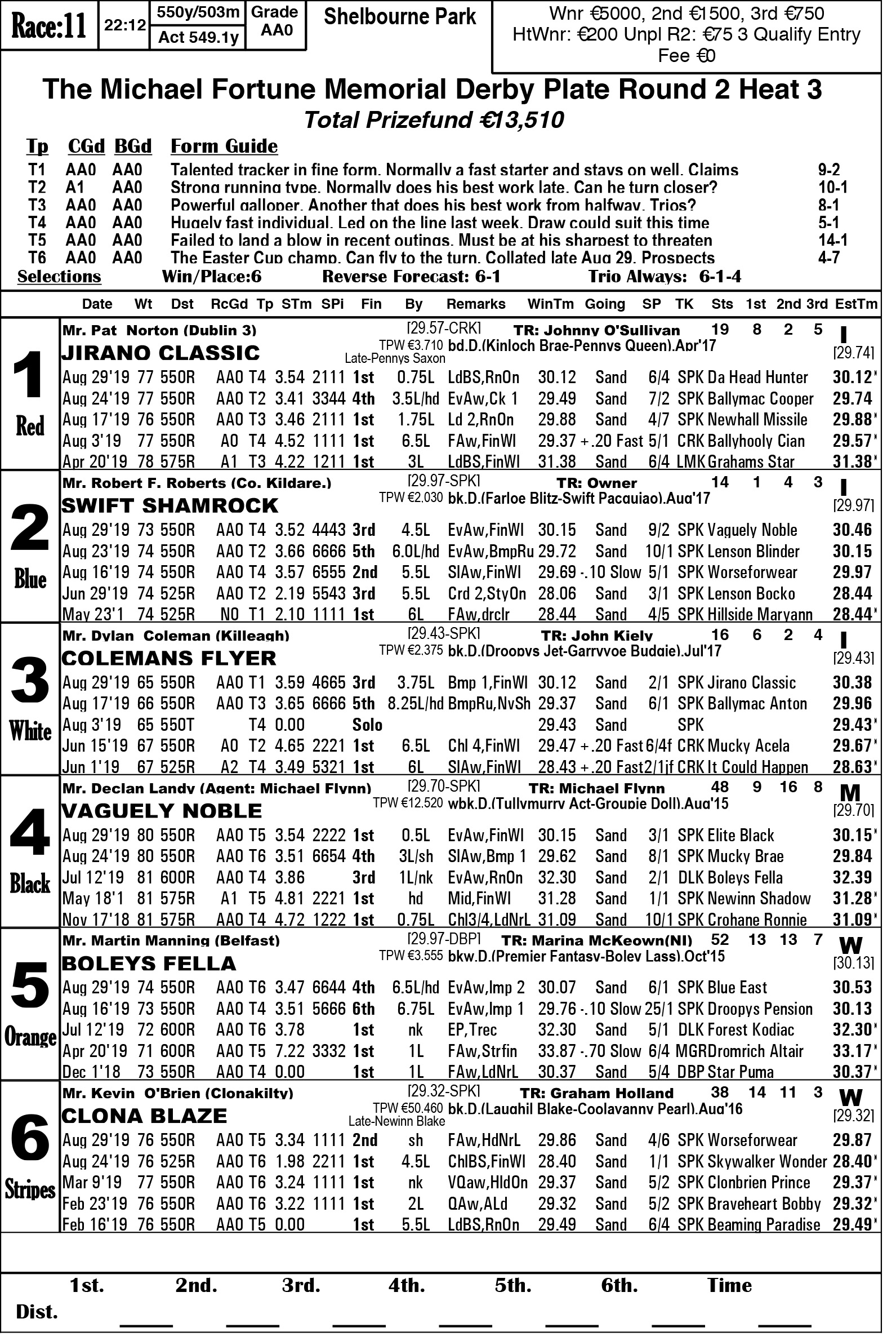 Clona Blaze is only having his third race back and was narrowly beaten last time out. The slow track didn't suit him and he was just caught on the line. But he came out of it well and I think he will come on for the run.
He is the class dog in the race having run third in the Derby Final last year and I would be confident a big run from him on Saturday.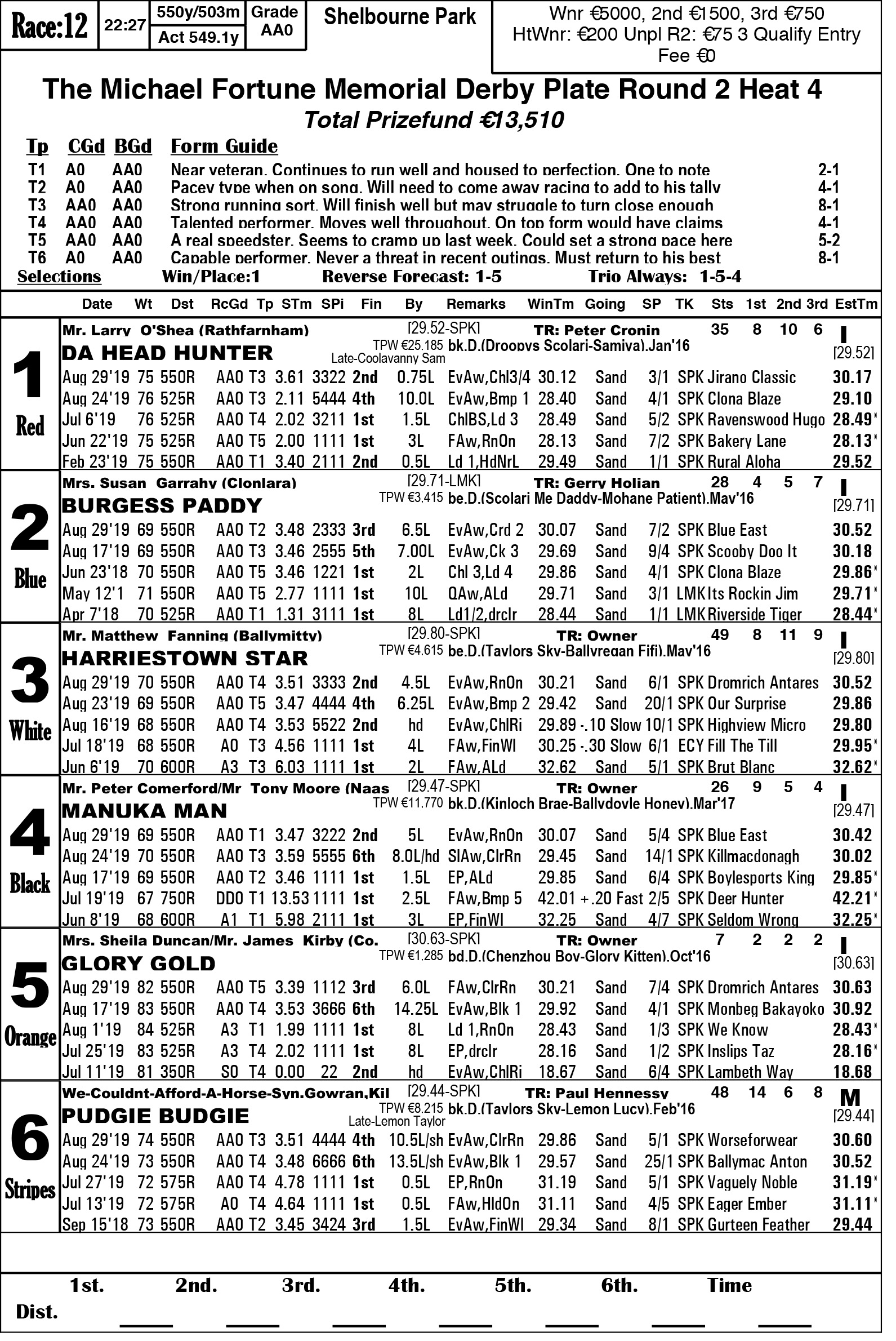 We don't have a runner in the last heat and it will take some unraveling. Given the draw and the balance of the race, I would be edging towards Da Head Hunter in trap one.
---
I am pleased to report that Wolfe is in good shape despite being knocked over in the Derby last week. I checked him over and then had him on the gallop this week and he looked as good as new.
The plan is to hopefully get a race on final night and then head to Limerick for the Leger.