I was particularly pleased with the two Clonbrien litter brothers on their first look at Nottingham last week.
Nicki took four over for a first look at the Derby course. Prince clocked 29.56 and Swift did 29.62. The other two were a bit slower; Lenson Blinder recording 29.92 and Clona Blaze doing 29.99.
In some ways, Swift's run was better than Prince's. Swift was only seven spots slower but was ten spots slower on the sectional, and we know he can do better than that. He is also less experienced than his brother because of the long term injury that kept him off the track for so long.
Blaze and Blinder both showed the importance of experience of the track. Blinder did the slowest sectional of the four and got lost off the second bend. Blaze needed the run, particularly since he is a dog who will find the 500 metres a bit of a challenge.
Overall though, it was a very positive experience. Rachel and Nathan Corden both took time out to welcome Nicki to the track which was immaculate. The journey over was easier than to Towcester and in the early rounds we will probably keep traveling between rounds. Dave Firmager has kindly offered to put us up if necessary, but we will keep our options open.
The plan is to bring Swift and Prince back to run in trialstakes next week and bring some more trialists. Which ones depends on how things unfold in other events in Ireland
On the subject of the Derby, I think it is a good idea to have a seeding review panel. I have bent the rules in the past and wouldn't pretend to be any saint, but we have also suffered badly by other dogs being badly seeded. Some racing manager choose to turn a blind eye to it because it makes their life simpler, but someone needs to take responsibility.
---
We won't be at Shelbourne again this weekend due to other commitments at Mullingar, Limerick and Waterford.
There has been a crackdown on who presents dogs for racing and we are so stretched that we have had to main difficult choices. Also, I don't like sending dogs for races where I can't watch them, particularly young dogs who you are still trying to learn about.
The biggest event is the Con & Annie Kirby Memorial at Limerick where we have Herecomesdahoney in the final. In the last column I said that he had been off with injury but would improve for every outing and so it has proved.
The competition has been dominated by Ballymac Tas who is a great bitch, but I have always believed that finals are decided by trap draws and on that basis I couldn't be happier with red for our dog. He and Tas have beaten each other in their last two races but our lad had a terrible draw in the semi finals and I praying that he could still qualify.
I think she might beat him in a two dog trial, but this is a race and we are not without a very decent chance in my opinion.
Finalists – photos courtesy of Irish Greyhound Board – photograher Michael Cowhey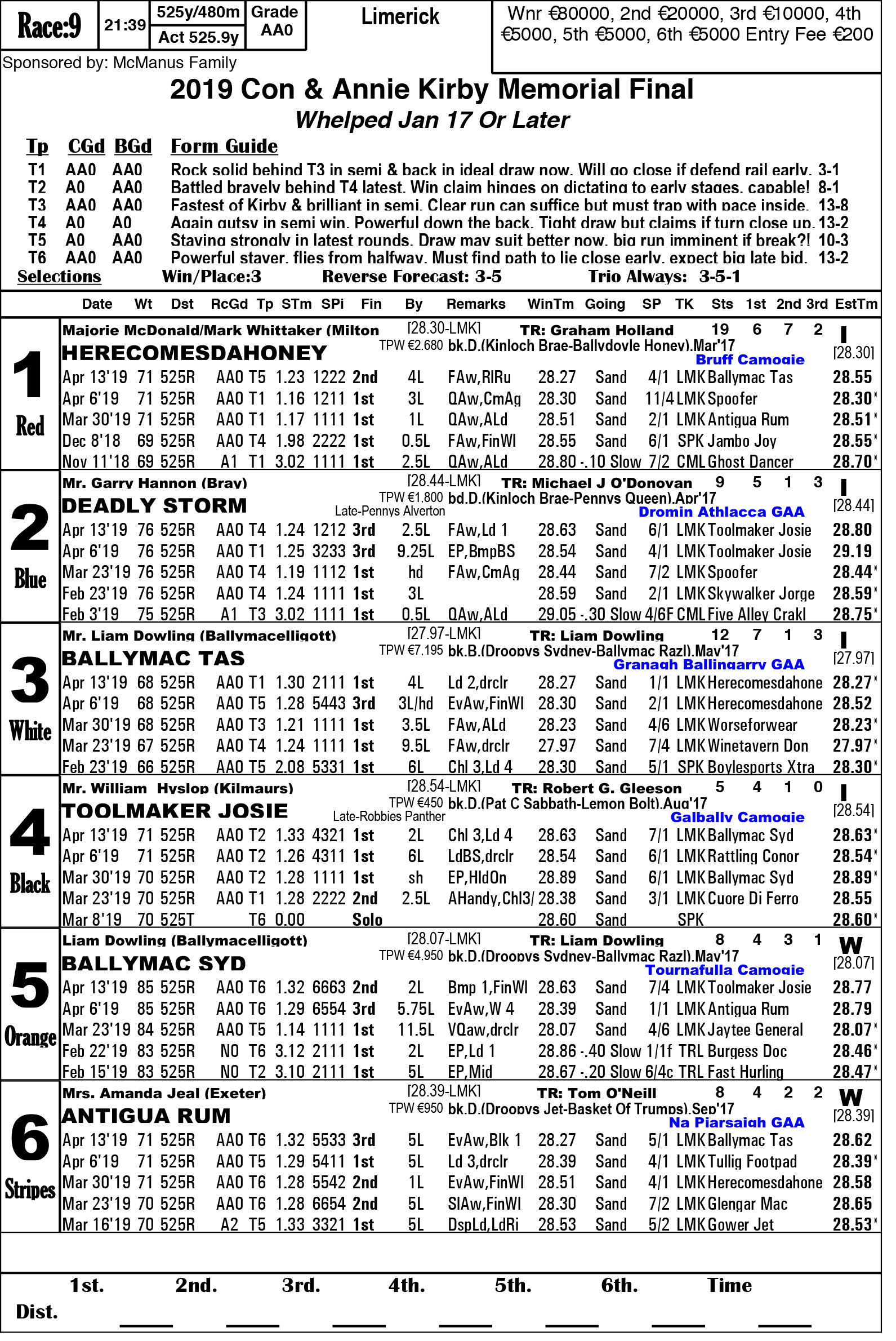 We have four runners in the Cesarewitch at Mullingar. The draws have been reasonably kind even if we did end up with Macaroon Cruz and Drive On Tipp in the same heat.
Cruz needs the race but should improve for the run. Tipp is getting on but still loves his racing. Given the calibre of dog he is, he can sometimes find himself up against it at Shelbourne taking on the best young dogs. So we are no worse off running in a classic.
Totos Park is in a particularly tough heat up against Skywalker Logan, who I would presume would be the ante post favourite. Of our quartet, Beaming Paradise would seem to have the most going his way. He is a very good greyhound who can be a bit draw dependent so the red should suit him down to the ground.
We also have four runners in the Gain Select Stakes at Waterford. It is a competition I really enjoy and we have won it a couple of times.
I am very happy with Newinn Lester's draw in the first semi final. He is a good greyhound who has had a few niggles and last week was his first race back. I would expect him to go very close.
We have three in the second semi final which looks very tough. Rural Vic is ideally drawn in red. Blue East seems to have lost a yard of early as he has got older but he is staying on better. Slippy Cian had an invite to the semi finals after being treated for a sore TFL that he picked up in the Easter Cup. I would like to get a couple of races into him.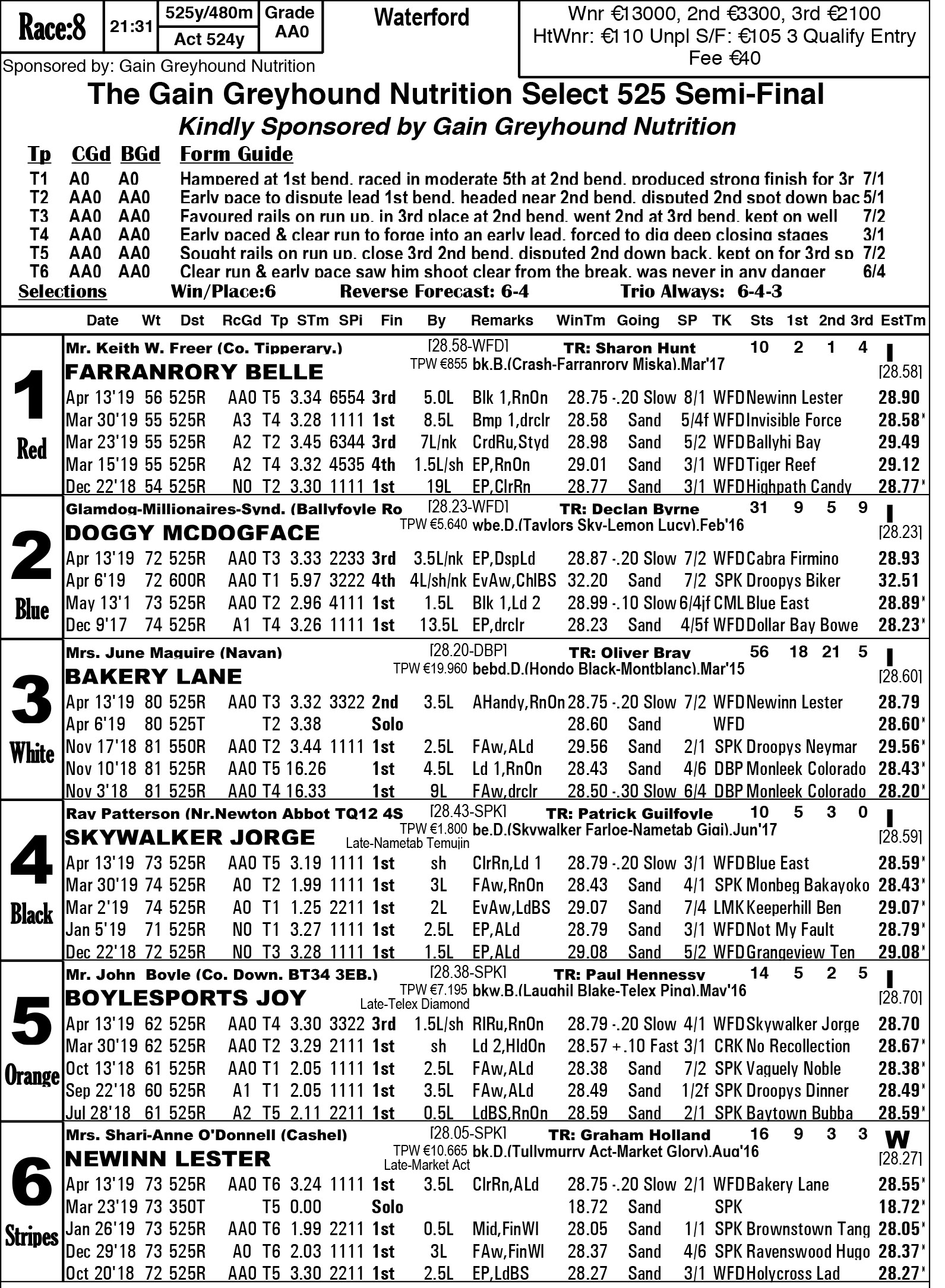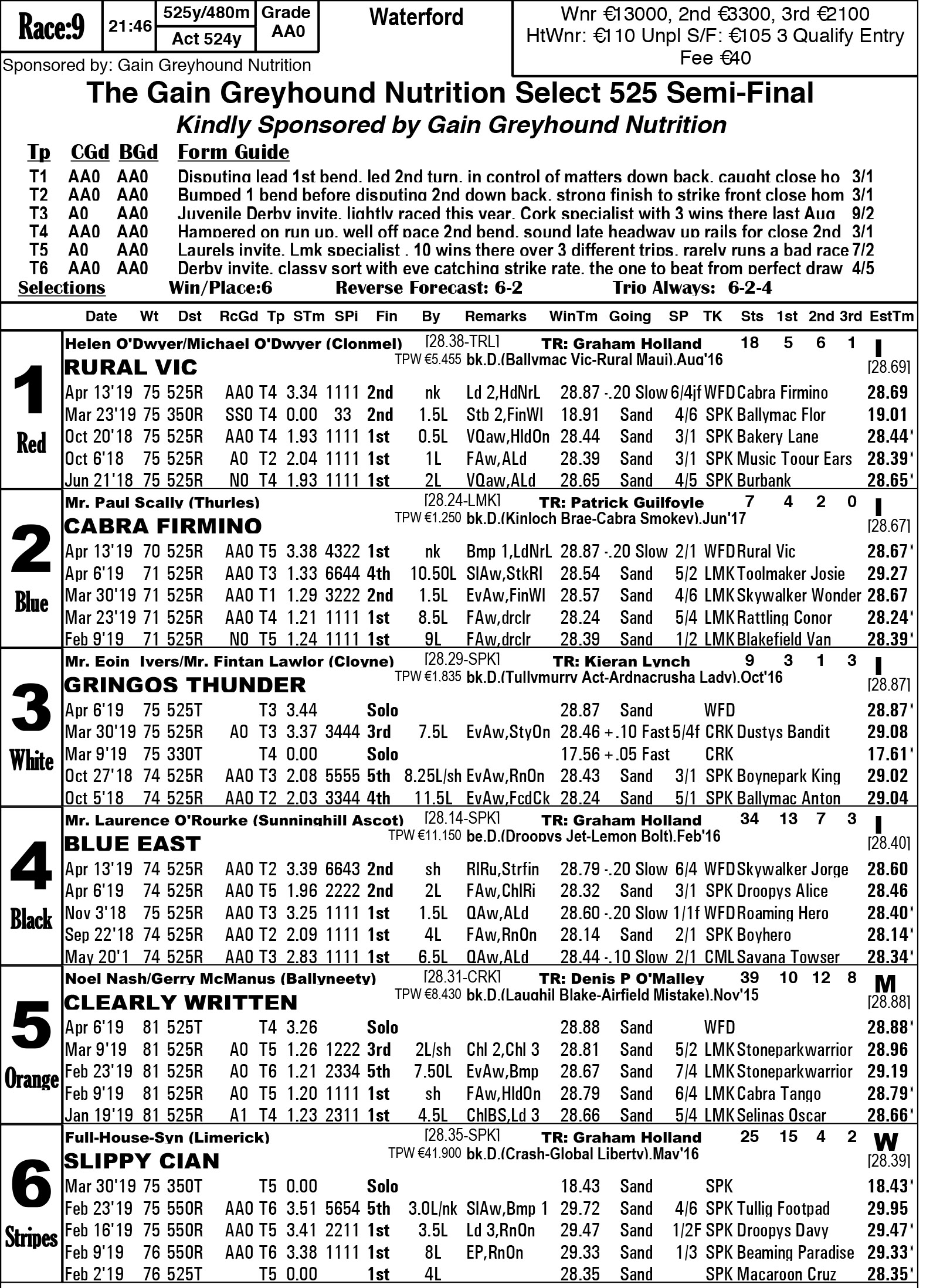 In the last column I mentioned that we were schooling the latest Ballydoyle Honey litter. They are 15 months old and by Top Honcho and we have four of the litter with a fifth about to join us.
I have schooled too many pups to be taken in by a flashy trial but one of the dog pups clocked 16.50 for the sprint at Clonmel in his first trial in company. They will have their first 525s this week but we are in no rush. The pups are still very vulnerable to injury at this stage so it will be a gradual process.
We have also had a litter of nine pups just born by Sonic out of our good open race bitch Ballinakil Clare.
Fingers crossed