We are due a busy weekend with 13 runners in the Irish St.Leger, two in the English version and six on the card at Shelbourne.
I'll be at Limerick, while Nicky will be skiving with just the two at Perry Barr
(That scratching noise is the sound of a Derby winning trainer trying to find a place to hide – Ed)
We've had a bit of a setback in the kennel due to kennel cough and it has affected the preparation of quite a few running at Limerick.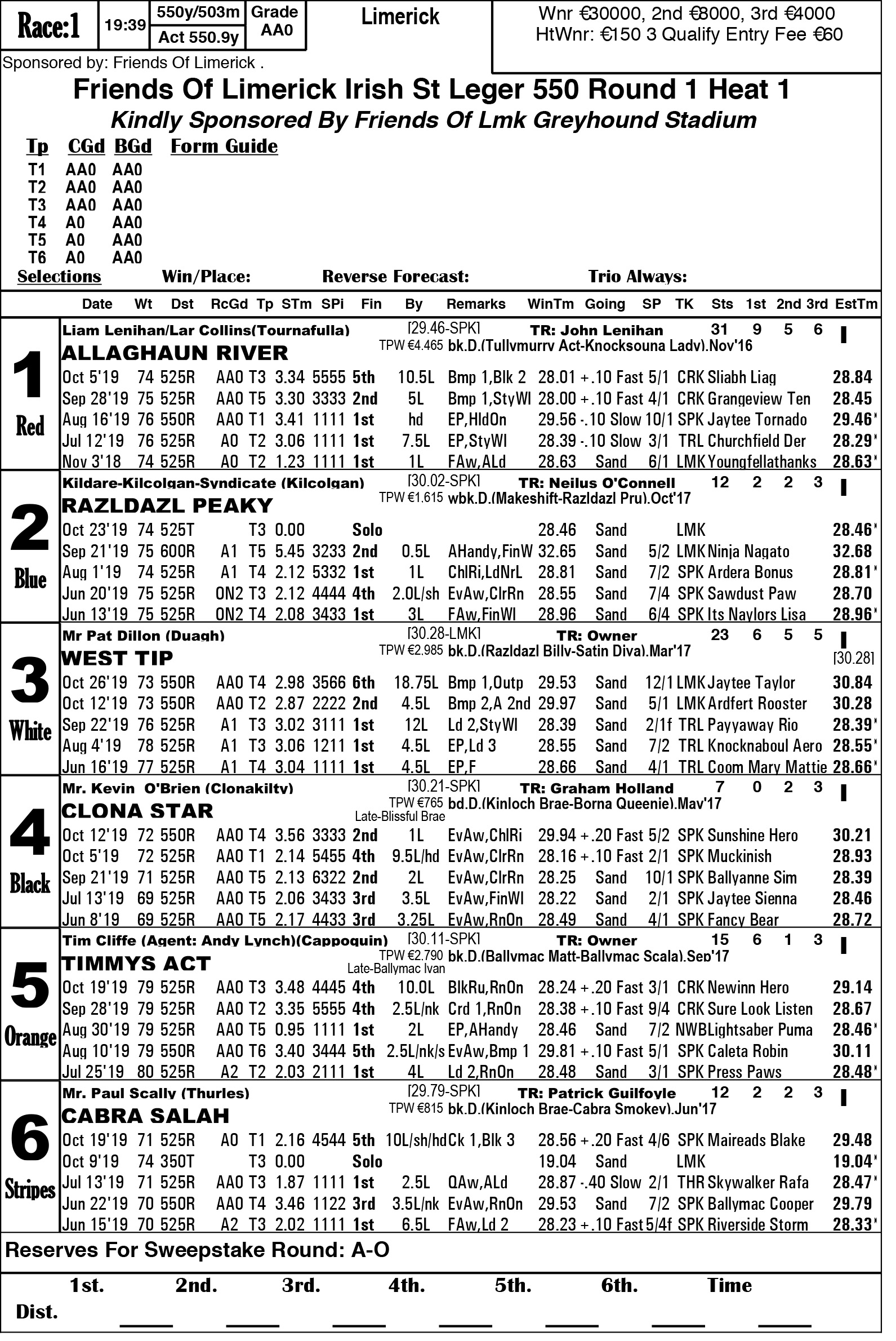 Clona Star is one of those who has been affected by the sickness and he is up against it in the first heat. He is still to win his first race and is badly drawn in the middle. His time will come but I will be surprised if it is on Saturday.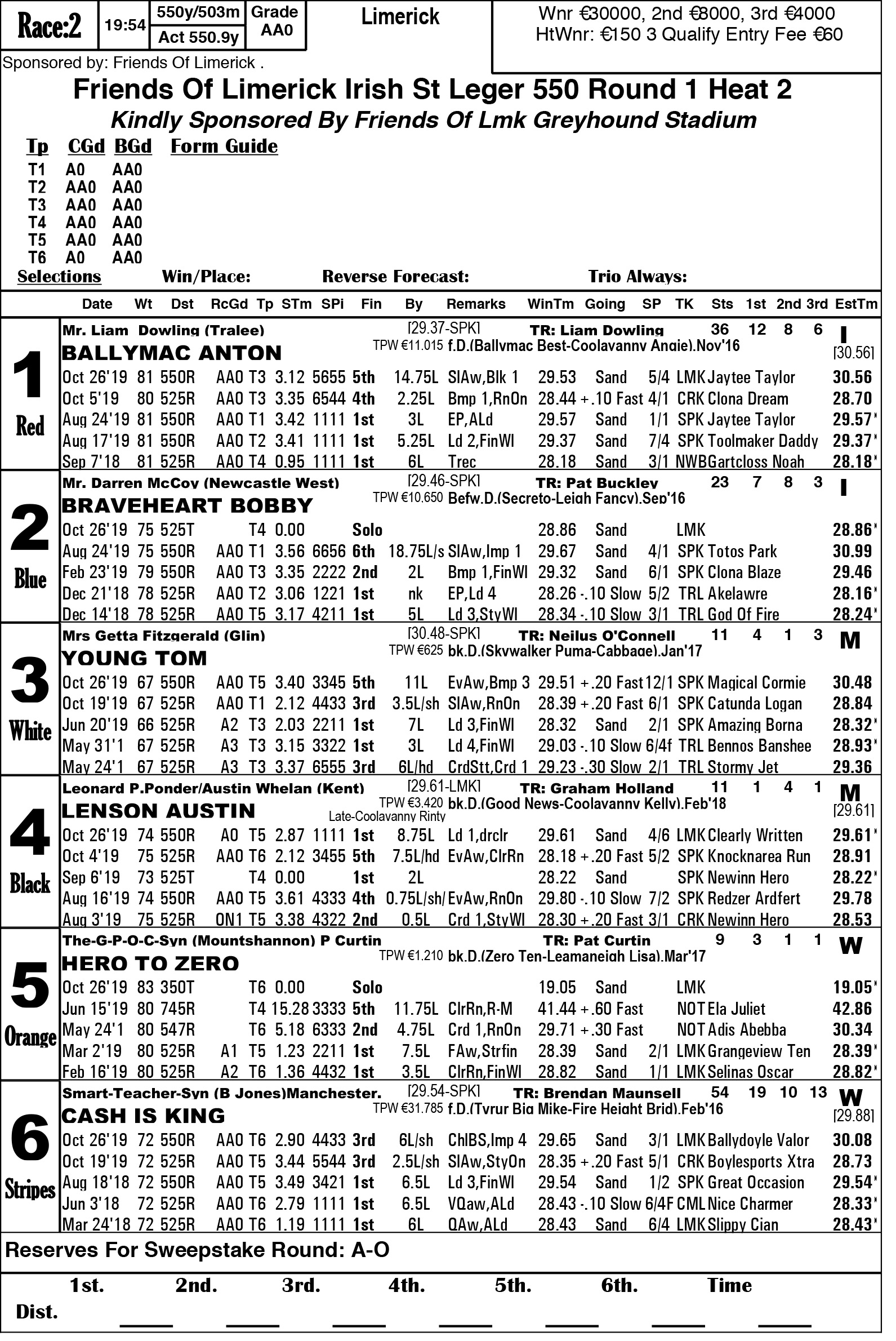 Lenson Austin has taken a while to show his ability but he got on the bunny and showed his real ability. He doesn't possess enough early pace for top class 525 races and the move up to 550, with the longer run to the bend, will definitely suit him. Hopefully that last win will boost his confidence; Ballymac Anton will take some beating though.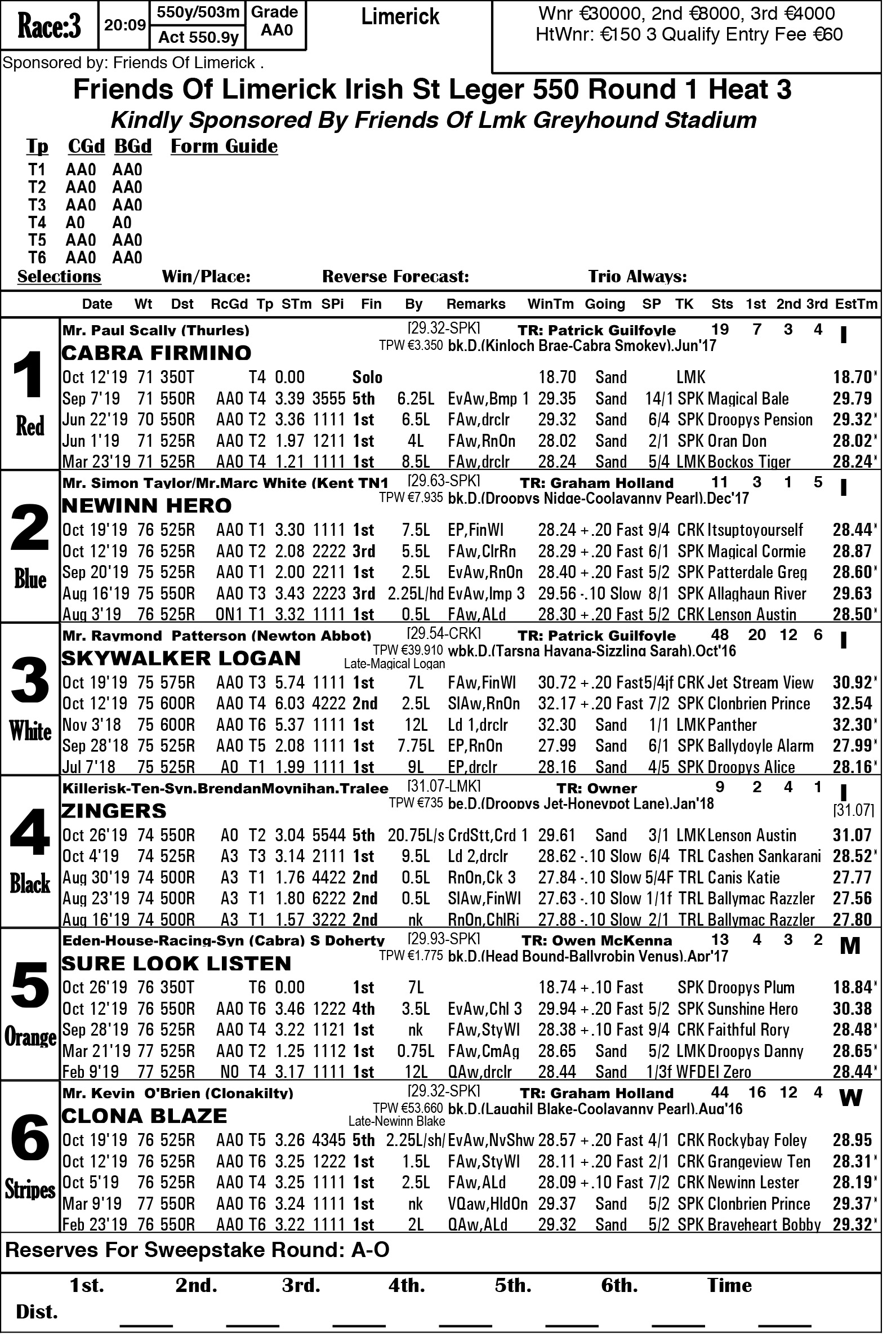 Newinn Hero is a progressive young dog who ran very well at Cork recently. My only concern is how the inside will develop at the first bend. There could be trouble. For that reason I am tipping Clona Blaze who looks capable of leading up on the outside. If he does, he will take some beating.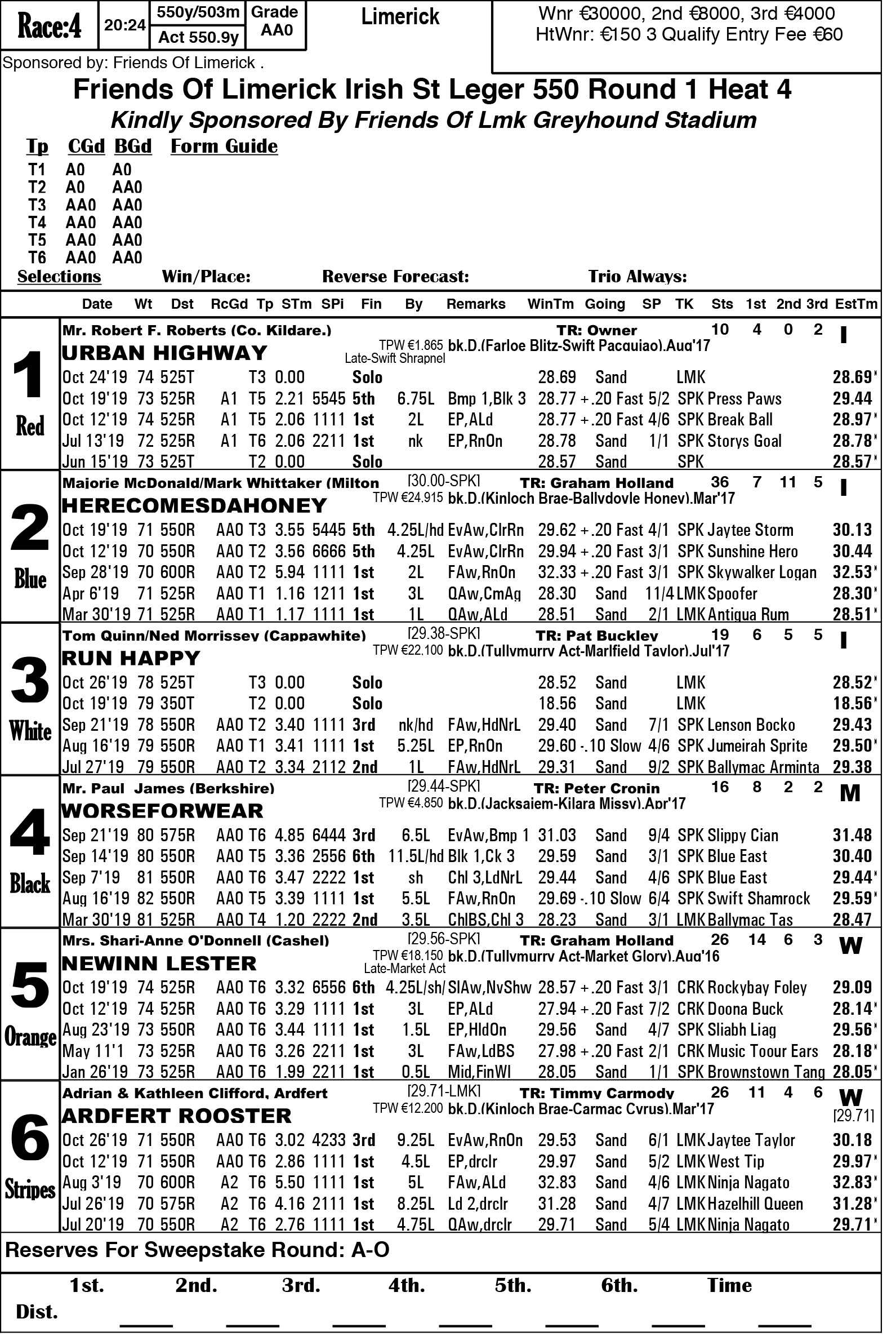 This is on the lower end of the stamina range of Herecomesdahoney. He is really better suited to a 750, though he ran the track very well in the Con Kirby and will take his chance. Like Clona Blaze, Newinn Lester has had a short rest since the Laurels Final. I expect a big run from him, though I would also expect Run Happy to push him all the way.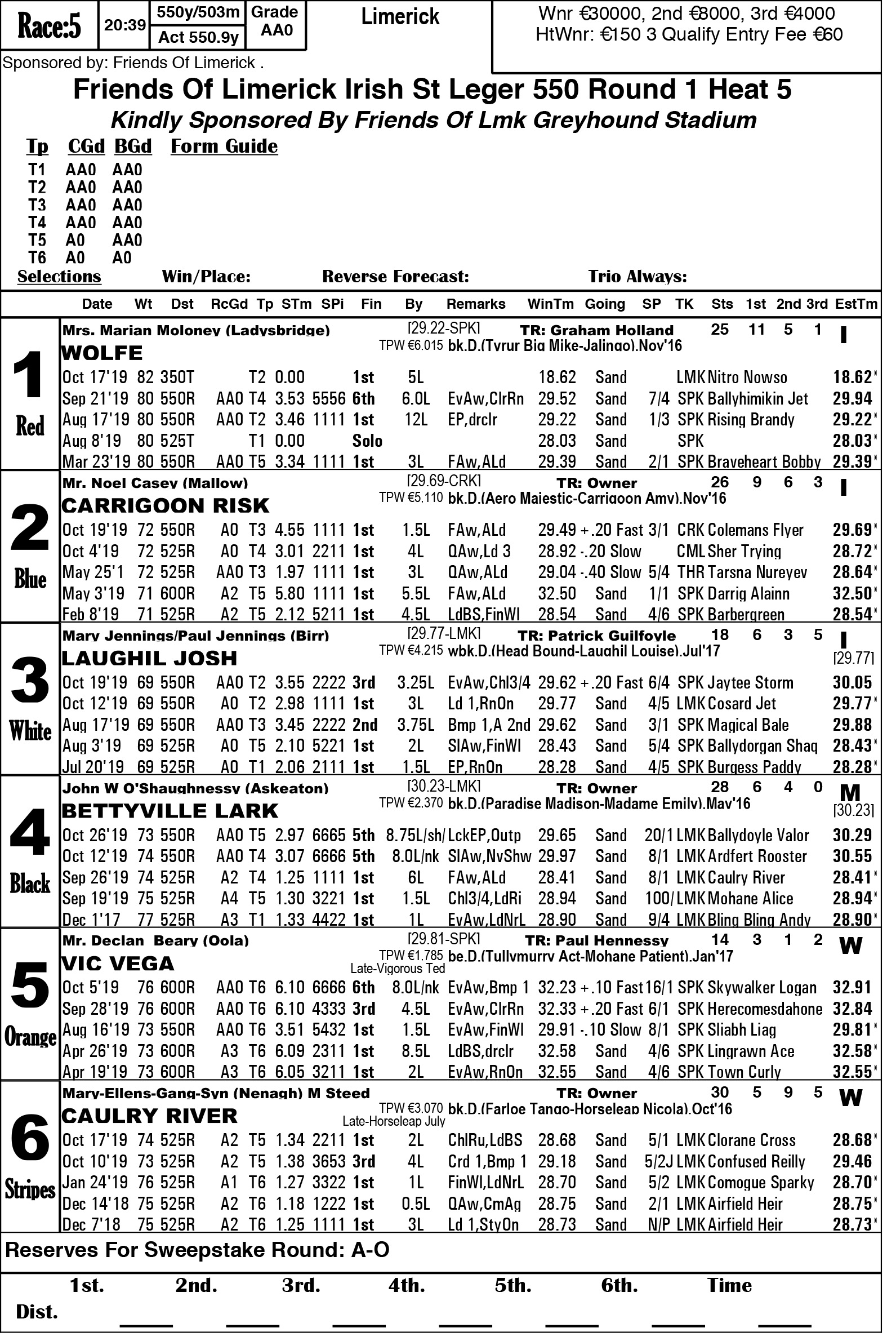 It's the Wolfe in the sixth heat and he is up against the dog who collided with in the Derby, when they were both KO'd, Laughil Josh. This time though they are drawn the other way around. Everybody knows how fast Wolfe is and what trap one means to him. He is probably the most forward of any of our dogs in the competition and I expect him to win.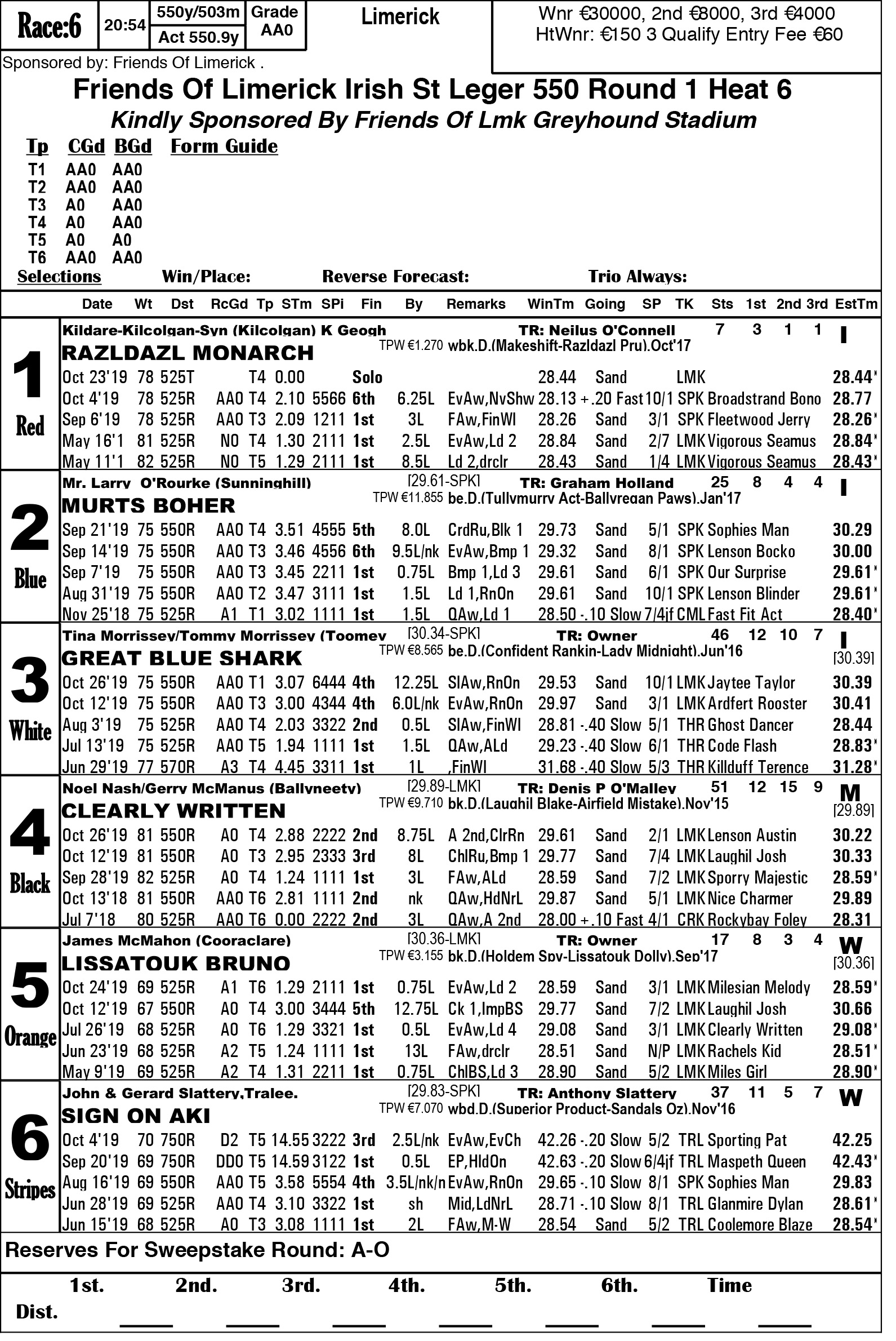 Murts Boher is the opposite of Wolfe in that he was badly hit by the sickness and even in the last few days is still not bouncing. If he was fully fit, I would strongly fancy him in here. Fortunately, this doesn't look the toughest of the 12 heats and he should still be good enough to qualify.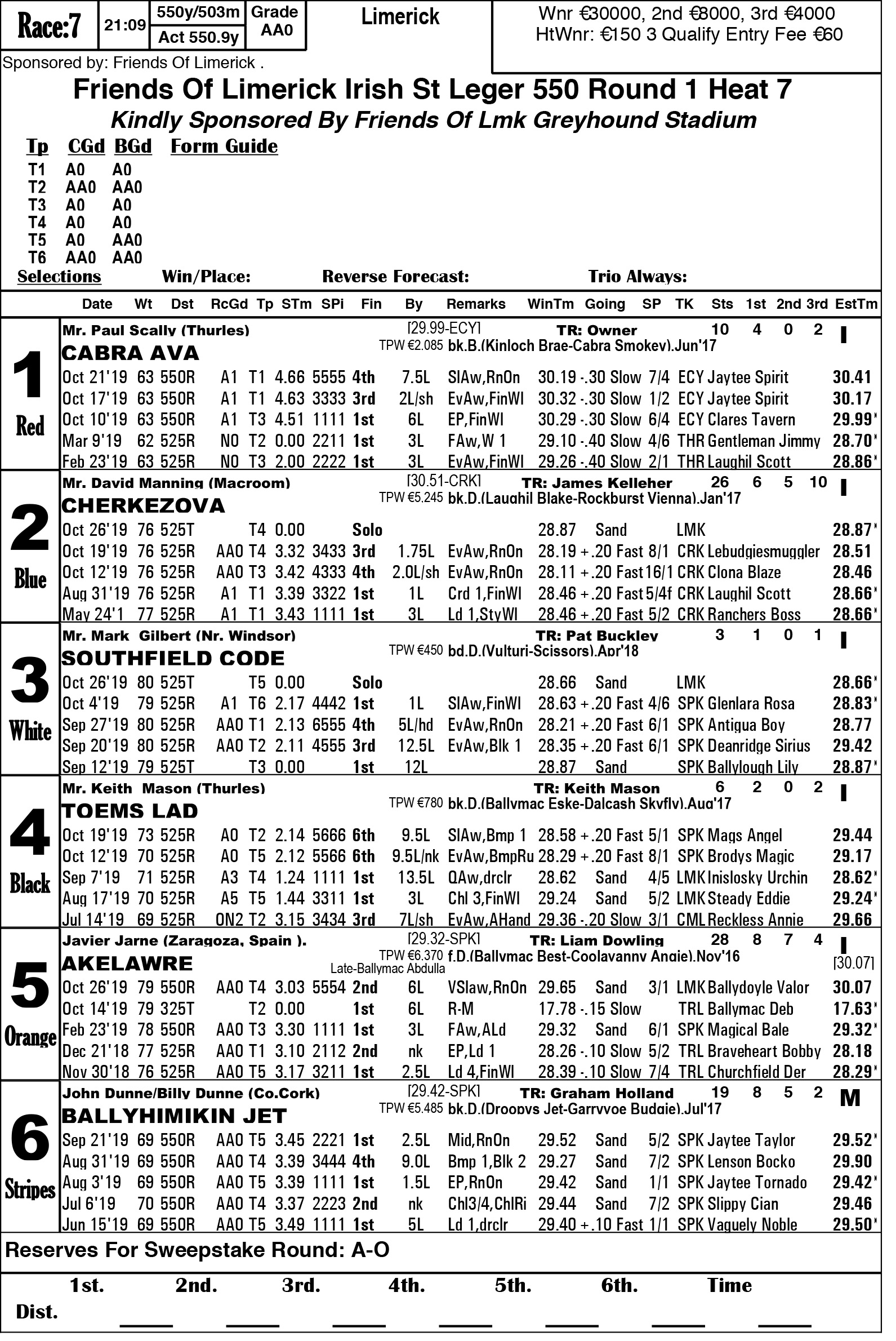 As I said before the Derby, I think Ballyhimikin Jet has real quality about him and I would rate him as one of the six fastest dogs in this competition. I think he is good enough to win this heat, though he needs the race and will probably come on for the run.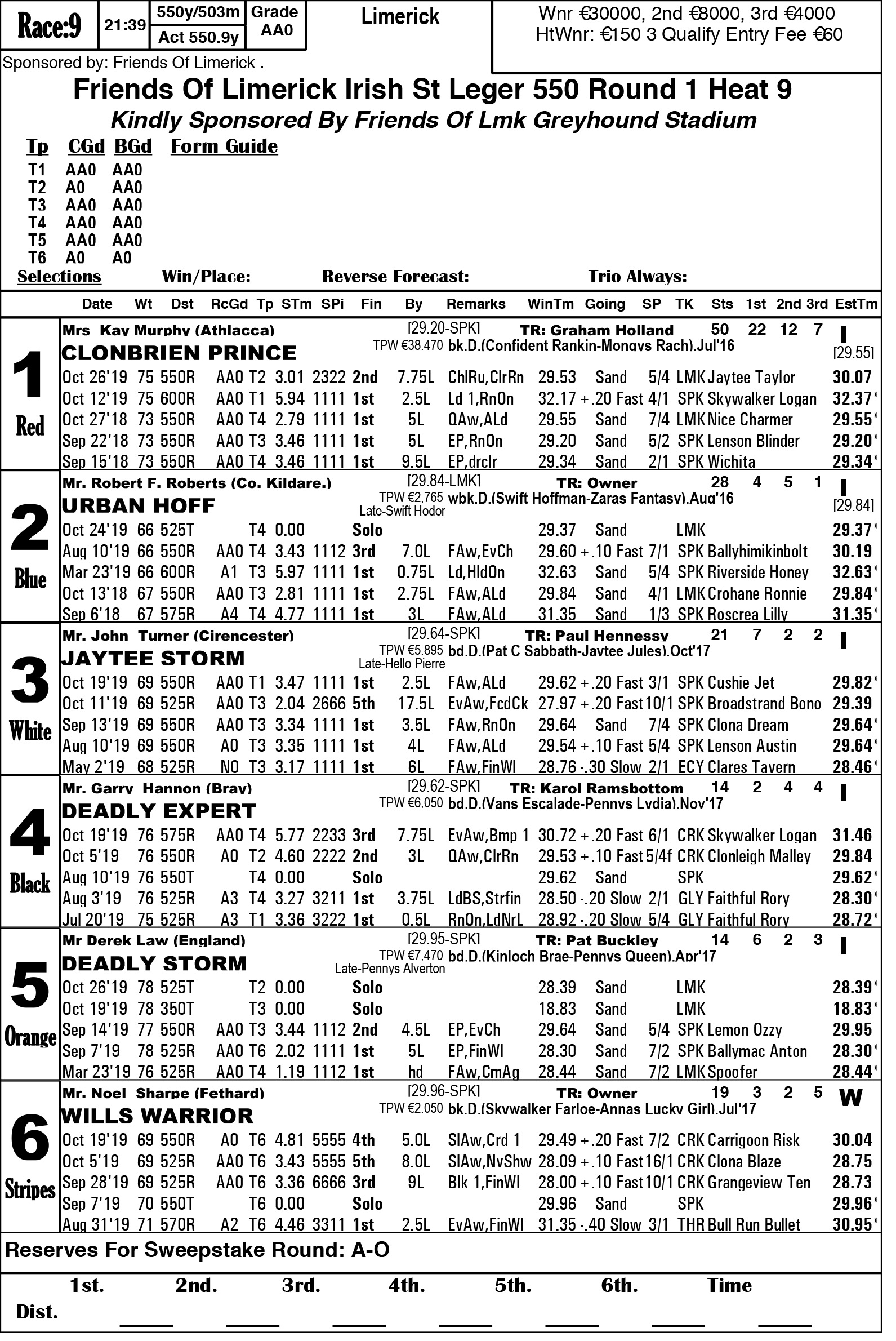 Clonbrien Prince has been an incredible hound for his owners but is looking more and more a 600 yard dog as he gets older. He appears to have lost a yard of early, and I don't know whether he can afford to give the likes of Jaytee Storm a head start over the 550.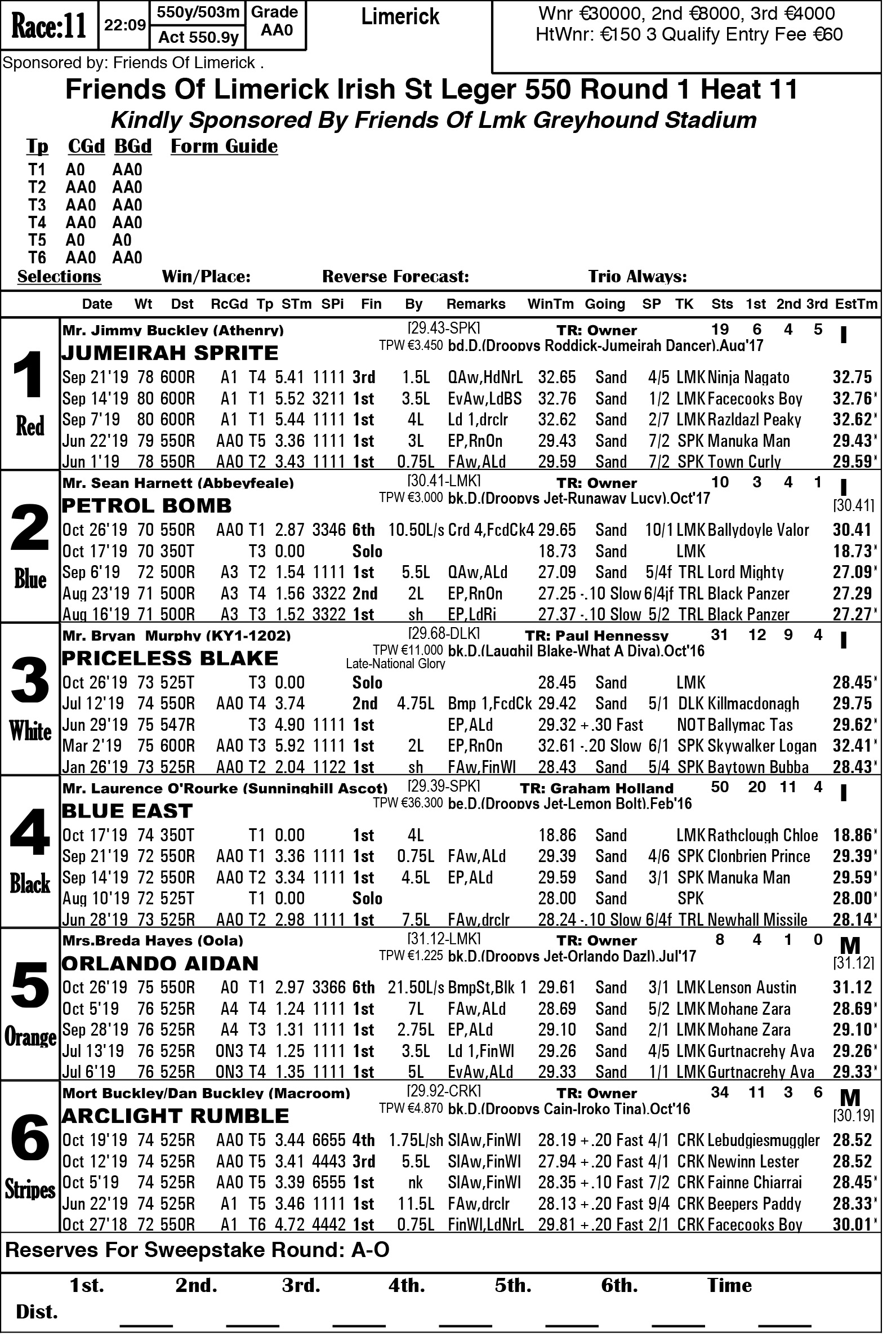 Blue East takes on the Derby winner Priceless Blake in a tough looking heat because I reckon both dogs need the run. Certainly Blue East is a little back on his preparation and I would happily settle for qualifying.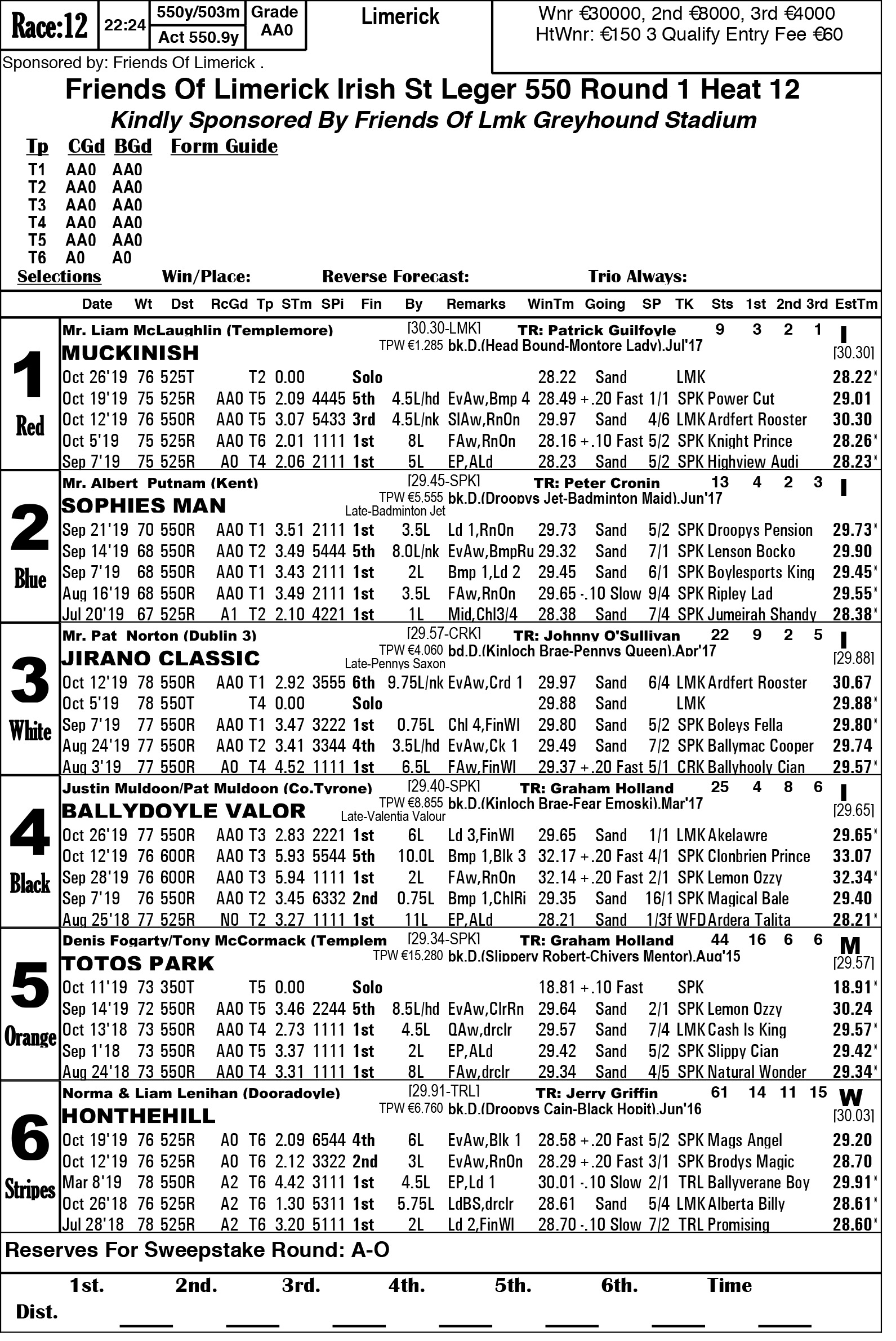 We have two in here and I expect both to be running on. Although I would prefer Ballydoyle Valor closer to the rail, he has some decent form from white. Totos Park jarred a wrist and that held back his preparation, though I wouldn't be surprised, given his age, if he runs well while he is fresh. Overall though, both will do well to turn over Sophies Man.
---
We have two at Perry Barr,in the RPGTV St.Leger, Lenson Blinder and Riverside Honey. One has never been further than 600 yards and the other has a track record over 925 metres.
Neither have seen the track though they are both experienced open racers. I would think that the long run to the bend would particularly suit Blinder. Will he see out the 710? I don't know, though he has been running on strongly over the 600 yards and has class on his side. Bottom line – I think he will get it.
My concern for Honey is that she drives to the pick-up even after they have taken the hare away. It is a long run to the drop at Perry Barr and I hope she doesn't take too much out of her.
---
Our Shelbourne runners include three exciting youngsters.
The oldest is Fahee Storm (Superior Product-Aclamon Fab, Nov 17), though he has only had two races to date. He won most recently at Shelbourne in 28.37 (+20) and definitely has ability.
Knocknarea Run (Swift Hoffman-Sallina Mia, Jan 18) is in a high class open (Boylesports Xtra and Grangeview West to name but two), but has 28.18 winning form at Shelbourne. He needs to box. If he does, you'll see how quick he is.
I would definitely rate Newinn Taylor (Droopys Buick-Newinn Expert, May 18) as one for the notebook. He will be making his debut but has an 18.50 (+10) sprint trial at Shelbourne on his card. If he gets 525, and I would be surprised if he doesn't, he looks a very exciting prospect for next year.
---
Beyond the open racing, there has been plenty to keep us busy.
We have been schooling a 13 month old litter by Sonic out of Slippy Thelma that I mentioned when they were first born. It is a lot of work schooling pups, but I still get the thrill from seeing them go around. At this stage, they look very promising.
At the opposite end of the scale, there were three ex-racers meeting the public at Cork for the Laurels Final and two of them were dogs I trained. What was even better was that they remembered me.
To see Knockglass Billy so happy and pleased to be there made my night.